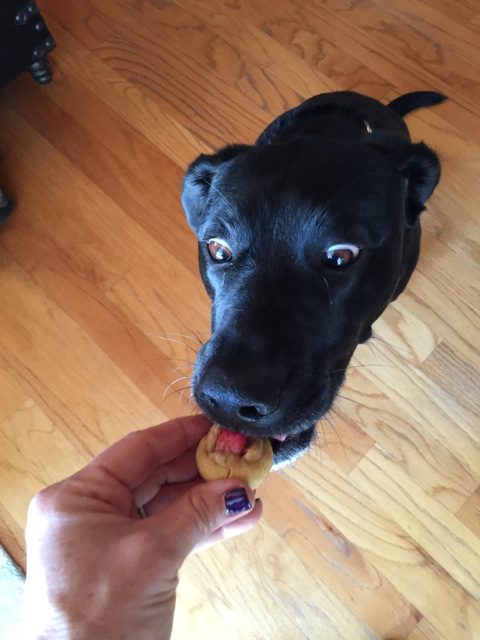 What are the best calming treats for dogs and cats? If your cat or dog has anxiety, a calming treat may be the one of the easiest ways to help them calm down. My favorites are:
ThunderWunders
Relax & Roll from The Anxious Pet
Tomlyn Relax & Calm
Vetericyn ALL-IN
Read Time: 6 minutes
---
As the pet parent of an anxious pup, I've had a lot of trial and error experience finding what works to calm an anxious dog. In fact, I launched Pet Anxiety Awareness Month in June 2017 to help fellow pet parents find solutions to their pet's anxiety.
And symptoms of anxiety don't just affect dogs. Cats can also experience even severe anxiety. For these pets, anxiety may severely impact their quality of life.
Because of this, I'm want to share with you some effective, non-prescription calming solutions for both dogs and cats.
Symptoms of Cat Anxiety
Just like humans, your kitty can suffer from anxiety. This ongoing condition can take a toll on her body and mind. Because cats tend to be a bit more mysterious and less demonstrative than dogs, feline anxiety often goes undiagnosed.
In fact, this troubling problem is more widespread than you might expect. An estimated 50% of pets suffer from Fear, Anxiety, and Stress (FAS). Since symptoms in cats can be so subtle, it's important to know the signs so you can get help for your cat.
Here are 10 of the most common cat anxiety symptoms:
Aggression

Becoming less active

Clinginess

Destructive behavior, like inappropriate scratching

Diarrhea

Dilated pupils

Eating or drinking too fast

Failure to use the litter box

Freezing in place

Hair loss from excessive grooming
If your cat is exhibiting any of these signs, your first call should be to your veterinarian. Many of these symptoms may be associated with certain serious medical issues, so you need your veterinarian's help to rule anything more serious than anxiety, which is bad enough!
If there seems to be no medical basis for the behavior or symptoms, you may want to try some over-the-counter therapies that we'll talk about below.
To learn more about the symptoms of cat anxiety, read more this blog post.
Dog Anxiety Signs
Signs of anxiety in dogs are surprisingly varied but often include some frustrating behavioral changes. So if you notice any of the following symptoms in your pup, please know he isn't doing it on purpose or "acting out". He may actually be suffering from anxiety. Here are some common symptoms to look out for:
Urine marking

or defecation

Barking or howling

Chewing/destroying things

Digging

Trying to escape

Pacing

Attempting to prevent you from leaving

Whining/whimpering

Trembling

Avoiding interactions
Here again, be sure to visit your veterinarian first as he'll be able to rule out any urgent medical issues that could be causing the behavior.
If your dog has no medical reason for his signs of anxiety, a calming treat for dogs may be just the thing to help him regain his calm.
Possible Causes For Your Pet's Anxiety
Once you've identified the signs of anxiety in your dog or cat, it's also important to understand what's triggering them. Here are eight potential reasons why a member of your fur family is anxious:
Separation: Pet parents know what it's like to arrive home to an excited pup with lots of happy tail wags. Or perhaps an affectionate kitty who greets you with head bumps and purrs. But for some pets, the long wait for you to return home is agonizing and filled with anxiety.
Noise: My dog, Chilly, suffers from noise aversion (also known as noise phobia or noise anxiety). And unfortunately, an estimated 67% of dogs have at least one sign of noise aversion. Like Chilly, some pets may be triggered by loud noises, such as thunder and fireworks. But there are also many,

everyday noises

that can trigger signs of anxiety in your pets.

Social Situations:

Social anxiety

, or fear of strangers may also trigger your dog or cat. When you go for walks, does your dog bark, lunge, or cower behind you when you come across others? Or maybe your cat wasn't properly socialized as a kitten and she hides or is withdrawn when new guests visit your home.

Vet Visits: This anxiety trigger comes as no surprise. Visits to the veterinarian can send some of our furry friends into a panic. Just the sight of the crate or the carrier is enough to make some dogs and cats anxious.
Changes in Environment: Like humans, most cats and dogs thrive on predictable routines. So when there are changes in our pets' environment, fear, stress, and anxiety may follow. Adding a new pet to the family, or moving to a new home are just a couple of changes that may trigger your pet. However, there are certain methods you can use to

help your cat

or puppy adjust to their new home.
Gut Health

: Did you know that your pet's digestive system could be one reason for their anxiety? It's true! Their gut health can have a direct correlation to how they respond to emotional triggers.

Trauma: Sadly, some dogs and cats show signs of anxiety due to past trauma. Pets who were abused or surrendered to a shelter are often more predisposed to experiencing anxiety.
Aging: Senior cats and senior dogs hold a special place in the hearts of many pet parents. But as they age, some experience cognitive changes that can trigger signs of anxiety. Read my blog post to learn how to help your

senior dog.

Then be sure to download my senior dog care guide below.

Best Calming Treats For Dogs And Cats
Once you've identified the potential triggers of your pet's anxiety, it's time for yummy solutions! My dogs, Chilly and Tulip, and my cat Olivia can't resist tasty treats. These are some of our family favorites because they promote calm, peaceful behavior and overall well-being. Calming treats like these are great for car rides, taking walks, or when you're expecting company.
It's best to try one, see how your pet reacts, and then move on to another if necessary. Just like people, every pet is different, so what works for my dogs and cat may not work for yours.
Here are my hand-picked favorites for the best calming treats:
When You Should Visit Your Veterinarian
Calming treats for dogs are convenient solutions for mild cases of pet anxiety. So it's important to be proactive about your pet's health and monitor for the signs and symptoms of anxious behavior. Learn to recognize your dog's anxiety triggers. And keep an eye out for these signs of anxiety in your cat.
Remember, if you suspect your pet is suffering from anxiety, you should talk to your veterinarian right away. He or she can help develop an effective routine to manage and treat your pet's anxiety. And your dog or cat will be on their way to a calmer, more enjoyable life.