Dig this… a portion of this post is sponsored, but opinions are my own and 110% "pawthentic"!
Pet Anxiety Awareness month is well underway. If your pet suffers from any form of fear, anxiety, or stress, you'll want to be sure to check out my resources page for Pet Anxiety Awareness.
In this post, I'm excited to tell you about yet another great calming solution – this time for both dogs AND cats.
Cats Can Be Anxious Too
Most of my experience with pet anxiety has been through two of my dogs, Buck and Chilly, who both suffered from noise aversion and other phobias. Thankfully my kitties have all led relatively fear-free lives.
But that isn't the case for all cats. Cat anxiety can be triggered by many of the same things that make dogs anxious, including separation anxiety and loud noises. A few common signs of anxiety in cats include:
Hiding
Aggressive or destructive behavior
Excessive vocalization
Going outside the litter box
Changes in eating habits
If you notice any of these behaviors in your cat, it's a good idea to mention it to your veterinarian. He or she can help you plan the best course of treatment to manage your cat's anxiety.
But now let's get back to the exciting calming solution I mentioned earlier. They're called Relax & Calm Chews by Tomlyn®.
Pin Me!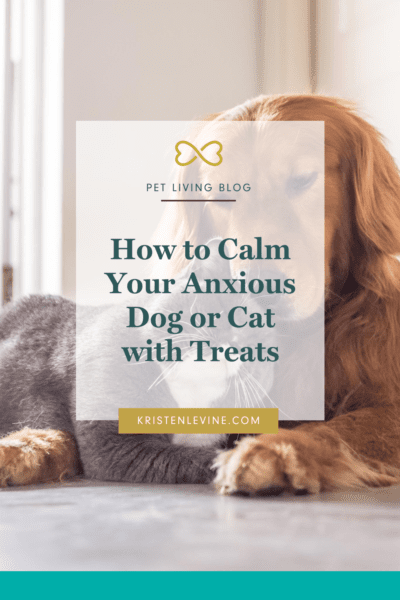 Is it a Calming Aid or a Treat?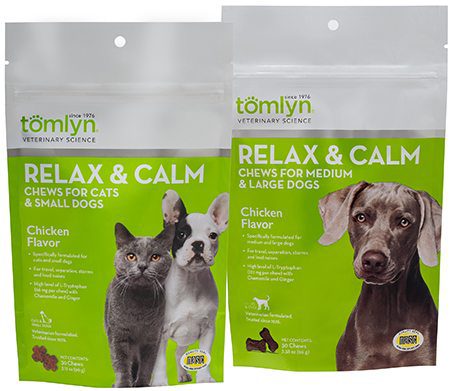 These chicken-flavored chews are easy to give to most pets, since they will think they're getting a yummy treat. Yes, the chews taste great (if you're a dog or a cat) but they also give the gift of calm, thanks to their concentrated, high levels of L-Tryptophan. Relax & Calm Chews also contain chamomile, another ingredient which helps to promote a feeling of calm and relaxation. The third active ingredient, ginger, helps to settle the uneasy stomachs that often accompany anxiety in pets.
As some of you may know, we recently fostered a rescue dog, Sugar (aka Angel), from Maxx and Me Pet Rescue in Tampa. On her first few nights in our home, I gave her Relax & Calm Chews to help her adjust to her new crate and to all the new sounds she was hearing. It took about four nights, but eventually she would go straight to sleep once she was in her kennel. I think the combination of the calming chews and the comfy kennel, plus putting her to bed consistently at the same time each night is what led to our success!
An Easy Treatment for Pet Anxiety
Relax & Calm Chews were exactly what we needed to keep Sugar (aka Angel) as calm as possible as she got used to her new environment. But they can also help dogs or cats that experience anxiety in other situations such as:
Thunderstorms
Fireworks
Other loud noises
Veterinary visits
Grooming visits
Dog parks
Boarding
Traveling
Vacations
Kenneling
Introduction to new animals
Adoptions
Changes at home – visitors, new baby, new guests, etc.
Being home alone for long periods of time, or separation anxiety
The chews are easy to give, and they're formulated according to the size of your pet. Just give the recommended number once daily, or a few hours before the stressful event begins.
If you've been following me for a while, you know that when I'm looking for a product to use for my pets, the values of the company are just as important to me as the products they offer. Tomlyn has a strong commitment to deliver products that benefit animals, and they keep veterinarians on staff to provide the rest of the team with valuable veterinary knowledge and insight.
Tomlyn was originally started by a veterinarian (Tom) and his wife (Lyn). Over 40 years later, they offer a variety of quality over-the-counter pet health products that are backed by veterinary science. They create products made from wholesome ingredients, so it's no wonder that they're loved by millions of pet parents.
And as for me, I'll definitely be keeping a supply of Relax & Calm Chews on hand for those times when the pets in my family are experiencing potentially stressful situations!
This is a sponsored post. However, all opinions and anecdotes are my own, and I never promote any products or brands I don't believe in. ~Petfully yours, Kristen