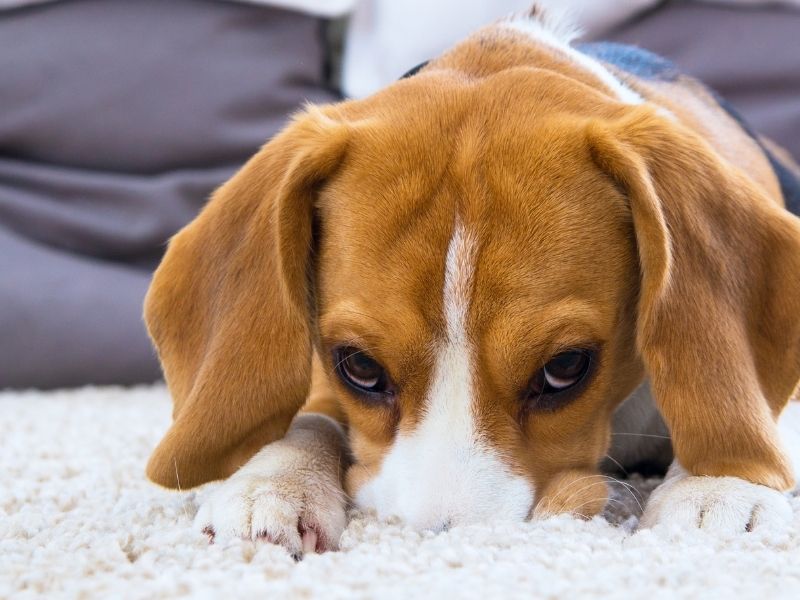 How to End Your Dog's Urine Marking for Good
Urine marking is a natural behavior for dogs, especially males that are sexually intact. It's their way of claiming territory, leaving a message for other dogs that a particular object or area is theirs. Even female dogs, especially when in heat, may urine mark.
What's the Difference Between Peeing and Marking?
Your dog may pee inside if they haven't been let out enough, if they have a small bladder, or for many other reasons. But the peeing will result in a full puddle of urine.
Whereas, dogs that urine mark will only squirt out a small amount of urine and will often do it on the same spot or object.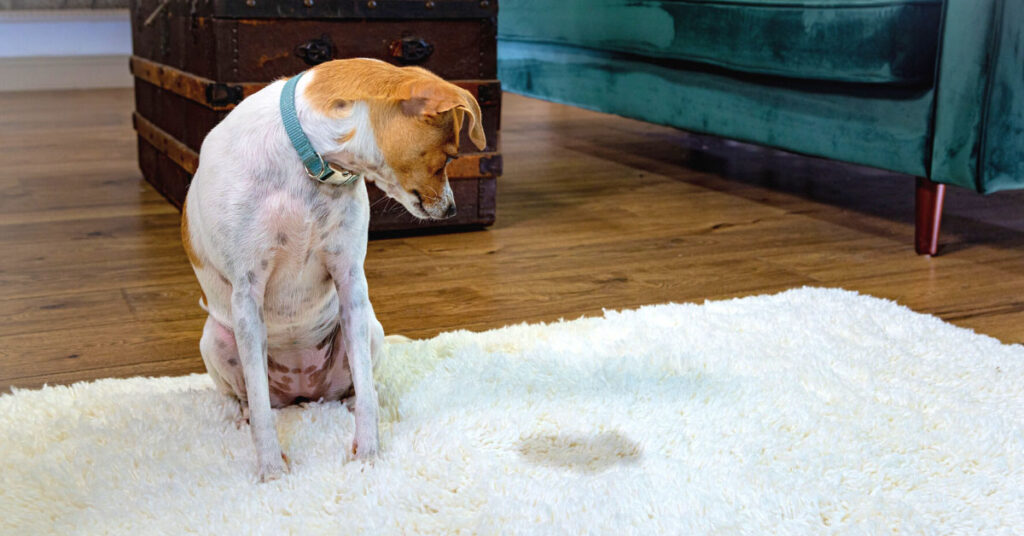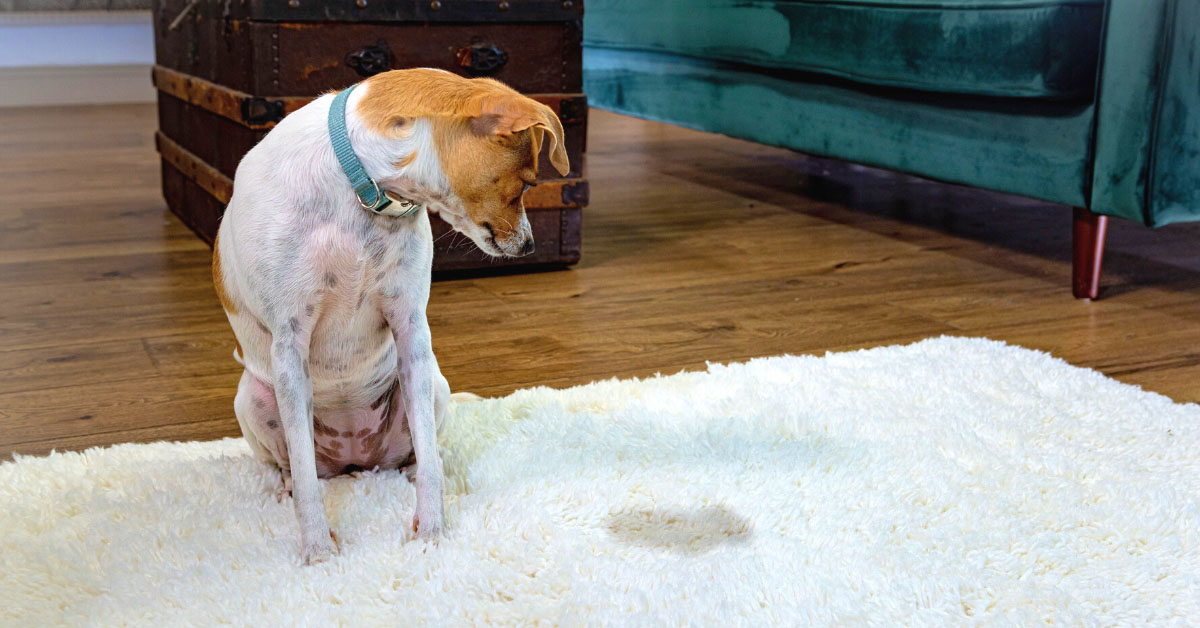 Although it's natural behavior, it's certainly not acceptable in the house. Furniture, floors, walls, and other items are ruined or damaged when your dog decides to claim them as his own.
Urine marking is not the result of faulty housebreaking. In fact, most of the time, urine marking can be curbed with behavior modification.
Pin Me!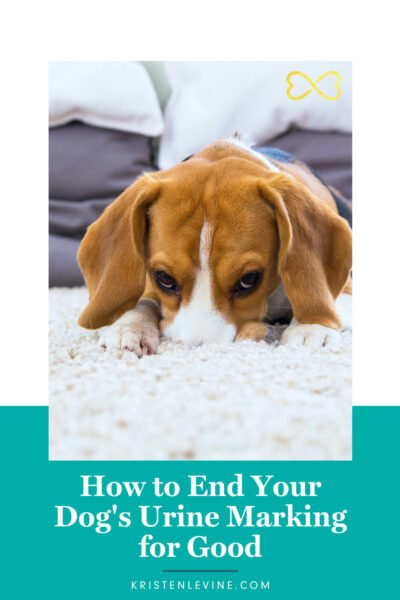 How to Stop Your Dog from Marking in the House
Spay or Neuter Your Dog
Spaying or neutering your dog will reduce or eliminate urine marking in many dogs. According to the North American Veterinary Community, as many as 50% of male dogs stop urine marking, or at least do it significantly less often, after being neutered.
Dogs usually begin urine marking when they start to reach sexual maturity.
If you have a puppy, neutering him as soon as he's old enough is one of the best ways to prevent urine marking from starting in the first place.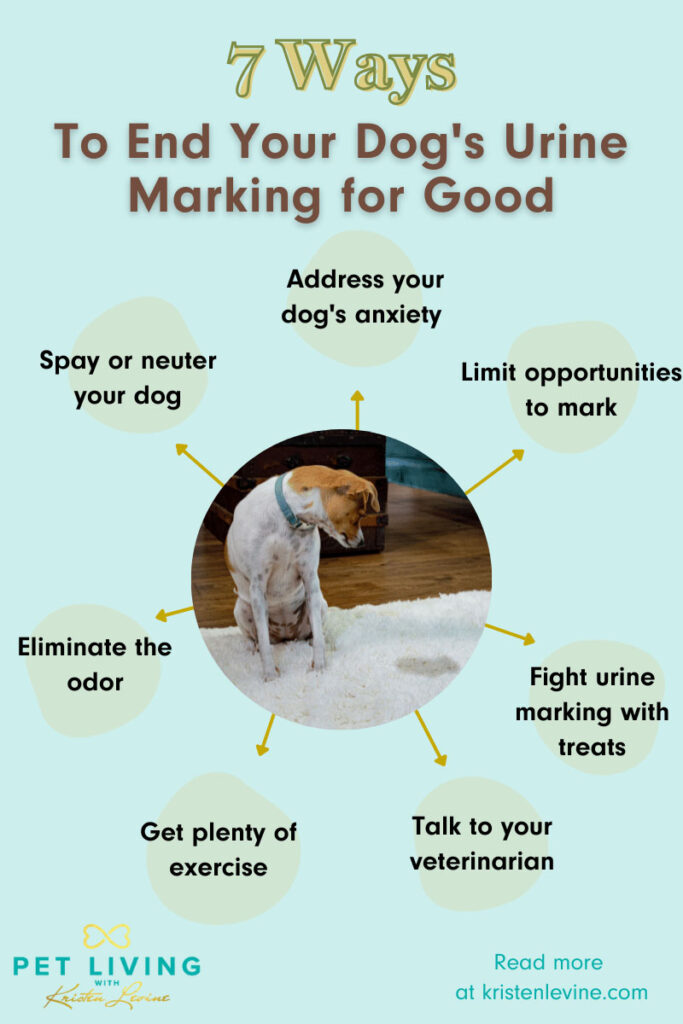 However, it may be days or even weeks for the urine marking to stop after your dog is altered since hormones gradually decline rather than come to a screeching halt.
And it will likely also take some additional training on your part to change the marking behavior if it has become a deeply ingrained habit.
If your male dog is peeing in the house weeks or months after he's altered and after you've taken the steps below, there could be other behavioral or physical issues that need to be addressed.
Address Your Dog's Anxiety
If your dog's urine marking is caused by anxiety, you'll want to address it sooner than later, especially since anxiety can escalate as your dog ages.
This is one reason why it's important not to yell at your dog when he marks. If he's doing it out of anxiety, yelling may make it much worse.
Some dogs experience noise anxiety, social anxiety, or separation anxiety. These fears can make a dog react with unwanted behaviors, like urine marking.
There are several OTC (over-the-counter) anxiety tools that can help alleviate your dog's anxiety. I love this pheromone collar from Adaptil.
My dog, Chilly, had severe anxieties, especially around loud noises, and this collar was a very effective tool we used to manage it. The pheromones have a calming effect on some dogs and can reduce the urge to mark. There is also a room diffuser if you prefer that.
Ultimately, if your dog has anxiety, you may need to enlist the help of a veterinary behaviorist to work through it. You can find a behaviorist in your area using this page on the dacvb.org site.
You can also check out my pet anxiety resource page for more information about anxiety signs and solutions.
Eliminate the Odor
As long as the odor from your dog's urine is still there, he'll likely continue to mark the same spot. So it's important to clean it up the right way, with a bio-enzymatic cleaner that's designed to eliminate biological waste, like urine.
An enzyme cleaner works by eating the bacteria that's causing odor and stains. Ordinary household cleaners will do little to eliminate the mess. If you're in doubt, take a black light to any mess you've cleaned without using a bio-enzymatic cleaner and you'll be convinced!
Kinderbean No-Stress Mess Eraser is paws-down, the best cleaner for pet mess, in my opinion. I've tested a lot of cleaners and most have come up short in one way or another.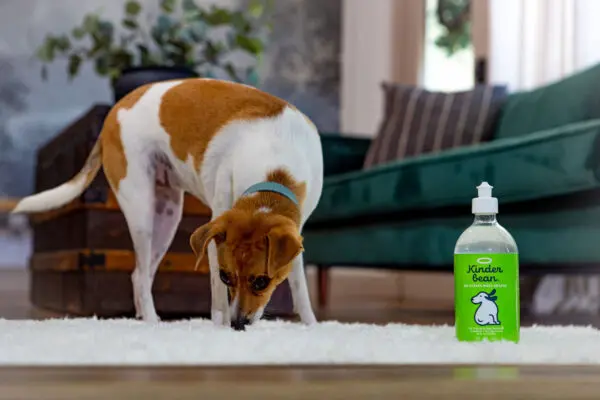 Whichever cleaner you choose, make sure it is:
Bio-enzymatic

Safe for pets (both in chemical composition and odor)

Doesn't contain harsh dyes that could discolor surfaces

Contains natural ingredients

Has a durable dispenser (many have cheap spray tops that break in shipping)
Once you have your cleaner, you need to use it properly to make sure it eliminates the odor.
Soak up as much of the urine as you can with a paper towel.

Saturate the spot with the cleaner. This is important so it can make contact with the urine and eat the bacteria.

If the spot is horizontal, lay a clean cloth over the top and allow it to set overnight. If the spot is vertical, allow the cleaner to air dry.

Retreat if necessary.
It's a very simple process, but it's so important not to simply "spray and wipe away."
Fight Urine Marking with Treats
Most dogs won't pee where they eat. You can change the meaning of the place where he has marked by leaving treats directly on the spot after it's been cleaned.
Consistency is key here because as soon as you've banished one area as a pee spot, your dog may choose a new area. It may take weeks before your dog realizes that the entire house is off-limits to peeing. But this solution is usually permanent, so it's worth the wait.
I like to use these treats because they're low in calories and all-natural. When you're training you'll go through a lot of treats so you don't want to give your dog full-size bones or cookies that will pack on unhealthy pounds.
Get Plenty of Exercise
Breeds that are known for their high energy or above-normal intelligence are in special need of exercise. Getting out that pent-up physical or mental energy can help calm your dog and avoid behavioral issues, such as urine marking.
If you're already walking your dog and he's still peeing indoors, you may need to step up your game and either walk him longer or take him for a run.
If running doesn't get you paws-itively excited, try taking your dog to the park for a game of high-intensity fetch. One of my favorite fetch toys is the ChuckIt! Ball Launcher. It allows you to throw the ball long distances without tiring out your arm.
Exercise may seem like a very simple step, but it's probably one of the most important!
Limit Opportunities to Mark
If your dog is a stubborn marker, you may need to take stricter measures to curb the behavior.
Some experts recommend the umbilical cord method. When your dog is inside, he'll remain leashed to you so you can closely monitor him. As his behavior improves, you can gradually give him more freedom to explore the house.
I've tried this method to housebreak my dog, Tulip, and it works fantastically. I'll caution, though, that you do need a lot of patience and consistency to see results.
When to See Your Veterinarian
In most cases, behavior modification is enough to curb your dog's urine marking. However, in some cases, urine marking can be caused by medical issues.
Your dog may have begun marking because of a urinary tract infection and the only way to know for sure is to visit your veterinarian.
If your dog has begun urine marking and there doesn't seem to be any apparent trigger, it's time to visit your veterinarian to rule out anything that needs treatment.
Additionally, if your dog has extreme anxiety that's causing the urine marking, you may need to seek help from a veterinary behaviorist. They can help get your dog the relief he needs.
The Tail End
If your dog is urine marking in the house, rest assured, you've done nothing wrong in their housetraining. Urine marking is a behavior and with behavioral modification along with neutering your dog, you can stop marking for good!