Dig this… a portion of this post is sponsored by Zoetis Petcare, but opinions are my own and 110% "pawthentic"!
Here in the Levine family, we breathe a sigh of relief when the summer months are finally behind us. Not only does the oppressive heat here in Florida make it challenging to get Chilly outside to get the exercise he needs, but the fireworks during the week of July 4th and the booming thunder that rolls through almost daily mean that we really have to be on our toes to manage his noise aversion (fear of loud noises).
I wish I could say that the next 6 months or so will be completely free from noises that trigger his anxiety, but that's not the way it goes. Even though we live in a farmhouse in the country, there are still many scary noises for a dog with noise aversion.
Noise Happens All Year – Not Just During the 4th of July
We live only five miles from an outdoor shooting range. Believe it or not, on some mornings, when the wind is just right, we can hear the gunfire. On those mornings Chilly won't even go outside to potty! Even though the sound of the gunfire is faint and distant, the sudden, unpredictable "snap" sound really freaks him out.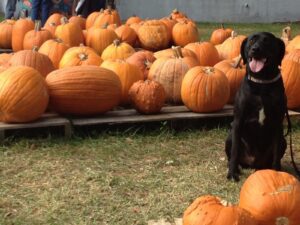 Aside from the occasional "shotgun mornings," our neighborhood is relatively quiet — or at least it was until about a year ago. That's when our new neighbors moved in. Mind you, we love our neighbors. They have amazing kids who love all of our animals, and they're great neighbors all in all. However, they're working on their house and five-acre property, which involves a bulldozer moving earth around about twice a week. So, we have even more noise!
Thankfully, Chilly has gotten pretty used to the noise from the bulldozer, but in the first few weeks, he was so frightened when he heard the noise next door that he wouldn't even go outside.
Over the years, we've learned a lot about helping Chilly with his noise aversion. His developed slowly over time, starting when he was about 3. It progressively became more and more severe (this happens to many dogs with noise aversion), which led us to talk to our veterinarian about solutions. Now we have an action plan at our house that we use to manage Chilly's anxiety, based on the type of noise, as well as its severity and predictability.
As you can see, there are many noises and noisy situations that can send dogs with noise aversion into reactions. Construction-related noise (either temporary or regular), traffic noise, gun range noise, noise from parties, loud music, and even the vacuum cleaner can trigger anxiety and fear.
Sadly, an estimated two out of five dogs1 suffer from noise aversion, and they may live in areas or environments that produce frequent or sudden noises that cause them to be fearful and anxious. Dogs who live in homes near busy highways or a hopping sports venue may suffer from constant anxiety due to noise aversion. Do you know how to tell if your dog is suffering?
Pin Me!
Symptoms of Noise Aversion
Dogs with noise aversion don't all react to loud or sudden noises in the same way. Here are some of the most common signs of noise aversion in dogs.
Aggression
Cowering
Destructiveness
Excessive vocalization
Freezing or immobilization
Furrowed brow or laid-back ears
Hiding
Hypervigilance
Inappropriate elimination
Refusing to eat
Self-harm
Yawning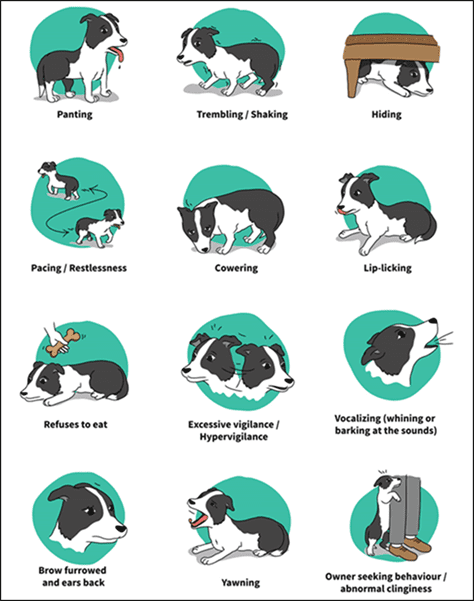 Dogs with noise aversion are truly terrified, and they need help to manage their fear. That's where your veterinarian comes in. Share the signs your dog may be experiencing with your veterinarian, bring this quiz with you. You see, only your vet can diagnose your dog with noise aversion, and some of the solutions must be prescribed by a veterinarian, including SILEO® (dexmedetomidine oromucosal gel), my choice for treating Chilly's condition.
Help for Dogs with Noise Aversion
Chances are, if you live in a city or environment where there's constant noise, your dog may adjust over time, especially if they were born into the noisy environment. Or they may respond to treatments like behavior modification – such as systematic desensitization or counter conditioning, where they are gradually trained to associate a terrifying noise with something enjoyable and not scary at all — like a treat. These methods can be very effective, but they may take weeks or months to work.
But for dogs who need a more immediate solution, like those with severe noise aversion, those who are new to the noise, or dogs who only experience sudden or occasional stress due to noise (like thunder, fireworks, gunfire, the lawnmower, or a rowdy party next door), a conversation with your veterinarian about SILEO could be the key to keeping them calm.
SILEO is the first FDA approved treatment for noise aversion in dogs. SILEO is a gel that comes preloaded in a multi-dose syringe. Your veterinarian determines the dose. All you have to do is set the dosing ring on the syringe to the correct spot and lock it in place. Then place the syringe between your dog's cheek and gums and it will be absorbed by the mucous membranes in his mouth, so you don't have to worry that he'll spit it out. And you don't have to go through the trouble of disguising it as a treat to trick him into swallowing it.
If you'd like to see how it's done, this short video shows exactly how to administer SILEO to your dog.
One of the reasons I love using SILEO is that, although it calms his anxiety, Chilly is still awake and aware after he's had his dose, instead of woozy and sedated like can happen with some other medications.
SILEO is a great solution for those sudden, unexpected noise events. Ideally, I try to administer it a full 30 to 60 minutes before the noise begins, but that's not always possible. SILEO is also effective if you administer it as soon as you hear the noise or as soon as your dog starts to show signs of noise aversion.
The medication takes full effect within an hour, and it lasts 2-3 hours. I don't usually have to give Chilly another dose since most of our noise events are over in that time. But SILEO is safe to – repeat, up to a total of 5 times during a noise event. If the noise continues and your dog needs another dose of Sileo, you should wait at least two hours between doses.
Even though thunder and fireworks season is over, I keep SILEO on hand so that we're ready to help Chilly through any noise aversion. In addition to treating with SILEO, here are some steps pet parents can take to reduce their dogs' fear and anxiety related to noise.
I'm so thankful that I talked to my veterinarian about using SILEO to treat Chilly's noise aversion. Now, no matter what's going on in our neighborhood, we know that he won't experience any noise-induced anxious behaviors.
Take this quiz to see if your dog may suffer from noise aversion!
If you suspect your dog may be suffering from noise aversion, there are solutions! Talk to your veterinarian and ask them about SILEO.
"This is a sponsored post. However, all opinions and anecdotes are my own, and I never promote any products or brands I don't believe in. ~Petfully yours, Kristen"
IMPORTANT SAFETY INFORMATION: Do not use SILEO® in dogs with severe cardiovascular disease, respiratory, liver or kidney diseases, or in conditions of shock, severe debilitation, or stress due to extreme heat, cold or fatigue or in dogs hypersensitive to dexmedetomidine or to any of the excipients. SILEO should not be administered in the presence of preexisting hypotension, hypoxia, or bradycardia. Do not use in dogs sedated from previous dosing. SILEO has not been evaluated in dogs younger than 16 weeks of age or in dogs with dental or gingival disease that could have an effect on the absorption of SILEO. SILEO has not been evaluated for use in breeding, pregnant, or lactating dogs or for aversion behaviors to thunderstorms. Transient pale mucous membranes at the site of application may occur with SILEO use. Other uncommon adverse reactions included emesis, drowsiness or sedation. Handlers should avoid direct exposure of SILEO to their skin, eyes or mouth. Failure to lock the ring-stop on the syringe before dosing SILEO could potentially lead to an accidental overdose. Always review INSTRUCTIONS FOR USE before dispensing and dosing. See full Prescribing Information.
Sileo® is a trademark owned by Orion Corporation Orion Pharma Animal Health. It is manufactured by Orion Corporation and distributed by Zoetis under license from Orion Corporation Orion Pharma Animal Health.
Kristen Levine has a consulting relationship with Zoetis.
1According to the Motion Sickness and Noise Aversion Omnibus Study published on December 12, 2018.
SIL-00412