Pet anxiety is more common than many pet parents might think. In addition, dogs are not the only pets that suffer from anxiety. Our feline friends can experience symptoms as well.
If you follow my posts, you probably know that my pup, Chilly, suffers from noise aversion and anxiety, but you may not know that I've experienced pet anxiety in my home long before sweet Chilly came along. My beloved dog, Buck, who passed some time ago, also suffered from fear, anxiety, and stress (FAS).
In 2017, I founded Pet Anxiety Awareness Month (PAAW), to shed light on how pet parents can deal with the complicated effects of having a pet with an anxiety disorder. I also am privileged to have the opportunity to work with veterinarians and pet product companies and try out new products aimed at alleviating pet anxiety.
I don't take for granted the opportunity I have to learn about so many great pet products that make life better for pets and their people. The average pet parent is busy and may not have time to "bone up" on the latest trends and solutions for their pet. My wish is to give pet parents, like you, hope and to show you the variety of options you have to comfort your pet. Pet anxiety is treatable!
What Causes Pet Anxiety?
There are a wide variety of potential pet anxiety causes, including:
Changes in routine, like a pet parent going back to work after a long hiatus at home.
History of abuse, abandonment, or neglect in a previous home.
New situations and noise from things like fireworks, thunderstorms, and travel.
Physical causes including aging, illness, or pain.
Separation anxiety caused by being home alone.
Unfamiliar places, such as the groomer, the veterinarian's office, vacation, or moving to a new home.
New people or animals who may visit your home or even a new addition to the family.
Thankfully, once you identify the possible causes or triggers of your pet's anxiety, there are many veterinarian-approved ways to treat the condition. Before you visit a veterinary professional, though, look for the following possible signs of dog anxiety and cat anxiety. To help your veterinarian understand your pet's behavior, make sure to write down which symptoms your pet is experiencing and bring the list to your next appointment.
Dog Anxiety Signs
Could your dog be suffering from fear, anxiety, and stress? Certain behaviors, like cowering or hiding are obvious clues that your dog is experiencing anxiety. However, there are also lesser-known signs of canine anxiety, such as yawning or freezing.
Other behaviors or signs or anxiety in your dog include:
Aggression

Clinginess

Cowering

Destructiveness

Freezing or immobilization

Furrowed brow or laid-back ears

Hiding or escaping

Hostility

Hypervigilance

Inappropriate elimination

Licking lips

Pacing or restlessness

Panting

Refusing to eat

Self-harm

Trembling or shaking

Whining, whimpering, or barking

Withdrawing

Yawning
Cat Anxiety Symptoms
Anxiety in cats can be tough to identify. The signs are often not as obvious as they are with dogs. If your cat is experiencing anxiety, she may exhibit frustrating behaviors, like failing to use her litter box. Other symptoms of anxiety in cats include:
Becoming less active
Changes in eating or drinking, such as lack of appetite or eating too fast
Compulsive pacing
Destructive behavior
Diarrhea
Excessive vocalization
Failure to use the litter box
Hiding
Inappropriate scratching
Increased aggression
Increased submission
Over-grooming, sometimes to the point of

hair loss, sores, or lesions
Trembling
Trying to escape
Vomiting
Withdrawal
Pin Me!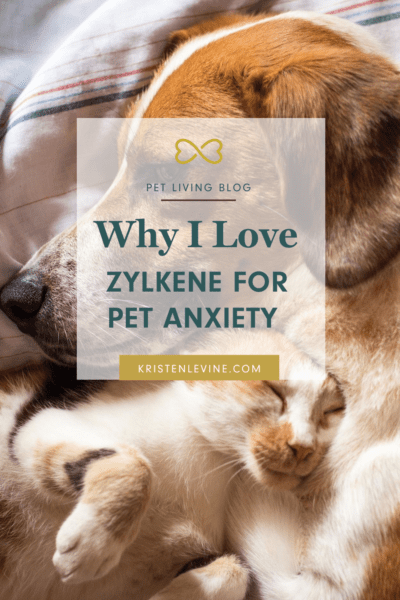 At-Home Pet Anxiety Treatment
If you're dealing with an anxious pet, please know that there is much you can do to comfort your furry friend. Here are some effective things you can do at home to make your pet feel secure:
Make sure your pet gets regular exercise.
Play classical or instrumental music.
Provide a safe, quiet space for your pet to self-soothe, such as a crate or box.
Use calming coats or shirts.
Additionally, if you're dealing with an anxious kitty, try these feline-specific cat anxiety remedies:
Clean litter boxes more often.
Stick to a routine.
Try pheromone diffusers, such as this one.
Even after trying these at-home behavioral remedies, you might find that your pet is still showing signs of anxiety. The fact is, pet anxiety is a medical condition, and the most effective treatment could be a prescription medication. Of course, be sure to talk to your veterinarian before starting any new medicine for dog anxiety or cat anxiety. Visiting a certified veterinary behaviorist who can determine the causes and triggers of your pet's anxiety will also help in identifying the best course of treatment. Since prolonged fear and stress can have a significant impact on your pet's quality of life, it's vital to seek treatment as soon as possible for an anxious pet.
Zylkene for Pet Anxiety
If your pet's anxiety isn't severe enough to warrant a prescription medication, but behavioral remedies alone aren't providing sufficient relief, Zylkene may be just the right choice for your pet. This over-the-counter supplement is available without a prescription and is designed to calm your cat or dog. Zylkene is especially effective for situational stress, such as a trip to the veterinarian or when introducing a new furry family member.
Zylkene helps balance reactions in situations that may trigger their anxiety and helps your pet maintain his or her normal and relaxed disposition.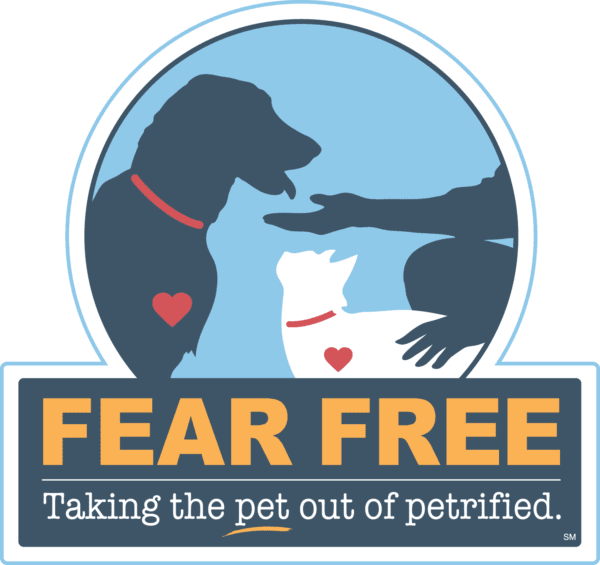 It works using a calming natural milk protein that is lactose-free. And unlike some treatments for anxiety, Zylkene doesn't cause drowsiness, so your dog or cat will remain alert but calm. Your pet can still enjoy activities, trips, and celebrations without feeling sedated.
What about medication interactions? If your pet takes medications, you can still administer Zylkene, since it has no contraindications, is safe for pets with allergies, and can be used long-term without harmful side effects.
Another reason I love Zylkene is because of what they stand for. They're a proud sponsor of Fear Free. Fear Free provides online and in-person education to veterinary professionals, the pet professional community, and pet owners. I love their motto, "Taking the Pet out of Petrified."
How to Administer Zylkene
There are three purchase options for Zylkene. The weight of your pet will determine which prescription strength to administer.
Since Zylkene is often used primarily for situational anxiety, it's most effective when you administer it well before the stress-inducing event, such as a grooming or veterinary visit. Zylkene is safe
for long-term use, but if your pet only needs occasional support, you can follow the dosing instructions and begin to give your pet his or her dose of Zylkene up to 7 days before the event.
If your dog has difficulty with pills, you can open the capsule, add it to peanut butter and smear it on a licking mat like this one.
Is your cat a picky eater? You'll be happy to know that Zylkene has no taste, so you can simply sprinkle it on her food and rest assured that she'll get its calming benefits.
I'm confident that we have the power to solve most issues that arise with our pets. Usually, all it takes is a little research, some product experimentation, and a chat with a veterinarian.
Let's all do our part in creating happy and healthy lives for our pets!