Dig this… a portion of this post is sponsored, but opinions are my own and 110% "paw-thentic"!
In honor of Pet Anxiety Month, I'll talk a little bit about pet anxiety each week in June to highlight calming solutions. My wish is to give pet parents, like you, hope and to show you the variety of options you have to comfort your pet.
Pet Anxiety Awareness
I have years of experience in my own household with anxiety in dogs, but our feline friends can experience symptoms as well.
If you follow my posts, you probably know that my pup, Chilly, has noise aversion and anxiety, but you may not know that I've experienced pet anxiety in my home long before sweet Chilly came along. My beloved dog, Buck, who passed some time ago, also suffered from fear, anxiety, and stress (FAS).
In 2017, I founded Pet Anxiety Awareness Month (PAAW), to shed light on how pet owners can deal with the complicated effects of having a pet with an anxiety disorder. I also am privileged to have the opportunity to converse with pet product companies and try out new products aimed at alleviating pet anxiety.
I don't take for granted the fact that I have the opportunity to learn about SO many great pet products that make life better for pets and people. The average pet parent is busy and may not have time to "bone up" on the latest trends and solutions for their pet.
Pin Me!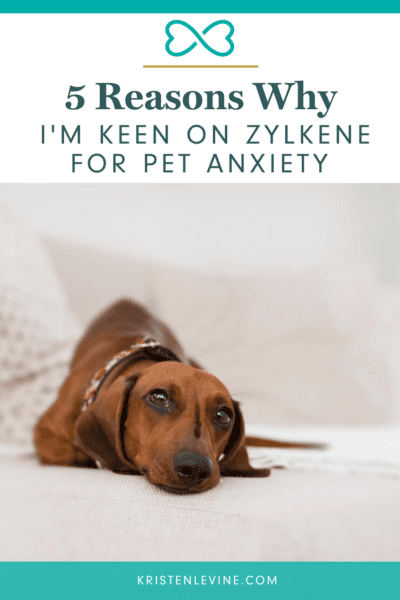 Zylkene for Pet Anxiety
Zylkene addresses common triggers for pet anxiety such as:
New Places such as the groomer, the veterinarians office, vacation, or moving to a new home.
New Situations and Noises from things like fireworks, thunderstorms, and travel.
New People or Animals who may visit your home or even a new addition to the family.
Situational stress and environmentally-induced anxiety are common in dogs and cats and negatively affect their quality of life. Zylkene helps balance reactions in situations that may trigger their anxiety and helps pets maintain normal and relaxed dispositions.
Zylkene contains a calming natural milk protein that is lactose-free to bring your pet a sense of calm.
It's also worth mentioning that Zylkene doesn't cause drowsiness. Your pet can live life to the full and enjoy fun activities, trips, and celebrations without a tranquilizing effect.
If your pet takes medications, you can still administer Zylkene, since it has no contraindications, is safe for pets with allergies, and can be used long-term without negative side effects.
Is your cat a picky eater? You'll be happy to know that Zylkene has no taste, so you can simply sprinkle it on her food and rest assured that she'll get its calming benefits. It may even help eliminate the pesky bad habit of eliminating outside the litter box, as this behavior can be anxiety-induced.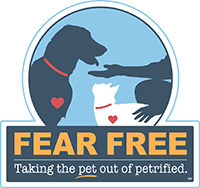 Zylkene is a proud sponsor of Fear Free. "Fear Free provides online and in-person education to veterinary professionals, the pet professional community, and pet owners." I love their motto, "Taking the Pet out of Petrified".
How to Use Zylkene to Alleviate Anxiety in Your Pet
There are three purchase options for Zylkene. It depends on the size of your pet and their needs as to which one will be helpful at alleviating their anxiety symptoms best.
75MG for pets up to 22 lbs.
225MG for pets 23-65 lbs.
450MG for pets 33-132 lbs.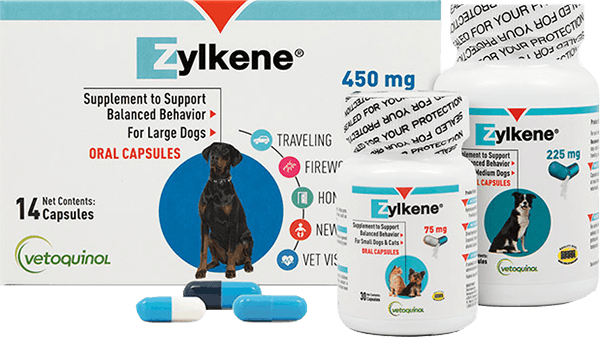 Directions: "Capsules can be administered orally as a single dose, whole or opened at meal time. Use as recommended by your veterinarian."
Zylkene is for short term use and can be used for 1–2 days before a planned event or change in the environment. Some animals may need earlier administration (5–7 days).
Enjoy Life with Your Happy and Calm Pets
With a little research, some experimenting with products, and a chat with your veterinarian, most issues that arise with our pets can be solved. Let's all do our part in creating happy and healthy lives for our pets!