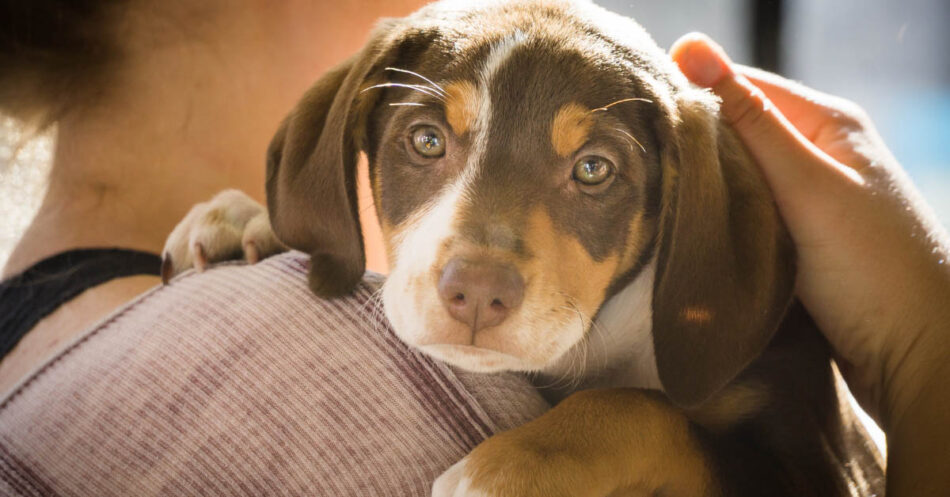 5 Questions to Ask Before Adopting a Shelter Dog
If you're thinking of adopting a shelter dog, you're about to em-bark on a journey that can bring amazing happiness to you and to your new furry family member. However, to experience the joy that a dog can bring to your life, it's important to be realistic.
Many fine furry friends are returned to shelters because their families were not prepared for the reality of sharing their lives with a dog. If you take a good look at your needs and expectations before you adopt, you'll be well on your way towards choosing the perfect pooch for your family.
Pin me: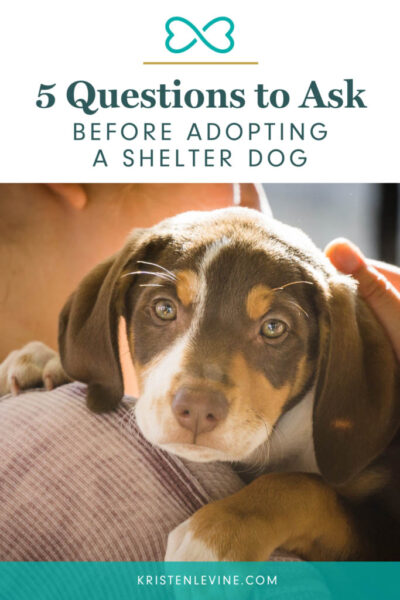 5 Questions to Ask Before Adopting a Shelter Dog
1. What Kind of Dog is Best for You?
There are many factors to consider when choosing the right dog. For example, an elderly pet parent may not want to choose a high-energy puppy that requires a lot of attention, physical activity, and training.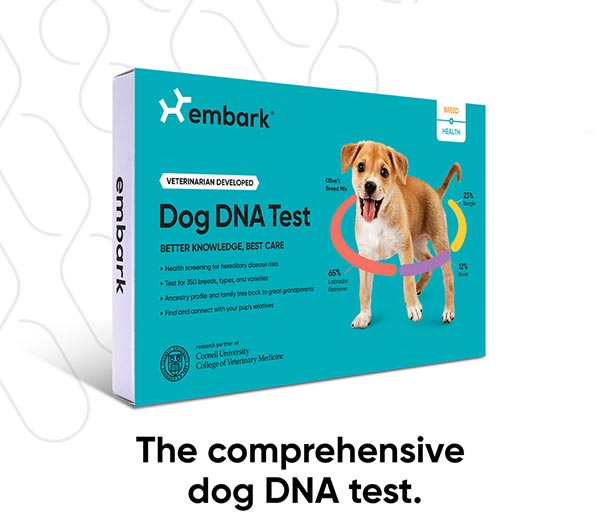 Think about your lifestyle and activity level. Are you looking for a dog with lots of energy, or would you prefer a dog who just wants to cuddle on the couch? Are your home and yard large enough to accommodate the dog you are considering? The staff at the shelter will be able to assist you in finding a dog whose size, age, and personality fits your needs.
It's also important to research different types of dogs to understand the dominant qualities of each breed. Schnauzers, for instance, can be very protective and high energy, while retriever dogs tend to be more social, peaceful, and easygoing.
Most shelter dogs are mixed-breed, so you might want to ask the shelter staff if they know the mix of breeds in your potential pup. Then, even after you bring home your dog, it may be a good idea to do a doggie DNA test. This Breed and Health kit from Embark Veterinary tests for over 350 breeds, types, and varieties and more than 190+ genetic health conditions! Knowing your dog's genetic makeup will give you helpful insights into how best to deal with his instinctual behavior, as well as peace of mind while you care for his health.
2. Can You Afford to Care For a Dog?
A shelter dog's initial adoption fee will only be the beginning of your pet-related expenses. The cost of having a dog in the first year can range anywhere from $700 to $2,000! Before you adopt, be sure to budget enough for the bare doggie necessities like:
Even after buying all of the initial pet supplies, you'll still need to be prepared for the routine costs of caring for your pooch. Throughout his whole life, your dog will continue to need high-quality food, routine vet care, and toys to keep him entertained. Depending on the breed, he may also need regular grooming. Additionally, if you plan to travel without him, you'll need to factor in the cost of doggy hotels or in-house pet sitters.
It's also smart to plan ahead for unexpected medical expenses. Many dog parents purchase pet insurance, like the Accident & Illness no-network plan from Embrace, so they're prepared in case of an emergency. Otherwise, your wallet could take a huge hit from emergency veterinary bills!
Ultimately, it's good to be realistic and understand that caring for a dog costs money. So, before adopting a dog, you need to examine your financial situation and be prepared to spend some cash on your new pet.
3. Do You Have Time For a Dog?
Dogs are social creatures, and they need lots of love and attention to thrive. They also need regular exercise to stay healthy. Does your daily schedule allow you to give a dog the attention he needs to be happy?
Even though you can buy automated feeders, cameras, and fancy Furbo treat dispensers, there's no substitute for spending in-person, one-on-one time with your pup. Dogs are a long-term commitment, so you should never make a decision about adoption when you're in a short-term situation. For example, some pet parents adopt a dog when they're out of work. Then, when they return to work, they're no longer able to devote the same time and attention to their new furry family member.
Before adopting a dog, remember that you'll need to spend lots of time with him to build a strong bond.

4. How Will a Dog Fit in With Your Family?
If you already have pets, it's important to think about how they will be affected by the arrival of a new pup. After all, their happiness is your first priority! Nervous cats, territorial dogs, or pets with certain medical conditions may not make the best housemates for a new pet.
Additionally, while a new dog can bring so much joy to a home, they'll also introduce a fair amount of dirt and hair into the house. If you or another family member are intolerant of dirt or mess, this is something to consider seriously before adopting a shelter dog. For example, does anyone in your family have allergies or other medical conditions such as asthma? How will they be affected by sharing a home with a dog? You'll also want to invest in a good-quality vacuum for pet hair.
Lastly, it's very important to understand that many shelter dogs are not house-trained. In fact, shelter personnel often won't know anything about a dog's previous training. So, your precious new pup might end up chewing shoes, toys, furniture – or worse, peeing in the house.
Behavioral issues are one of the top reasons why dogs are surrendered to shelters. So, before adopting a shelter dog, be prepared to train him. It will take a lot of time and patience to get your new dog accustomed to his new home. Many pet parents feel very frustrated after cleaning up unexpected messes, which increases the risk of surrendering the dog back to the shelter.
Thankfully, behavioral issues like peeing in the house don't have to be permanent problems. With the right cleanup routine and training methods, you can enjoy your new dog and a pee-free house.
When a dog pees on the floor, it can leave a lingering scent that invites him back to repeat the behavior. You may not notice it, but his keen nose surely will. Using an enzymatic cleaner formulated specifically for cleaning up pet messes is the only way to get rid of the smell completely. The right cleaning products will stop your new dog from a repeat peeing performance!
For more information on how to house-train a dog and clean up messes the right way, please grab a free copy of my new guide: Everything You Never Wanted to Know About Your Dog Peeing in the House.

5. Are You Ready For a Long-term Commitment?
Depending on the age of the dog you adopt, you could be committing to ten, twelve, or even more years of caring for your pet's happiness. This means that, long after the initial novelty has worn off, he will still need your time, love, and attention.
Now, if you're thinking that your kids will help with pet care, you might want to think again! Children under the age of 7 should always be supervised during pet care activities. Older kids can certainly learn to perform regular pet chores like feeding the dog, cleaning his food and water bowls, and brushing him. However, there will definitely be times when the kids don't do their part. As an adult, you are the responsible pet parent. Your dog will still be looking to you for care after your children have left home.
To prepare for a new pup, talk to friends and family that already have dogs. They can give you a good understanding of how much time it takes to care for a pup: especially during the early days when your dog still needs to get used to your house and be trained. You might even consider pet sitting or fostering a dog first to get the full pet-care experience.
Adopting a shelter dog can be one of the best decisions of your life. You'll be opening yourself up to the joys a dog can bring, and you'll be saving your dog's life as well! If, after taking a realistic look at your needs and circumstances, you decide that the decision to adopt is right for you, you'll be entering into this experience prepared to give your pooch exactly what he needs. Then, you'll be rewarded with the unconditional love and loyalty of your new furry friend!

Check out this paw-some info-graphic from Greyhounds As Pets in Australia for more helpful tips on adopting a dog.

Chew on this: I may receive a small commission for affiliate links, but all products I "dig up" are ones I paw-thentically love!