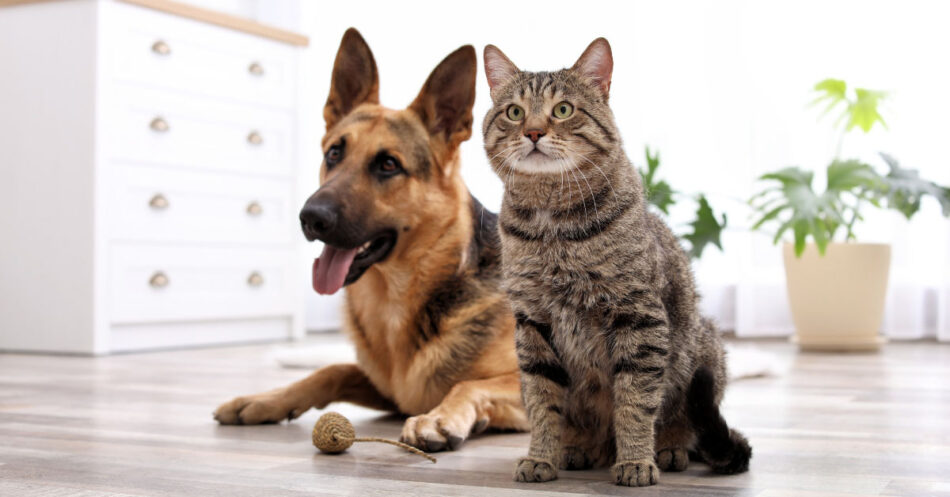 What is the Best Vacuum for Pet Hair?
The type of vacuum you need will depend greatly on the surface you're trying to clean. The best vacuums for pet hair include:
6 minute read
---
There's nothing better than snuggling with a fluffy cat or a soft, furry dog. We love our pets, hair and all! Just think, though – wouldn't it be nice to invite your guests to sit in fur-free chairs, instead of wincing when you see them trying to brush pet hair off the furniture?
As much as we adore our furry friends, it's easy to get frustrated with the amount of fluff that ends up on our clothes and in our homes. In fact, one BISSELL survey showed that a quarter of people who chose not to adopt a pet cited cleanup as their primary reason.
It might seem overwhelming, but I can tell you from experience that pet cleanup is very manageable with the right tips and tools.
Pin Me!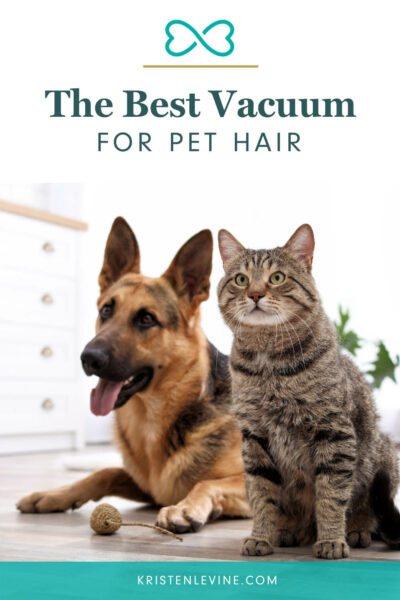 Best Carpet for Pets
Before we get into how to remove our pet's hair from our carpet, it's important to ask "what kind of carpet is best for pets?" After all, it doesn't do much good to have a fluff-free carpet if it stains easily and looks dirty even when it's clean.
I know so many pet parents that avoid carpeting altogether just because they're afraid of their pet having an accident on it. Hard surfaces may seem to be the easier route, but if you're craving that warm plush flooring, you will love this option.
Mohawk has an incredible type of carpeting called All Pet SmartStrand. It's made, in part, with plant-based materials that resist pet stains.
It's backed by Mohawk's All Pet Protection and Warranty, covering all accidents, all the time. And it's super easy to clean. All you need is water!
Now that you have a flooring that's easy to clean, we need to tackle the fluff. So, to take the first step toward achieving a fur-free home, let's talk strategy.
How Can You Prevent Shedding?
The short answer is that you can't. Even though there are times of the year when pets shed more, most pets will shed year-round to some extent.
Thankfully, though, there is plenty you can do to decrease the amount of fur your pet sheds.
First, make sure to regularly bathe your dog and bathe your cat as needed. Establish a consistent grooming routine to take care of pesky stray hairs. Some pet parents even use a grooming extension for their vacuums, like this Dyson Groom Accessory, to pick up loose fur right at the source. I've found the Furminator to be an excellent tool for both kitty and doggie grooming!
Personally, I love using the Booster Bath to keep my dogs clean at home. It lets me stand up straight while bathing my pups, and makes water drainage and cleanup easy! I've used it both indoors and outdoors, and I definitely recommend it for every pet parent.
I pair my Booster Bath with Vetericyn's FoamCare Shampoo and the Waterpik Pet Wand Pro to keep bath time mess-free and stress-free for all of us.
FoamCare's pH-balanced formula never irritates my dog's sensitive skin, and it rinses fast and clean.
Of course, it's easier to rinse when I use the Waterpik, which is designed to clean even the hardest-to-reach spots on your pet. I just attach it to my kitchen sink or my garden hose.
---
By the way, when you're ready to try Vetericyn's FoamCare Shampoo, don't forget to use the code PETLIVING for 20% off your fur-st order!
Of course, despite your best efforts, your pet is still going to shed. So, the question remains: how do you manage all the fur?! You need the right tools.
The Best Vacuums for Pet Hair
As pet parents, we have to clean up messes pretty frequently. So, we need tools that will make the job easy.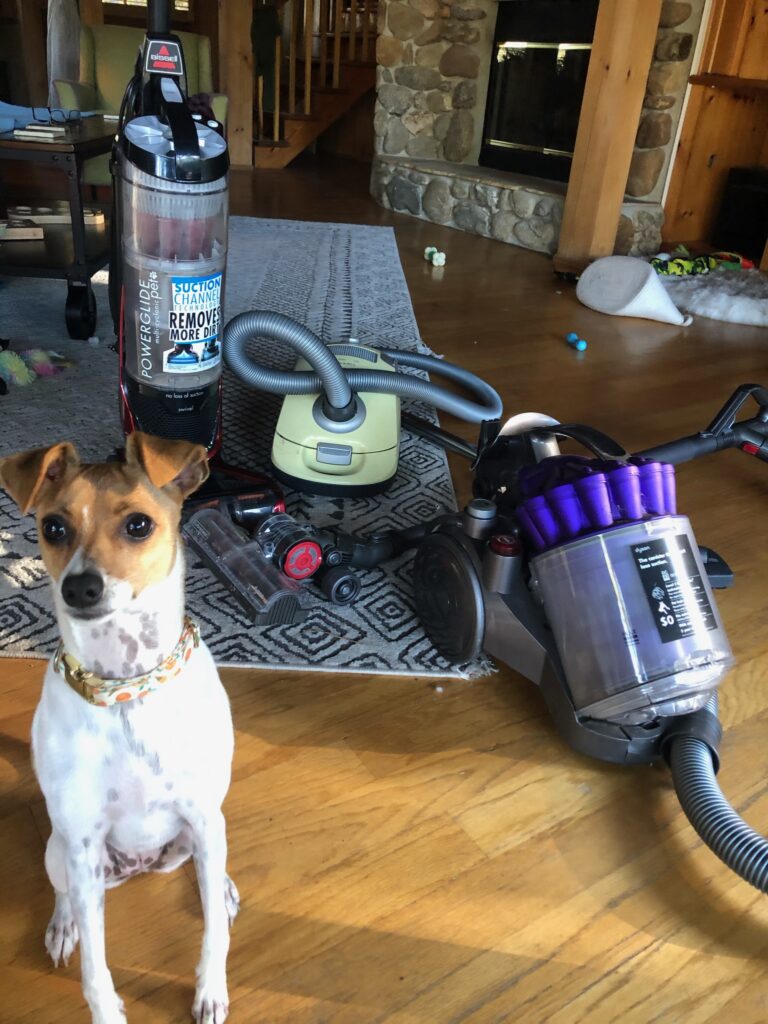 Believe it or not, I have 5 vacuum cleaners — and I use them all. They range from cost-effective BISSELL vacuums designed to be paw-some at picking up pet hair, to high-end ones like a Meile canister model and Dyson's pet vacuum.
Regardless of your budget, I'm confident you can find a vacuum cleaner that will effectively remove the furry flurries from your floors and upholstery.
The Best Vacuum for Hardwood Floors and Pet Hair
My Dyson Ball Animal 2 is a life-saver for hard floors. It's so lightweight that your arm won't get tired even if you have a large house to clean! The self-adjusting cleaner head automatically raises and lowers itself to seal in suction and deep clean across different surfaces, and it can swivel to make cleaning under furniture a breeze. It's also easy to empty, tangle-proof, and allergy-friendly.
Rubber Push Broom for Pet Hair
It's also handy to have one of these rubber brooms lying around for those times when you don't need to haul out the vacuum. It works almost like a magnet to clean up pet hair. Quick cleanup, here we come!
The Best Vacuum for Pet Hair on Carpet
BISSELL® Pet Hair Eraser® Lift-Off Vacuum with Tools
This is a brand close to my heart. The BISSELL family is dedicated to supporting pet rescue and helping pet parents keep their homes free of stains, odors, and hair.
I love all of BISSELL's Pet Hair Eraser models, and I even own a BISSELL Pet Hair Eraser Turbo. This model combines power and convenience with a detachable, portable canister that you can use to clean all over your house.
It also comes with the Pet TurboEraser tool to remove embedded hair from carpets and upholstery, a pet grooming attachment, a built-in telescoping wand to reach baseboards and ceilings, and an LED-lit crevice tool to uncover hidden dirt.
The Best Vacuum for Pet Hair on Upholstery
Miele Classic C1 Cat & Dog Canister Vacuum Cleaner
I absolutely love my Miele canister vacuum. Its six-speed motor, interchangeable floorheads, and uniquely engineered attachments make it the perfect cleaning machine for all types of hard floors, carpets, and upholstery. The automatic cord winder and crush-proof hose are built for both ease-of-use and durability. The mini turbo attachment easily removes hair from upholstery. It's even built with an advanced charcoal filtration system designed to neutralize pet odors and remove 99.9% of lung-damaging particles from your home.
The Best Vacuum for Pet Hair in the Car
Shark Pet Perfect II Cordless Handheld Vacuum
This lightweight, rechargeable cordless vacuum is easy to handle and quick to use. It provides consistent, strong suction that works on all the different surfaces in a car to remove embedded pet hair. It comes with a wall-mount for convenient storage and a rubberized grip for confident cleaning, as well as a crevice tool and a dusting brush to give your vehicle that freshly-detailed finish.
The Best Cordless Vacuum for Pet Hair
Dyson Cyclone V10 Absolute Lightweight Cordless Stick Vacuum Cleaner
Designed to pick up and purify both larger particles and fine dust, this powerful stick vacuum received perfect scores in Good Housekeeping's Pet Hair Pickup tests. It's lightweight, versatile, and only uses battery power while it's actually vacuuming, which means it can run for up to 60 minutes on a single charge.
It also converts quickly into a handheld vacuum for use in the car or on the go, and its low profile makes it easy to reach even the most remote places where pet hair gathers. This machine picks up even ground-in dirt and fine dust, leaving you with a virtually spotless home.
The Best Robot Vacuum for Pet Hair
iRobot has been the go-to robot vacuum for years, and with good reason. iRobot's vacuums are reliable and they just get the job done. Plus, I love that they're constantly improving their technology.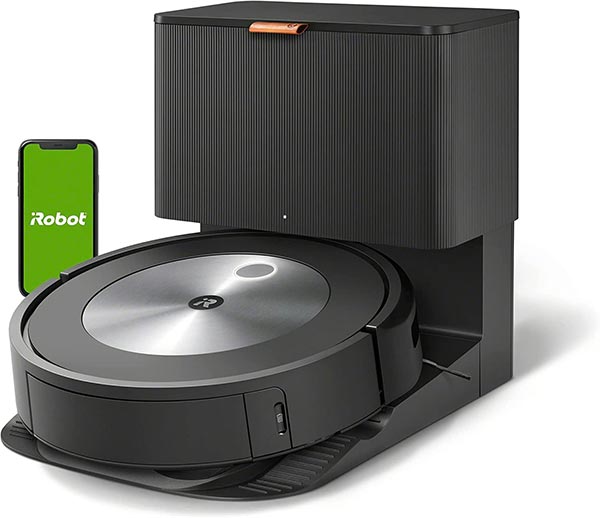 Their latest model, the iRobot Roomba j-7 PLUS is self-emptying and uses a unique technique called Precision Vision Navigation to identify non-dirt obstacles on the floor, like clothing or cables and cords.
But here's the BEST part… It identifies and avoids pet accidents! So if your pet happens to poop or pee in the house, you don't have to worry about your Roomba smearing it all over your floors.
The canister empties itself when it's finished cleaning, for up to 60 days at a time. So you never have to worry about touching pet dander and dirt.
The Best Robot Vacuum Mop Combo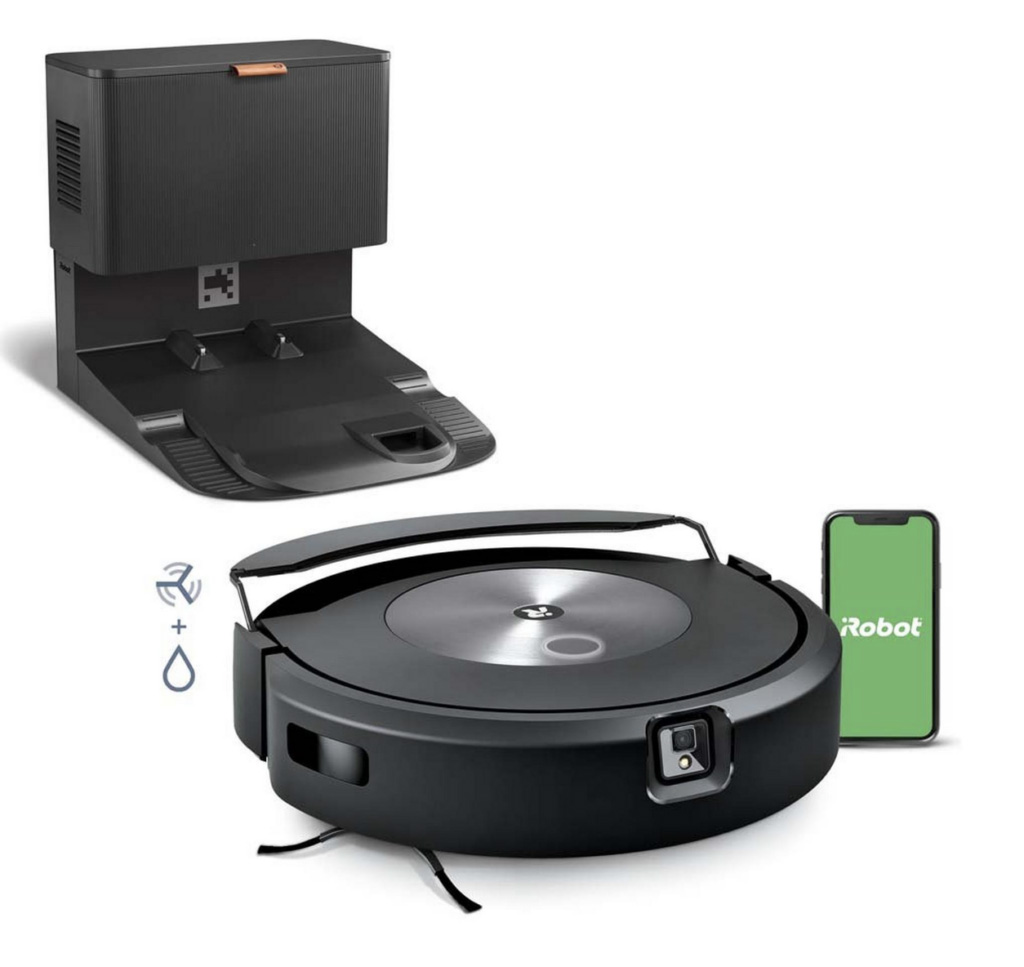 For pet owners who could use an extra hand around the house, the iRobot Roomba Combo j7+ Robot Vacuum and Mop is just what you need.
Powered by iRobot OS home intelligence, the Combo j7+ can detect and avoid floor obstacles like cords, shoes, pet bowls, and, yes, even solid pet waste.
It's also perfect for homes with a mix of floor types, as it seamlessly cleans carpets and hard floors in the same cleaning job without any intervention from you.
And unlike other 2-in-1 robots, the Roomba Combo j7+ this one has an auto-retracting mop pad that lifts when on the carpet, preventing wet messes.
The Best Allergy-Friendly Vacuum for Pet Hair
Kenmore Elite Pet Friendly Bagged Upright Vacuum
If you or another family member has a pet allergy, this vacuum might just be the answer to your doggie (or kitty) dilemmas. Certified by the Asthma and Allergy Foundation of America, this device's triple HEPA filtration system captures 99.97% of dust, dander, pollen, and other allergens so you can breathe easier.
Its Pet Handimate hose and wand attachment make it easy for you to clean under furniture, on top of high shelves, along baseboards, in the car, and all over your upholstery to remove even the most stubborn pet hair and dander.
It also comes with an LED Infrared Dirt Sensor that shows you where to focus your cleaning power, giving you confidence that when you're done vacuuming, your surfaces are truly clean.
Tips for The Best Pet Hair Removal
Once you have the right tools for your cleanup job, follow these tips for the easiest fur removal!
Start with a clean bag or empty canister.
Use attachment tools for removing pet hair on upholstery or curtains.
Make sure there's nothing blocking the vacuum hose to get the strongest suction.
If you're still struggling with pet hair in your home even after a thorough vacuuming, wash all pet bedding and blankets regularly. Those soft surfaces tend to accumulate pet hair which then migrates around the home on drafts, air currents, or even feet!
So, are you drowning in dog or cat hair? Is the thought of furry flurries keeping you from adopting a pet? Just remember: with the right tools and strategies, you can overcome even the hairiest of issues.