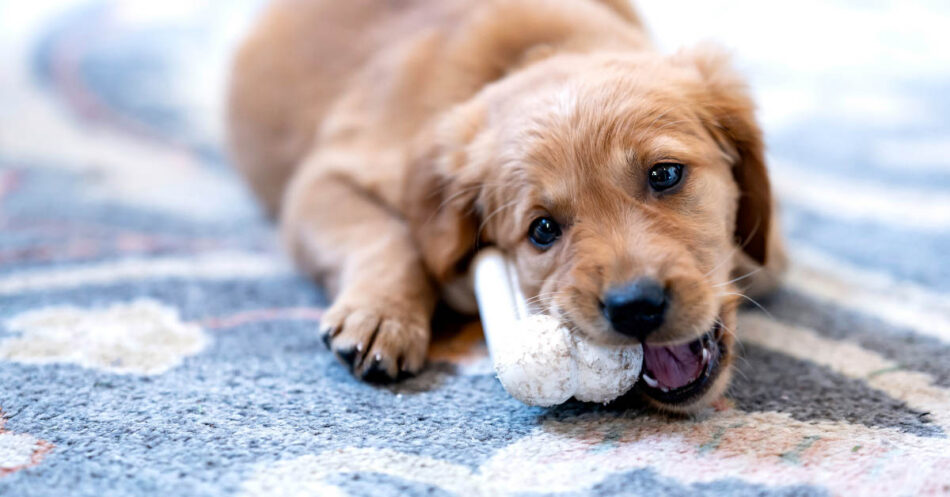 How to Stop a Puppy from Chewing on Everything
There is nothing quite as adorable as a puppy. However, there's also nothing (other than a natural disaster) with the same potential to wreak havoc on your home and possessions!

If you've ever had the joy of raising a puppy, you know what I mean. For every soft, floppy puppy cuddle and wet, puppy-breath kiss, it seems like there's also a chewed-up shoe, a mutilated table leg, or even a carpet that's been peed on (to learn what to do about your dog's urine marking, see this post). And as much as you treasure the experience of sharing your puppy's babyhood, you may find yourself thinking (for the sake of your furniture anyway) that you'll be a little relieved when all this destructive chewing is behind you.
Pin Me: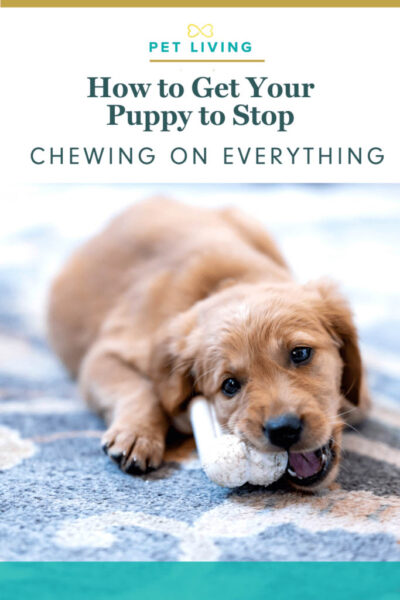 Although chewing is normal puppy behavior, there are things that you can do to minimize the damage. And with less time spent worrying about the things your puppy might destroy, you'll be free to enjoy this precious, all-too-short stage of his life.
Why Do Puppies Chew?
Chewing is completely natural, even for adult dogs, but puppies take it to a whole new level! Puppies chew for a variety of reasons, but most commonly, it's because they're teething, and the pressure from chewing soothes their gums. They're curious about their environment and explore the world with their mouths, or they may be bored and need a way to expend their energy.
How to Stop Your Puppy's Chewing
After throwing out your third chewed-up pair of flip-flops, you realize you need to find ways to stop puppy chewing—and soon! Here are some ways to stop puppies and dogs from doing this destructive behavior once and fur all:
Training
From the time you bring your new pup home, begin teaching him the "Leave it" command. This will make it easier to discourage him from chewing an inappropriate object and redirect him towards something else.
In addition to teaching your puppy to stop chewing on inappropriate things, it's important to provide him with appropriate things to chew. When you catch your puppy chewing something he shouldn't, firmly but gently tell him, "no" and offer him a chew toy you know he likes. Praise him when he begins to use the new toy. This will help him to learn what's OK for him to chew.
For more puppy training tips, check out my interview with my good friend, Greg Kleva, from BarkBusters:
Don't Leave Him Unsupervised
Naturally, you'll need to supervise your puppy at all times to keep them out of trouble. But there will be times when you're not home or when you're too busy to keep a close eye on your puppy. Giving him the run of the house at these times is just asking for disaster.
Crating your puppy is a great way to keep him safe and out of trouble when you can't supervise him. Dogs are den animals, so spending time in a crate isn't a punishment. It's an opportunity for them to enjoy some downtime, take a nap, and stay safe while you're gone.

Keep Him Busy
Puppies have LOTS of energy, and if you don't provide them with opportunities to work it off, they will take matters into their own paws (or teeth).
Playing with your puppy and taking him for walks are great ways for the two of you to form a strong bond, and they'll help to keep him out of trouble too. A tired puppy is a "good" puppy.
Your puppy should have 2-3 walks or play sessions every day. If there are several human members of your family, sharing playtime duties will give everyone a chance for some quality time with your puppy. Your puppy will get plenty of exercise without totally wearing everyone else out.
Get Your Pup Chew Toys
The appropriate chew toys for puppies are usually smaller and softer than those designed for older dogs. It's important to avoid hard bones, as these can damage delicate puppy teeth and prevent his adult teeth from growing properly.
Never give a puppy (or any dog, for that matter) a toy that has parts that could easily be chewed off and swallowed. No matter what toys you "chews" for your pup, make sure that you inspect them regularly for loose parts or threads that could be swallowed and replace them before they become a choking hazard. Be sure that someone is always around to supervise your puppy chewing on these toys.
---
---
---
Chilled carrots. A carrot will give your puppy something cold to soothe his gums, and it's a nutritious treat too. Since carrots are high in fiber, limit your pup to no more than one a day to avoid upsetting his tummy. I've seen a single carrot piece keep a puppy entertained for twenty minutes! A big bonus for busy puppy parents.
Puppy-Proof Your Home
Another way to curb your pup's destructive chewing is to puppy-proof your home. By turning your home into a pup-friendly environment, you can stop your dog from chewing anything that can harm him and keep him safe. But remember, while puppy-proofing keeps your belongings safe, training your new dog to only chew on toys and chews provided to them is key to raising a dog who'll know what is and what is not acceptable to chew on. So if you catch your dog chewing on something inappropriate, promptly offer a chew toy instead. When your dog switches to the toy, make sure to praise him.
Start by identifying items at puppy level that might be tempting for a little mouth—think shoes, kids' toys, or loose cords. Next, use barriers like baby gates or playpens to section off areas that haven't been puppy-proofed. Regularly inspect these areas for stray objects; even an innocent-looking item can become a chew toy in the eyes of a curious pup.
Puppy proofing is an ongoing process, so always be on the lookout for potential chew hazards, and make adjustments as your puppy grows and explores.
Chewing Deterrents
The Final Woof
The puppy months will be over before you know it, and as exhausting as this time is, when it's behind you, you'll most likely look back on it with fond memories. If you watch your puppy carefully and provide him with plenty of appropriate outlets for his chewing needs, you'll probably find that most of those memories are not in the form of little teeth marks in your furniture!