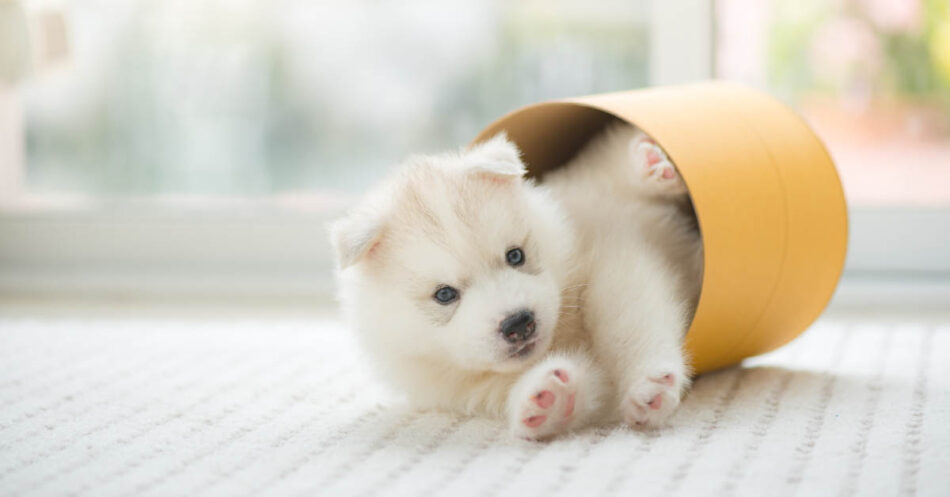 Everything to Know Before Bringing Home a New Puppy
If the thought of bringing home a new puppy makes you weak in the knees, then you're not alone. I'm a sucker for puppies. So much so that my husband and I adopted three of our dogs when they were between the ages of 8 and 16 weeks old.
In fact, we adopted our dog, Tulip, just a few months after the pandemic began. She's our pandemic puppy and a major #fosterfail and we wouldn't have it any other way!
But I'm also the first to admit that, as cute as puppies are, they're a lot of work!
Before you take that first whiff of sweet puppy breath, here is everything you need to know before you consider bringing home a new puppy.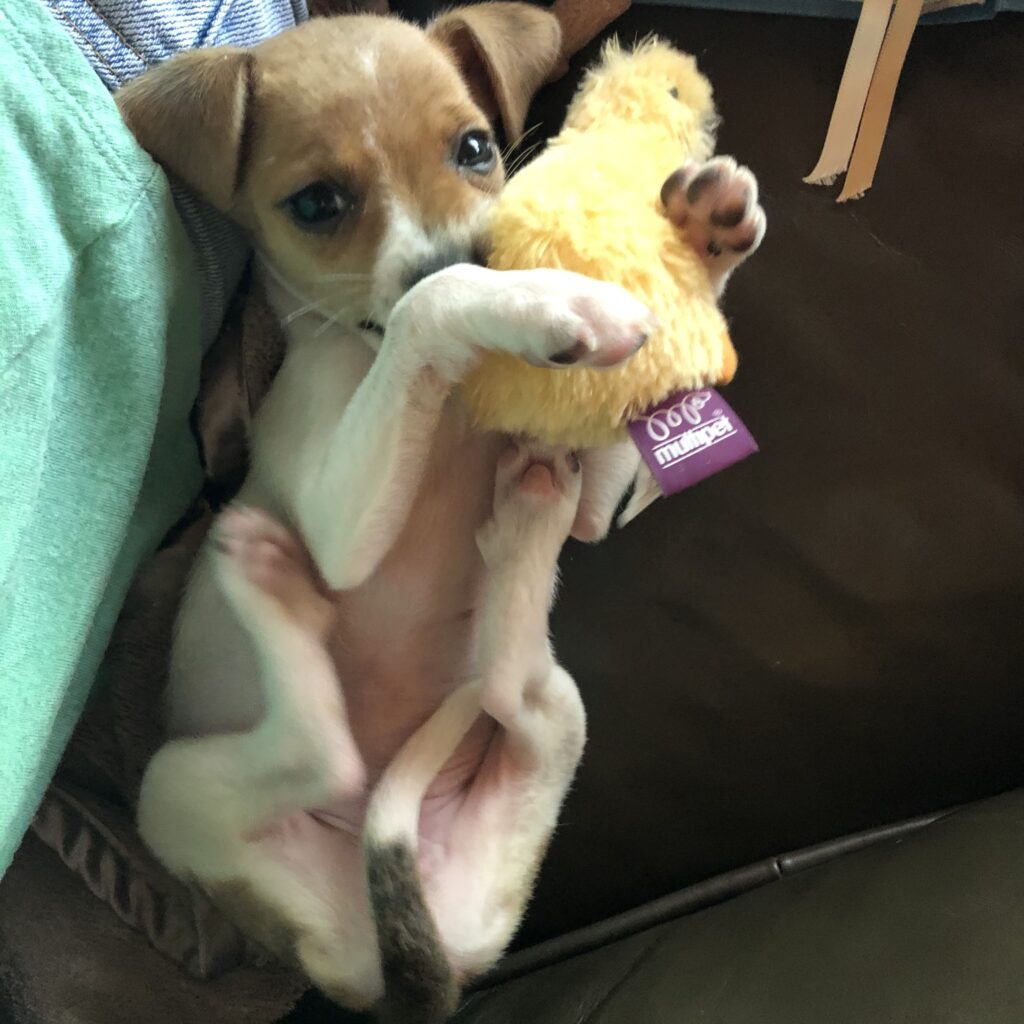 3 Questions to Ask Yourself Before Bringing Home a New Puppy
Sometimes, people get swept up in the "cute factor" of a puppy. Or the kids have been begging for one for months. Or they see someone selling puppies outside a retail store. Bringing home a puppy on impulse can be a recipe for disaster! Instead, set everyone up for success by taking some time to examine your home situation, lifestyle, and the reasons why you want a puppy in the first place.
#1: Can I Afford a Puppy?
According to the ASPCA, the first-year cost of having a dog can be upwards of $3,000. Necessities like food, treats, leashes, and other essential supplies for a new puppy can quickly add up. Then factor in unexpected medical costs, grooming, pet sitting, training, and the amount could go even higher!
Before bringing home a puppy, make sure your budget can accommodate a little extra each month for recurring pet expenses. Also, look into purchasing a pet insurance plan. Locking in a premium when your pup is young and healthy can save you a good deal of money down the road. I've literally saved thousands of dollars with my pet insurance plan. This is the company I use.
Pin me!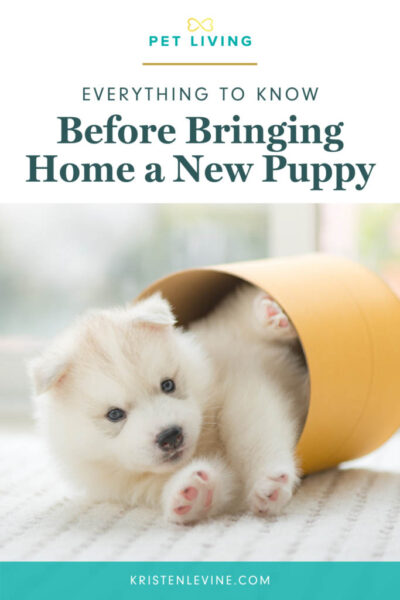 #2: Do I Have Time for a Puppy?
Here's the good and bad news: puppies don't stay puppies forever. All too soon, they're replaced by a (hopefully) wonderful, well-behaved, well-adjusted dog. It doesn't happen by magic, though. Just like with a human child, it's up to us to teach our puppies everything. So take an honest look and ask yourself if you have the time and resources to devote to housebreaking, training, socializing, and caring for your new fur friend. And ask yourself where you will be in 10, 12, 15 years. Will you still have time and resources for a now-senior dog?
Since we were both home during the pandemic, we could easily say that we had enough time for a puppy. However, we knew realistically that our schedules would get back to normal eventually. So we had to have a "real talk" about our availability for taking on a new puppy.
#3: What Kind of Dog Is Right for Me?
Once you've decided that a puppy is right for you, it's time to figure out the type of puppy that would be the best fit for your lifestyle. What type of personality do you have? What's your activity level? How busy is your household? What kinds of things do you like to do?
After you've answered these questions, do some research on different breeds or breed mixes that might fit the bill. For example, if you're a runner or interested in dog sports, a high-energy collie or terrier mix might be a good choice. If you prefer to chill on the couch, look for a companion breed or mix instead.
Tulip is perfect for me. She even has her own office chair right next to mine! Most of the time, she's snuggled up next to me as I type away.
What to Do Before You Bring Home Your New Puppy
If you have your heart set on getting a new puppy and you're ready to handle the commitment, congratulations! The next thing to do before bringing home your little bundle of fluff is to prepare your home. Check out my blog post here to get suggestions on getting ready for your puppy's first night.
You'll also need this essential checklist for a new puppy. Click below to get the free download!

Here are the necessities that you'll want to get your paws on before bringing your new puppy home.
Get the Right Food and Treats for Your Puppy
Before you bring your puppy home, find out what type of food he's eating. Even if you plan on switching his food, you'll need to do so gradually rather than making an instant transition. Otherwise, your puppy may become sick to his stomach or he may decide not to eat his new food.
You'll also want to stock up on small treats, especially training treats. These are a favorite in our house. They're only a couple of calories each, so they're perfect for training and they're all natural with only a few ingredients, so they're perfect for sensitive tummies. Tulip loves the taste!
---
Stock up on Puppy Toys
It's only natural that you'll want to spoil your new puppy with lots of gifts and playtime. When shopping for toys, the options can be
overwhelming. Go here to see my top 12, paws down, absolute must-have puppy toys!
As you fill up your shopping cart, don't forget to add this Gnawsome Spikey Squeaker Ball; puppy's love it. It has a loud squeaker and the plastic spikes are designed to gently clean and massage your dog's gums. It's perfect for teething puppies.
---
Find the Perfect Puppy Bed
This bed is the perfect size for an average-sized puppy. It features an overstuffed bolster so your new addition will feel safe and secure. And best of all, it's machine washable!
Install Puppy Gates and Barriers
Puppies are the most curious of the curious. And they love to explore with their mouths and teeth. So if there's an area of the house you prefer that your puppy avoid chewing or peeing in, it's best to block it off.
And setting barriers is not only best for your belongings, but it will make your puppy feel more secure as he gets used to his new surroundings.
When looking for the best puppy gate for your dog, be sure to consider their size. Small puppies may be able to squeeze through the bars on some gates that are designed for babies and toddlers. Puppies' joints are loose, their bones are pliable, and their ligaments are stretchy, like rubber bands, so they can easily fit through narrow spaces.
I prefer a gate that's made specifically for dogs, like this one.
Be Prepared for Nap Times
It's perfectly normal for a puppy to sleep 20 hours a day, according to Dr. Sara Ochoa, DVM. When puppies are awake, though, watch out! They need careful supervision. But there's no need to worry that your puppy is sleeping a lot — it's very common, especially as young puppies.
However, puppies are typically "morning people," so it's important to decide ahead of time who will be the one on pee duty first thing in the morning. If 5 a.m. wake-ups aren't your thing, you'll need to have a serious conversation about who in the household will sacrifice their pillow time for the sake of your puppy's bladder.
Prepare to Clean Up Puppy Messes
Try as you may, you won't prevent every mess. There are bound to be accidents as you train your new puppy. This odor and stain eliminator works wonders. It works on the toughest stains and odors. Plus it's non-toxic and eco-friendly, so it's safe for your family and pets.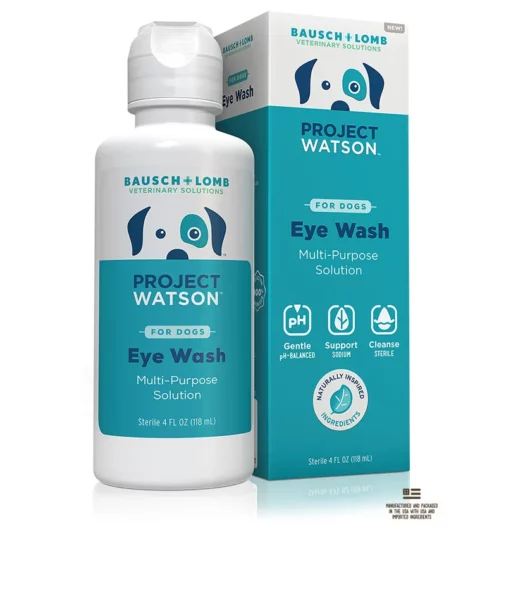 Protect Your Puppy's Eyes and Ears
Did you know that an often overlooked area of a dog's health is their ears and eyes?
Project Watson makes products with naturally inspired, high-quality ingredients. They offer a full line of products that target and protect the eyes and ears from dust, pollen, and other irritants.
Find the Right Veterinarian
Proper pet care is a necessity for responsible pet parents everywhere. Choosing a great veterinary team is the first step towards ensuring your new pup gets the best care for all of his routine visits and any unforeseen medical emergencies. Read my blog post for the ultimate guide to saving money on veterinary bills.
Consider Adopting a New Pet
Many people still think that only troubled, adult dogs end up in animal shelters. But sadly, that's not true. Unwanted and unplanned litters of perfectly happy, healthy puppies are surrendered every day. Even purebred pups often make their way into shelters and breed-specific rescues.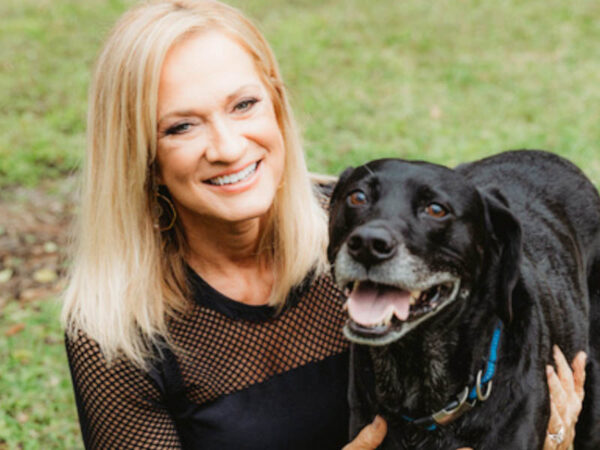 Adopting your puppy from an animal shelter or rescue not only saves a life, but it may also save you money. For an average adoption fee of $25 – $300, you'll likely be getting a puppy that's spayed/neutered, fully vetted, vaccinated, and even microchipped. This can save you hundreds of dollars over buying from a breeder or even getting a "free" puppy and having to do it all yourself.
Bringing home a new puppy can be such a rewarding and joyful new beginning. Have you ever adopted a puppy? What tips would you give for first-time puppy parents? Please share in the comments below.