The Best Dog Shampoo for Itchy Skin and Dermatitis
Is there really a best dog shampoo for itchy skin and dermatitis? Yes! I could give you a list of all the highest-rated dog shampoos on Amazon, but when it comes to managing your dog's itchy skin, I want to give you my personal experience and why I only recommend one kind.
My dog, Chilly, before he crossed the rainbow bridge, had atopic dermatitis. It was truly awful! You can read all about our experience with it in this blog post, How I Finally Treated My Dog's Itchy Skin. He would bite and chew at his skin and break out in red spots. Ultimately, we needed oral medication for him, but when it came to bath time, he absolutely needed a medicated shampoo.
If we didn't get the right shampoo (believe me, we tried many) his skin would become very itchy and dry and it would aggravate his dermatitis.
Before we get into the brand and type of shampoo I recommend, let's talk about the reasons your dog's skin might be so itchy. For Chilly, it was dermatitis, but your dog's cause might be different!
7 Reasons Why Your Dog's Skin is Itchy
1. Atopic Dermatitis
Dermatitis is a reaction to dust, pollen, or other allergens that your dog inhales or comes in contact with. It creates an inflammation on the skin that your dog is likely to scratch, bite, or itch.
Chilly's dermatitis appeared as red spots, as you can see in the image below. It's not pretty and he suffered a lot with it before we learned how to treat it.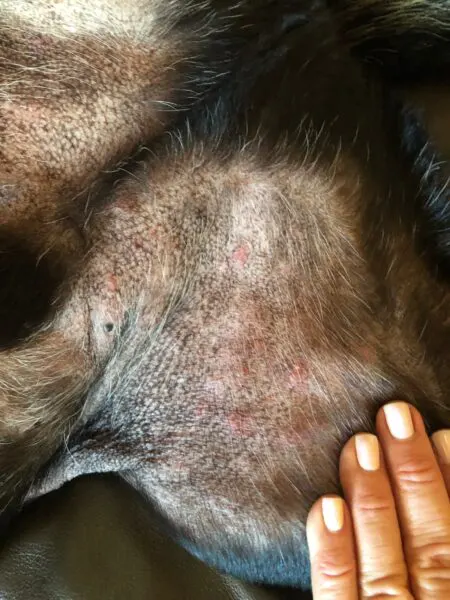 2. Dry Skin
Just like with humans, if your dog's skin becomes dry, it will get itchy. Here are some reasons your dog's skin might be dry:
You live in a dry climate.
Your dog's grooming products are too harsh.
Poor dietary nutrition or absorption.
3. Food Allergies or Intolerances
Food allergies and intolerances can also cause your dog to have dry and/or itchy skin. Some dogs are born with food allergies and some develop intolerances as they grow older.
Canine Nutritionist, Hannah Zueleta, from dailydogfoodrecipes.com advises rotating your dog's protein sources as one step that can help prevent intolerances.
4. Parasites
Fleas and mites can cause your dog to itch excessively. It's best to speak to your veterinarian about how to treat your dog for these critters. A simple bug bite can make your dog itch excessively, and it's important to treat those bites so they don't become infected. Here's more on how to treat your dog's bug bites.
5. Skin Infections
Skin infections are frequently caused by scratches or scrapes that have not been treated. As soon as my pets get into scrapes, I use this wound & skin care product from Vetericyn® and it helps to stave off infection and assist in healing. It's one of the staples in my pets' medicine cabinet!
Use my code PETLIVING to get 20% off your purchase at Vetericyn.com.
Pin me!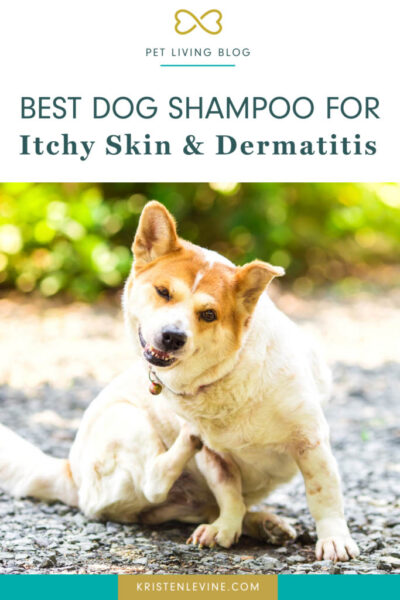 6. Fatty Acid Deficiency
Many dog foods are fortified with fatty acids which are intended to aid the skin. However, they are often heated and treated to the point where your dog isn't absorbing any substantial or beneficial amount of fatty acid. Here's where a supplement like this one can help.
Your dog's supplement should contain omega-3s that promote skin health. My favorite, ALL-IN™ has omega-3 from flaxseed oil and is readily absorbable.
7. Hypothyroidism and Cushing's Disease
These hormonal diseases can cause hair loss or bacterial infections. Although they're not extremely common, if your dog's skin is itchy, it's a good idea to head to your vet and get your dog checked out.
The Very Best Non-Prescription Medicated Shampoo for Dogs
Bath time is not something that most dogs or their parents look forward to. Some dogs hide, some shake from nervousness, and some are nearly impossible to wrangle into the bathtub because of their size!
But if your dog has itchy skin, it's important to keep the skin clean and clear so that it can heal, which means bath time is inevitable. I've used Vetericyn FoamCare Medicated Shampoo for years and I would never be without it! Here's what I love about it:
It's sulfate-free, meaning it won't irritate my dog's skin.
Anti-inflammatory properties help soothe any irritations or flare-ups.
It conditions the skin as well as cleans.
It's free from parabens and heavy perfumes.
Instant foam means I don't have to spend a lot of time working up a lather.
The spray bottle is super easy to use, meaning we can get in and get out.
It doesn't require a prescription.
Use my code PETLIVING to get 20% off your purchase at Vetericyn.com.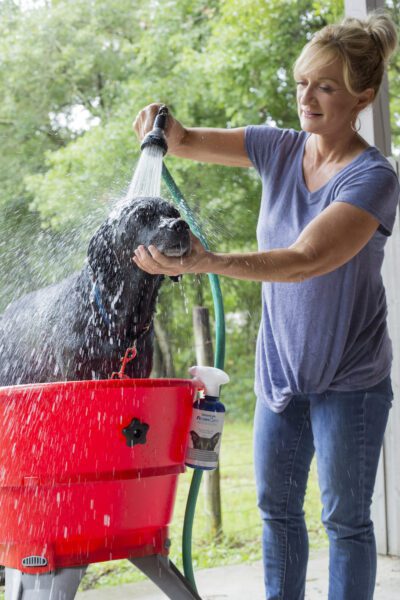 How Often Should You Bathe a Dog with Itchy Skin?
If your dog has itchy skin, you might wonder if bathing will make it worse. How often should you give your dog a bath?
Bathing your dog too frequently can be damaging. Although, Medicated FoamCare Shampoo is designed to preserve your dog's natural skin oils.
On the other hand, bathing too infrequently means irritants stay on the skin longer and can cause problems.
So the short answer is, you should bathe your dog when he needs it! Here is a guide to when you should bathe your dog:
After a day at the beach or in a pool.
After contact with known allergens like grass (some dogs can't help themselves even if they're allergic!).
Once a month for maintenance.
When they're stinky!
Chilly and I used to dread bath time too. But to keep his atopic dermatitis under control he really needed it, so we learned how to make it quick, painless, and sometimes fun! These days, my dog, Tulip, gets a bath in the sink, but we still use essentially the same supplies, including: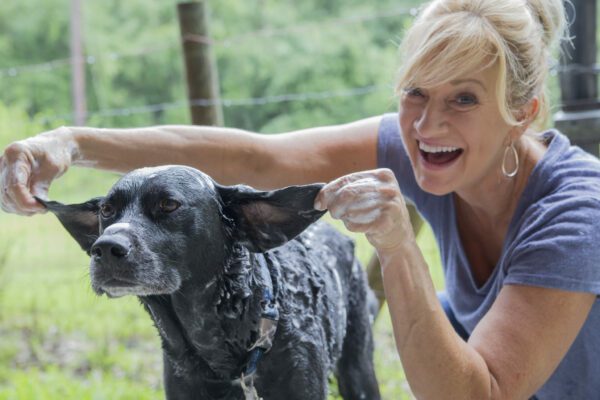 For a full grooming tutorial, read this article on how to give your dog a bath.
The Tail End
If your dog suffers from any kind of skin ailment, what you put on his skin and coat can make a huge impact on his overall health. A medicated shampoo can mean the difference between itchy, irritated, and inflamed skin or skin that is soothed and healthy.
We are the guardians of our dogs' well-being, so it's important to investigate what works best for their specific needs.