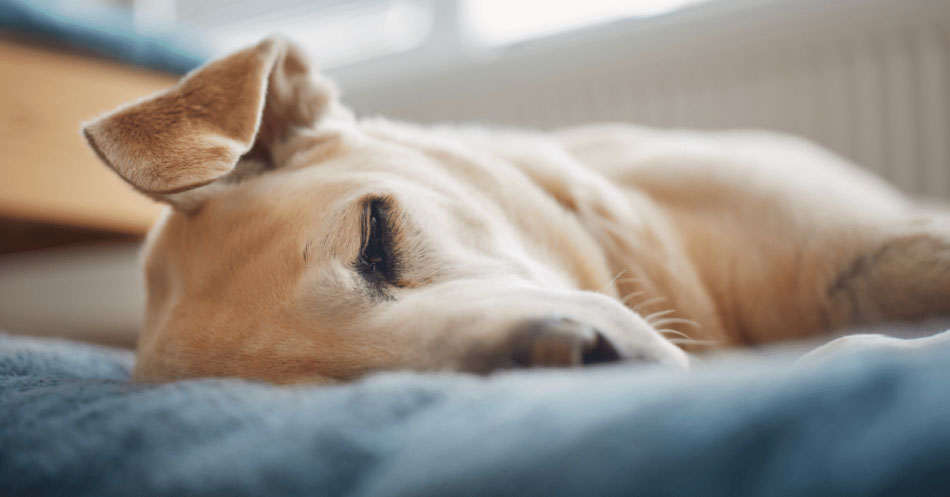 The Absolute Best Dog Beds for Dogs with Arthritis
Arthritis is the most common chronic disease among dogs and, while most arthritis in dogs happens in their later adult to senior years, 20% of dogs show signs of arthritis before they are even one year old. While we can't cure this condition, we can give our dogs happy and comfortable lives. One way to do this is by giving them soft and supportive dog beds made to help dogs with arthritis.
My dog Buck had arthritis in his hip and knees and was very stiff in his last years. We had an orthopedic memory foam bed that was very comforting to him. My dog Chilly also had one for his aches and pains as he aged, and he absolutely loved it.
So I can say from firsthand experience that a good orthopedic dog bed can make a world of difference if your dog has arthritis. But how do you know if your dog has arthritis?
Risk Factors and Signs of Arthritis
No one likes to think about their pet getting old. However, it's important to be aware of the problems that aging pets can have as well as the best way to help them. And since arthritis can affect dogs of any age, it's especially important to know the risk factors and signs.
Risk Factors
Arthritis is more common in larger dogs since their extra weight puts more stress on their joints.
It also shows up more often in certain breeds like Chihuahuas and Yorkshire Terriers, who tend to have a condition called luxating patella. This can show up as your dog's legs "popping" when they walk, or they may be hesitant to sit properly with their legs bent. If you see these signs, speak with your veterinarian to confirm and see what treatment options will work best.
Signs of Arthritis in Dogs
Arthritis signs can be subtle at first, so here are some things to look out for:
Stiffness when getting up

Not wanting to get out of bed

Problems going up and down stairs

Reluctant to go on long walks

Limping
If you notice your dog showing any of these signs, they may be suffering from arthritis.
If you suspect your dog may have arthritis, speak with your vet about possible treatments that can assist your dog. While arthritis can't be cured, there are many options to help your pup with pain management and mobility.
How to Help Your Dog with Arthritis
Besides medical treatments for arthritis, there are many things you can do to help your dog live a happy and comfortable life.
If your dog likes sleeping on the couch or bed, you can put in ramps or pet steps.
Raise your dog's food and water bowls so they don't have to bend down to eat and drink.

If you have a lot of wooden floors or stairs, you may consider some secure rugs or carpeting to help them stay steady on their feet.

Another way to to help dogs walk on slippery wooden floors are booties with rubber grips or Dr. Buzby's toe grips to provide needed traction.

Getting your dog a comfortable pet bed that will allow him to relax without putting unnecessary pressure on their joints will also help immensely.
While finding a raised food bowl isn't too difficult, getting the right dog bed for arthritis can be a bit harder. What makes a bed good for dogs with arthritis? What materials will be supportive without causing unnecessary pressure on their joints?
When choosing an orthopedic dog bed, you should consider:
How durable is it?

Is it supportive but also cushioned?

If your dog needs to be in a crate at times, will it fit inside their crate?

Is it easy to clean?

Does it fit your dog's sleeping/relaxing style? My dog Chilly would curl up in a little ball, so small round beds with bolsters were best, while my dog Buck was a sprawler, so a large flat bed was best.
Fortunately, there are many options out there so you'll be sure to find a bed that fits you and your dog's needs. Here are 7 of the best dog beds for arthritis.
Pin me!
---
The 7 Best Dog Beds for Arthritis
This orthopedic dog bed is perfect for dogs that enjoy snuggling. If your dog loves burrowing under blankets and comforters, then you've found the right bed for them. Its orthopedic foam base means arthritic dogs will be able to climb in and out easily while also giving them the cushiony comfort they need.
It also comes in 3 different sizes and over 40 different fabrics, so you're sure to find the perfect match for your pup and your décor, too.
Snoozer also makes a great scalloped pet ramp for dogs who are still mobile but need a bit of assistance getting up to their favorite snuggle spots.
---
Small dogs that are used to cuddling may especially like this orthopedic donut bed from PetMedics. Donut beds essentially cuddle them and also allow them a place to put their heads to look out without a lot of effort. This particular model has a reversible pillow with warm faux fur on one side and cool microsuede on the other to keep your dog comfortable no matter the season.
BUY ON AMAZON
---
This orthopedic dog bed from Furhaven has a unique L-shaped bolster around its back to make it easy to get into while still providing support for dogs that like to snuggle and rest their head. This CertiPUR-certified bed comes in 5 sizes and 11 fabric patterns and is reasonably priced for pup parents on a budget.
---
Bedsure Large Orthopedic Dog Bed for Large DogsAnother budget-friendly brand is Bedsure, which makes orthopedic beds for dogs of all sizes. Their beds come with removable washable covers as well as non-skid bottoms to keep your dog safe. This bed is filled with 3" high-density foam to support your dog and keep them comfortable.
---
If you have a dog on the larger end of the spectrum, Big Barker has you covered. Their orthopedic dog beds for dogs over 70 pounds are made in the USA and come with a 10-year "Won't Flatten" promise.
In a clinical study done by the University of Pennsylvania, dogs who slept on Big Barker beds showed improvements in joint function, pain severity, joint stiffness, and overall quality of life.
Their 7-inch, 3-layer mattresses also meet CertiPUR US standards for content and emissions.
BUY ON AMAZON
---
Sealy has been making mattresses for humans for over 140 years, and they've used that experience to make beds for our furry friends as well. Their orthopedic dog beds have four different elements to maximize your dog's comfort: energy gel to keep your dog cool, memory foam to contour to their body, orthopedic foam to stop pressure points, and a charcoal foam base for additional support and to help with odors.
BUY ON AMAZON
---
Brindle's orthopedic foam bed has a wrap-around bolster with a convenient cutout to allow your pet easy access to its cushy interior. Its removable velvet cover is machine washable to make it extra easy to keep your dog's bed clean and fresh.
---
The Tail End
Arthritis can't be cured, but that doesn't mean we can't help our dogs with arthritis live happy, fulfilling lives. By combining recommended medical treatments with household modifications, we can improve their mobility and help ease their pain. One great option is an orthopedic dog bed for arthritis that will support and comfort your dog and provide them with the pain relief they need.
Would you like to learn more about how to help your senior dog get the most out of their golden years? Then download your FREE copy of my Senior Dog Guidebook!