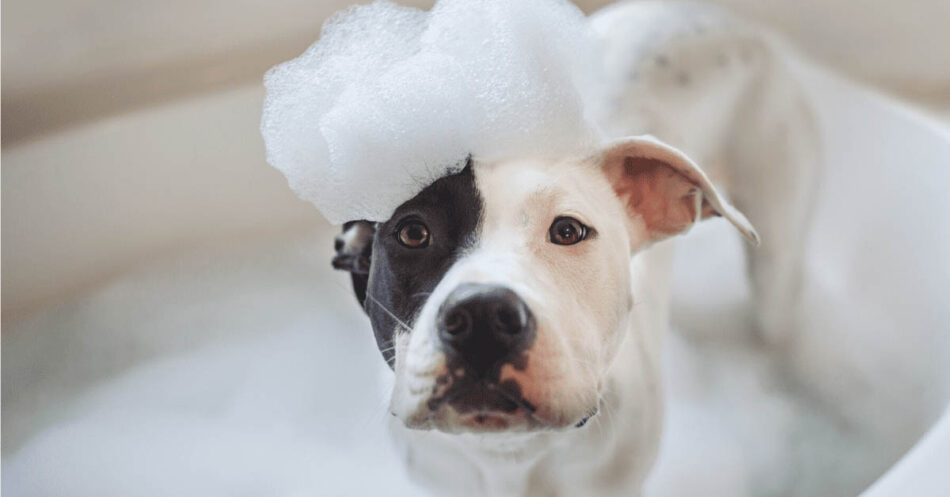 How to Bathe a Dog at Home
Most dogs are great adventurers. For many pups and their parents, the time they spend together exploring the great outdoors is one of life's highlights.
Dogs are funny though. Whether it's the beach, the trails, or just the backyard, they have an amazing knack for coming home absolutely covered in whatever outdoors they were exploring. You know that big, deep, mucky puddle that you carefully walk around? Your dog will plow right through up to his belly, probably stopping in the middle to grab a quick drink!
Pin Me!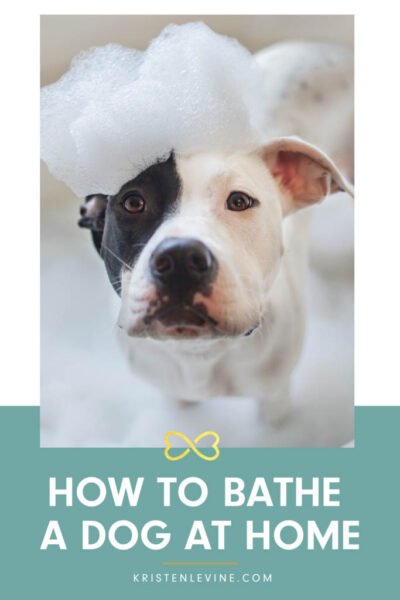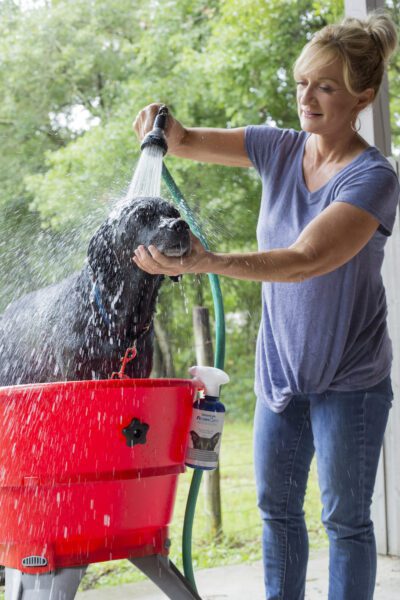 As far as dirt goes, what goes on must come off (preferably before they jump on your couch or your bed). Most dogs, though, enjoy getting dirty a lot more than they like the bath that follows.
I've been giving my dogs baths at home for a long time and I finally have the perfect system figured out! Thanks to some really smart, innovative products, bath time is quick, easy, and even healthy for my dog.
How to Bathe a Dog at Home
1. Inside or Outside?
The first thing you need to figure out is where you want to bathe your dog. I usually bathe Chilly outside because he's so big. Plusin Florida, it's rarely too cold for an outside bath. If you choose to bathe your dog outside, it's best to do it on a patio or other clean surface so that you don't end up creating more mud for them to roll in. Inside, a tub or shower is definitely your best choice, unless you use a portable dog bath tub.
A couple of years ago, I discovered the Booster Bath, and it has definitely made bath time a lot easier! It can be used indoors or outdoors, and it comes in three sizes to best fit your dog. You don't want it too big, or your dog will move around too much. If it's too small you won't be able to bathe them easily.
If you use it indoors, you can attach a hose to the drain and place the hose in the laundry or kitchen sink to drain the water. Outside, we just let the water drain onto the ground. They even have steps for the Booster Bath so your dog can walk right up into it. This may take a bit of training or coaxing. Chilly would never walk up those stairs, but it's not hard to get him into the tub without them.
The other reason we love the Booster Bath is because it's so much easier on my back. If you've ever spent much time bending over to bathe your dog, you probably know that it can cause strain and pain in your lower back. It's much easier if you can stand up straight.
The shampoo you use can make a huge difference. First of all, you should never use human shampoo to wash your dog – it contains ingredients that are much too harsh for his skin and coat. Dog skin and human skin have different pH levels, so something that is healthy for us could be quite irritating to our canine friends. The right dog shampoo is not only better for your dog's skin and coat, it can make bath time a lot easier for both of you.
I love Vetericyn's FoamCare shampoo for so many reasons. It's pH balanced, plant-based, and non-toxic. It's easy to use since it lathers up quickly, and it's formulated to rinse fast and clean. Plus it has a pump sprayer, so you don't have to fumble around trying to unscrew the cap to a wet, slippery bottle.
FoamCare shampoo also comes in formulas for different coat lengths. And if you have a dog with skin allergies or other dog skin conditions, the medicated formula is made to clean, soothe, and heal your dog's irritated skin. Chilly has sensitive skin, so this is what we use for him, and he looks and feels great every time.
Be sure to use my code PETLIVING for 20% off your entire purchase at Vetericyn.com.
3. Rinse it off.
Once you've lathered up and given your dog a good scrub, it's important to rinse thoroughly. Leftover suds can attract more dirt and are potentially irritating to your dog's skin. Depending on where you choose to bathe your dog, you might use a spray nozzle in your shower or garden hose. A spray attachment designed for dogs can make it much easier to get the job done and make bath time a better experience for you and your pup.
I love this Waterpik Pet Wand Pro! Its high pressured spray is quiet and gentle, but it penetrates even the thickest fur, so it rinses away every last bit of dirt and shampoo. It's great for getting those hard to reach spots like the legs and tummy, and you can adjust the pressure to a gentle, narrow spray for delicate areas like the eyes and ears. It has a contoured shape that's perfect for dog bodies, and it's designed for one handed operation. You can use it indoors or outdoors – just install the diverter to your existing showerhead or the adapter to your garden hose.
4. Dry your dog.
Of course, your dog will probably shake at least a couple of times during the bathing process, but he'll still need to be dried off when you're done. The drier he is, the less chance that he'll find another chance to roll around in something that will turn him into a muddy mess again.
I usually use two big fluffy towels to dry Chilly off. But when I'm on the road or just doing a quick spot clean, I like this Quick Drying Dog Towel. It's like a chamois, but for your dog!
5. Brush out loose hair.
Chilly doesn't have a super thick coat, so I wait until he's almost dry to brush out any loose hair after his bath. If your dog has a thick coat or if he sheds a lot, it's a good idea to brush both before and after his bath. This helps to remove all that loose fur and will cut down on the hair that ends up stuck to you and your furniture.
Tips for Healthy Skin and Coat
One of the most common compliments Chilly gets is about his shiny coat. I love that he still has a shiny, glossy coat, even at 10 years of age!
Good Nutrition
You don't get a shiny coat without good nutrition and healthy skin and coat care. In addition to high quality food, I also give Chilly ALL-IN,™ a daily supplement from Vetericyn that's formulated to deliver exactly what dogs need in three life stages. Since he started taking ALL-IN, I notice that Chilly has more energy and his coat is even shinier!
One of the things that makes ALL-IN so effective is that it uses an amazing one of a kind protein-based transport and delivery system. Basically what this means is that it uses the innate absorption mechanisms in your dog's body to deliver the right nutrients to the right part of your dog's body. Then it unlocks your dog's cells so that the nutrients can be absorbed. This patented technology isn't found in any other supplement on the market. And it's so powerful that it can even help your dog to absorb more of the nutrients from his food!
A shiny, healthy coat starts with good nutrition, but bath time is what really polishes that shine and conditions the coat for that healthy glow.
Be sure to use my code PETLIVING for 20% off your entire purchase at Vetericyn.com.
How Often to Bathe a Dog
How often you bathe your dog depends on a number of factors, including breed and lifestyle. Dogs who spend lots of time indoors may only need to be bathed every couple of months. Others tend to get dirtier and need more frequent baths.
As a general rule, bathe your dog when you can tell he needs it. If you can smell him when he walks into a room or if he comes home covered in beach sand, it's time for a bath. You should be able to bathe your dog as frequently as once a week if needed. Bathing too frequently can make dog skin dry and can lead to irritation or other dog skin problems.
If your dog needs to be cleaned more than once a week, you could try using doggy wipes to touch him up in between baths.
Watch for Skin Problems
Bath time is a great time to do a skin care check, especially if your pup has any dog skin problems. While you're bathing your dog, check for hot spots, scrapes, bumps, or signs of other issues like dog skin infection. Chilly is prone to itchy skin and hot spots, so I make sure to keep Vetericyn skin care products like Antimicrobial Wound and Skin Care Hydrogel and Hot Spot Antimicrobial Hydrogel in my pet medicine cabinet. They're easy to apply, they don't sting, and it's amazing how much more quickly he heals when I use them!
Enjoying the outdoors with your dog can be messy, but cleaning him off doesn't have to be a huge chore. With the right routine and some smart products, he'll be squeaky clean again in no time!