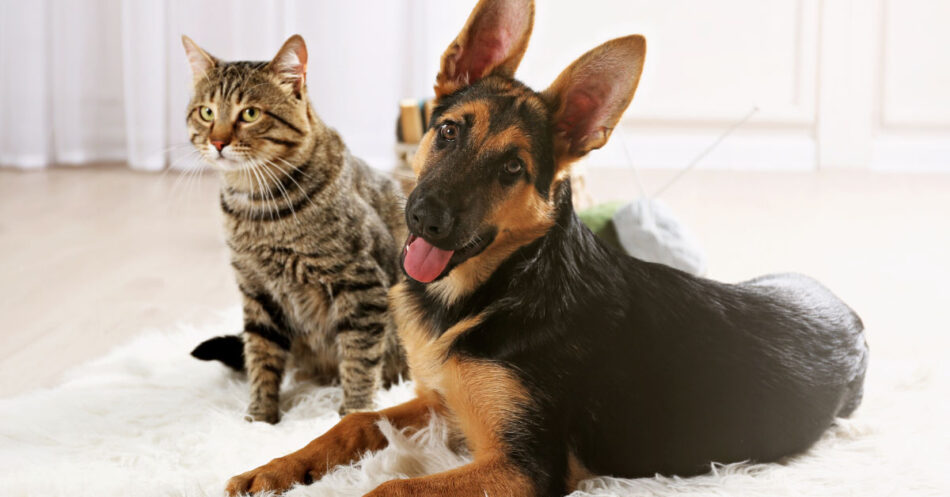 The Best Carpet for Pets – Top Pick from an Experienced Pet Mom
The best carpet for pets will be stain resistant, durable, soft, backed by a manufacturer warranty, and will have visual appeal. Here's how to find a carpet that checks all the boxes.
3 minute read
Hardwood floors may seem like the easier-to-clean flooring option when pets are in the home, but let's face it – many of us prefer carpet! It's soft, cozy, and easy on the joints. So what's a pet parent to do when they want the comfort of carpet but are also worried about the stains that pets can bring?
As someone who is in the process of buying a new home, pet-friendly carpeting is something I've thought about a lot and done a lot of research on! I've narrowed it down to what I feel is the best carpet option for homes with pets.
What Is the Best Type of Carpet to Have with Pets?
While there are many options out there, in my opinion, Mohawk's SmartStrand Forever Clean is the best carpet for pets.
There are five major factors that influenced my decision:
Stain resistance

Durability

Softness

Visual appeal

Manufacturers' warranty and safety promises
Is There Such a Thing as Stain Proof Carpet?
There's a reason carpets are usually called stain-resistant and not stain-proof. Stain-resistant means if you follow the manufacturer's directions for cleaning up stains – and you clean them in a reasonable amount of time – your carpet will stay looking new for years to come.
That having been said, Mohawk's SmartStrand has some amazing technology in its corner to make it unbelievably stain-resistant and superior to other brands.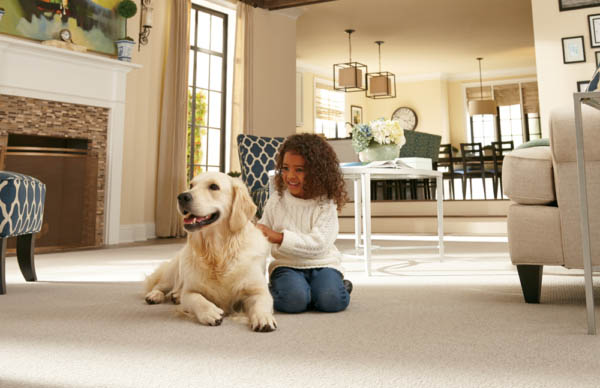 While some stain-resistant carpets use chemicals to make their carpets repel stains, Mohawk uses Nanoloc (™) technology to actually give their carpets a spill and soil shield that makes it practically impossible for stains to grab hold. That also means that unlike other stain-resistant carpet brands it will never wear or wash off.
Since the fiber also has 0% absorption of liquids, your pets' accidents won't soak in but stay easy to clean with just water!
It's not just stains that are easier to clean. Regular day-to-day dust and dirt come off much easier too.
Pin me!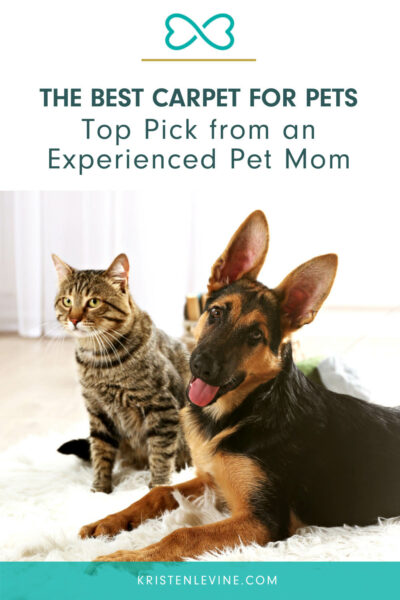 Can Carpet Be Both Durable and Soft?
Usually, those two qualities don't go hand in hand, but Mohawk has pulled it off. Their SmartStrand carpet is exceptionally durable while also being super soft and comfortable.
A big part of that durability actually comes from the shape of its fibers. The fibers are spring-like, which keeps them from matting while also keeping your pet-friendly carpet looking new for years.
If you want extra softness in your carpet, you might consider Mohawk's SmartStrand Silk line. It uses three times the fibers in normal nylon carpets to make it unbelievably soft.
But How Does It Look?
Anyone who's doing home decorating knows how frustrating it can be when you can't quite find the exact shade or design you're looking for in a carpet or fabric.
With 11 different patterns and up to 24 different colors in each pattern, you'll be sure to find a carpet that's perfect for you and your pets.
I think what sealed the deal for me was thinking about having light colored carpets without worrying about stains! Several years ago, I had a light-colored, shaggy, type of area rug, and I eventually had to throw it out because it was too hard to clean and the stains never really came out.
But with Mohawk's stain-resistant technology, I can choose any color I like without stressing about stains!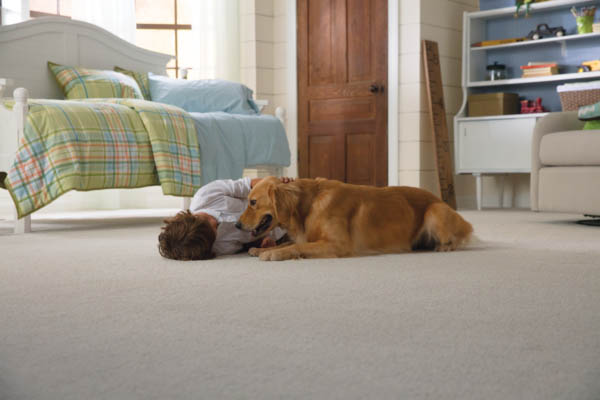 What Warranty Does Mohawk Offer?
When Mohawk says their carpet is made for pets and their families, they mean it – and they're willing to back it up with a limited lifetime, full pet stain warranty!
They are so sure that your new carpet won't be stained by your pets' vomit, urine, or feces, that they're guaranteeing it for the life of the carpet.
I was also impressed with how environmentally friendly the carpet is. Renewable plant-based materials are used in its manufacture, and it's OEKO-TEX® certified free from harmful substances. That means it's been independently tested to be safe for your family.
The Tail End
When you're looking for a new carpet for your home, you want to make sure that it'll be stain-resistant and durable while also being comfy and cozy for every family member – including the furred or feathered ones. With its stain-blocking technology and exceptional warranty, Mohawk's SmartStrand carpet is my choice of the best carpet for pets. It is a soft, durable carpet that will keep your house stain-free and beautiful for years to come.
Does your dog have a problem with accidents in the house? Download your FREE copy of my ebook below to learn how to solve your pup's pee problems for good!