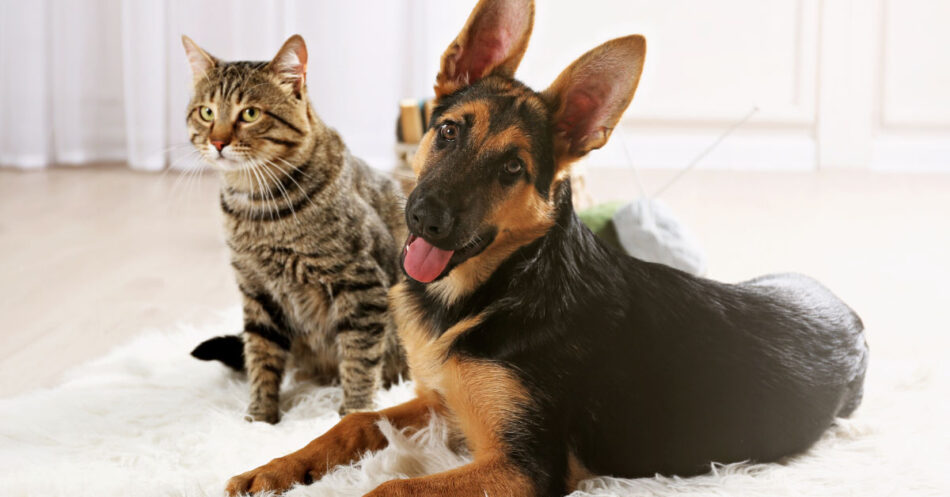 The Best Carpet for Pets: Top Pick from an Experienced Pet Mom
The best carpet for pets needs to have stain resistance, be durable, soft, backed by a manufacturer warranty, and of course, possess a charming visual appeal. This is crucial when looking to safeguard against pet stains and pet hair that inevitably accompany our furry family members. Here's how to narrow down the best carpet choices that check all these boxes.
Hardwood floors may seem like a no-brainer when our pets are involved, especially concerning pet accidents, but let's face it—many of us prefer carpet! It's soft, cozy, and easy on the joints. So what's a pet parent to do when they want the comfort of carpet for pets but are also worried about pet stains that might ensue?
As someone who is in the process of buying a new home, pet-friendly carpeting is in the top of my list. After much research on carpet brands and carpet styles, I've zoned in on what I believe is the best carpet option for homes with pets!
What Is the Best Type of Carpet to Have with Pets?
While there are many options out there, in my opinion, Mohawk's SmartStrand Forever Clean is the best carpet for pets.
There are five major factors that influenced my decision:
Stain resistance. The best carpet for pets should effortlessly combat accidental spills, muddy paws, and other pet accidents. Stain-resistant carpets provide pet parents peace of mind, knowing that the occasional mishap won't leave a lasting mark. Some certain types of carpets (like deep-pile carpets or wool carpets) may be very comfortable to walk around in, but because of their material or construction, they can be difficult to clean!
Durability. High-traffic areas frequented by pets demand a carpet that can withstand the test of time. Durability ensures the carpet retains its structure, look, and feel, even with the daily wear and tear pets can dish out. A durable carpet represents a long-term investment that won't easily succumb to the energetic antics of our four-legged family members.
Softness. A carpet's softness provides a comfortable space for our furry pals to lounge, play, or sleep. The right plushness underfoot is not only a treat for human feet but also a comfort for pets. It's about merging comfort with functionality, ensuring the carpet feels as good as it performs. Medium-pile carpets provide great comfort, and their shorter fibers allow us to clean pet hair and other dander more easily.
Visual appeal. Functionality doesn't mean compromising on aesthetics. The best carpets for pets should enhance a room's décor and reflect the homeowner's style. A carpet with great visual appeal seamlessly integrates with existing interiors while being resilient against pet-related wear. Plenty of synthetic fiber carpets like nylon and polyester carpets offer stunning options with superior stain and scuff resistance.
Manufacturers' warranty and safety promises. A comprehensive warranty is a testament to a manufacturer's confidence in their product. For pet parents like us, a strong warranty combined with safety promises assures that the carpet is free from harmful chemicals and is designed to endure pet-related challenges. It's a seal of quality, safety, and trustworthiness that we can rely on.
With all these in mind, Mohawk SmartStrand carpet embodies every desirable quality I seek in a pet-friendly carpet.
Is There Such a Thing as Stain-Proof Carpet?
There's a reason carpets are usually called stain-resistant and not stain-proof. Stain-resistance means if you follow the manufacturer's directions for cleaning up stains—and you clean them in a reasonable amount of time—your carpet will stay looking new for years to come.
That having been said, Mohawk's SmartStrand has some amazing technology in its corner to make it unbelievably stain-resistant and superior to other brands.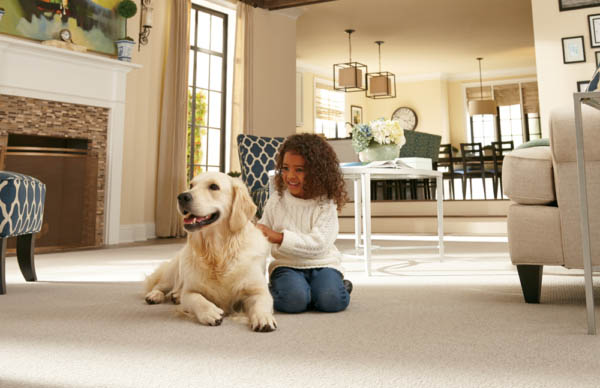 While some stain-resistant carpets use chemicals to make their carpets repel stains, Mohawk SmartStrand carpet uses Nanoloc (™) technology to actually give their carpets a spill and soil shield that makes it practically impossible for stains to grab hold. That also means that, unlike other carpet brands that offer stain resistance, it will never wear or wash off.
Since the fiber also has 0% absorption of liquids, your pets' accidents won't soak in but stay easy to clean with just water!
It's not just stains that are easier to clean. Pet hair, as well as regular day-to-day dust and dirt, come off much easier too.
Pin me!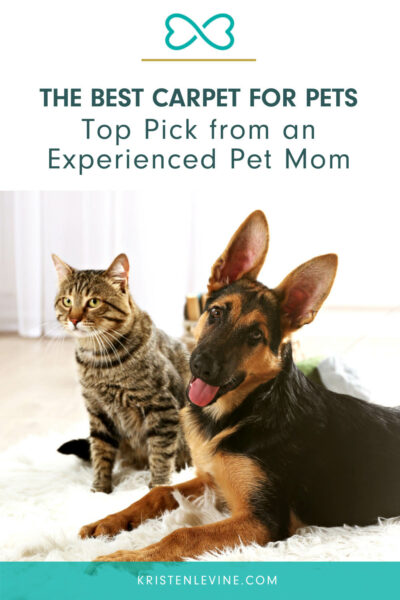 Can Carpet for Pets Be Both Durable and Soft?
Usually, durability and plushness don't go hand in hand, but Mohawk has pulled it off. Their SmartStrand carpet is exceptionally durable while also being super soft and comfortable.
A big part of that durability actually comes from the shape of its carpet fibers. The fibers are spring-like, which keeps them from matting while also keeping your pet-friendly carpet looking new for years.
If you want extra softness in your carpet, you might consider Mohawk's SmartStrand Silk line. It uses three times the fibers in normal nylon carpets to make it unbelievably soft.
But How Does It Look?
Anyone who's doing home decorating knows how frustrating it can be when you can't quite find the exact shade or design you're looking for in a carpet or fabric.
With 11 different patterns and up to 24 different colors in each pattern, you'll be sure to find the best carpet that's perfect for you and your pets.
I think what sealed the deal for me was thinking about having light-colored carpets without worrying about stains! Several years ago, I had a light-colored shaggy type of area rug, and I eventually had to throw it out because it was too hard to clean and the stains never really came out.
But with Mohawk's stain-resistant technology, I can choose any color I like without stressing about stains.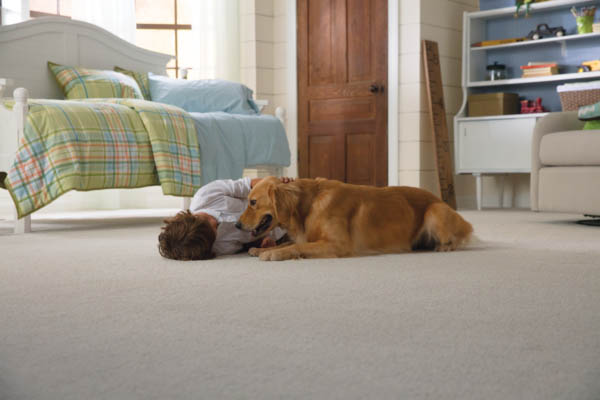 What Warranty Does Mohawk Offer?
When Mohawk says their carpet is made for pets and their families, they mean it—and they're willing to back it up with a limited lifetime, full pet stain warranty!
They are so sure that your new carpet won't be stained by your pets' vomit, urine, or feces that they're guaranteeing it for the life of the carpet.
I was also impressed with how environmentally friendly the carpet is. Renewable plant-based materials are used in its manufacture, and it's OEKO-TEX® certified free from harmful substances. That means it's been independently tested to be safe for your family.
The Tail End
When you're looking for a new carpet for your home, you want to make sure that it'll be stain-resistant and durable while also being comfy and cozy for every family member—including the furred or feathered ones. With its stain-blocking technology and exceptional warranty, Mohawk's SmartStrand carpet is my choice of the best carpet for pets. It is a soft, durable carpet that will keep your house stain-free and beautiful for years to come.
Does your dog have a problem with accidents in the house? Download your FREE copy of my ebook below to learn how to solve your pup's pee problems for good!