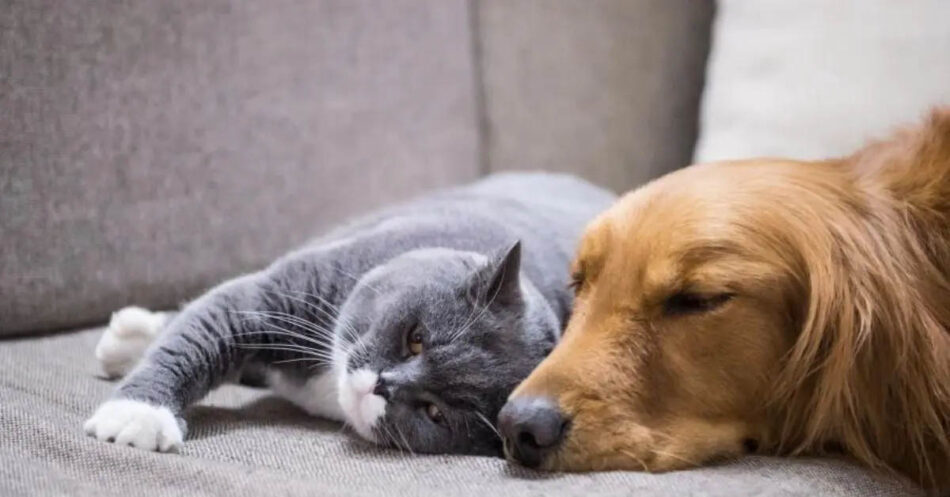 The Secret Reason Pets Make You Feel Good
Need a pick me up to keep stress or sadness at bay? Book a bonding session with your pet!
Those of us with pets know they have a magical ability to make us laugh, smile or just be happy, and while you can probably think of a dozen ways they do this, you might be surprised to learn that hormones are involved.
Oxytocin is a hormone secreted by the posterior lobe of the pituitary gland. It's sometimes known as the "cuddle hormone", because it is released when people snuggle up or bond socially and can induce strong feelings of love and trust.
For a long time, oxytocin has been known as the link that bonds mother and child, but is it possible that that same hormone can bond pets and humans?
Studies point to yes!
Here are three ways pets and oxytocin spread happiness to humans:
In a study where pet owners and their dogs had positive interaction for just 30 minutes, researchers found increased concentrations of oxytocin, beta-endorphin, prolactin, beta-phenylethylamine, and dopamine in both people and dogs. Increased levels of dopamine, prolactin, beta-phenylethylamine and oxytocin create feelings of happiness and gratification, while prolactin is commonly known to numb the body from pain, thus creating an overall mood boost.
Better feeling and healing. Pets create a chain-reaction of happiness in their owners. If you're feeling stressed or unhappy, pet a dog or cat (or a gerbil or a ferret). The simple act of petting an animal leads to key neurotransmitters firing in our heads, which leads to us feeling good. When we feel good, we smile. When we smile, others around us smile, too!
An increased level of oxytocin also has the ability to reduce stress, foster social interactions and even helps us heal faster. A study found a correlation between increased plasma oxytocin following social interactions and wound healing. Researchers believe higher levels of oxytocin reduce inflammation, thus providing evidence that positive social interaction leads to a healthier lifestyle. Additionally, rises in oxytocin levels have the ability to relieve overall body pain, like headaches and cramps.
Personally, I make a habit of taking breaks to walk Chilly when I'm having a stressful day at work. I always feel refreshed and have a more positive attitude when I return. A walk with your pet can be especially helpful for older ones.
Happiness or healing is just a pet away. Share this post with a friend or family member who could use some oxytocin right about now. ☺

How about you? Ever felt the "oxytocin surge" after spending time with your pet? Share your stories or tips with us all below in the comments!
Pin Me!