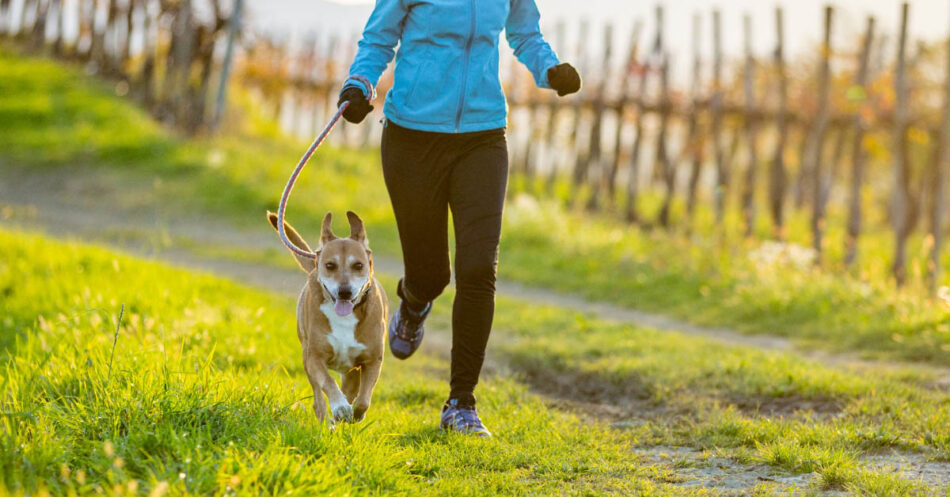 How to Start Running With Your Dog
If you're trying to think of ways to motivate yourself to exercise more, you're not alone. However, if you're a dog parent, you have the advantage of a great motivator lying right at your feet. Dogs make paw-some running partners!
They're always thrilled to spend as much time with you as they can, many of them have plenty of excess energy to burn, and they'll always go at your pace without making you feel guilty. And if you need a little extra push to get out for your daily jog, the sight of your favorite furry friend sitting by the door with his leash in his mouth may just be enough to get you out the door.
But before you hit the road with your furry running buddy, there are a few things to consider to make sure that the experience is safe and fun for both of you.
Consider Your Dog's Breed, Health, and Age
Just as you should check with your doctor before beginning any new exercise program, you should check in with your dog's vet to learn what's safe and healthy for your dog. While most dogs can handle at least a short run, your vet may advise against trying to train for a marathon with your pup or may at least recommend certain precautions.
Older dogs may have issues such as joint pain or arthritis that could make running painful for them. On the other hand, high-impact exercise like running can be unsafe for young dogs as well, since it could damage bones and joints that are still growing.
Some breeds, such as those with very short legs or larger breeds with hip dysplasia may not be able to go for very long runs with you. And dogs with short noses, like pugs or bulldogs, may have a hard time taking in enough air during intense exercise.

Basic Commands to Teach Your Running Buddy
If you plan on running with your dog, it's important that he knows how to walk on a leash. Otherwise, he might pull too hard and injure you or himself. It's also a good idea to teach him the command, "Leave it," since you'll probably come across many items (like litter or roadkill) that will be hard for him to ignore. You'll want him to have mastered "Sit" and "Stay" as well so that he will be prepared to wait safely at traffic crossings.
Start Slow
If you haven't been running with your dog, don't expect him to complete a 5K on his first outing. Dogs, like people, need to train gradually to avoid injury. Take it easy at first, alternating between walking and running. You can gradually build up to trekking longer distances and spending more time jogging or running than you do walking.
Pin Me!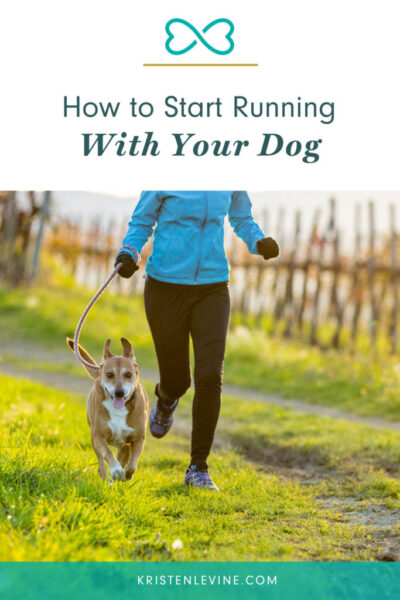 Choosing the Best Spot for a Run
Running is a high-impact sport and can be hard on the body — whether human or canine! Natural surfaces like dirt or grass will be much easier on both paws and joints, not to mention that your pup will probably enjoy the smells and scenery on these trails a lot more!
Before you go off road, check to see that the trail you've chosen allows dogs. If you choose to allow your dog off leash, make sure that you are aware of wildlife that could potentially injure (or be injured by) a curious pooch.
Watch the Weather
Running – and even walking in extremely hot weather (some vets say no exercise above 85 degrees) is never a good idea for your dog. Dogs don't sweat like we do, plus they carry around a permanent fur coat, so it's all too easy for them to become overheated. During the hotter months, it's a good idea to limit running to early mornings or evenings when it is cool.
Any time you're out with your dog on a sunny day, it's also important to remember that the sun can make some surfaces extremely hot. You may have a nice pair of running shoes protecting your feet, but your dog's paws are bare! If you've ever tried walking on a hot sidewalk or super-heated sand, you know how uncomfortable that can be. A good rule to follow is that any surface that is too hot for you to comfortably hold your hand on for more than a few seconds is probably too hot for your dog.
Stay Hydrated
Make sure to bring enough water for both you and your furry companion, especially if the weather is warm and sunny. Don't expect your dog to let you know when he's thirsty. Plan on stopping at least every 10 minutes for a water break. And make sure you have some sort of container that your dog can drink from. One of my favorite products for active dogs and dog parents is the DogSport water bottle cap. It fits on a standard water bottle but it's designed for doggy-style drinking.
Be careful not to let your dog drink an excessive amount of water, since this can predispose him to bloat. Your vet can tell you how much water is too much for your pup.
Scoop that Poop
When you're headed out for a run, cleaning up after your dog may be the last thing on your mind. However, it's always good to be prepared. Make sure you bring waste bags with you.
You can minimize the trailside stops by giving your dog a few minutes to sniff around and do his business at the beginning of your route. You may even be able to train him to "go" on command by taking him to the same spot every time you're out and giving a verbal cue.
After You're Done Running
Once you're back home, take a few minutes to inspect your dog's paws for cuts, injuries, and pieces of rock or gravel. If you've been out on a trail, it's also a good idea to check both of you for ticks.
Running with your dog is a great way for you to bond and improve both of your health at the same time! For even more amazing ways that the human/dog bond can benefit you, check out my free ebook, "How to Bond With Your Dog for a Better Mind, Body, and Spirit". Click here to fetch your free copy.