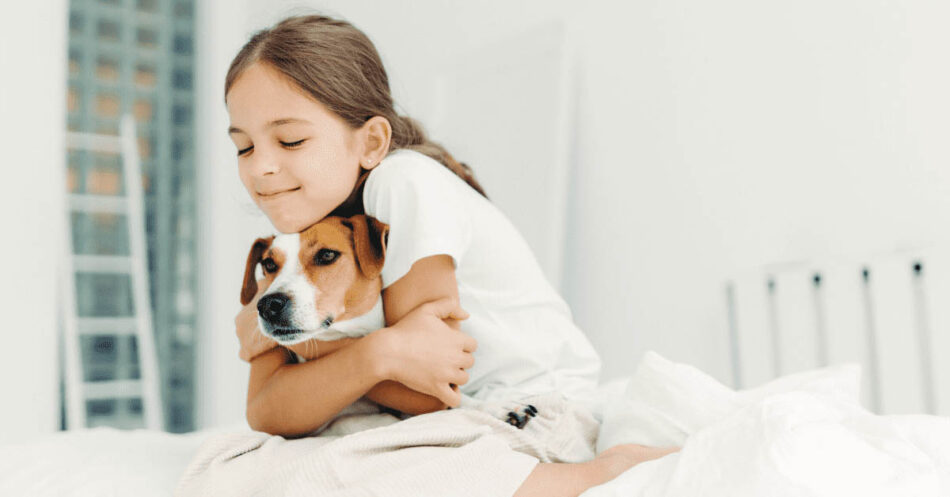 5 Reasons Why Kids Should Have Pets
Did you have a pet when you were growing up? I did. In fact, I had several. Looking back, I'm so grateful I was able to spend my early years with animals. Not only do I have many wonderful memories of my childhood pets, but they also taught me important lessons that I still carry with me today. My love for pets has wiggled its way into nearly every aspect of my life and career.
Pin Me!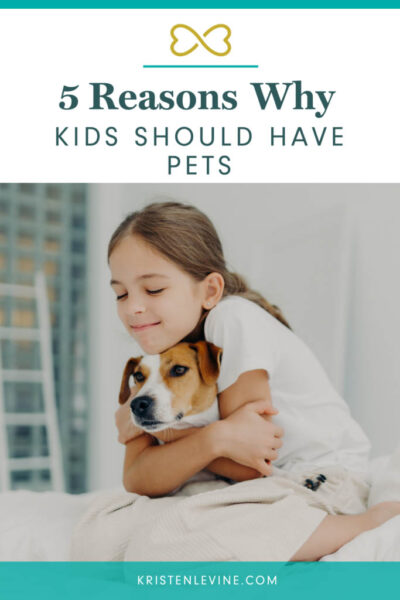 As an adult, I love seeing the same thing happen with my nephews and their pets. The bond they all share is so sweet and magical, and I know those boys will treasure it their entire lives. Not surprisingly, I think every child should have a pet, and here are five reasons why.
Caring for pets teaches responsibility.
Including children in pet-related chores is a terrific way to impart the lesson of responsibility. By assigning age-appropriate tasks like playing with the dog or feeding the cat, kids learn how important it is to follow through with their duties. After all, certain four-legged furries are counting on them! (Of course, the ultimate responsibility for the family pet lies with the grown-ups in the family.)
Kids learn respect and empathy for others.
Animals are feeling, thinking beings with both physical and emotional needs. Children should be reminded to treat pets with care, play gently with them, and respect their need for space. When parents teach kids to approach pets with kindness, love, and compassion, this easily translates into treating other human beings the same way.
Children with pets may be healthier.
The health benefits of pet ownership are almost too numerous to count. People with pets are reported to have lower blood pressure, less risk of heart disease, lower cholesterol, and are more physically active. And those same benefits apply to kids! Plus, research has shown that children who have a pet during the first year of life are actually less likely to develop asthma.
Animals boost self-esteem and provide mental health benefits.
Let's face it, the business of growing up is tough! But having a pet makes it easier. Pets never judge, never tell your secrets, and always look at you as though you are the smartest, most important person on the planet. So it shouldn't come as a surprise that kids with pets are less likely to suffer from anxiety and have more self-confidence than those that don't.
Pets bring the family together.
In this go-go-go world, it can be hard to carve out time to spend together as a family. But having a pet can actually bring parents and children closer by coming together to care for their four-legged family members. All the activities that revolve around Fido or Fluffy – from exercise to grooming to feeding – require teamwork and cooperation. Even something as simple as taking the dog for a walk together or telling a funny story about your cat can help build and strengthen the family bond.
Are you convinced yet? Ready to adopt a puppy or find the purr-fect feline friend?
3 Paw-some Books for Kids Who Have or Want Pets
Caring for a pet can teach kids so much! These books can help kids understand exactly what their fur family needs from them and can strengthen their bond along the way. Plus, if adopting a pet is in your family's future, you'll want to involve the kids in the decision and in the care of their new furry family member. Books can help prepare kids for the responsibilities that come with bringing a pet into the family.
---
---
3 of the Best Toys for Kids and Dogs
Playtime with a dog is great for kids and pups alike. It promotes physical activity, gives them a fun way to fill their time, and strengthens the dog-child bond. Check out these toys that kids and dogs can use together!
---
---
3 of the Best Toys for Kids and Cats
Dogs aren't the only pets with tricks up their sleeve – cats, too, love to run, jump, catch, and even fetch! With time, patience, and love, the family cat can become your kid's best friend. Consider investing in a few toys that your kids can use together with your cat, like these:
---
---
The bond kids form with their childhood pets lives far beyond the early and formative years. And the treasured memories last a lifetime!

If you had a pet or pets when you were a child, tell me all about them in the comments below!