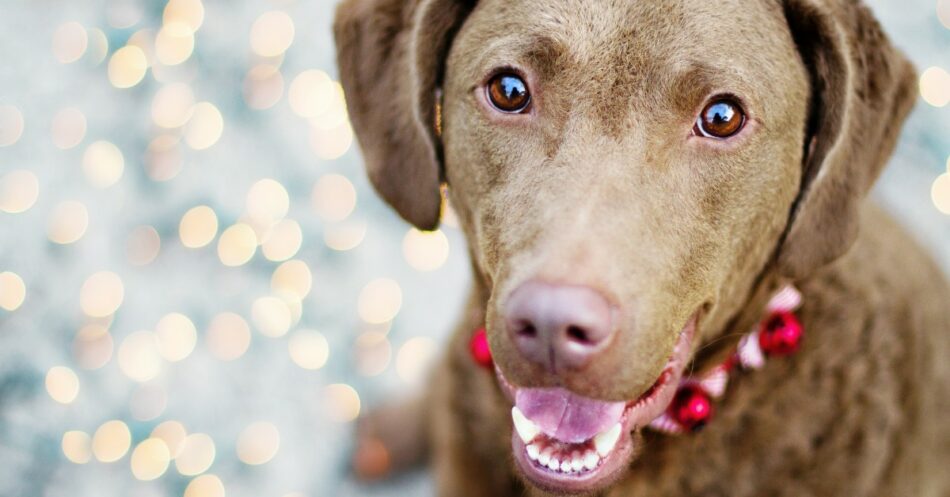 17 Perfect Holiday Gifts for Dog Lovers and Their Dogs
As you're making your holiday gift list, dogs just might be the easiest to please. They're almost guaranteed to be thrilled with whatever you give them. And you can be sure they won't try to exchange it for something else or "re-gift" it next year!
A gift as simple as new tennis balls would probably be enough to bring on the tail-wagging and sloppy kisses (from the dog, of course). But you can show your favorite dog lover and their pup how much you really care by finding that perfect gift you know they'll both go nuts over.
If you need a little help to get started, I've sniffed out a few fun and enriching holiday gifts any dog will dig. Plus, I've gathered some of my favorite gifts for dog lovers, too.
PIN ME!
---
My 8 Favorite Holiday Gifts for Dog Lovers
This super cool all-in-one grooming kit and vacuum makes grooming your dog (or cat) easy and convenient. It sucks the trimmed hair up as you groom, which keeps your house fluff-free.
I really enjoyed trying out the 5 different grooming tools with my dog, Tulip. I also appreciated that one of the attachments helps you clean up any stray hairs left on you or your furniture after the groom is done.
The Neakasa Pro Pet works with pet hair of all lengths and has a low noise level to avoid scaring anxious pets. It also has a 1-year warranty and 45 days No-Worry Return.
---
Earth-Rated products make great stocking stuffers for dog lovers. Their poop bags and wipes are certified compostable and earth-friendly. I use their bags and bag dispenser exclusively.
---
No one wants to think about their dog getting lost, but it's a real danger every pup parent needs to be prepared for.
For many people, the holiday season means travel. And, if your dog comes along, that could raise their chance of getting lost.
If that happens, Undercollar could be a literal lifesaver. This stretchy ID collar has a QR code that links to your online profile with all of your contact information.
As the name implies, Undercollar can go under your dog's regular collar to provide that extra ID protection. It's also a great option if you just don't like jangly noisy tags.
---
This is one gift for dog lovers that will make the job easier!
Dog lovers have their share of messes to clean up and the amount of fluff and fur that accumulates can sometimes be a bit daunting. We love our pets, but it would be nice to invite guests over and not have to worry about embarrassing pet hair.
The Dyson Ball Animal 2 Vacuum is a lifesaver! It's lightweight and can swivel under furniture to make cleaning a breeze. This gift for dog lovers is a must-have for a fur-free home!

BUY ON AMAZON
---
I was so surprised when Tulip's DNA results came back! It really helped me understand her behavior and habits a lot more.
Have you ever wanted to know your dog's ancestry? With one simple cheek swab, pet parents can find out what their dog's DNA says about his breed, ancestry, and more!
Embark screens for over 350 dog breeds, types, and varieties. And they test for more than 200 genetic diseases including glaucoma, degenerative myelopathy, and some of the most common adult-onset diseases in dogs.
Plus, Embark Vet is partnered with Cornell University College of Veterinary Medicine and offers the most accurate breed breakdown on the market. This is one gift for dog lovers that won't be forgotten.
---
Since dogs are part of the family, they need a special place for their favorite snacks too! What dog lover wouldn't love a chic treat jar for their pooch? This will keep your pup's treats fresh and easily accessible. Plus, it'll look great in any dog lover's home!
---
On a serious note: Do you know a pet parent whose dog suffers from anxiety? This kit from The Anxious Pet might be the gift they need.
My late dogs, Chilly and Buck, both struggled with different forms of anxiety. Since then, I've been devoted to helping pet parents find safe and calming solutions for their stressed-out fur family.
All of The Anxious Pet's products are veterinarian-formulated and handmade with quality ingredients. This Calming Kit with CBD makes a great gift for dog lovers! It includes Organic Hemp Oil, Calming Soft Chews, and Supplement Bars meant to promote relaxation and restful sleep.
---
This thoughtful gift will melt any pet parent's heart. This cozy, fleece cushion is the perfect spot for dogs to rest and relax.
The cushion can fit in crates and carriers or any favorite nap spots. And best of all, it can be personalized with their pup's name. Any dog lover would be thrilled to give their pup such a welcoming spot to rest their paws.
---
My 9 Favorite Holiday Gifts for Dogs
Buddy Belts were designed by a pet owner who hated seeing her pet dachshund cough and gag when using a regular collar. She came up with a unique harness design that is still handmade to this day.
These are top-quality, really beautiful harnesses that are made to fit dogs of nearly any size.
---
The Knots of Fun Tug Toy is a great choice for a doggy stocking stuffer. They're fun, handmade, machine washable, and made in the USA.
I especially love that they're a great alternative to rope toys. Regular rope toys have strings that can be pulled out. Chili would pull strings out, and I always worried he might swallow them.
This tug toy looks like a rope toy but is made of 100% nontoxic Polartec fleece, so there are no strings and no danger.
---
Bonne et Filou are "la creme de la creme" of bougie dog gifts! Two of my favorites are their dog macaron treats and their plush macaron toy
Their dog macarons look just like the human version while being handmade in the USA for our furry friends. They're free of preservatives, artificial coloring, corn, and wheat, and are sourced from local suppliers.
Their adorable squeaky plush macaron toys come in a 6-pack that includes a cute storage box. Tulip absolutely loved taking the macarons out and tossing them in the air.
---
Treatibles makes treats that are tasty while also providing health support for our dogs. They include CBD treats, probiotic soft chewables, and joint support.
"Healthy" and "tasty" don't always go together, but Tulip absolutely loved the taste of these healthy treats.
---
If you're on the hunt for a (nearly) indestructible toy, then this is it!
The Chuckit! Ultra Tug is a Pet Living family favorite. The ball part is nearly indestructible, and the tug part is sturdy and doesn't fray easily. This one is guaranteed, dog-approved fun!
---
Give your pup the gift of "hide and squeak" with this super fun toy. Keep boredom at bay and your curious canine mentally stimulated while feeding their natural instincts to hunt.
Just stuff the squirrels into the stuffed tree trunk and watch your pup pull them out. The toy comes in four sizes to fit any dog and budget.
---
Sniffing is an important way for dogs to get to know the outside world. A snuffle mat encourages your pup's natural instinct to sniff out food. Simply hide his treats or kibble in the mat and he'll have a blast exploring and sniffing for his reward. The mat is made of durable, non-toxic cloth and is machine washable for easy clean-up.
---
And finally, if you really want to make your pup
happy, give him something to chew on! Chippin Dog Treats are made from high-quality foods, powered by drool-worthy, planet-friendly proteins. They source only the most delicious and nutritious ingredients, so your pup is sure to be thrilled by this special gift!
---
Honorable Mention
The holidays are a happy time for many, but they can also bring back memories of loved ones we've lost – both human and animal.
If someone you know has suffered the loss of a beloved furry family member, the cards and comforting products available at Wolfie's Wish make a thoughtful and comforting gift.
Grieving the loss of a pet is so difficult. Wolfie's Wish helps you focus on the memories and value of the special relationship you shared. It makes a wonderful gift for anyone who has lost a pet.
---
The Final Woof
These are just a few of my favorite gifts for dog lovers. If you need even more gift ideas, check out my list here for lots of wag-worthy treats!