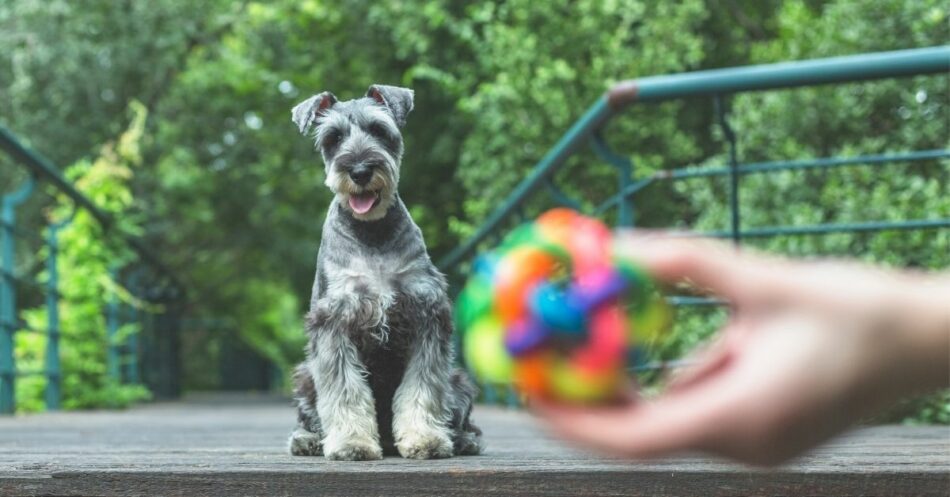 10 Dog Toys Your Dog Won't Destroy Right Away
Every dog parent knows that a graveyard of chewed-up, gutted, and shredded toys come with the territory. Even the gentlest of dogs will usually find a way to destroy their toys. The hunt for indestructible dog toys is often a trial and error situation. But I want to take the guesswork out of it for you.
In thinking about writing this post, I really had to "chew" on which toys in my dogs' toy box don't look like they've been through a garbage disposal! My dogs Chilly (a senior) and Tulip (a young pup) are both playful and love their toys. Through the years, though, I've come to appreciate that not all toys are made equal!
If you're on the hunt for (nearly) indestructible dog toys, I've got you! Here are some of the best toys I've found that your dog won't destroy right away. And they're dog-approved to be fun!
Pin Me!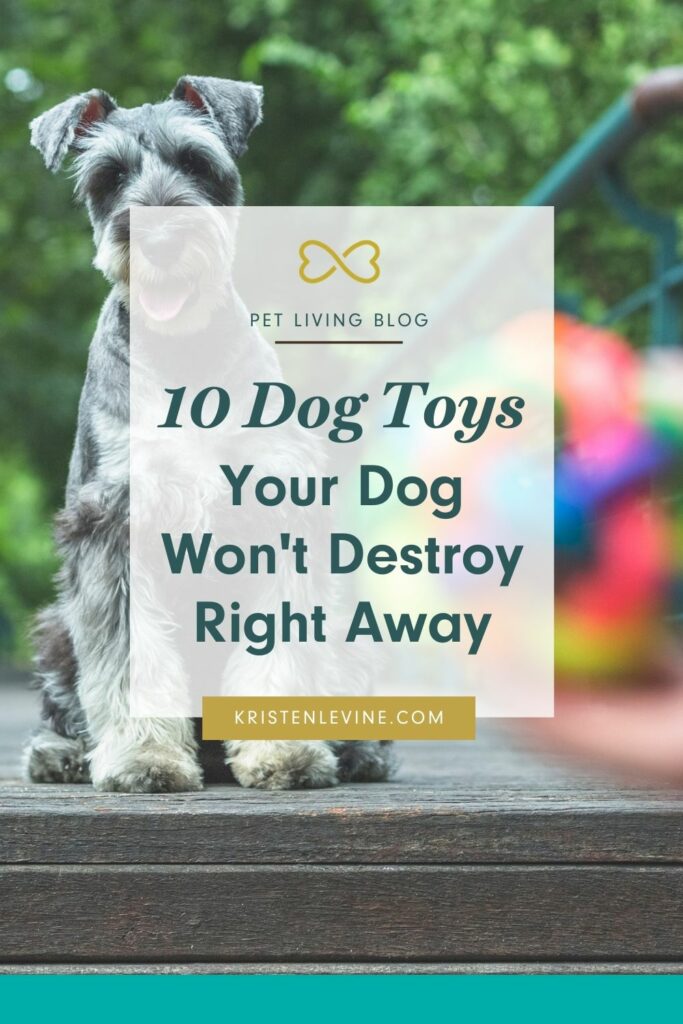 Indestructible Dog Toys That Squeak
First things first: Before buying any new dog toys, start by visiting Slickdeals – a community of millions of real people working together to save – it's all about shoppers helping shoppers.
As a paw-rent, you'll know that you're getting the best dog toys at the best price.
I've met very few pups that don't like squeaky toys! They do exist, but most dogs love the sound a squeaky toy makes when they have it between their teeth. The problem is, those little squeakers are simply thin plastic bladders. And when your dog digs out the squeaker from the toy, it becomes a hazard.
Here are some toys that keep the squeaker right where it belongs — inside the toy.
This is a hot item on Amazon and for good reason. The squeaker is very subtle, not loud and obnoxious like many squeaky toys are.


What landed this toy on my list, though, is the sturdy rope that runs through the bear. Even the toughest of terriers will have a hard time destroying this toy right away.
Zuzu, part of our extended Pet Living family, has had her Kong Bear for over a year and it's still going strong, even with her schnauzer friends attacking it.
---
This toy is great for small puppies who are aggressive chewers since it has varied textures (and a fun squeaker!). Unlike the bear, it has no stuffing, so if your pup should tear a hole in it, there will be no hazardous and messy stuffing to worry about.
---
Tug and Rope Dog Toys That Last
I'm picky about which ropes I give my dogs. As a general rule, I don't like them because they often fray and the little strings and fibers come apart and pose a swallowing risk which has the potential for intestinal complications. Always be choosy about your rope toys!
Here are the ones I recommend.
This rope is not only sturdy and great for aggressive chewers, but it loops, so you don't have to worry about those frayed ends that most rope toys have.
I've long been a fan of Chuckit! toys since they're so durable and most of them are designed for outdoor play, so they're perfect for getting in some bonding time with your dog.
---
This is another Pet Living family favorite, and it's also part of the Chuckit! line. It may seem confusing at first — is it a ball? Is it a tug toy? But you and your dog will quickly figure it out!
The ball part is nearly indestructible and the while the tug part can break, it doesn't do so easily. And there are no frayed pieces for your dog to swallow if it does happen to rip.
The ball bounces easily and the little handle looks a bit like a tail, so dogs love chasing after it. And the tug part gives you a handle to throw the ball even further or play a tug-of-war with your pup. The ball itself isn't heavy or overly bouncy, so you can even use it for some easy indoor playing.
---
Indestructible Fetch Toys for Dogs (Even Aggressive Chewers!)
Fetch toys covered in slobber are pretty normal for most pet parents, but that doesn't mean we like them!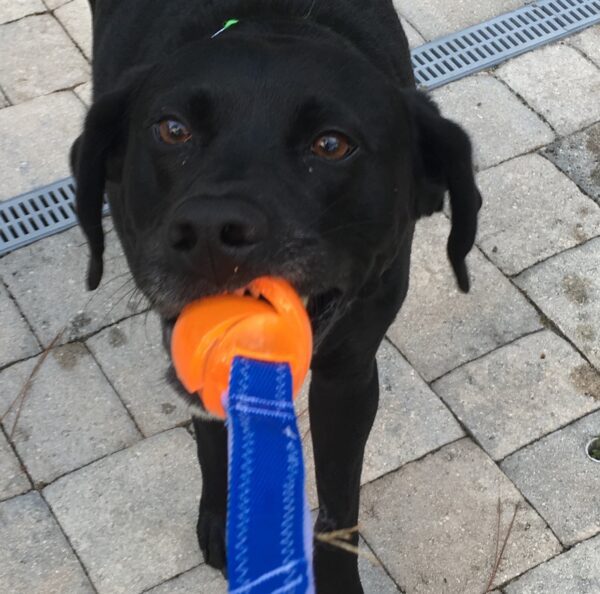 Fetch toys may get the most abuse of all. One of the last things you want to grab from your dog during playtime is a slobbery, half-chewed toy that you know in your heart should go in the trash, but you can't bring yourself to disappoint your dog that much.
There are so many great options to avoid ripped up fetch toys, and even the slobber!
This is one of Chilly's absolute favorites! And I love it because it requires minimal contact with slobber and it throws the ball farther than I could with a regular throw, meaning more exercise for Chilly!
This launcher is often used with tennis balls, but for those aggressive chewers, you'll want to use a more durable ball like this one. It's basically the same ball used in the Ultra Tug toy above, so it's very durable.
---
I love West Paw toys for the very reason that they're tough to destroy. My dogs have several toys from West Paw and they have held up beautifully!
This fetching stick is a favorite, not just for its long-lasting power, but because you can throw it in the dishwasher when it gets gross.
---
Durable Chewing Sticks for Dogs
Chewing sticks are sometimes made to be destroyed, but then there are other times when your dog might just want something to gnaw on.
Here are my favorites.
Another favorite from West Paw! This bone is specifically designed for aggressive chewers and you don't have to worry about splinters!
I also love that it floats, so it's a great chew and fetch stick for land or water. Like the fetching stick, the bone is dishwasher safe and is made from non-toxic materials.
---
This stick is actually meant to be destroyed, but I'm adding it here because it's great for aggressive chewers, and really any dog. If your pup is in the habit of chewing furniture or other beloved household items, this stick can be a great replacement.
It's made from natural wood fibers and other non-toxic materials that mimic the taste and feel of a real stick, but without the mess or the risk of splinters.
---
Long-Lasting Puzzle and Treat Finder Toys for Dogs
Puzzle toys are great to keep your dog's brain engaged and strengthened, even into his senior years. But not all puzzle toys are made to last. There are many that are great for your dog's brain, but are made with cheap plastics that your dog can chew and that can develop sharp edges.
There's a good reason why this toy has more than 40,000 reviews on Amazon. Not only is it very durable, it's really a multipurpose toy. You can throw it and it bounces this way and that, making a fun game for your pup. Or, you can fill it with peanut butter or other treats and let your dog figure out how to get it all out.
In our house, we do both! In fact, I often fill Chilly's with peanut butter and then put it in the freezer so it lasts even longer and gives him something to chew on.
This is a very easy "puzzle" for dogs to do, but it still keeps their brains engaged for a quite a while.
---
The Bob-A-Lot is an oldie but a goodie in our house. Chilly has had one for years, and when we brought home our
puppy, Tulip, it didn't take her long to figure out how to use it too!
The bottom of the Bob-A-Lot is weighted, so your dog will have to hit to toy to make it "bob" so the food or treats spill out.
Most days, this is how Chilly eats all of his food. But if you want to stick with traditional feeding, you can put some small treats in the Bob-A-Lot and watch your dog have a ball!
Thanks for letting me share my favorite indestructible dog toys with you! If you have a favorite that I didn't share here, let me know in the comments!