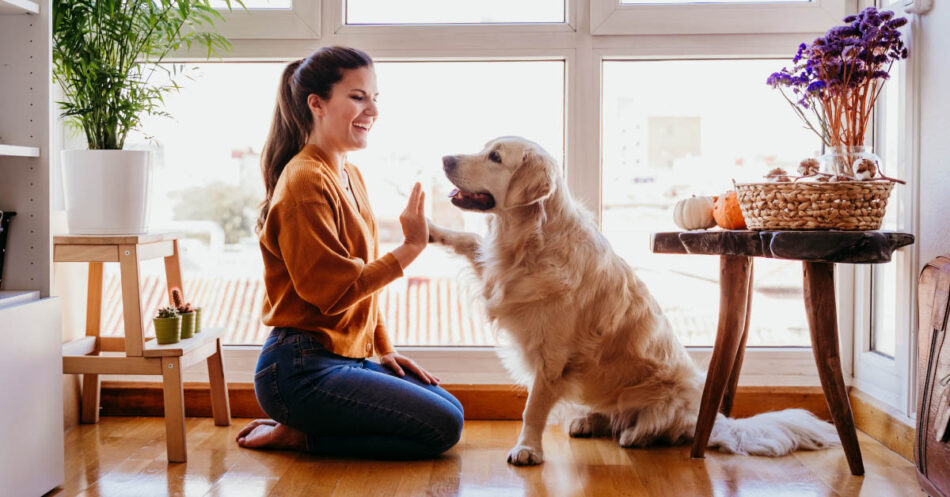 The Best Dog Training Treats and How to Use Them
It's not just my dog who is so doggone picky about her training treats. I'm very careful about what goes into my dog's mouth.
It's not that she doesn't get the very occasional junk food (dog grandmas and aunties, I'm talking to you here). But when it comes to treats for training, we're talking about quantity since it can take a lot of treats to train your dog to follow even one command. It's easy to see how unhealthy training treats could have a big impact on your dog's overall health.
So how do you find the best training treats for your dog?
Pin me!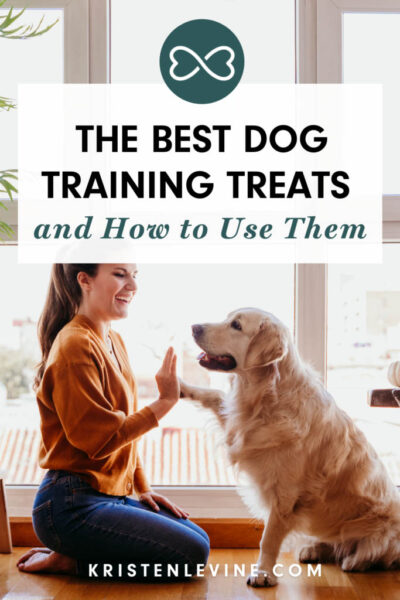 How to Find the Best Dog Training Treats
When I began training my late dog Chilly, 11 years ago, there weren't many training treats on the market. I ended up breaking apart baked treats into little crumbs that went everywhere.
Now though, there are almost infinite choices for training treats, but not all of them are created equal! Here's a quick guide to finding the best training treats for your dog.
1. Size
Training treats, regardless of your dog's size, should be quite small, even as small as your pinky nail. Some treats can be broken into smaller pieces, and that's fine to do. The key is not to reward your dog with a full-sized treat because he's going to need a lot of them during training sessions.
2. Source
I prefer my dog training treats to be naturally sourced and here's why. Companies that take the time to care about where their product's ingredients are sourced typically produce higher-quality products that don't contain unnecessary fillers.
Think of it as the difference between eating an organically sourced burger on your grill at home or going out to fast food. Both may contain the same amount of beef, but the quality, taste, and nutritional value will be vastly different.
3. Ingredients
A quality dog training treat will use natural ingredients, like animal or insect protein and possibly a very little bit of carbohydrate sourced from real food, like bananas, oats, or blueberries. Remember, the treats aren't meant to provide your dog with energy, so they can be lean on carbohydrates.
4. Calories
Training treats are intended to reward your dog in a healthy way, which means you want to avoid heavy, calorie-laden snacks, no matter the size of your dog. Aim for 0.5-5 calories per treat, depending on your dog's size.
If you give your large dog 10 training treats during a session and those treats are 20 calories each, that's 200 calories. For a 60-pound dog, that's not too bad. But if I gave those same 10 training treats to my small dog, Tulip, those 200 calories would really add up on her 14-pound frame!
For Tulip, I may even have to break a training treat into quarters to avoid calorie-laden training sessions.
3 Best Dog Training Treats That Are Healthy and Taste Good
Yes, there are more than three healthy dog training treats on the market, but these are my favorites! They're treats that my dogs love and that I feel good about feeding them.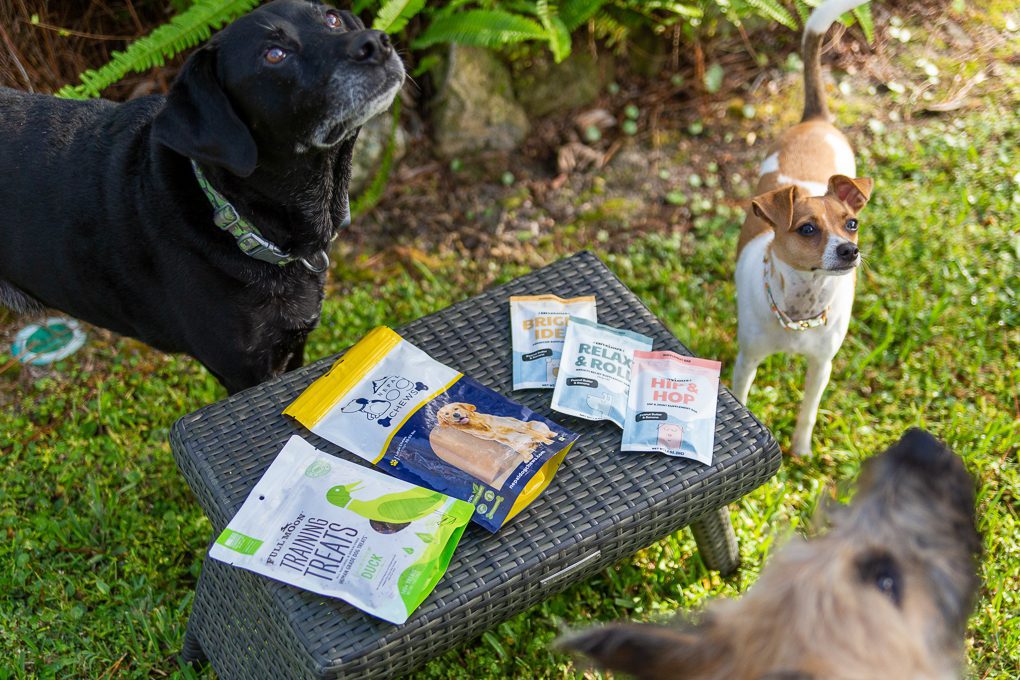 Of course, your dog might be different. Tastes vary and you also need to take into consideration your dog's unique physical makeup. When in doubt, always check with your veterinarian.
My dog goes nuts for Chippin treats!
I love that this brand is so eco-conscious. "Save the Earth. It's the only planet with dogs," is their motto. Not only do they have a low-carbon "pawprint," they use natural ingredients like blueberries, bananas, and cricket protein that dogs love.
If you're training a senior pet (you can teach an old dog new tricks!) or a younger pet with joint issues, these Antioxidant Treats are the way to go. You can easily break them into four small pieces for training, (5 calories per piece) or feed them whole as a special snack after bath time.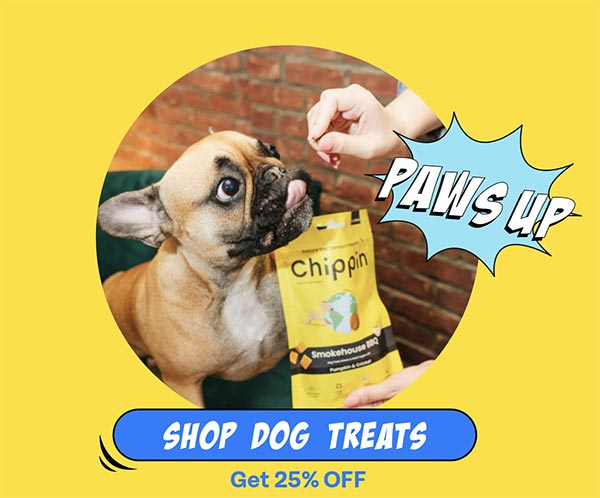 What makes these treats unique is not only do they contain insect protein and natural carbohydrates like bananas and oats, but they also include natural, anti-inflammatory ingredients like rosemary extract and turmeric. They give your dog a low-calorie way to obtain nutrients that build healthy joints, reduce pain, and boost the immune system.
If your dog has gut issues or if your dog is a picky eater, choose the Superfood treats. They're packed with Omega-3s, contain tasty pumpkin, peanut butter, honey, cinnamon, and lean cricket protein.
Break each treat into four pieces to use as a training treat. Each piece is five calories.
If you'd like to try them for your dogs, you can buy them at Chippin's online store.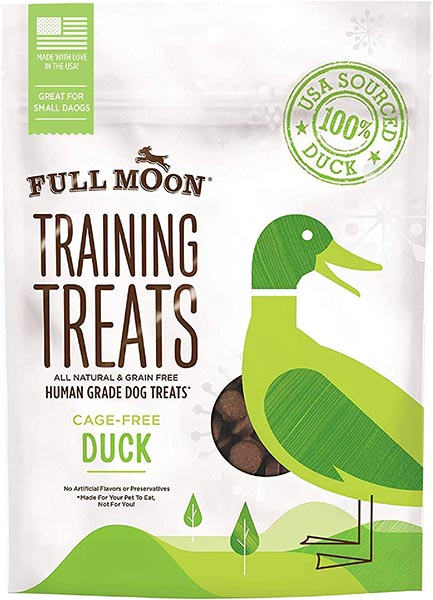 Full Moon uses human-grade ingredients and these treats are specifically designed for training, so no need to break them apart. They contain cage-free duck for protein, anti-inflammatory rosemary, ground celery, cane sugar, paprika, and flaxseed.
Each treat is about two calories, so they're perfect for training, especially for small dogs. The treats are soft enough that you can still break them into smaller pieces if you'd like.
---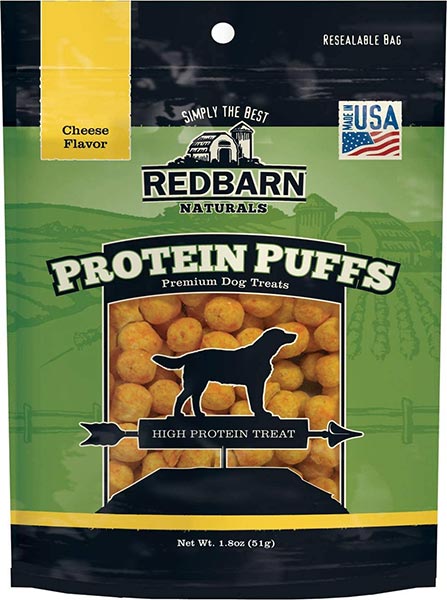 Red Barn uses simple, natural ingredients to make great-tasting treats and food. They're certified by the Safe Quality Food Initiative, which involves rigorous screening. Getting this certification isn't a requirement in the pet product industry, so what that means for you and me is reassurance that they've gone the extra mile to ensure top-quality ingredients.
In my house, we use the Protein Puffs for training. They're only about half of a calorie each, so you can use a lot of them without worrying about packing on the pounds. They look bigger than they really are because they're "puffed" with air. Plus, my dog loves the crunch!
They come in cheese, peanut butter, and turkey flavor.
How to Succeed at Treat Training Your Dog
Dogs are inherently treat-motivated. So when training your dog, it's important to use their favorite treats. Then you're ready to get to work!
Here are a few of the tricks I've taught my dogs.
Currently, I'm teaching Tulip to go to her "place" while we eat dinner. Having a "place" for your dog can also be very useful when delivery people come to the door or anytime you need them to stay put.
Here's how I started to train Tulip to go to her "place." I began by placing a treat at her "place" and then told her to go to "place," pointing to it and leading her there so she knew where it was. She would get another treat when she went there. We did this repetitively for weeks until she knew exactly where "place" was and rewarded her for spending longer and longer amounts of time there.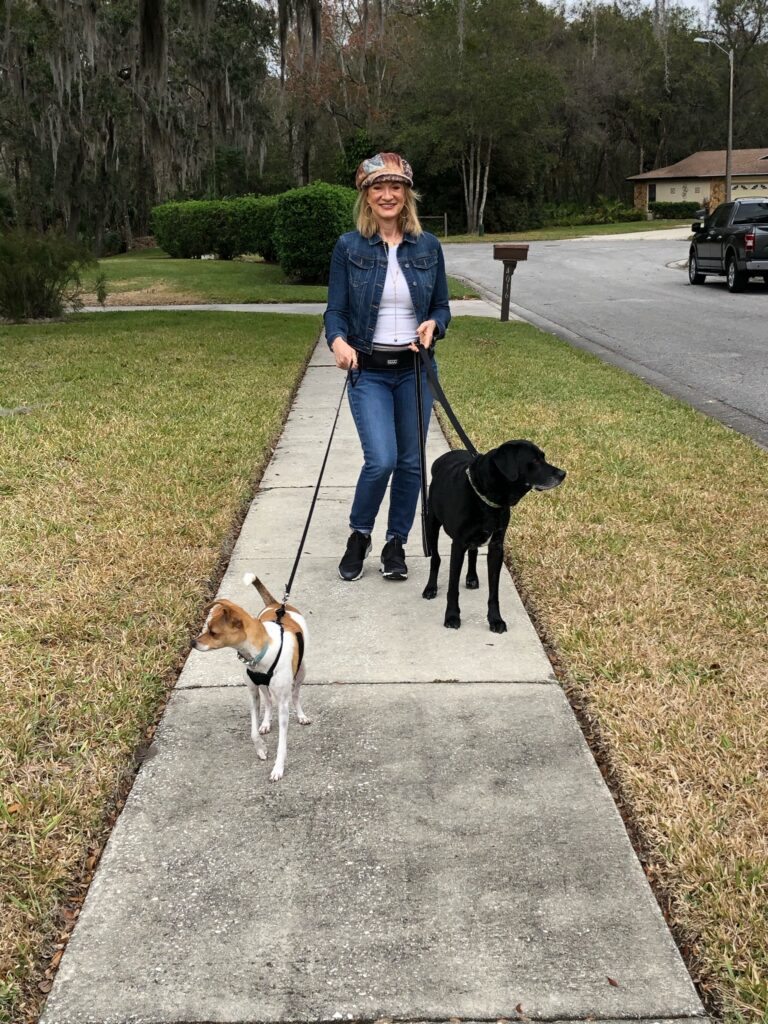 I'm also teaching her to spin right and left and to leap. You can train your dog to do most tricks like this by holding the treat in your hand and directing them. For instance, if you want your dog to spin, hold the treat in your hand (usually a fist works best, so your dog can only smell the treat) and make a circle gesture, encouraging your dog to follow the motion of your hand.
Dogs respond well to hand commands, so much so that you may not need verbal commands for some tricks. Although for the sake of safety, you'll want them to understand important verbal commands like "wait," "stop," or "come."
I like to change up the training treats I use each day so Tulip is always surprised and delighted! You don't want your dog to tire of their treats or they may get bored or less motivated for the reward.
Treat training is also important for our senior dogs! As my late pup, Chilly, reached senior status, we didn't like to tire him out too much on walks, especially in the warmer months. Sometimes, when it was time to turn around, Chilly wanted to keep going. So, I'd ask him if he wanted a "turnaround treat"! It worked every time. He was happy to do a 180 for one of his favorite treats.
Zuzu, a part of our extended Pet Living family, has learned how to spin, dance, sit, sit up, lay, and roll over among other tricks. Her mom works with her daily, training her with hand commands. When she's teaching Zuzu a new trick, she'll often have her repeat the trick 3-4 times during one brief session and then repeat the session 1-2 times during the day.
Elvis, another member of the extended Pet Living family, does agility training, which focuses on obstacle courses. When starting agility training, he would be shown a treat on the other side of the obstacle, for instance, a treat on the other side of a tire jump. Now that Elvis is a pro, he only gets a treat at the end of his training session.
Training treats are ideal for training for obedience, tricks, agility, manners, behavior modification, distraction, and more. Small, low-calorie, healthy, and tasty is the ideal combo you want to use!