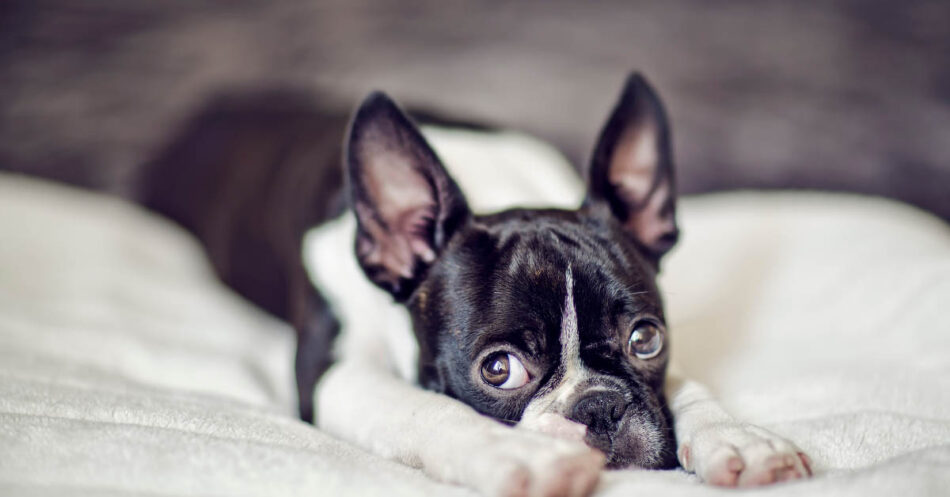 Puppy Training Tips: 3 Basic Commands You Can Teach Your Dog
Making sure your puppy knows basic commands is important for their safety and also their happiness. Whether you train your dog yourself or hire professional dog trainers, this article will give you the puppy training tips you need to help you teach your dog to be a proper puppy citizen. Every puppy should be taught:
How to sit
How to stay
To come when called
---
8 minute read
Bringing your new puppy home is amazing and exciting, but now what? How do you make sure your puppy becomes a well-behaved good boy or girl and that you have a great and loving relationship fur-ever?
It start with good communication, and what better way to establish that through training your puppy to obey basic commands.
If you train your puppy, you will be rewarded with a well-behaved dog who loves, trusts, and respects you. But if you don't put the time and effort into "schooling" your pup when she's young and eager to please, she may develop habits or behaviors that are more difficult to correct later on.
Keep reading to get the puppy training tips you need to train your dog to be a well-behaved and happy puppy!
Should I Hire a Dog Trainer or Train My Dog Myself?
Some puppy parents are able to train their pups on their own. Others choose to work with a trainer.
There are definitely pros and cons to both.
Training your puppy yourself:
Pros

: It helps you bond with your new pup. It's also very cost effective.

Cons:

Training takes a lot of time

and

knowledge. Not all pup parents have a schedule that lets them train their puppy successfully.
Working with a trainer:
Pros

: Beside the actual training, if your pup is

trained

in a class with other dogs, it

improves her socialization

. A professional dog trainer's expertise and experience also means they'll have tons of puppy training tips for you to make your pup's training successful. They also can help you avoid bad habits in your training that can slow down your puppy's learning.

Cons

: Training classes can be

expensive and sometimes inconvenient.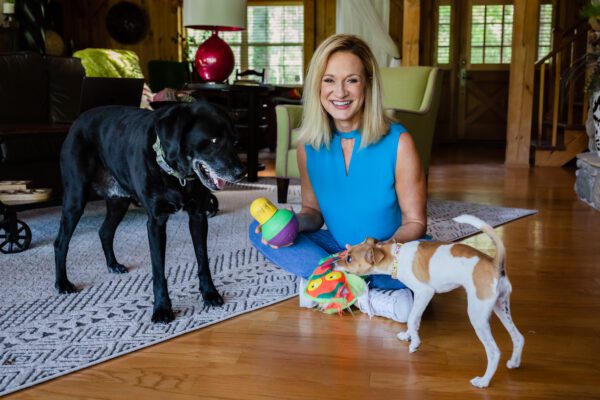 I used professional trainers for both Chilly and Tulip. With Chilly, I took him to training classes at a local PetCo. Tulip's training happened during the Covid pandemic, so we had a trainer who came to our house and helped us.
If it's in your budget, I really recommend group lessons like those available at your local PetCo, PetSmart, or with your local professional trainer. Even if you're great at training, it's so good for puppies to have that socialization experience with other dogs. A friend of mine who's a professional dog trainer even takes her dogs to those classes for that very reason!
How Do I Choose a Trainer?
If you decide to use a trainer, make sure that you find one who uses positive techniques. This will help you and your puppy build a relationship based on trust, not fear.
Pick someone you like and can communicate well with. And make sure that your trainer is willing to include the whole family in the process. This will make it easier to be consistent and avoid confusing your pup.
If you're looking for a good trainer, you may be able to get some recommendations from your veterinarian. Other dog parents can also be helpful. Once you've got a name or two, make sure to ask for references and take the time to talk to past clients.
I'm not a trainer, but I'm fully aware of the importance of getting off on the right paw with your pup. The same applies if you adopt an older dog. Any pooch, no matter how old, can always learn.
And to keep your new addition safe, there are 3 commands that she needs to know.
What Are the Most Important Commands to Teach Your Dog?
There are many commands you can teach your new puppy, but there are 3 commands that are the most important. That's because they aren't just fun tricks – they help keep your puppy safe! These 3 commands are sit, stay, and come.
"Sit" is important because it teaches your puppy to focus her attention on you. And it also prevents them from

jumping

on you – and your visitors!

"Stay" could prevent your puppy from darting out an open door or running into a busy street. Imagine if you were walking your pup and somehow she got off leash (it happens!). If you tell her to stay

and

she listens, it could be life-saving!

"Come" also

helps

protect your puppy. Just like "Stay," the "Come" command can keep your puppy from running headlong into dangerous situations.
Pin me: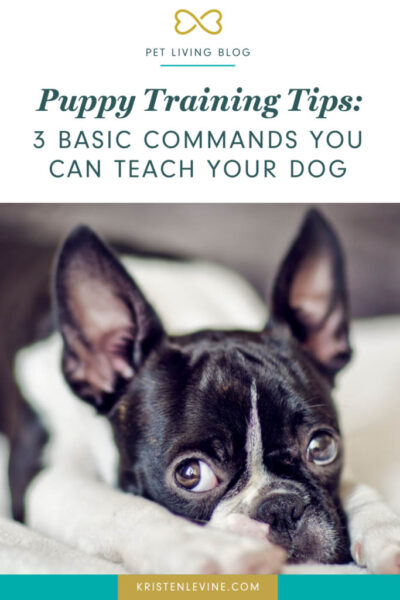 How to Teach a Puppy to Sit
Most, if not all, puppies love treats. That's why it's a good idea to have your pup's favorite treats on hand when you're ready to start training. I use the Full Moon Duck treats since they're only 2 calories each and you can split them in half easily.
If you have the rare puppy who isn't treat-motivated, a favorite chew toy can be a great alternative incentive and reward.
If you're using treats, your dog will likely be able to smell the treat and that alone will get their attention.
Once your puppy is in front of you, you'll use the treat to get her to sit.
Hold

the

treat right in front of your puppy's nose, then slowly move your hand up and over her head.

Your

puppy will naturally raise her head back to follow the treat, and she will end up sitting down

As s

he's

sitting down, say the command "Sit," give her the treat, and praise her for being such a good girl!

Remember

, only reward good behavior. Don't give the treat unless she sits!
Repetition is key for puppies, short sessions (under a minute) several times a day are more effective than long sessions. It should be part of their daily routine, and you'll need to repeat the routine several times each session.
The ultimate goal is for them to "Sit" with just the command and without the treat.
To eliminate the treat, start weaving in practice sessions where you still do the hand motion over your pup's head and say the "Sit" command but only give lots of praise and positive reinforcement – and no treat – after they've sat down.
An alternative to saying "Sit" is to use a distinct hand signal as the command – like pointing at the ground. For commands like "Come" or "Stay," however, it's important that the command be verbal.
How to Teach a Puppy to Stay
Once your puppy has mastered "Sit," you can move on to "Stay!" The "Stay" command involves teaching your puppy to remain in one spot until you say she can move.
Before you start teaching your puppy to stay, it's important to pick a release word. This is the word or phrase that lets your puppy know her "staying" time is over and she is now released.
Many pup parents use "Okay," but it really doesn't matter what the word or phrase is. What matters is that it's always the same so your puppy doesn't get confused.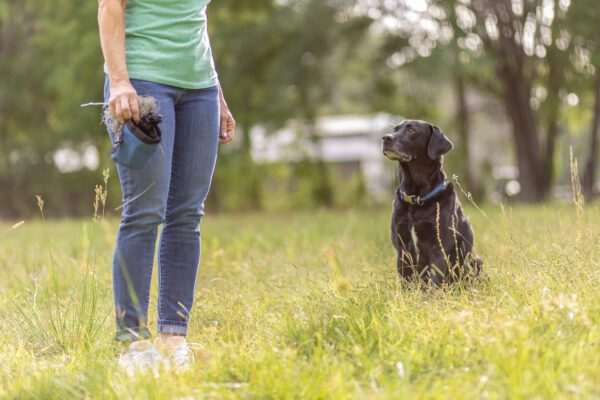 Here are the steps to teach your puppy to stay:
Tell

her

to "Sit."

Once she is sitting, say

"Stay!" while holding your hand up like you're signaling someone to stop.

Take

a couple of steps backward. If your pup gets up to follow you, say "unh-uh" or "no" and lead them back to sit down again.

Try

again

. After your pup stays for a couple of seconds, say your release word and give them their treat.
A couple of seconds may not sound like a long time, but for your new puppy it will be an eternity – reward them for their hard work with a treat and lots of praise for being such a good girl.
With time, practice, and patience, your pup will stay for longer periods of time – and you'll be able to step farther away, too. For this command, the most important puppy training tip is to take it slow.
Also, while using the "stop" hand signal is a good idea when training your puppy, to ensure their safety in dangerous situations you want to make sure your pup will "Stay" even if you only give the verbal command.
How to Teach a Puppy to Come
Just like with the other basic commands above, treats are super important in training your puppy quickly and effectively. However, "Come" is one of the most important commands for your pup's safety, so it's also important to make sure they come even without a treat.
After all, in a dangerous situation you may not have any treats on hand!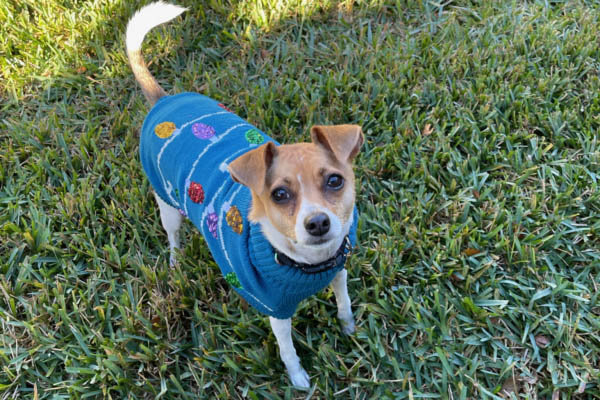 Since your pup may be out of sight or facing away from you when you need her to "Come," this needs to be a verbal command and not a hand signal.
There are several ways to teach "Come!", but here is one of the simplest:
Put

your

puppy on a leash.

Say

"Come!" or "Come, [puppy's name]!" and give the leash a gentle tug.

When

your puppy comes up to you, give a treat and lots of praise and positive reinforcement

Over

time, take off the leash and just say the words. Also phase out the treat and stick with love and praise as rewards.
Just like with "Stay," patience and persistence are key. Over time you can get further and further away from your puppy before saying "Come!"
As your puppy gets better at the "Come!" command, you can involve other family members in the training. Ask them to make distractions and see if your puppy will still come to you. For example, if your pup comes running to you even when your children are laughing and jumping up and down nearby, you'll know they will come to you no matter what the situation.
The Tail End
Training your puppy isn't just about safety, it also helps you bond with your dog and establish yourself as a leader in the social hierarchy. Whether you choose to hire a trainer or conduct the training sessions yourself, making sure your pup knows basic commands and has basic training will set them up for a safe, happy, and paw-some life.
Are you getting ready for a new puppy of your very own? Would you like to know everything you should do before you bring your bundle of fluff to their fur-ever home? Then click on the link below to get your FREE new puppy checklist!