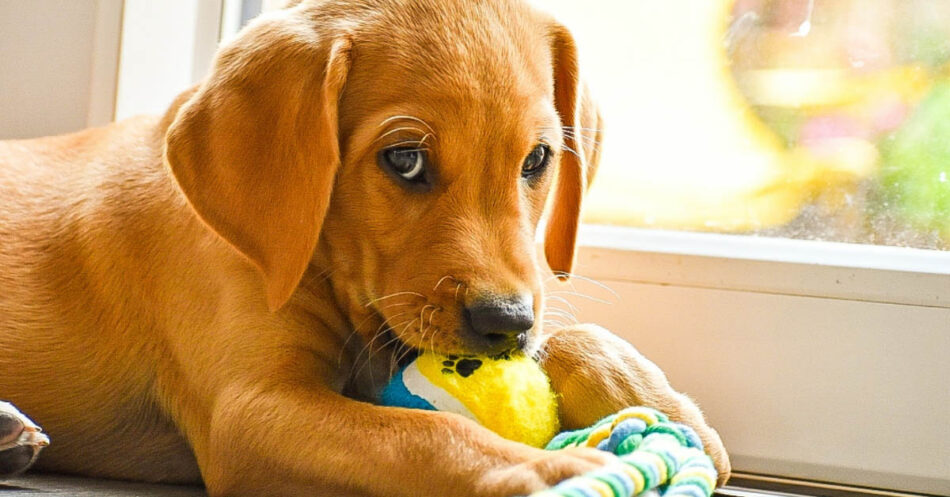 12 of The Best Puppy Toys for Your New Dog
If you've recently brought home a playful new puppy, then you probably noticed just how many dog toys are on the market. The sheer amount of choices can be overwhelming. How can you tell which toys will be right for your pup?
Additionally, when choosing which toys to buy, I know you want to protect your new puppy from safety issues. For example:
Toys that are too small or have loose parts

can pose choking hazards or, if swallowed, cause gastrointestinal distress that will quickly send a new puppy to the emergency veterinarian.

Harmful human-made fabrics, dyes, chemicals

, and other materials in certain toys can hurt your pup over time.

Some dog toys are

poorly sewn and full of stuffing

that's just begging to be ripped out and eaten.

Others have

strings, ribbons, eyes, or other small parts

that your dog could swallow.
So, it's essential to do your research before filling your cart with adorable puppy toys. First, try talking to friends and family who already have dogs. They've probably experienced a lot of trial and error in finding the best puppy toys, and you can take advantage of that experience. You can also ask your veterinarian and veterinarian technicians about their favorite puppy toys.
Lastly, you can read the rest of this article for my tried-and-true recommendations. I'm confident that this list of the 12 best puppy toys will help you make safe and healthy choices for your fur family.
Pin Me!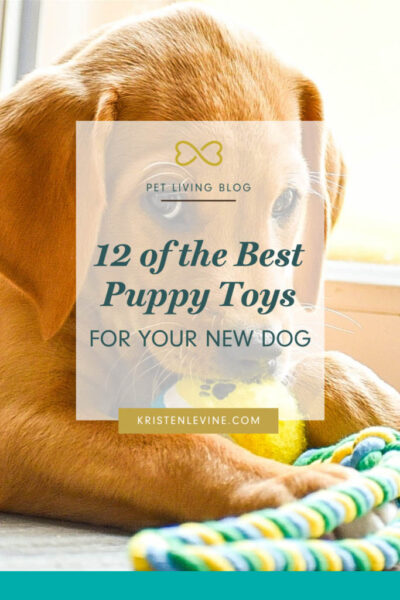 Best Teething Toys for Puppies
A teething puppy is full of energy and can quickly turn into a chewing machine without teething toys. Good teething toys can save your clothes, your furniture, and even your doorjambs! (True story: one of our Pet Living pups, Zuzu, used to chew on the front doorposts.) Make sure you give your new puppy plenty of the best chew toys to "chews" from to protect your house and your sanity.
Best Bone for Puppies
Zuzu, the former doorjamb chewer, loves this tough dogwood-style chew toy from Petstages. Its durable material, made of natural wood fiber and safe synthetic materials, imitates the texture and taste of real wood – but it won't splinter and hurt your dog the way a regular wooden stick could. It even floats on water, making it a perfect choice for outdoor fetch sessions.
Best Teething Chews for Puppies
---
Best Balls and Chasing Toys for Puppies
Balls and chasing toys are some of the best gifts to help an active pup release pent-up energy. Chasing and fetching will help your dog stay strong and maintain a healthy weight, and can also strengthen your bond with your dog. A word of caution, though: it's essential to make sure your dog has the right-sized toy. A ball should be small enough for your pup to carry but large enough that it's impossible to swallow.
Best Ball for Puppy Dental Health
---
Best Ball for Tough Chewing Puppies
---
Best Fetch Toy for Puppies
---
Best Puzzle Ball for Puppies

Best Plush Toys for Puppies
Plush toys can be cozy, cuddly, and lots of fun. But not all plush toys are created equal. Many are poorly stitched, and even well-built plushes aren't indestructible. You absolutely don't want your puppy swallowing small parts, threads, or stuffing. So be sure to supervise your dog while he plays with plushes. Take a look at my favorite plush toys for puppies, which feature strong stitching and even organic materials.
Best Plush for Tough Chewing Puppies
I'll always recommend Petique's safe and all-natural Eco Hemp Pet Toys. They're built to be tough and durable, and they always include at least one squeaker inside. The coarse hemp fiber is naturally resistant to mold and bacteria and will even clean your puppy's teeth as he plays! Your puppy and the environment will thank you for ordering these.
---
Best Eco-Friendly Plushes for Puppies
---
Best Plush for Small Puppies
---
Bedtime Plush for Puppies
It may also be a good idea to get your dog a bedtime plush that only comes out at night. It's best to choose a soft, cute bedtime toy with no built-in squeakers that could put your dog in a mood for play. Keep your puppy's bedtime toy separate from his play toys to help him establish a comforting, relaxing bedtime routine.
---
Best Puzzle Toys for Puppies
While it's important to keep your puppy's body busy, it's equally necessary to keep his brain active! Puzzle toys can help your pup learn to focus his attention. These toys can also relieve boredom and discourage negative behavior like chewing on furniture and barking excessively. Be sure not to overfeed puppies with food or treats, though. Once they get the hang of the puzzle toy or food dispenser, they may want to do it all the time!
Best Starter Puzzle Toy for Puppies
---
Best Food Dispensing Puzzle Toy for Puppies
After my dog Tulip figured out the Shuffle Bone Toy, I advanced her to food-dispensing toys like the Bob-A-Lot from StarMark. Food-dispensing puzzle toys teach dogs to work for their food, keeping their brain engaged and enticing them to play. I also love that the Bob-a-Lot can hold almost a day's worth of food for constant enrichment.
Puppyhood is a magical time you can use to make precious memories and to set your puppy up for healthy adulthood. I'm confident that, with enough research, you'll find just the right toys for your new puppy. What are your favorite puppy toys? Go ahead and tell me in the comments!