Both our dog, Chilly, and our cat, Olivia, are getting a bit older – which likely means rising veterinary bills in our future.
For example, in a recent blog post, I discussed how Chilly has been showing some early signs of canine osteoarthritis. Osteoarthritis (OA) can lead to inflammation, pain, reduced function, or even severe degenerative changes.
So, as soon as we noticed possible signs of dog arthritis, we scheduled a visit to talk with Chilly's veterinarian, Dr. Cole.
During that visit, Chilly got a physical exam which, fortunately, he passed with flying colors. Soon we'll schedule another veterinarian visit to get x-rays of his hips, knees, and back to see if Dr. Cole can identify any early-onset signs of OA.
We know this could mean more veterinary bills, but we don't want that to stop us from giving Chilly the best quality of life possible!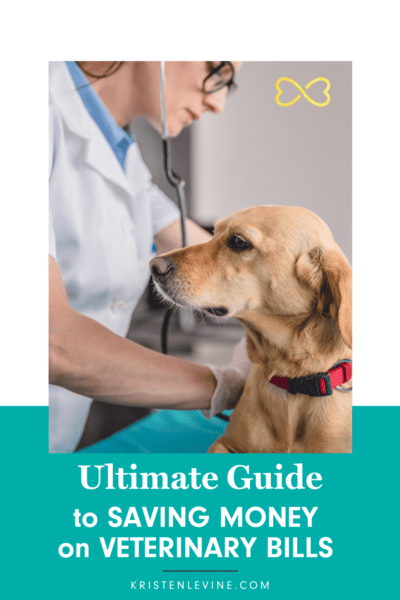 In addition to Chilly's possible signs of dog arthritis and Olivia's regular checkups, we're also dealing with significantly more veterinary bills after adopting a third pet – our former foster puppy, Tulip!
Whether you have multiple pets, an aging pet, or a pet with chronic health conditions, you're no stranger to both routine and unexpected medical expenses.
So, I want to share the four strategies that I use to save money on veterinary bills. I'm confident that these tips will help you give your precious pets the very best care available without breaking the bank.
#1: Preventative Care is Cheaper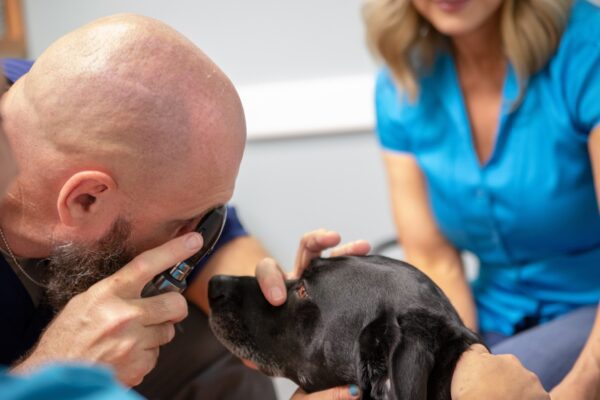 Preventative care is one of the very best ways to save on veterinary bills. Through regular physical exams, bloodwork, and diagnostics, we give our veterinarian the opportunity to catch health concerns early. Our preventative care routine lets us get ahead of potential problems and be proactive about caring for our pets, rather than reactive.
Another way we prevent health concerns before they even begin is by keeping our pets in shape.
Obesity in pets can lead to heart disease, orthopedic problems, and other chronic issues that are difficult and expensive to manage.
To keep excess weight off our pets, Chilly, Tulip, and Olivia eat a portion-controlled, high-quality diet and we give treats in moderation.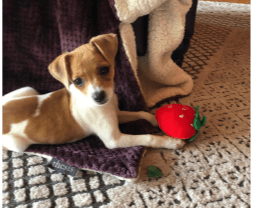 Additionally, we make sure that all of our pets get enough exercise. For Chilly and Tulip, that means daily walks and playtime, while Olivia enjoys regular playtime and an enriching environment in our home. Even regular bathing and grooming are essential to our preventative care routine.
My recent concerns about Chilly's possible OA symptoms are a great example of preventative care in action. Early detection of OA will help us work with Chilly's veterinarian to slow its progress, resulting in a better quality of life for him and savings for us!
If you suspect that you're caring for a dog with arthritis, please don't hesitate to call your veterinarian. Screening for OA starts with taking a history of symptoms noticed at home, so be prepared for your visit with well-documented changes you've seen in your dog. Video footage of your dog walking or climbing the stairs will help your veterinarian in the screening process.

This OA checklist is an excellent tool designed to help your veterinarian understand which symptoms your dog is showing. Additionally, it will prompt you to include important details about your dog's medical history that could affect his diagnosis. After you fill out the OA checklist, don't forget to bring it with you to your next veterinary appointment.
#2: Get the Best Pet Insurance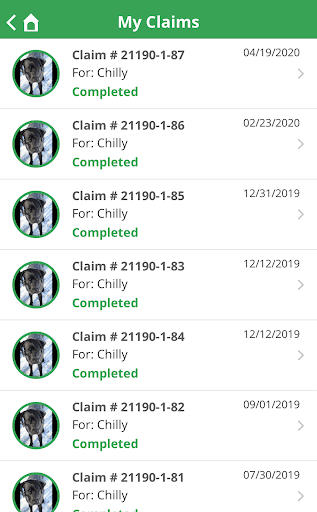 Pet health insurance is honestly one of the best investments I've ever made. At my last count, I've submitted 87 pet insurance claims for Chilly over the past 10 years. I'm so glad that, early on, we purchased a policy for him. Since April 2011, we've paid about $6,000 in premiums and been reimbursed for over $9,700 in veterinarian bills. That's a savings of nearly $4,000!
Needless to say, I'm a big advocate for pet insurance. It gives me peace of mind when unexpected veterinary bills pop up, because I know I'll be able to afford the care that my pets deserve. But, if pet insurance just isn't an option, then it's important to set up a separate savings account for your pet's unexpected veterinary bills.
I definitely plan to keep using pet insurance policies in the future. In fact, I'm currently researching the right policy for our newly adopted Tulip. I particularly like the ones that offer preventative care programs.
#3: Shop Around for Prescription Medications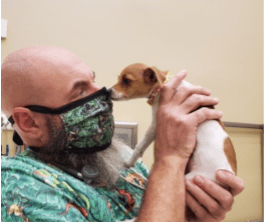 Whether your pet needs something as complex as medicine for dog arthritis or something as simple as flea and tick prevention, it's always best to get your medications from your vet.
Offers from online pet pharmacies like Chewy.com can sometimes result in substantial savings. However, many veterinary practices have their own online pharmacies and are willing to work with you to provide cost-effective solutions.
I recommend that you price medications online, then ask your veterinarian if they will honor that price. If possible, it's best to keep your pet's medication records with your veterinarian.
If your veterinarian won't match the price or offer you a discount, then you can use online pharmacies. However, be sure to tell him or her what you are purchasing and how often.
Of course, this should happen automatically, because online pharmacies require your veterinarian to provide prescriptions for new medications and to approve refills. But, just to be safe, make sure your pet's medical records reflect any online medication purchases for your pet.
#4: Use Zoetis Petcare Rewards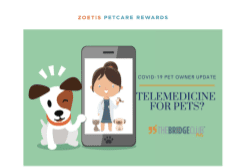 Zoetis Petcare offers a variety of pet medications, including those that protect against pests, promote healthy skin, ease discomfort and pain, and help prevent diseases before they begin1.
I've personally used a number of their medications to care for my pets, including RIMADYL® (carprofen), which helps manage the symptoms of canine OA.
The Zoetis Petcare Rewards program also provides pet parents with a great way to save on veterinarian bills!

It works like this: whenever I purchase an eligible pet care product, I submit an invoice for it and earn points. After I collect points, I redeem them for rewards, which help me pay for any services at my veterinarian's office.
Right now, I'm saving to redeem my points for Chilly's next teeth cleaning, which is another important preventative health measure. And, there's even more good news – the more pets you have, the faster your Zoetis Petcare Rewards accumulate!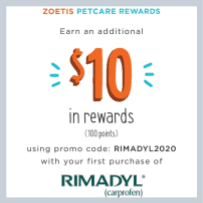 Once you sign up for Zoetis Petcare Rewards, you'll also receive the opportunity to learn more about your pet's health.
One recent webinar I was invited to featured veterinary telemedicine, and another discussed the changing behavior of pets during COVID-19 and how to manage it.
If you're caring for a dog with canine OA, this $10 offer from Zoetis Petcare Rewards, will earn you an additional $10 in rewards to spend at your veterinary office. To redeem it, simply use the promo code RIMADYL2020 with your first purchase of RIMADYL®.
Pet Care for All
Proper pet care is a necessity for responsible pet parents everywhere. Thankfully, affordable pet care is possible, even for households with multiple pets.
Preventative care can reduce the frequency of future veterinary bills by slowing the progression of pet health problems, like canine OA, or by preventing them altogether. Additionally, pet insurance combined with discounts, rewards, and offers on prescription medications can result in significant savings.
I hope you find these tips helpful. Please share them with fellow pet parents so we can get every pet the best care possible.

IMPORTANT SAFETY INFORMATION: As a class, NSAIDs may be associated with gastrointestinal, kidney, and liver side effects. These are usually mild, but may be serious. Pet owners should discontinue therapy and contact their veterinarian immediately if side effects occur. Evaluation for pre-existing conditions and regular monitoring are recommended for pets on any medication, including RIMADYL. Use with other NSAIDs or corticosteroids should be avoided. See full Prescribing Information.

1 Zoetis Petcare Homepage. https://www.zoetispetcare.com
Kristen Levine has a consulting relationship with Zoetis Petcare.