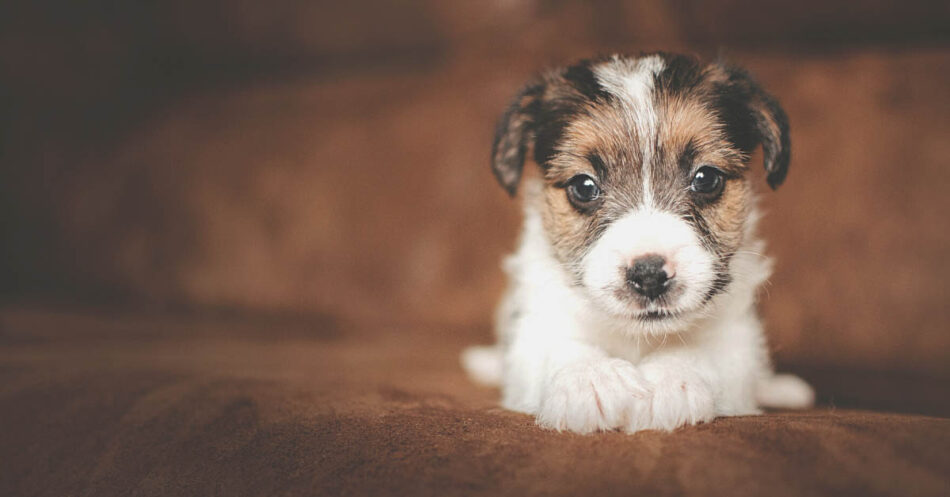 How to Get Ready for Your First Night with a New Puppy
I've watched puppies bring joy to my friends and family countless times. And of course, I've experienced it for myself, too! Just last year, when we decided to foster Tulip, I was reminded of the lightness that a puppy brings to my days, but also of the challenges they can pose, especially if you're not prepared for their fresh energy and the newness they bring into a home.

We've since adopted Tulip (foster fail!) so I want to share some advice that's top of mind about what to expect on your first night with a new puppy, including how you can prepare.
Even if you've had a puppy before, it's good to refresh your approach. Perhaps you're in a new home or living space since the last time you had a puppy, or you've since added new members of your family.
It's always good to take a fresh look at new tips, products, and tricks so your first night together builds a solid foundation for the many more fun and cuddly nights to come.
Pin Me!
Puppy Supplies You'll Need to Get
Puppy Food and Treats
Of course, the first thing you'll need to buy is puppy food. It's wise to find out what kind of food your pup has been eating before you brought him home. However, if it wasn't nutritious food, you'll want to transition to a healthier option.
Puppy Bowls and Water Fountains
Do you know why pets often prefer a gross watering hole to their bowl of fresh water? They're instinctively not interested in stagnant water unless it contains elements from nature, like leaves and mud.
That's why I'm a huge fan of drinking fountains. The movement of the water appeals to their natural instincts and encourages pets to drink their water and prevent dehydration.
After your new puppy tries out his drinking fountain, he'll likely soon be looking for a bit of kibble for his belly. Puppies get so excited when feeding time comes around that they often gobble everything up as fast as they can. However, eating fast can cause digestive issues such as indigestion, vomiting, and bloating.
---
Puppy Beds and Crates
Having a crate also keeps your puppy in one spot until he's used to his new environment and the house rules. This is especially helpful at night when you aren't awake to watch your new furry family member. Aspen Pet has a wonderful training crate that is the perfect size for your average puppy. It's secure and its lock system eliminates any problematic gaps in the top and sides. There's no assembly required (always a plus if you ask me!) and it folds nice and flat for easy transport and storage.
Puppy Toys, Treats, and Entertainment
Playtime with your new puppy is almost as important as sleepy time and feeding time! However, not all toys are appropriate for new puppies. Here are a few that I recommend to new pet parents.
Kong Dog toys are great for playtime and they come in sizes for each stage of a dog's life. The puppy version is made for their specific dental and activity needs. In addition, you can also put a bit of peanut butter inside of it, giving them some mental and physical exercise, which is great for puppy's development.
As much as I know you'd love to stay home and play with your new puppy 24/7, at some point, you'll have to leave him home alone. Even when he gets to the point where he can stay home alone without a crate, it's still a good idea to check in on him during the day. For that, I love the Furbo Dog Camera.
DOGTV is one of my favorite tools to keep Tulip's mind engaged and help alleviate anxiety when I'm gone. It works by helping dogs become accustomed to sounds that might normally induce bad behaviors, like doorbells or barking from other dogs. It also has segments, like the one below, designed to alleviate anxiety.
You can use DOGTV on all your favorite devices, including Roku, Amazon Fire TV Stick, and Apple TV.
You can sign up here for a free trial of DOGTV.
Safety Checklist for Your New Puppy
First and foremost, make sure your home is safe for you and your pup's first night together. The last place you want to spend time with your new puppy is at the veterinarian's office. Here are my top safety tips:
Doing a quick check around your house can prevent potential problems for yourself and for your sweet new furry addition on that first night.
Save the new puppy checklist below and then scroll down to learn which supplies you'll need for your new puppy.
Puppy Training Guides
As every new puppy parent will tell you, it's not all cuddles and fun! It's a lot of work to train your new puppy, and this is where some new parents feel a bit lost. Never fear! My favorite training guides and products are here.
Puppy Potty Training Tips
One of the biggest training challenges is potty training. Many puppy parents find that one simple trick can quickly eliminate indoor accidents. Try putting your pet's food bowl right next to the spot where they had their last potty break. Most pets will instinctively keep their feeding and potty spots separate. So you're effectively telling your puppy, "This is not a potty spot."
Being patient is key, though! New puppies may need to be taken out for potty breaks as often as every two hours or more. If you're not vigilant about this when your puppy is young, it can lead to developing bad habits that are hard to break.
Of course, you're not likely to take your puppy out at all hours of the night, so these Training Puppy Pads from Simple Solution are perfect to line your dog's crate with and minimize the mess from both potty accidents and water bowl spills. They're highly absorbable and have built-in technology to attract dogs to use them.
Products for (Inevitable) Puppy Accident Cleanup
---
Taking the puppy-plunge is a big decision, but such a rewarding one. I hope these suggestions help you have a fantastic first night with your new pup, and I wish you and your dog a lifetime of happiness together!
*Check out my full list of  Irresistible New Puppy Products on my Amazon Storefront page!