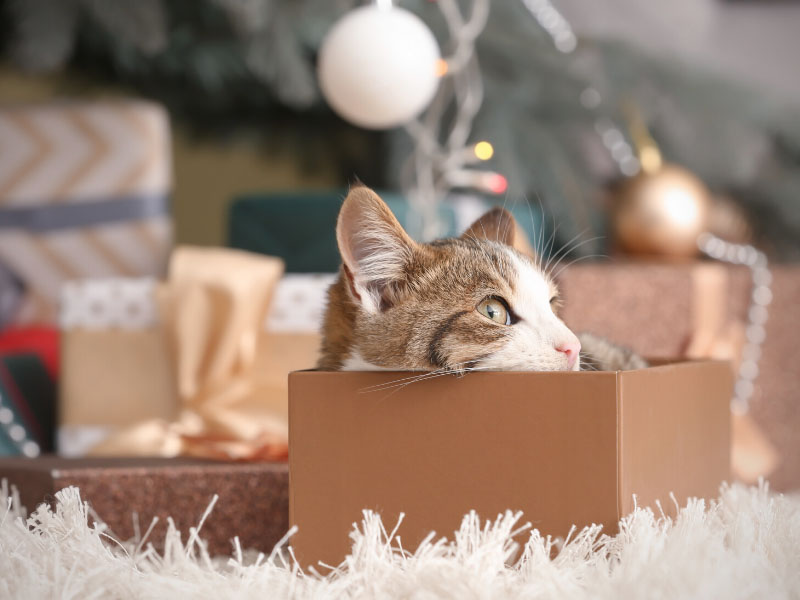 13 Purr-fect Christmas Gifts for Cat Lovers
Finding that purr-fect gift for cats or cat moms can be a little tricky. After all, our cats don't exactly hand us a holiday wish list and their pet parents don't always drop hints either.
If you're looking for inspiration, here are a few gifts that will give everyone a reason to purr.
Pin Me!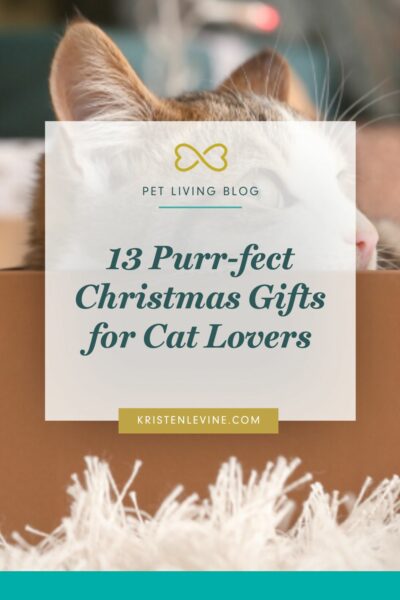 My 5 Favorite Holiday Gifts for Cat Moms
If you're looking for practical gifts to give to the cat mom in your life, these are essential:
This simple but cute design is 12 ounces, sturdy and durable.
Plus, when you drink from the mug, there's a sweet little kitten hiding inside. Any cat mom would love sipping their coffee or tea from this mug, while snuggled up with their kitty.
BUY ON AMAZON
---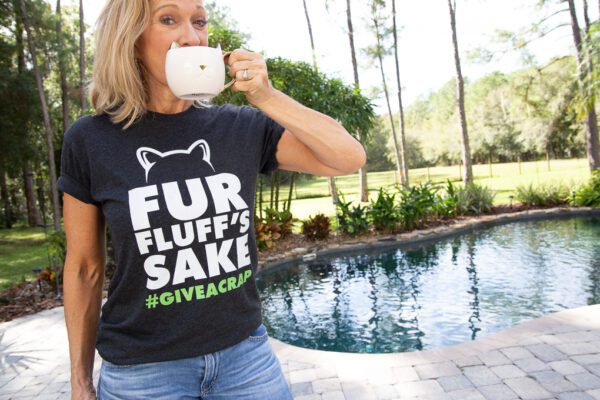 Are you really a cat lover if you don't have a shirt to prove it?
Check out this cat mom gear from World's Best Cat Litter™. You can find everything from T-shirts to hoodies: all the gear a proud cat mom could ever want.
Best of all, World's Best Cat Litter™ dedicates all profits from its online shop to support hard working animal shelters across the US. You can find just the right gift for a cat mom and help other kitties in need, all at the same time!
---
This is a must-have gift for the ultimate cat lover! Help the cat mom on your list get to know her kitty inside and out with this non-invasive at-home DNA kit. She can find out about her cat's ancestry and screen for common feline diseases.
---
This adorable storage basket is perfect for keeping kitty's blankets and toys all in one place. But fair warning: Your cat may claim this cozy basket for herself!

---
If you really want a swoon-worthy tech gift for a cat mom, this BISSELL Robot Vacuum is it! Pet parents have to
clean up messes pretty frequently, so this is one gift that will make the job easier.
We love our fur family but it's easy to get a little frustrated with the amount of fluff that ends up in our homes. This high-tech BISSELL robot vacuum can clean the floors without you lifting a finger. It automatically cleans so you can spend more time bonding with your cat.
---

---
My 8 Favorite Holiday Gifts for Cats
Once you've found the purr-fect gifts for the cat mom in your life, you can really bring a smile to her face with a few presents for her kitty.
Check out these holiday gifts that her feline family will love too:
I've seen cat kickers before, but never any this cute! These cat kickers from P.L.A.Y. steal the show with their adorable "purrito" and baguette sandwich designs.
They're also handmade, durable, and made with certified organic catnip and AZO-free dyes. These are toys your cats will love while also bringing a smile to your face.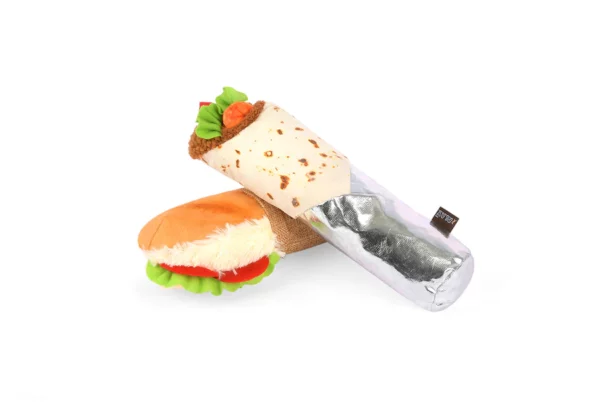 ---
This ​​Premium Cat Cave is made from 100% Merino Wool, so kitty will sleep in warm luxury. Its modern design is also durable and a stylish addition to any cat parent's home.
Plus the cave is eco-friendly, free from harsh chemicals and synthetics. So it's safe for kitty, the family, and the environment.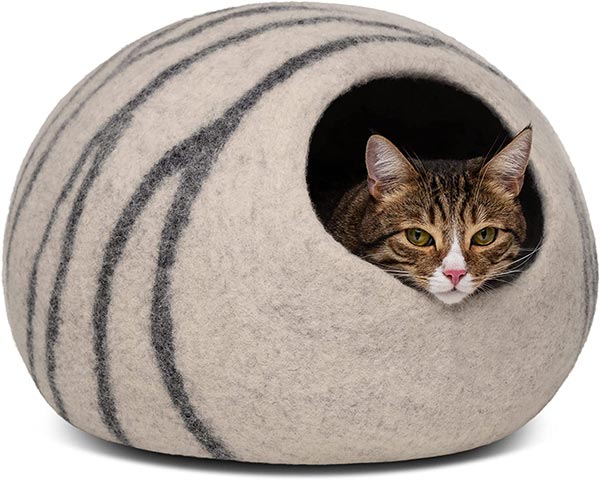 ---
Did you know that many cats prefer to drink from a trickling stream instead of a traditional cat water bowl?
The Catit Fountain was a hit with my cat, Olivia. The fountain is as cute as can be and looks great in my home. The feline friend on your gift list is sure to love it.
---
This cat house is super cute – plus you get to customize it yourself! It comes with over 100 "candy" stickers to make your kitty's house fun and festive, which makes it easy for kids to get in on the fun.
Also, all the inks used are food-grade, which makes it safe for kitties who like to chew on things. You can find even more cute cat house designs at The Cat in the Box website.
---
These tasty treats were a big hit with our kitty taste-testers. To make the fun last even longer, pair it with Catit's Creamy Lickable Feeding Mat. It comes in a fun fish shape and will slow down your fast-eating feline while also providing mental stimulation.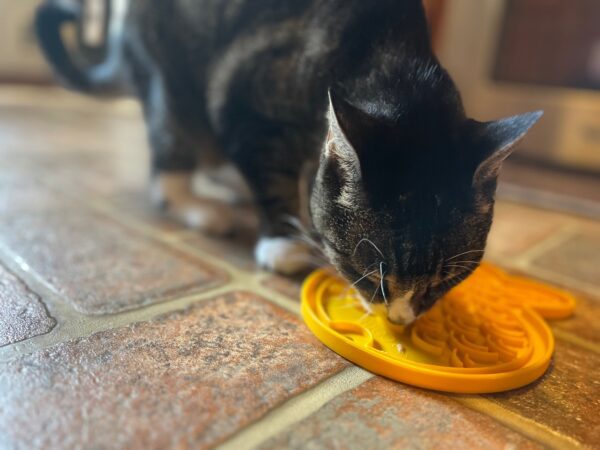 ---
If your cat is stressed or anxious, it can take a toll on their quality of life. Treatibles can help calm and relax stressed out kitties while also supporting their joint, digestive, and immune system health.
---
This may look at first glance like an ordinary catnip-filled cat toy, but there's a fun surprise hidden inside: a rechargeable motor that will make the Groovy Fish flop like a real fish when your cat plays with it!
And you don't have to charge it constantly. A single charge lasts for over 200 flippy-floppy cat interactions.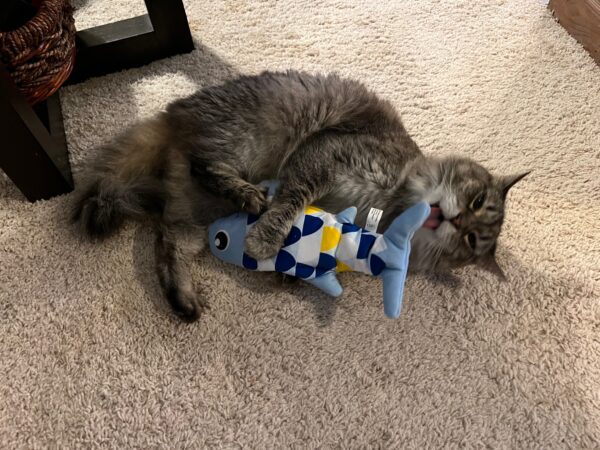 ---
Cats love cardboard scratchers, but poor-quality cardboard can mean a mass of messy little shreds to clean up. Not with Americat Scratchers!
These Made-in-the-USA scratchers are super tough and designed to stand up to daily scratching. And if your cat does somehow manage to pry some bits loose, it's held together with non-toxic vegan glue that's even FDA approved for food contact.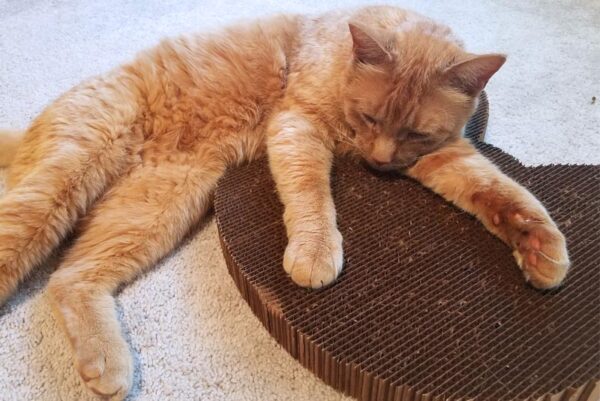 Finding the purr-fect holiday gifts for your favorite cat mom doesn't need to be hard. Don't overthink it, and don't be afraid to be practical! Stimulating toys and products that encourage exercise will keep kitty healthy and happy in the years to come.
---