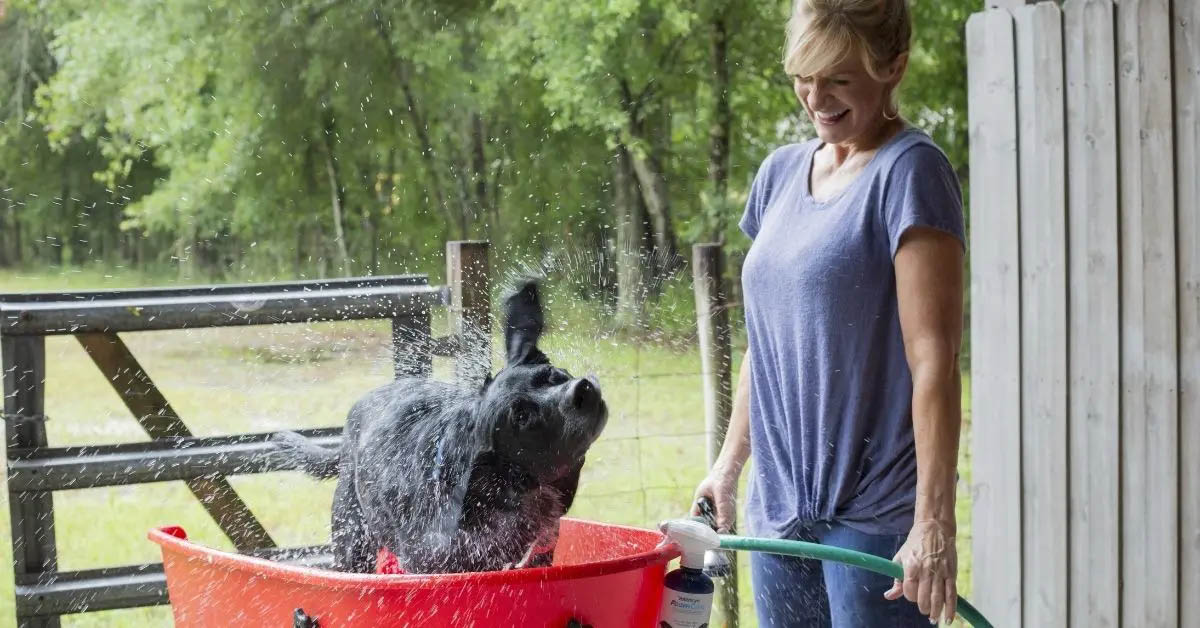 The Best At-Home Grooming and Skin Care Guide for Pets
I'm pretty proud of how well my pets are aging. Chilly turned 9 almost six months ago, but other than his graying muzzle, you'd never know he's a senior! He doesn't act his age either. He has the energy level of a 4 or 5-year-old dog.
Our cat, Olivia, wasn't a kitten when we adopted her, so we're not exactly sure how old she is. We estimate she's around 12, but she's as spunky and playful as the day we brought her home many years ago.
Pin Me!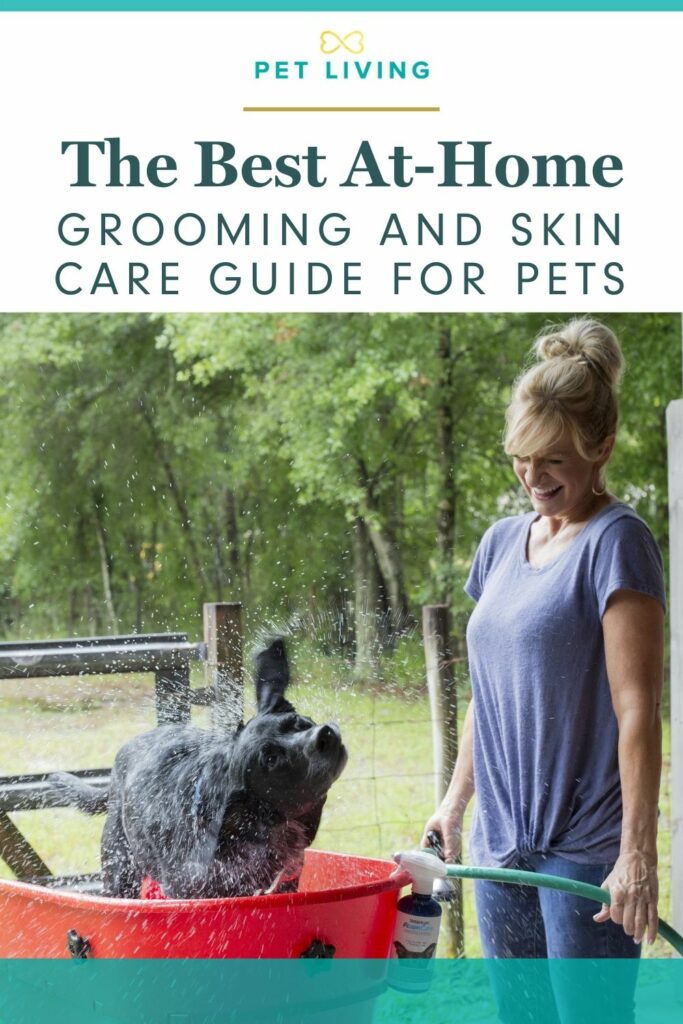 Like all pet parents, I know I'm a little biased. But I'm not the only one who thinks that my furry family members look and act younger than they are. Everywhere we go with Chilly, people comment on how shiny his coat is. Our veterinarian says he's in great shape physically. Olivia received an A+ on her blood work at her last checkup, and Dr. Cole said she's in tip-top shape for a senior feline.
Chilly is my 10th dog and Paul's 5th, and Olivia is my 7th cat and Paul's 5th. So let's just say that we've learned a thing or two about how to be pretty darn great pet parents over the years, if we do say so ourselves.
In all seriousness, I chalk their good health, high energy, shiny coats, and bright eyes up to effective and consistent preventative care and maintenance.
Want to our secrets?
I'm going to share with you the very same comprehensive preventative care treatment plan that Paul and I use for Chilly and Olivia. Now that we're transitioning to warmer days and nights, it's a great time to start some new routines to keep your pet looking and feeling younger than their years!
A Healthy Diet
Healthy, nutritious food is just as important for our pets as it is for us. A quality diet will ensure that your pet get the nutrients they need to stay healthy. Make sure to pay attention to how much you feed your pet too. Proper portion size can keep your pet at a healthy weight, helping him to avoid many health problems and lead a better quality life.
If you have any concerns about whether you're feeding your pet the right formula or the right amount of food, talk to your veterinarian. He or she can help you find a quality food that's within your budget and can recommend portion sizes that will help your pet maintain a healthy weight.
Annual or Bi-Annual Wellness Checks
If you wait until you notice something is wrong before you take your pet to see the veterinarian, you'll miss your chance to spare your furry friend a lot of suffering and may lose out on precious years spent together.
At every annual wellness check, your veterinarian will perform a physical exam, give important vaccines, and recommend diagnostics that can identify problems and abnormalities before they escalate.
If your pet is 7 years or older, most veterinarians recommend bi-annual visits. Remember, our pets age much faster than we do, so waiting an entire year for a senior pet to get a checkup can result in delayed diagnosis and treatment for any potential diseases.
Grooming Guide For Dogs
Chilly has short fur, so we don't have to worry about keeping him trimmed, but we do bathe him regularly. This keeps him clean and shiny, and it helps to keep his skin allergies in check. During the spring and summer when he's more active outdoors, he gets a bath every week – sometimes more often if an outing leaves him especially dirty.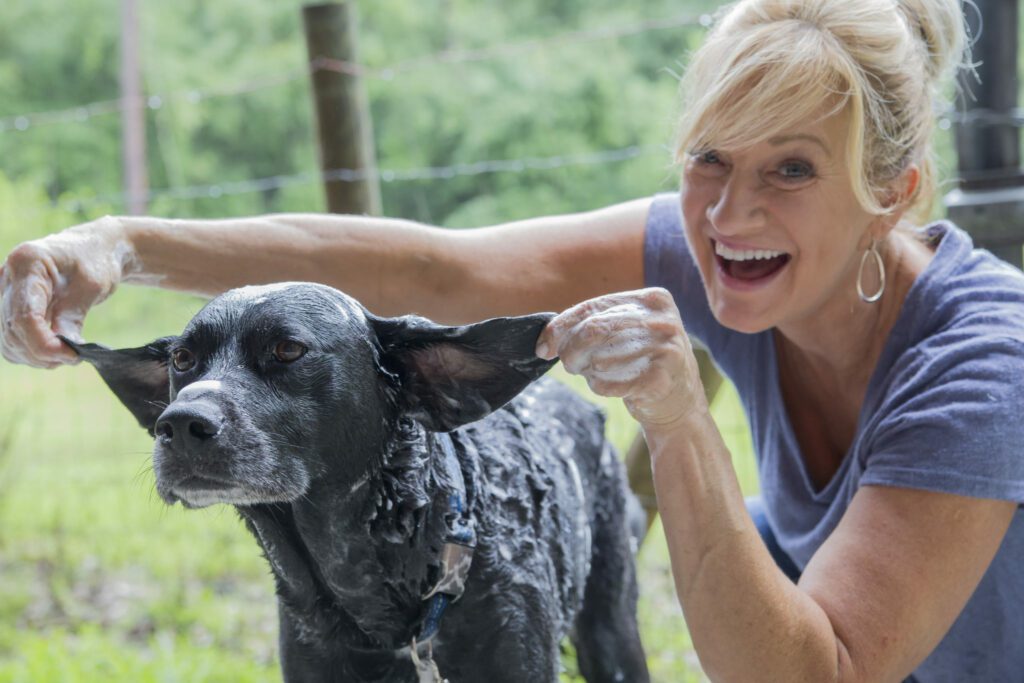 Bathing a dog as large as Chilly is no small job, but I have a few tricks up my sleeve to make it a little easier. One of the biggest time savers I've found, paws down, has been using Vetericyn's FoamCare Shampoo.
I love that FoamCare comes in a spray bottle, which is so much easier than starting with a big glob of shampoo and trying to lather Chilly's whole coat. It comes in coat-conditioning and medicated formulas. You can also choose a coat-specific formula. So whether your pup has a short smooth coat or a thick curly one, you'll be able to choose the best type for quick lathering and easy rinsing.
We use the medicated shampoo since Chilly has skin allergies. It soothes his itchy skin and leaves him feeling refreshed and looking shiny too.
Bath or grooming time is also the perfect time to give your dog a physical once-over. Check your pup's body for lumps, scrapes, cuts, rashes, or allergic breakouts. Don't forget to check his eyes and ears for discharge, dirt, or odor. More on that below.
Grooming Guide For Cats
Depending on the length of your kitty's fur, and whether they spend any time outdoors, you need to take time daily or weekly to brush your cat's coat. For cats with long fur, brushing will help to avoid mats and tangles that could be uncomfortable. For short-haired cats, it's still a good idea to brush them to remove excess fur that could contribute to hairballs.
Olivia has short hair, so I take a few minutes during our regular evening snuggle to gently brush her. It's a great opportunity to spend some valuable bonding time together, and it also gives me the chance to give her a quick once-over. While I'm brushing her, I check for any lumps, bumps, or scrapes that might need attention. I look at her eyes and ears as well for any discharge, dirt, or odor.
Eye and Ear Care Guide for Dogs and Cats
Our pets' eyes and ears are especially sensitive, but a little routine maintenance can keep them healthy and avoid unnecessary irritation.
While you're bathing or brushing your pet, it's important to pay attention to their eyes and ears. Check for any dirt, discharge, or odor that needs to be treated. After a visual exam, follow up with a routine eye wash and ear rinse with Vetericyn Plus Eye Wash and Vetericyn Plus Ear Rinse. Although primarily developed for dogs, both of these rinses are safe to use on cats. You can administer them in a similar manner as you would with a dog.
Regular cleaning can remove any dust, pollen, or allergens before they have a chance to cause any problems. And since Vetericyn products are gentle and non-toxic, they won't sting your pet's eyes or ears.
Here is a video demonstration of how to clean your dog's eyes with Vetericyn's own veterinarian, Dr. Mindy.
Because they have an L-shaped ear canal, dogs are prone to ear infections. Keeping their ears clean can help to avoid this issue. The video below shows how easy it is to clean your dog's ears.
Consistent eye and ear care has paid off for my pets. Even though he struggles with skin issues and allergies, Chilly's ears have always been healthy. As a matter of fact, Paul and I can only remember one time when he had a yeast infection in his ear. One time in 9 years!
Olivia's ears and eyes are also healthy and well cared for, thanks to our regular maintenance protocol.
Wound Care Guide for Dogs and Cats
While it's best to have your veterinarian look at any serious wound, puncture, skin rash, or allergic reaction, you can treat minor cuts and scrapes at home with Vetericyn wound care products.
Most veterinarians are familiar with and love Vetericyn wound care products. They contain a super-oxidized hypochlorous (HOCL) solution. HOCL is produced naturally by the body's white blood cells, and Vetericyn has synthesized their own version of this molecule to use in their products. It has a neutral Ph, so it won't sting or burn, and it won't harm healthy tissue. It's also completely safe to use on sensitive areas, such as around the eyes, ears, and mouth.
Since she's an indoor kitty, Olivia only gets a scratch or scrape very rarely. Chilly is another story though. As active as he is, he tends to end up with an occasional minor scrape that I treat for him at home.
The Wound and Skin Care Liquid is great for cleaning a wound. I just spray it on, and it penetrates to keep the affected area clean without attracting any extra dirt. Then I follow up with the Antimicrobial Hydrogel for an extra layer of protection against infection. Since it's a gel, it stays where I spray it instead of running off. It also adds moisture, which speeds up the healing process.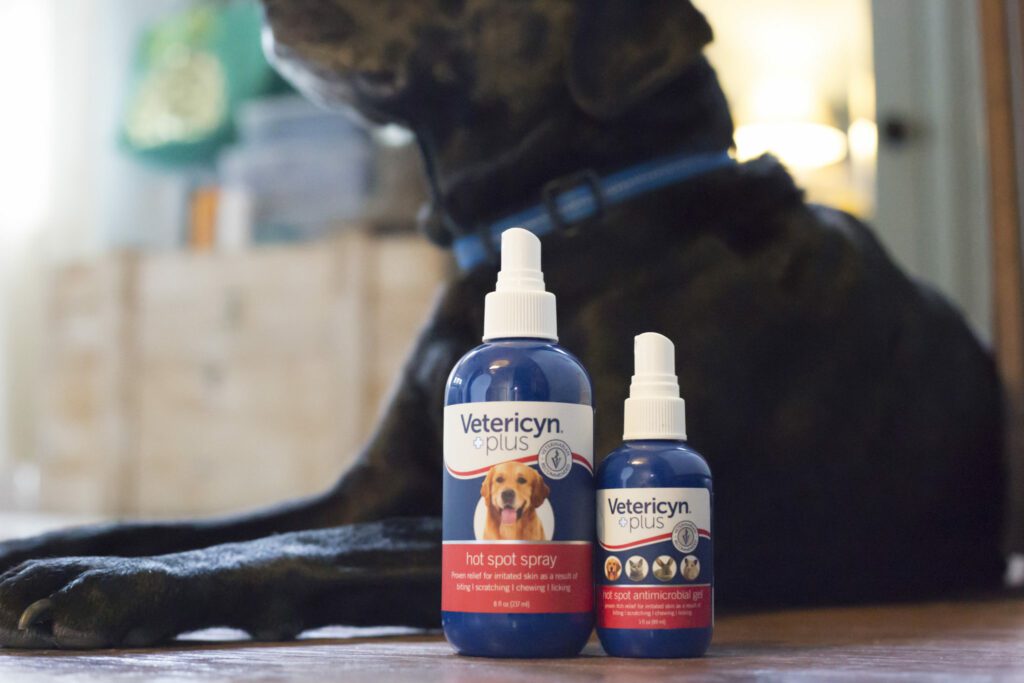 Recently, I had an experience that shows just how effective these wound care products are. We went out of town for a few days, and our pet sitter called to tell me that Chilly had gotten a cut on the inside of his leg. I asked her to please clean the wound, dry it, and use the Vetericyn Antimicrobial Hydrogel on it 2 – 4 times a day.
The next day I called her to ask her to take a "before" photo of Chilly's cut so that I could take "after" photos a few days later to share with my online following.
That evening she texted me to say that it had already healed up!
This has been my experience ever since I started using Vetericyn products with Chilly. He heals so fast that he's back to normal before we realize it. He doesn't tend to lick his wounds as much, which tells me that we're easing his pain. But even if he did lick a little, the products are safe to ingest.
Hot Spot Treatment Guide
Every so often, Chilly gets a hot spot that we need to treat. Usually we catch them early, so they don't get serious enough to require a vet visit. My go-to treatment for hot spots is Vetericyn's Hot Spot Spray. It is seriously amazing. It provides relief for Chilly's itching, burning skin so that he doesn't keep licking and biting it. His hot spots usually heal up nicely, and there's no need to subject him to an extra vet visit or the "cone of shame."
Many of you have asked what I stock in my pets' medicine cabinet. Our go-to products are Vetericyn Plus Wound and Skin Care Liquid, Antimicrobial Hydrogel, and Hot Spot Spray.
Of course, if you notice something of greater concern than a minor skin issue, or if any of your pets' wounds aren't healing after treatment at home, call your veterinarian.
Being proactive and following these routines over the years has kept me on top of my pets' well-being and has helped them to stay healthy and active even as they approach their golden years.
Be sure to use my coupon code PETLIVING to get 20% of your entire purchase at Vetericyn.com!
This is a sponsored post. However, all opinions and anecdotes are my own, and I never promote any products or brands I don't believe in. ~Petfully yours, Kristen