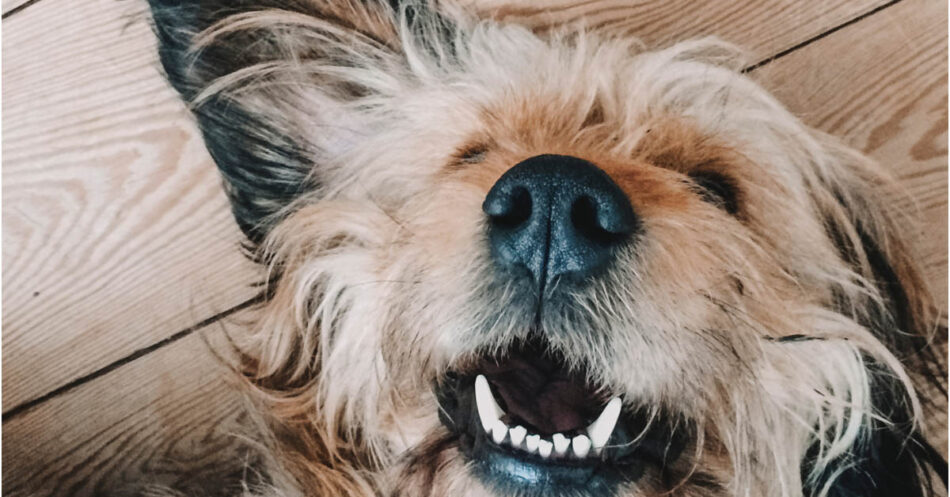 How to Brush a Dog's Teeth the Right Way
One of the greatest joys in life is puppy cuddles. Whether your dog is a real puppy or still just a puppy at heart, doggie snuggles are one of the best perks of pet parenthood. That is, until your dog nuzzles his face right next to yours… and opens his mouth.
Is stinky dog breath getting in the way of snuggle time with your favorite canine? Are your dog's teeth dull or brown instead of the gleaming white they used to be? Whether you're concerned about your dog's dental health or just looking for a way to maintain your pup's already-healthy smile, you're probably wondering if you should brush your dog's teeth at home.
Should I Brush My Dog's Teeth?
The idea of taking a toothbrush to your dog's teeth might sound funny at first. But before you laugh, it's essential to educate yourself about the risks of untreated dental problems.
Did you know that more than 80% of dogs over the age of three have an active dental disease? A buildup of plaque and tartar, if left alone, can lead to painful gingivitis, infections, abscesses — or even lost, fractured, and rotten teeth! Tartar is also full of bacteria that would love to swim through your dog's bloodstream and wreak havoc on his vital organs like the kidney, heart, and liver. Of course, your dog's dental health will also determine whether his breath is fresh or smelly.
Dental problems are particularly prevalent in small breed dogs. Their mouths are so tiny and their teeth are so crowded together that it's easy for nasty bacteria to get stuck and set up camp. So, getting your small dog accustomed to a toothbrush early on is key to preventing serious health issues later. 
Pin Me!
How Often to Brush a Dog's Teeth
Your dog's pearly whites need the same amount of care as yours. Ideally, a dog's teeth should be brushed twice daily: once in the morning and once in the evening. The absolute minimum recommendation for preventing serious dental problems is to brush your dog's teeth at least three times a week. That might sound like a lot, but once your dog is used to the routine, it'll take no time at all.
Before I show you how to brush your dog's teeth the right way, please remember that at-home tooth cleanings are no substitute for regular dental checkups from a professional. Your veterinarian or technician can diagnose more serious dental issues and provide treatment. By working along with your veterinarian and doing a little extra research on routine dental visits for pets, you can make even the most skittish dog comfortable during his next dental cleaning.
How to Brush a Dog's Teeth
As with all good things, it will take time to ease your dog into a healthy dental routine. Since your pup probably isn't used to having human fingers poking around inside his mouth, you'll need to start gradually. Don't start by trying to brush all of your dog's teeth in the first sitting!
The first step is to help your dog get comfortable with his teeth being touched. To begin, wait until your dog is in a relaxed mood. Then, gently lift his lips and massage his teeth and gums for a few seconds with your finger. The key here is to stop before your dog gets annoyed.
It's fine if you only touch one or two teeth the first few times you try this exercise. After handling your dog's mouth, follow up with praise and a treat. Then, as your dog gets used to having his mouth handled, you can gradually increase the amount of time you spend.
After you've done this a few times, you can begin to introduce toothpaste. At first, you might just want to let your dog sniff the toothpaste or lick a small dab of it off your finger. If your dog doesn't like the smell or taste of the toothpaste, try a different flavor.
Once your dog is comfortable with teeth touching and toothpaste, you can start to use a toothbrush. To brush his teeth, put a small dab of toothpaste on your cleaning tool and brush the teeth along the gum line. Work quickly, and stop before your dog shows signs of irritation. Remember, the more your dog enjoys his dental cleaning, the less of a fight he'll put up next time you go to brush his teeth.
It might take weeks before your dog will let you clean all of his teeth in one sitting, but the results of your hard work will be worth it! By brushing your dog's teeth regularly, you're setting him up for a lifetime of health and comfort.
Best Toothbrushes for Dogs
Many people wonder if it's safe to use a standard human toothbrush on their dogs. I'm here to tell you that's not the case! The bristles on our toothbrushes are too stiff for dogs' gums and could cause them discomfort or injury.
When it comes to buying toothbrushes for your canine friend, though, you do have two excellent options: brushes designed especially for dogs or standard slip-on finger toothbrushes.
Best Toothpaste for Dogs
Just like human toothbrushes, human toothpaste can also be harmful to your dog. Most contain ingredients that are not safe for animals to swallow – and your dog will almost definitely be swallowing any toothpaste you put in his mouth. Doggy toothpaste also comes in flavors that are especially appealing to canines, like beef, chicken, and peanut butter.
Before you decide on a specific brand or flavor of toothpaste for your dog, it's essential to check the ingredients. For example, some kinds of toothpaste contain neem, an herb that's a natural antibacterial. However, it's often best to steer clear of those because many dogs are allergic to neem. One of my friends didn't know this and used a toothpaste containing neem on her dog. The dog was completely freaked out, to the point where she was running, hiding, trembling, and peeing every time the toothpaste came out!
Other Ways to Keep Your Dog's Teeth Clean
Sometimes, no matter how hard you try, your dog just isn't going to let you handle his mouth. He might bark, hide, bite, or otherwise let you know that an at-home dental cleaning is just too stressful.
If that's the case with your dog, don't despair! You can do other things to promote your dog's dental health without actually brushing his teeth.
Dental Health Treats. Dental health sticks and bully sticks are healthy ways to promote better breath and clean teeth. Most dogs love stick treats, so you probably won't have to spend too much time convincing your pup to try them
---
---
---
---
This award-winning water additive from Teef uses prebiotics to help good bacteria flourish, while disrupting the dangerous bacteria that leads to tooth and gum disease and other oral-related health concerns.
---
Proper Nutrients. It's no surprise that healthy teeth start with good nutrition. Even if your dog's food is full of healthy nutrients, though, it's possible that your dog isn't absorbing the nutrients he needs. I use Vetericyn's ALL-IN™ supplement to make sure my dogs, Chilly and Tulip, stay nourished and healthy.
Its science-backed formula uses a unique protein delivery system that "unlocks" your dog's natural ability to absorb and use the nutrients in the supplement fully. Vetericyn also recognizes that dogs' nutritional needs vary with age, so they offer different ALL-IN™ formulas for dogs in different life stages.
If you're looking for a safe and effective way to boost your dog's dental health and overall wellbeing, use the code PETLIVING to try ALL-IN™ at 20% off the regular price.
As pet parents, we spend a lot more time thinking about our dogs' dental health than our pups ever will. That's a good thing! That you want to improve your dog's oral health means you care about his happiness and quality of life. A simple fact of nature, though, is that a dog can't hold a toothbrush. For better or for worse, your dog's dental health is entirely up to you. With the right care from his trusted human, he'll enjoy his best life for years to come.