During the summer there are lots of things we humans add to our skin care routine. Spending time in the sun or in the water can make us pretty uncomfortable if we're not careful! Products like sunscreen, moisturizers, and aloe can help to protect and soothe irritated skin.
Pin Me:
Well, summer activities can be "ruff" on our dogs' skin too! And if we're not on top of our doggie skin care routine, a fun romp at the beach can have some pretty itchy aftermath! Whether you're dealing with chlorine from a swimming pool, sand and salt from a day at the beach, or dirt they pick up from playing at the lake, treating your dog's skin the right way can make a huge difference in how they feel after a day at the water.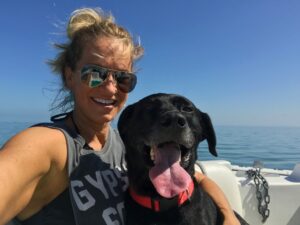 Here are some important skin care tips for dogs who love the water:
Give Him a Bath
Just because he's spent the day swimming doesn't mean he's clean! If your pooch has been in the water, or even if he's just been exploring around on the shore, he's probably picked up all kinds of icky stuff! If you don't wash them off, things like sand, salt, and other allergens can do a number on his skin. Even if your pup just enjoys taking a dip in your swimming pool, all that chlorine needs to be rinsed off.
My dog Chilly always gets a bath when we come home after a day at the beach. That way I know I've washed off anything that could irritate his skin. Not to mention anything I don't want rubbing off on my carpets and furniture!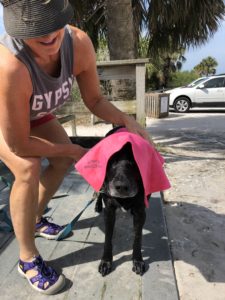 For Chilly and me, no bathtime would be complete without Vetericyn's FoamCare Shampoo
! Since he has sensitive skin, I usually use the medicated formula, but it also comes in three other coat-specific formulas for dogs with short, medium, or long fur.
Now, bathing a dog Chilly's size is no walk in the dog park, but FoamCare makes it a little easier. It comes in a spray bottle, which makes application a breeze. It lathers up quickly, and it rinses off easily, leaving him smelling and feeling great and me with energy to spare. I can literally bathe him by myself in under five minutes — no joke!
Prevent or Treat Irritation
If your pup has sensitive skin, a bath alone might not be enough to soothe it. Dogs who only experience occasional irritation may simply need to be treated when they get itchy. Others may need a skin-soothing, anti-itch treatment every time they return from the beach.
Chilly is prone to getting irritated skin. No matter how thoroughly we wash him, he tends to break out in a rash after a beach day, even if we're just boating on the Gulf! We're not sure why, but we think it probably has something to do with the salt water or whatever else may be in the water.
Thankfully, Chilly's skin issues don't mean that he has to miss out on fun times with the family! In
addition to his shampoo, we always use Vetericyn Plus All Animal Antimicrobial Hydrogel
to soothe his skin.
After he is dry from his bath, I spray it on the areas where he typically gets rashes and bumps. Chilly's sensitive spots are on the insides of his back legs and his tummy. I use it every day on those sensitive areas — even when we haven't been to the beach. Usually it completely prevents his breakouts. When he occasionally has an active hot spot, cut, or scrape, it makes his recovery much quicker.
Clean Those Eyes and Ears!
When you're cleaning your dog after your beach day, don't forget to wash his eyes and ears. If you've ever spent a day sitting in the sand, you know it can get absolutely everywhere! Sand is the most noticeable culprit, but it's not the only thing that can sneak in and cause issues. I think it's a great idea to spend a few minutes during bathtime to flush any salt, toxins, allergens, or sea life (LOL) that may have found their way into your dog's delicate eyes and ears.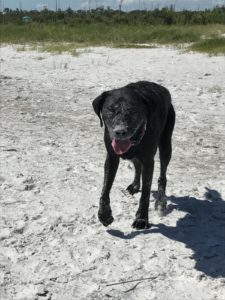 My go-to products for caring for Chilly's eyes and ears are Vetericyn Plus All Animal Eye Wash and Vetericyn Plus All Animal Ear Rinse
.

They're non-toxic, they don't sting, and they leave me with peace of mind knowing my buddy isn't going to end up with an eye or ear infection from some lingering beach gunk.
Some of my best summer memories are days spent on the water with my dog. Chilly absolutely loves the fresh sea air and the special time with his favorite humans! And thanks to my fool-proof post-beach skin care routine, he isn't left with any itchiness to spoil the fun.
If you're itching to get your paws on these skin care products for your dog, I have some great news for you! Click here to download a coupon for $4 off FoamCare shampoo! All you have to do is enter your name and email address and type KristenL as the magazine code. Or, if you pre-fur, just go to Vetericyn's online store and enter the same code. Have fun swimming!

This is a sponsored post. However, all opinions and anecdotes are my own, and I never promote any products or brands I don't believe in. ~Petfully yours, Kristen