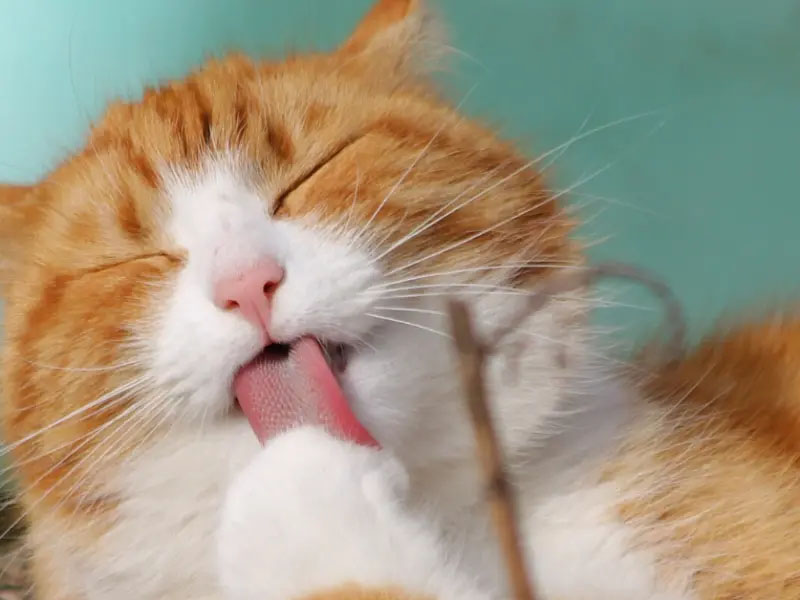 12 Cat Hairball Remedies That Really Work
Cat hairballs – if you've ever lived with a cat, chances are that at one time or another, you've come across (or even stepped on) one of these gooey, tubular masses of grossness.
Needless to say, we'd much rather spend our time cuddling with our cats than cleaning their hairballs off of our floors or feet.
Here are 12 tried and proven ways to manage your cat's hairballs.
12 Cat Hairball Remedies You Can Use At Home
1. Brushing
Of course, one of the most effective ways to deal with hairballs is to prevent them in the first place.
Regular brushing is a natural hairball remedy for cats since it removes much of the excess fur that would normally be swallowed and regurgitated. It also provides a special opportunity for some bonding time with our kitties.
---
You can gradually increase the time spent brushing as your kitty learns to tolerate, and hopefully enjoy, this quality time spent together.
Brushing doesn't have to be a long, drawn-out process. Just a few minutes each day is usually enough for long-haired cats, and short-haired cats may only need to be brushed a few times each week.
2. Bathing
After you've brushed your cat, take hair removal to the next level by giving your cat a bath.
Giving your cat a bath can help prevent hairballs since you're removing the loose fur for her. While most cats prefer to groom themselves, if your cat is prone to hairballs, you may have to take matters into your own hands.
3. Wipes
After brushing your cat, or after your cat is dried off from their bath, take a pet wipe and gently pat your cat with it, collecting any loose fur.
Make sure to use a wipe that's safe for cats like this cat wipe. Or you can simply wet a paper towel and use it to collect the loose fur from your cat's coat.
4. Pumpkin Powder
5. Carrots
Carrots are another good source of fiber and can help move a hairball along. They're generally considered safe for cats as long as they're cooked until soft.
You should never give your cat raw carrots as it can lead to further digestive issues.
6. Hairball Control Treats and Food
Temptations Hairball Control Treats
Nulo Freestyle Hairball Management Food
One reader of Facebook commented, "I've not had to use anything extra since switching them all to Nulo Hairball Management." We love to hear about things that work for real pet parents!
This food contains miscanthus grass, which is loaded with fiber to help your cat pass hairballs, as well as essential fatty acids to keep your cat's digestive tract lubricated.
Purina One Hairball Formula
Another reader swears by Purina One, saying, "I've used Purina One Hairball control dry mixed into their dry food. No hairballs for years."
This formula is also loaded with fiber but is high in protein as well.
Whatever food or treats you decide to use should contain plenty of fiber to help your cat pass hairballs with ease.
---
7. Tomlyn Hairball Remedy
8. Olive Oil
Olive oil is a natural lubricant, but a little goes a long way! A teaspoon over the course of a week is fine for most cats and will help them pass a hairball naturally.
9. Fish Oil
This might be your cat's favorite hairball remedy! Small canned fish like sardines, as well as tuna, are usually packed in oil.
Give your cat a treat and sprinkle a little oil on their food. The lubrication will assist your cat to pass the hairball without discomfort.
10. Coconut Oil
Coconut oil is another natural lubricant that is effective and inexpensive. Just a small amount added to their food usually does the trick.
11. Water
If a cat's diet isn't providing enough moisture, her digestive tract is working harder than it should, which may make her hairball problem worse.
Drinking water is important, but your cat can also get hydration from her food. A cat who eats a diet composed of mainly dry kibble may not be getting the moisture that she needs.
Gradually introducing canned food will increase her water intake. Thus, it will help her digestive tract to move all that hair and debris through instead of sending it back up where it came from.
12. Cat Grass
One Pet Living reader said, "We always have 5-10 cups of organic cat grass growing for them as well as brushing them daily."
Cat grass is high in fiber and it even looks pretty in your home!
We love this kind since it's organic and comes in BPA-free containers.
How to Clean Up Cat Hairballs
When your cat coughs up a hairball on your floor, it leaves a mess! Because they contain biological material, they can stain and even smell bad, so it's important to clean them up properly.
Here's how to clean up cat hairballs the right way.
1. Scoop it up
Scoop up as much of the mess as you can with a paper towel and throw it in the trash.
2. Saturate the area with an enzyme cleaner
3. Allow time for the formula to work
After you've saturated the area, place a clean cloth on top and allow it to set overnight. The biggest mistake we see when pet parents are cleaning up pee, poop, or vomit is to spray the area with cleaner and then wipe it away quickly.
Enzyme cleaners need time to work. Allowing it to set overnight gives the enzymes time to eat the bacteria.
FAQs About Cat Hairballs
The Tail End
Cat hairballs are no picnic for you or your cat, but with regular grooming, proper hydration, a high-fiber diet, and sufficient lubrication, they can become nothing more than a minor annoyance.
Looking for more ways to keep your cat healthy? Download our free cat health checklist!