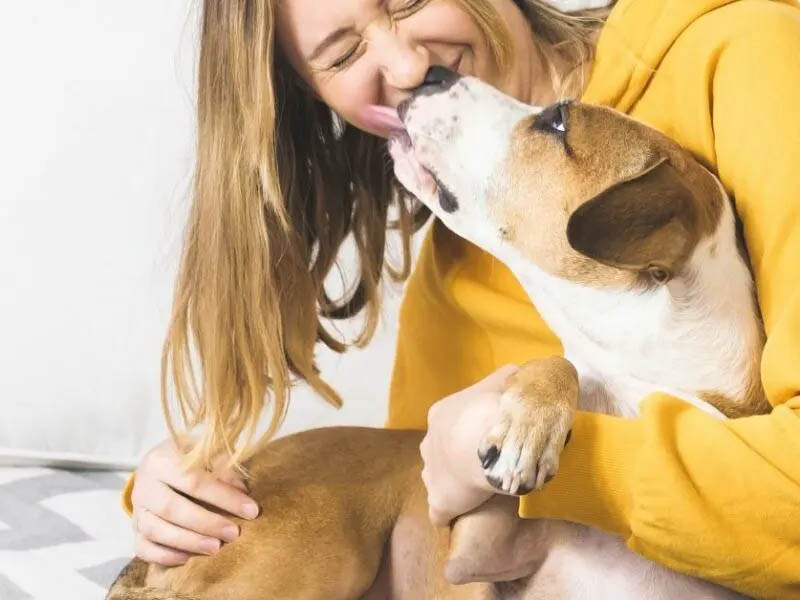 How to Get Rid of Your Dog's Bad Breath
My dog has butt breath. There. I said it! Let's face it though, at some point, you've been on the receiving end of your dog's foul-smelling slurp too. If your dog's bad breath has you grossed out, this article is for you!
Why Does My Dog Have Bad Breath?
Believe it or not, bad breath is not inherent to dogs. They may get a bad rap for it, but a healthy, happy dog should not have chronic bad breath. It will likely have some odor to it, but it shouldn't be so obvious that it's unbearable.
Here are six reasons why your dog may have offensive breath.
1. He Ate Something Stinky
Let's start with the most obvious reason! As much as we hate it, our dogs love stinky things. Some prefer a stinky mud puddle over fresh clean water. And what's with the cat's litter box becoming like our dog's personal dessert buffet? Gross!
Believe it or not, sometimes they do it just to get a rise out of us! But it also can signal other more serious reasons, like nutritional deficiencies.
If your dog has occasional bad breath, there's a good chance, he's eaten something gross and the offensive odor will pass quickly.
2. Poor Dental Health
This is quite possibly the most common cause of bad breath in dogs. If you've gone more than a day or so (sometimes less) without brushing your teeth, your significant other will likely confirm that dental care plays a big role in how fresh your breath is. The same is true for dogs.
Periodontal disease is quite common in dogs and yet very important to treat, as it can lead to other more serious health issues listed below.
Rotted teeth, oral cancer, plaque, and the resulting bacteria buildup can all cause chronic halitosis in dogs.
Pin Me!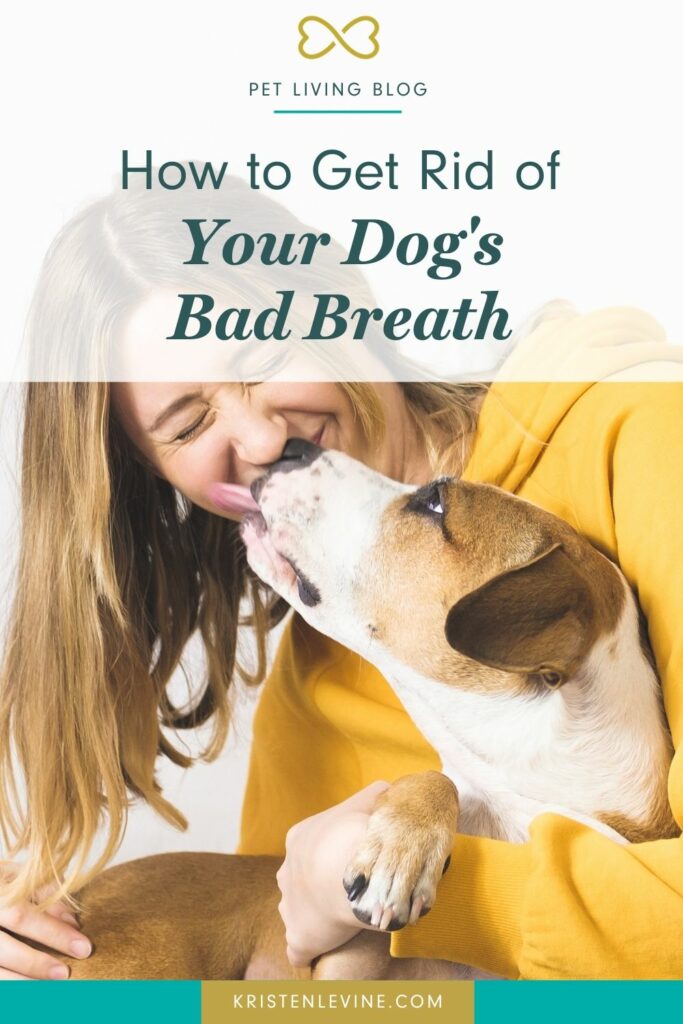 3. Gastrointestinal Issues
So much of our dogs' health starts in the gut so it's important that their gut health is optimized. If it's not, it could cause issues, like food not being fully digested. This can most definitely leave your dog's breath smelling less than fresh.
Poor digestive health can also cause acid reflux, which in turn, can affect your dog's breath. Even if your dog has good, nutrient-dense food, he may not be absorbing all its nutrients.
4. Anxiety
This cause of bad breath is linked to gut health as well. When your dog becomes anxious, he is likely not digesting his food normally. Digestion may be put on hold so the body can deal with the perceived threat, resulting in bad breath that smells like undigested food.
If this is the case with your dog, it's important to address both the cause of the anxiety and the gut health together.
5. Kidney or Liver Disease
Kidneys act as a filter, removing toxins from your dog's body. Unfortunately, as dogs age, the kidneys may fail to function as effectively as they used to and the subsequent buildup of toxins can result in extremely bad breath, often smelling like ammonia.
Likewise, liver disease can also cause extremely foul breath and is a medical condition that needs immediate treatment.
Before you get overly worried that your dog's bad breath stems from a serious disease, it's important to understand that bad breath is only one symptom. If your dog has liver or kidney disease, he'll likely display other very obvious symptoms like:
Vomiting
Lack of appetite
Lethargy
Refusing to eat
Constipation
Not urinating
However, if you do notice a strong "pee smell" to your dog's breath, it's a possibility the liver or kidneys may be involved.
6. The Wrong Dog Food
Dog food is such a controversial topic in the pet world. Every dog is so unique so it's hard to say one food is definitively the best. Chilly and Tulip are both fussy eaters so I often mix up their food. They spend several months eating one brand only to decide they no longer like it, so we then transition to another brand.
One thing is for sure though, if your dog has bad breath, low energy, a dull coat, or poor dental health, he's likely not eating the right food for him.
For example, some dogs can handle wet food just fine. Others need dry food to help scrape plaque from their teeth. Still, others do well on a human-grade food regime.
Once you've honed in the possible causes for your dog's bad breath, it's time to tackle the problem at its source!
How to Get Rid of Your Dog's Bad Breath
Even the stinkiest, chronic bad breath in dogs can often be resolved once you understand its cause and treatment.
Here's how to resolve the causes of bad breath listed above.
1. Stop Your Dog from Eating Stinky Things.
I know it sounds simple, but it's not!
Some well-meaning pet parents unwittingly feed their dogs stinky things like chicken carcasses or even junk food made for people. Not only is this bad for your dog's overall health, but it can be downright dangerous. Bones can splinter and cause severe and sudden health emergencies and junk foods often contain ingredients that are toxic to dogs.
Best to stay away from giving your dog human food altogether.
If your dog's issue is grabbing a midnight snack from the kitty litter buffet, it's best to leave it in a room your dog can't access, or get a self-cleaning litter box that automatically cleans out waste after your cat uses the box.
2. Get Your Dog's Teeth Cleaned
Never overlook your dog's dental health! It's best to start with a full exam at your veterinarian. They'll be able to tell if your dog has serious issues, like decay, oral cancer, abscesses, or heavy plaque buildup which will need to be treated by a professional.
However, if it's determined that your dog simply needs routine dental care, you can set up a maintenance program at home, in between your dog's regular dental checkups.
The best way to do that is to brush your dog's teeth. It's not as intimidating or even as gross as it sounds, believe me! Once you get in the routine, it takes just a couple of minutes and will go a long way to preserving your dog's teeth and preventing complications from poor dental health. Here's my full tutorial on how to brush your dog's teeth at home.
In addition to teeth brushing, here are a few of my favorite products to manage my dog's dental health.
---
---
3. Visit Your Veterinarian
If you read any of the signs of kidney or liver disease and thought they might apply to your dog, call your veterinarian immediately!
There are no at-home treatments for these illnesses and they often cause much pain and discomfort, so it's important to get medical help right away.
4. Address the Causes of Anxiety
If your dog's bad breath is rooted in anxiety, it's important to address the cause. There are many types of anxiety, and I've tackled almost all of them here on the Pet Living blog, as I've had two dogs with severe anxiety.
Common types of anxiety include:
You can also visit my Pet Anxiety Awareness resource page for more information.
5. Get Your Dog the Right Nutrients
This is perhaps one of the most important things you can do, not only for your dog's bad breath but for his overall well-being. Our dogs are only as healthy as their diet and digestion allow.
I can't tell you what food to get for your dog, but I will say, your veterinarian is your best friend on this topic. He or she will be able to point you in the right direction.
Ultimately, you may need to try several different brands or flavors until you find one that's not only right for your dog's health but that he'll actually enjoy.
That said, if your dog isn't absorbing all the nutrients from his food to begin with, it won't make a whole lot of difference in his health. I always recommend dog parents give their dogs the life stage supplement, ALL-IN™ from Vetericyn Animal Wellness. I've been partnering with them for years to help educate pet parents on how important supplementation is for their dogs.
You Can Solve Your Dog's Bad Breath!
Whatever the cause of your dog's bad breath, it's almost always solvable!
As guardians of our pets' well-being and happiness, it's important to address any issue that may make them feel less than amazing, including bad breath!
Chew on this: I may receive a small commission for affiliate links, but all products I "dig up" are ones I paw–thentically love!