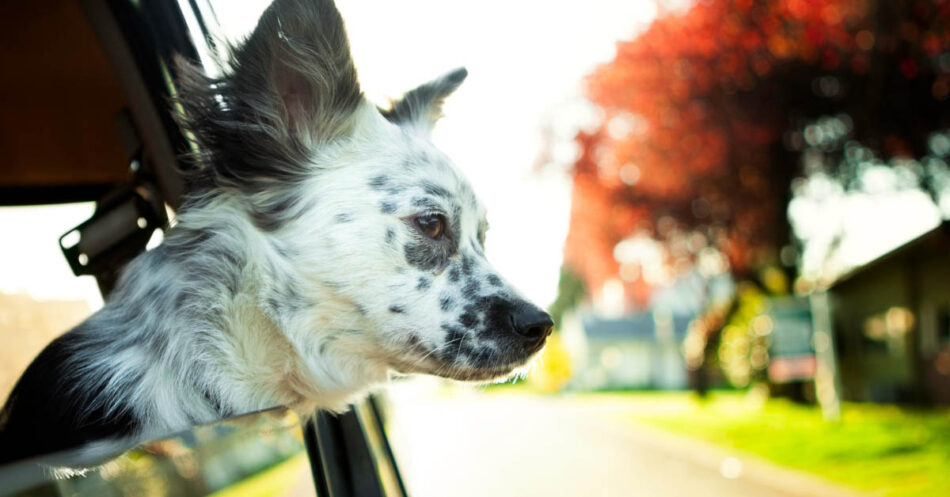 How to Make Holiday Travel with a Dog Easy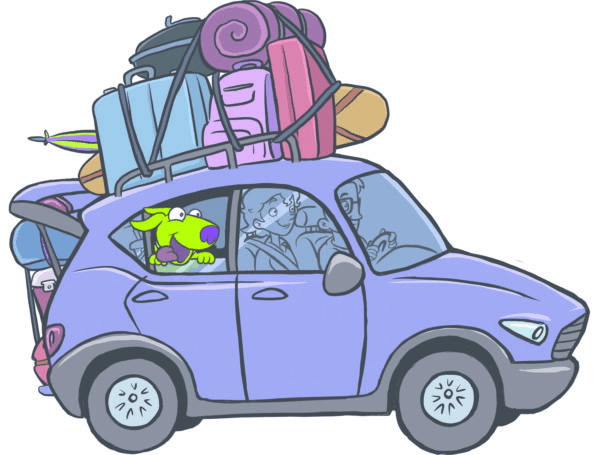 Are you planning a trip with your dogs? With so much at-home time this year, I think we're all itching to get out a bit — safely, of course!
I know from my own experience that planning, packing, and managing a vacation with dogs can feel completely overwhelming. It can be even more difficult if one or more of your pets is dealing with a special challenge like motion sickness.
During the upcoming holidays, my family will be packing up our dogs, Chilly and Tulip, leaving our home in Florida, and hitting the road for a three-week trip to visit family in Colorado. This year won't be the first time we've taken Chilly to Colorado – in fact, you can read a whole blog post on how we prepared for our journey last time. We're even more excited than usual for this trip after so much time spent in quarantine this year.
But, our upcoming holiday trip will still present new challenges for us. Chilly, who's an anxious pup all around, was diagnosed with motion sickness earlier this year. We're also bringing our new puppy, Tulip, who's never been on a long road trip and never stayed away from home overnight. Wish me luck! Thankfully, I have a pretty good system that makes planning, packing, and vacationing a whole lot easier.
Here's my secret system for successfully traveling with pets. I hope it helps!
4 Steps to Make Traveling with Pets Easy
1. Book Lodging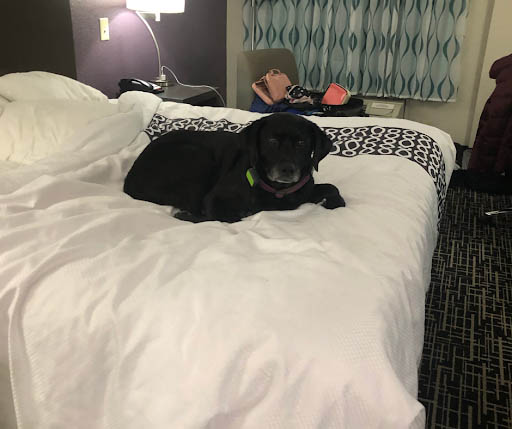 It's not always easy to find pet-friendly lodging. Even though there are lots of pet-friendly lodging options these days, only so many rooms are reserved for pets. Additionally, with less air travel taking place these days, it can be challenging to find a pet-friendly room if you wait until the last minute.
So, the first step I take when planning a vacation is figuring out where the family will stay. I make four pet-friendly hotel reservations well in advance — two for the drive to Colorado, and two for the way back. I also reserve our cat Olivia's place in our veterinarian's cat-only lodging suites, since she'll be staying behind. Advance reservations are really important for her since space is limited!
Pin Me!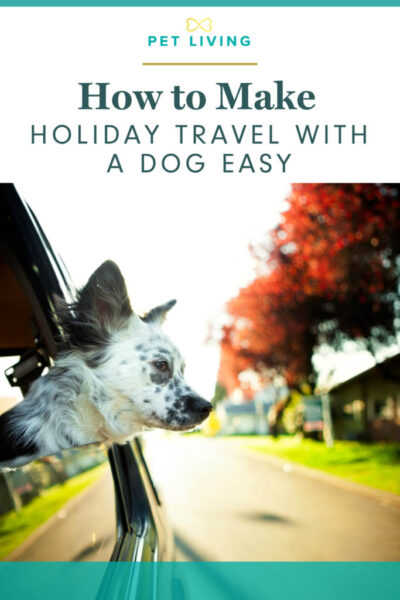 2. Find Emergency Veterinarians
Pets experience a lot of stress and uncertainty when they're away from home, and it's nearly impossible to predict whether your dog will need extra care. I remember one year, we were at an emergency veterinarian in Denver on Christmas Eve because Chilly developed an infection while en route to Colorado. To make sure your pet stays healthy on the road and during your trip, be sure to locate emergency veterinarians close to each stop.
Right after booking hotels, I find after-hours veterinary hospitals close to each hotel in case the pets don't travel well one day. Then, I get a recommendation for a veterinarian close to where I'll be staying in Colorado, in case there's an emergency over the holidays.
3. Get Pre-Travel Check-ups
Before going on a long trip, it's important to make sure that your pets are healthy and up-to-date on their vaccinations. This is especially important if you're staying at a hotel since many dog-friendly accommodations like hotels, kennels, dog parks, and daycares require that all of their canine guests are current on Bordetella vaccinations. So, don't hesitate to make an appointment with your veterinarian before you start your trip.
Personally, even if my hotels don't require a current Bordetella vaccination, I prefer to keep my dogs up-to-date on vaccinations. I know they'll be spending time with their cousin-dogs Cola and Grizzley on our trip. Besides, who knows what other dogs we'll meet along the way?
4. Figure Out Car Seating Arrangements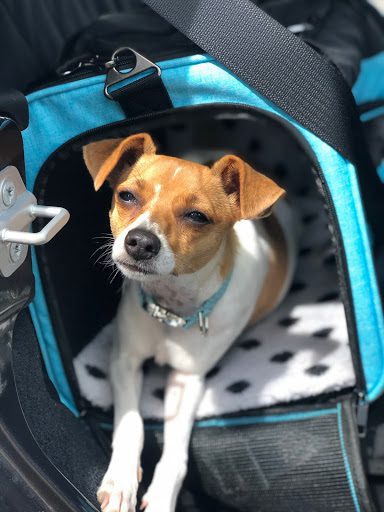 A huge challenge that's often overlooked on road trips is finding comfortable car seating arrangements. It's all too easy to wait until the last minute to pack the dogs, the rest of the family, and everyone's suitcases into the car. But that process usually takes a lot longer than a minute and can leave everyone feeling rushed and stressed out first thing in the morning.
To avoid the last-minute rush, we figure out a comfortable arrangement for all of our passengers a few days before we leave. Between luggage, pet supplies, holiday gifts, two dogs, and two humans, our Jeep will be pretty loaded up! The dogs, Chilly and Tulip, sit in the back seat so they can ride comfortably while still being harnessed for safety. Since Tulip is only 13 pounds, she rides in her Anti-Anxiety travel carrier that buckles into the seat belt. On the other paw, Chilly is 60 pounds, so he'll wear a travel harness that buckles into the seatbelt.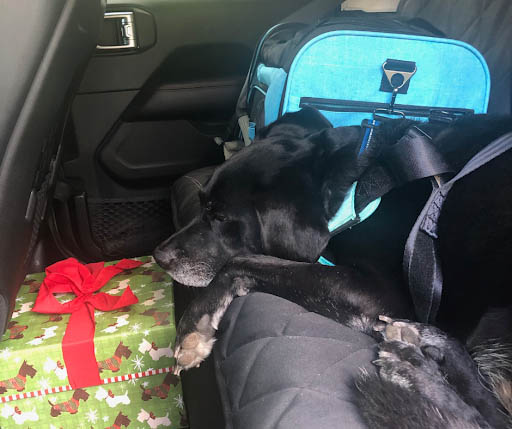 Help Your Dog Cope with Signs of Motion Sickness
My dog Chilly didn't always have motion sickness. But after a few conversations with our veterinarian a little over a year ago, I began to notice Chilly was demonstrating some telltale symptoms. For example, he avoided the car, wouldn't look out the window while we drove, and looked really unhappy during car trips.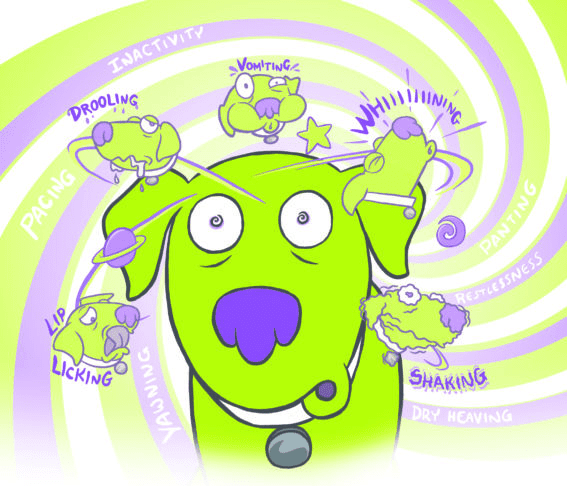 I used to think that Chilly couldn't be motion-sick unless he was vomiting. Later, though, I learned that there are many more signs of motion sickness, which are hard to identify unless you know what to look for. In fact, after learning about the subtle signs of motion sickness, 48% of dog owners reported their dogs experiencing signs of motion sickness while riding in the car.
Does your dog show any of these motion sickness signs during auto travel?
Bracing stance

Drooling

Dry heaving

Excessive lip licking

Excessive panting

Inactivity

Pacing

Restlessness

Shaking

Vomiting

Whining

Yawning
If you suspect that your dog may have motion sickness, please take this Motion Sickness Quiz and talk to your veterinarian.
Dogs with motion sickness are truly miserable. Fortunately, there's a solution. Before your road trip begins, talk to your veterinarian about the signs you've noticed in your dog during car rides. You can even bring along the results of your Motion Sickness Quiz to help start the conversation! After examining the signs, your veterinarian may prescribe CERENIA® (maropitant citrate), the first and only FDA-approved medication for dogs who vomit because of motion sickness.

What I personally love about CERENIA is that it only requires one dose a day and can be used for up to two consecutive days.
I'm so happy we realized Chilly had motion sickness last year after speaking to our veterinarian. I can't imagine subjecting him to days and days of car travel without giving him CERENIA to make him feel better.
What to Pack for Your Pet
This trip is going to bring a lot of excitement and a lot of changes for our dogs. Since we'll be staying in hotels for a few nights and at my sister's house for the majority of the trip, our dogs will have to make adjustments to their routine. So, I want to keep things as normal as possible by packing everything they need and want.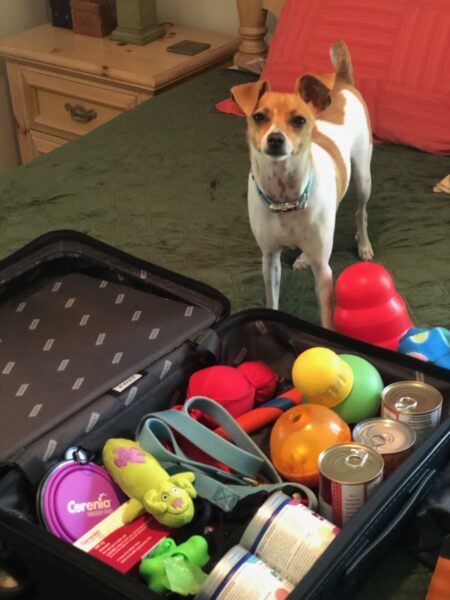 About a week before we leave, I'll make a list of all the items we need to pack, including:
Dog beds

Favorite toys

Favorite blankets

Dog crates

Travel harnesses

Food and water bowls

Travel water dishes

Pet medications

Pet supplements

Puzzle toys for mental exercise after a long day in the car

Leashes

Doggie waste bags

Paper towels and hand towels for on-the-road clean-ups

A couple of gallon water jugs
I'll also refill Chilly's medications to be sure we have enough to last the entire trip, including his CERENIA medication for motion sickness. He'll need 4-6 doses of CERENIA for the days we're in the car.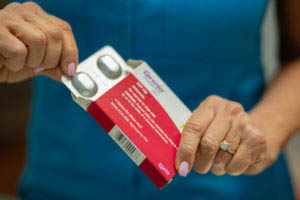 Considering we'll be on the road, staying with family, and experiencing winter weather, I want to be sure the pups get the same nourishment they're used to. So, around the same time I create my packing list, we stock up on essentials, like dog food, treats, chews, and supplements – enough to last the entire trip. I'll also bring a few calming products to keep the dogs relaxed in an ever-changing environment. Using my list, I'll pack all of the doggy essentials the night before we start our long drive.
Finally, we could never forget about our cat, Olivia, who's going to be staying at our veterinarian's cat-only lodging suites. She's currently not on any medication, but before boarding Olivia, we check that her vaccinations are current. Then we just pack her food, treats, bed, litter, and toys the night before we leave. When we drop her off at our veterinarian's office on the morning of our trip, I plan to spend a few minutes so I can meet the veterinary technicians that will be caring for her while we're gone.
Maintain Your Pet's Routine During Travel
Because dogs are creatures of habit, you might notice them becoming more anxious or hyper during a road trip. That's understandable since riding in a car all day is not a natural experience for a dog.
On the way to Colorado, we'll be on the road for eight hours a day, three days in a row. Then, we'll spend each night in a hotel. Here are four things we'll do to help our pups cope with the long trip.
1. Keep a Steady Morning Routine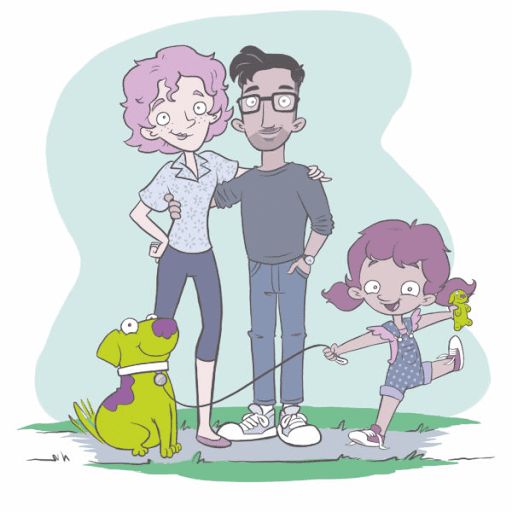 To keep the dogs as calm and happy as possible, we try to keep our routine on the road close to our routine at home. For example, we'll wake up at our normal time each day. While on the road, we get up about 2 hours before we need to leave to give Chilly his CERENIA. Plus, this allows us time to enjoy a healthy breakfast and a leisurely dog walk with the pups before hopping in the car. Chilly and Tulip usually get a few treats and a chew during the day, so we'll also be sure to "treat" them to their favorite snacks on the road and in the hotel at night.
2. Remember to Have Fun
Since this is such a long road trip, we really try to make it a fun adventure! We plan to take lots of pictures and share them on social media with the hashtag #RalphOntheGo to help others who have dogs with vomiting due to motion sickness learn about CERENIA.
3. Make Frequent Stops
On long road trips, it's especially important to make frequent stops for a pet to eliminate. Remember, even if you don't have to go, your pet might! Frequent elimination will also help avoid urinary tract infections, which can arise if a pet goes too long without a potty break. Do you remember how I mentioned the time we had to bring Chilly to an emergency vet on Christmas Eve? That was because of a urinary tract infection!
Typically, we stop every two to three hours to find a bathroom, walk the dogs, and stretch our legs. It's important to plan ahead so we can stop at well-maintained rest stops along the way, as they usually have clean dog-walking areas and nice bathroom amenities for humans. In contrast, when we stop at random gas stations, the dog walk areas are small and very dirty.
Of course, eight hours on the road is a long day for dogs. So, we try to extend at least one stop each day to about an hour. That gives us time for a relaxing lunch and playtime so the dogs can get the exercise they need. Tulip will especially appreciate the opportunity to release some of that pent-up energy since she's still just a puppy!
4. Stick to a Consistent Bedtime Routine
At the end of each day, when we arrive at the hotel, we'll feed the dogs, walk them, and hit the sack around the same time we do at home. Chilly will sleep on the bed as usual, and we'll bring Tulip's crate in from the car so she can sleep in the same way she normally would. Remember, sticking to a regular routine goes a long way toward keeping dogs happy and healthy on a long road trip!
Getting Your Dog Used to New Places
Getting to your destination is the best part of any trip! But, your dog may feel anxious in a new place, hyper after a long day in the car, or even fatigued after meeting many new people and animals. It's important to help your dog settle into your destination comfortably so you can both enjoy the rest of your vacation, drama-free! I've found that these three steps help my dogs adjust quickly to any vacation spot.
1. Introduce New Surroundings Carefully
My dogs will be introduced to our destination, my sister's house, while on a leash. That will let us monitor them as we tour the house. During the tour, Chilly and Tulip will meet the other dogs in the family. I'll keep them on a leash during this process and reward them with praise for being friendly.
2. Create a Cozy Place to Rest
To help Chilly and Tulip settle in, we'll set up the dog beds, crates, and hangout areas so they can adjust to their new digs for the next 10-12 days – their home away from home. When visiting family or friends during the holidays, it's very important that your dog has a place where he can get away from all the hustle and bustle. I'll make sure to place their crates in a quiet room away from the noisiest areas of the house so they can rest.
3. Adjust Food, Water, and Routines as Needed
You need to make sure your pets get all the water, food, and rest they need when they're away from home. Sometimes, though, their changing needs can be hard to anticipate.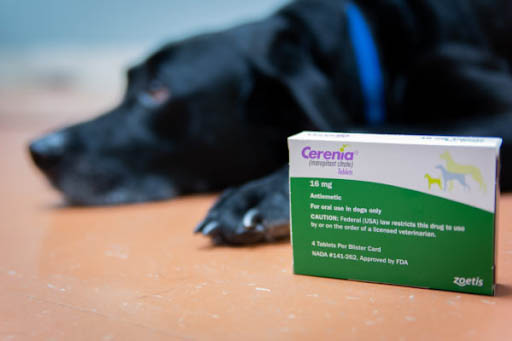 Did you know that dogs burn more calories in the winter to stay warm? Since we're going from Florida to Colorado, we'll be increasing the amount we feed our dogs, Chilly and Tulip, by about 20%. Not only will their bodies be adjusting to the much colder weather, but they'll also be more active than usual. The increased activity also means they'll need to drink more water, so I'll be sure to make fresh, clean water available for them. Just like we did on the road, we'll keep feeding times the same as we do at home.
We're really looking forward to all the opportunities for outdoor activities and playtime we'll have during our time off! In addition to eating and drinking more, I fully expect the dogs to sleep more while we're in Colorado because of the increased activity. Finally, when it's time to hit the road again to head home, I'll make any adjustments necessary for Chilly and Tulip depending on how well they traveled on the first leg of the trip.
I hope my travel experiences with my dogs can help you and your family have a safe, successful, and stress-free vacation. We're so thankful that (motion-sickness-free) Chilly and Tulip can join us!
This is a sponsored post. However, all opinions and anecdotes are my own, and I never promote any products or brands I don't believe in. ~Petfully yours, Kristen

IMPORTANT SAFETY INFORMATION: Use CERENIA Tablets for acute vomiting in dogs 2 months and older, and for prevention of vomiting due to motion sickness in dogs 4 months and older. Safe use has not been evaluated in dogs with gastrointestinal obstruction, or those that have ingested toxins. Use with caution in dogs with hepatic dysfunction. In people, topical exposure may elicit localized allergic skin reactions, and repeated or prolonged exposure may lead to skin sensitization. See full Prescribing Information.
Kristen Levine has a consulting relationship with Zoetis Petcare.
CER-00493