This is a sponsored post. However, all opinions and anecdotes are my own, and I never promote any products or brands I don't believe in. ~Petfully yours, Kristen
Summer is just around the corner. If you're like many families, you're probably already thinking about trips to the beach, hikes in the woods, or maybe a camping trip or two.
For lots of us, a family outing just wouldn't be complete without our four-footed family members. I know I'd much rather bring Chilly with me when I go away than have to leave him at a kennel or with a sitter. And even though he has lots of toys to keep him busy, I know he'd much rather come with us on day trips whenever it's possible.
Unfortunately for many dogs, though, going anywhere that involves any kind of travel gets a little "ruff" because they suffer from motion sickness.
Motion Sickness in Dogs is Very Common
Recently I spoke to a veterinarian with Zoetis, Dr. Joyce Login, about the problem of canine motion sickness. One thing she said that really hit home with me was, "Dogs with motion sickness are truly miserable."
Pin Me!
That single comment really hit home with me! If you've ever experienced motion sickness, you know what an awful feeling it is. Dogs shouldn't have to endure the misery of motion sickness any more than humans should.
I'm very happy that we've never had this problem with Chilly, but canine motion sickness affects as many as 1 out of 5 dogs! As a matter of fact, just a week after my conversation with Dr. Login, my friend, Heather, told me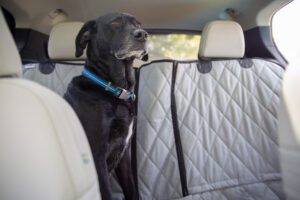 that her Goldendoodle, "Phylis" (yes, that's her real name), gets sick on every trip they take and that it's become a real problem, both for the pup and for the family.
I started asking my dog mom friends about their experiences with car rides and found out that many of their pets suffer from motion sickness. It's much more common than many of us realize. But the good news is that there is a solution!
Addressing Your Dog's Motion Sickness with the Help of Your Veterinarian
Unfortunately, very few pet parents are talking to their veterinarian about their dogs' motion sickness. As a result, they aren't getting the help they need. And, because there are so many other things that they need to address at a typical visit, our veterinarians don't typically bring it up in an exam either.
So why wouldn't the parents of a dog with motion sickness ask their vet about the issue? Often, it's because they don't recognize or understand the symptoms. They may think it's a "mental thing" that their dog might just get over. Or they don't even realize that their veterinarian could help.
In many cases, pet parents just stop taking their dog places, either to avoid the potential situations that make their dog vomit, or just because they can tell how miserable they are, and they want to spare them the ordeal. This is not the only option. If you notice signs of motion sickness in your dog, talk to your vet and ask for help!
Signs of Motion Sickness in Dogs
Many dogs can get motion sick even on a short car ride. So, a simple trip to the vet or the groomer can result in a miserable pooch! Trips by plane or train can also trigger them. Some dogs even get sick from other activities like boating.
Vomiting is an obvious sign that your dog is suffering from motion sickness, but it's not the only one. There are several other symptoms you should be aware of. Just because your dog doesn't "Ralph" in the car doesn't mean he's not feeling sick. Some of the symptoms of motion sickness would be easy to dismiss if you don't know what you're looking for, so it's important to understand all of the potential signs. Symptoms of motion sickness include:
Dry heaving
Excessive lip licking
Inactivity
Pacing
Restlessness
Shaking
Vomiting
If you notice your dog doing any of these things when you travel, you should talk to your vet. You can also take this online quiz to help you decode some behavior and symptoms that might be caused by motion sickness.
Help for Dogs With Motion Sickness
The good news is that there is a great solution for canine motion sickness. Many years ago, vets would prescribe things like acepromazine, Benadryl®, or Dramamine® for motion sickness because there wasn't anything else available. They're human drugs, not made for dogs, and they are not ideal because they "work" by making your pet drowsy. We don't want or need that!
Of course, you don't want your pup getting sick or vomiting either. Besides the fact that it's no fun to clean up a car full of your dog's last meal, vomiting can be painful, exhausting, and anxiety-inducing for your dog.
Thankfully, there's a treatment for the vomiting due to canine motion sickness that works without making your dog drowsy or loopy. CERENIA is the first and only veterinary FDA-approved anti-vomiting medication for dogs (and cats too). This video explains how Cerenia can help a dog with motion sickness.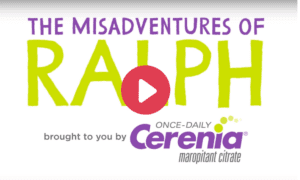 Dr. Login explained to me that CERENIA is an anti-emetic (anti-vomiting) medication and that it addresses the cause of vomiting due to motion sickness. CERENIA works by blocking a neurotransmitter that's involved in vomiting. For use at home, it comes in a once-a-day tablet form. To administer, you'd give your dog CERENIA with a small amount of food, two hours before traveling. It's safe to give to your dog once a day, for up to two days in a row.
CERENIA is also available as an injection for dogs or cats undergoing surgery. Many animals don't feel well after surgery due to the anesthesia. So, if your dog is getting ready for surgery, be sure to ask your vet if he or she plans to give your dog an "anti-emetic" (CERENIA) before surgery so the recovery process is smooth for your pet.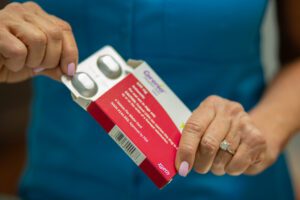 CERENIA is only available by prescription. So if your dog shows signs of vomiting because of motion sickness, make sure you talk to your veterinarian about whether CERENIA can help before your next ride!
Be Prepared to Travel With Your Dog
Controlling your dog's motion sickness will help both of you enjoy traveling so much more! But vomiting from motion sickness isn't the only thing you need to be prepared for if you travel with your dog. You'll want to make sure you bring along everything you need to keep him safe and comfortable, in addition to anything you might need in case of an emergency.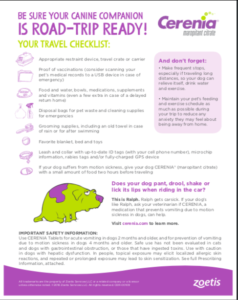 Does that sound a little overwhelming? This travel checklist takes the guesswork out of planning a trip with your pooch.
They say that getting there is half the fun. And with a simple solution to vomiting, this can be true of you and your pooch – even if he has motion sickness!
This is a sponsored post. However, all opinions and anecdotes are my own, and I never promote any products or brands I don't believe in. ~Petfully yours, Kristen
IMPORTANT SAFETY INFORMATION:
Use CERENIA Injectable for vomiting in cats 4 months and older; use subcutaneously for acute vomiting in dogs 2 to 4 months of age or either subcutaneously or intravenously in dogs 4 months of age and older. Use CERENIA Tablets for acute vomiting in dogs 2 months and older, and for prevention of vomiting due to motion sickness in dogs 4 months and older. Safe use has not been evaluated in cats and dogs with gastrointestinal obstruction, or those that have ingested toxins. Use with caution in cats and dogs with hepatic dysfunction. Pain/vocalization upon injection is a common side effect. In people, topical exposure may elicit localized allergic skin reactions, and repeated or prolonged exposure may lead to skin sensitization. See full Prescribing Information.
Kristen Levine has a consulting relationship with Zoetis.
CER-00402