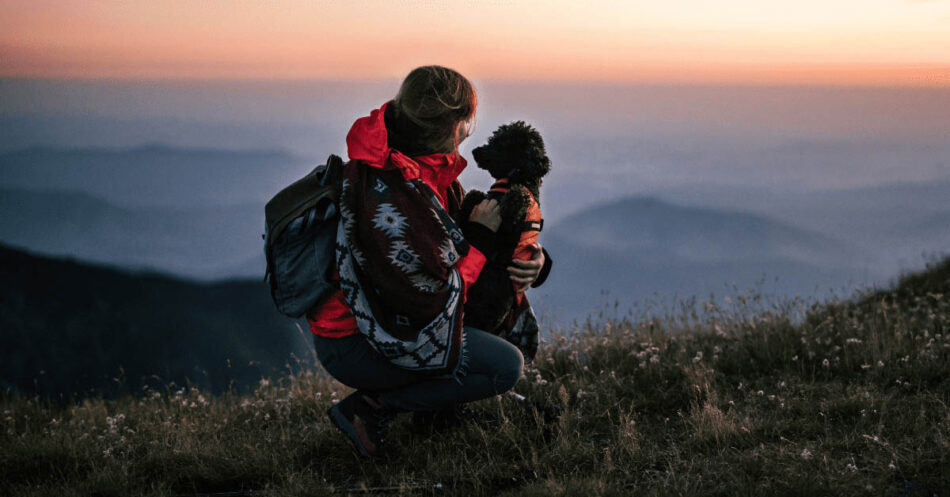 How to Prepare for Everything When You Travel with Pets
It's official – we are driving to Colorado for Christmas! You may be wondering why we would choose to drive from Tampa to the Rocky Mountains (a three-day trip each way!) when flying is so much faster. And that's because we want Chilly to be with us, of course! Putting him on a plane is just out of the question. He's too big for the cabin and too goofy to be an "emotional support dog." And I would NEVER put him in cargo. So the Levine family is hitting the road!
Lots of people include furry family members in their travel and vacation plans. As happy as it makes us (and our pets) when we get to stay together, travel with pets does require some extra planning to make it as easy as possible for everyone involved.
Here are a few tips to help you to have a pawe-some time traveling with your pets!
Pin Me!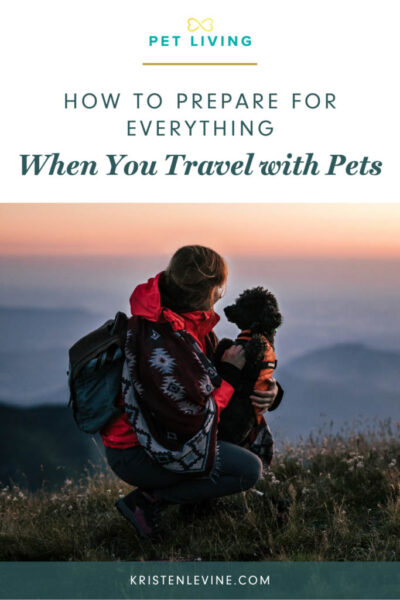 Before You Leave
If you're planning on flying or being on the road for more than a day, do a little research and make arrangements well in advance with pet-friendly companies.
Check with the airline to learn about their policy on traveling with pets, and book early in case they limit the number of animals they allow on any particular flight. If you're driving and planning on spending the night on the road, make reservations with hotels on your route that welcome pets. BringFido.com is a great resource to help pet parents find pet-friendly hotels and restaurants in any location.
One more thing on Chilly's pre-travel to-do list is a bath. If I'm going to be spending 3 days cooped up in the car with him, I want him smelling his best! FoamCare shampoo
by Vetericyn is the only thing I use. It comes in a handy spray bottle so all I have to do is spray, scrub, and rinse. Bath time is over in a flash! Then I always toss the shampoo into Chilly's suitcase just in case he needs a little freshening up before we get back home. The spray bottle function makes it great for spot cleaning too, for those times when your dog rolls in something stinky, but you don't have time for a full-on bath!
Be sure to use my coupon code PETLIVING to get 20% of your entire purchase at Vetericyn.com!
On the Road
Cars were definitely designed with human comfort in mind, but that doesn't mean our pets can't be comfy and safe when they drive with us. Pets should never travel unrestrained. An excited animal trying to nuzzle it's way into the driver's lap is a major distraction. Not to mention that they could go flying and get hurt if you had to stop quickly or got into an accident.
Small pets are usually better off in a cozy carrier or with a safety harness. Of course, you'll want to make sure that you line it with a nice soft pad and maybe a favorite blanket for them to snuggle with. Whichever carrier you choose to use, make sure that it's one that can be held in place with a seat belt. Large crates are way too big to fit in many vehicles, but thankfully they make harnesses for bigger dogs so they can be restrained safely. Chilly wears the ClickIt Sport Harness
by Sleepypod because it's super safe (5-star safety rating from the Center for Pet Safety) and comfy. As an added bonus, it also doubles as a walking harness, so getting him out for potty breaks is easy.
And speaking of potty breaks – they are an absolute must if you travel with pets. Don't assume that just because you have a bladder of steel your pet will be OK holding it for hours on end. Schedule time every few hours for your pet to get out, stretch his legs, and burn off some energy.
It's also important to offer plenty of water. Pets can become dehydrated on a long trip, so don't wait until you stop for a break to give them a chance to drink.
Many pets suffer from motion sickness or anxiety when they travel. Thankfully Chilly's tummy doesn't usually bother him on car rides, but he can get a little nervous. We never leave home without his ThunderShirt
. It calms him right down and works for many dogs. You might also try ThunderEase, a spray that mimics natural calming pheromones from nursing mother dogs or cats.
If your pet is prone to either of these issues, they could put a serious damper on how much he enjoys traveling with you! This resource from Embrace Pet Insurance describes some effective natural remedies, and it also lists some medications that commonly help pets with motion sickness or anxiety. Your vet can help you decide which treatment would be best for your pet.
Once You Arrive
Pets are creatures of habit, so any change in the normal routine can be potentially confusing. This could lead to problem behaviors just when you want your pet to be showing your hosts what a perfect angel he is. Sticking to his regular schedule as much as possible can help minimize anxiety or confusion, lowering the risk that he'll "act out."
In addition to following his regular feeding and exercise routine, I've found that it's helpful to bring a few familiar things from home. These "creature comforts" can help a new environment seem a little less foreign. If your pet has a favorite toy, or if he always sleeps on the same blanket, he may appreciate having those things with him when he travels.
Cats can be especially finicky. We don't usually travel with Olivia since she's much happier with a sitter. But if we ever did decide to include her in our travel plans, her Catit drinking fountain
is one thing I'd be sure to bring along to set up at our new location. She really prefers to drink flowing water, and I want to make sure she stays hydrated for the sake of her health. I love how easy it is pack.
Another one of my big cat care necessities is my kitty litter. Like many cats, Olivia is definitely particular about her litter box, and the last thing I'd want is any "accidents" or unpleasant smells for my hosts to deal with. I always use World's Best Cat Litter
for my fussy girl. She likes the way it feels on her paws, so there's no worry that she'll decide to go outside the box. It's also great for controlling odor and it clumps well, so there's less mess.
If you travel with a kitty, chances are that they'll be fine if you decide to leave them on their own while you go out to dinner or do a little sightseeing. They may even appreciate the downtime! Dogs, however, could easily be another story. If your pooch suffers from any kind of separation anxiety or if he has a tendency to get bored, you'll want to do all you can to keep him content and stress-free if you have to leave him home or even in another room by himself for any reason.
Prepare for Emergencies
Even with the best plans, unexpected emergencies could happen. When I travel with Chilly, I make sure to pack a few first aid supplies. That way I'm prepared to deal with any skin issues, sores, or minor injuries that could make him uncomfortable.
I always make sure to have the name of a vet in the location where we're staying so I know who to call. And Chilly has pet insurance so that when it comes to his treatment, we know we'll always be able to afford whatever he needs. Pet insurance has saved us thousands of dollars over the years on our vet bills, and it gives us just a little more peace of mind when we're on the road too.
Embrace Pet Insurance is a great choice to help with those unexpected expenses. Unlike human health insurance, there are no networks, so you can visit a vet, specialist, or emergency clinic wherever you are without having to worry about whether visits or treatments are covered. Embrace works on a reimbursement method, so you pay the vet directly and then submit your claim. If you plan to travel with your pet, it's a good idea to pack a copy of their claim form so you'll have it if you need it.
Another pawe-some feature of Embrace Pet Insurance is their Wellness Rewards program, which works sort of like a health savings account. You get reimbursed for regular wellness visits, as well as many other everyday pet care costs like grooming or training. Several of the items mentioned in this post would qualify as reimbursable expenses under the Embrace Wellness Rewards plan.
Travel with pets can be a lot of fun if you're prepared. You and your four-legged members will be bonding and building memories that will last a lifetime!
This is a sponsored post. However, all opinions and anecdotes are my own, and I never promote any products or brands I don't believe in. ~Petfully yours, Kristen