Even though we don't have kids, Mother's Day is one of my favorite holidays. Thanks to my thoughtful husband, Paul, I always receive a thoughtful card and sometimes flowers "from" my dog, Chilly, and my cat, Olivia. This year, we have a new addition to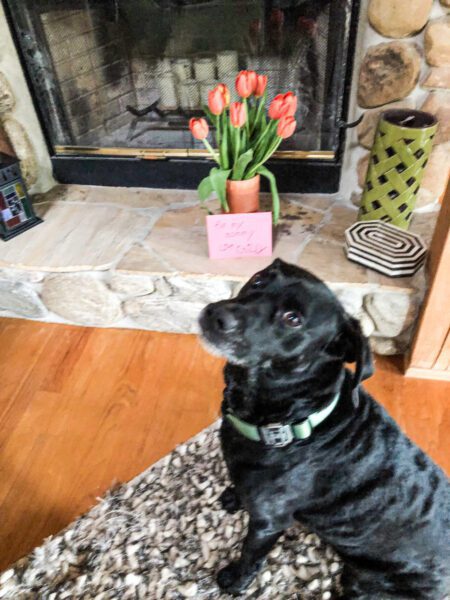 our family, our foster fail, Tulip! So she'll be part of the Levine family tradition too.
Paul and our pets have been celebrating this special day for as long as I can remember. But now pet brands are also starting to realize that Mother's Day is Dog Mom's Day!
Before I hear from the Cat Moms, yes, you too are worthy of a special day. But research shows that many more women with dogs refer to themselves as Dog Moms, compared to women with cats who call themselves Cat Moms.
In the past couple of weeks, I've received dozens of emails from pet companies promoting Dog Mom gifts, so I've gathered some of my favorites here as a gift guide, with products ranging from proud and practical to downright decadent!
Pin Me:

1. Decadent Gifts for Dogs and Their Moms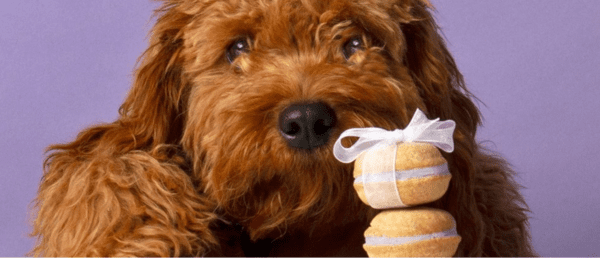 Bonne et Filou is the ultimate in royal treat-ment for your dog! I had a chance to meet the founders of this unique company earlier this year, and I was so impressed with their one-of-a-kind, macaron-inspired treat. These treats not only look beautiful, but are truly healthy and free from preservatives, artificial colors, and corn. All Bonne et Filou ingredients are 100% natural, premium, and human-grade.
Celebrate your dog through fragrance while donating to charity with a candle from Scripted Fragrance's Pet Collection! With hand-poured, individually-designed soy candles featuring more than 30 different dog breeds, I'm confident you'll find a scent in this collection that brightens your home and truly captures the spirit of your beloved furry friend. Additionally, a portion of proceeds from each candle is donated to charity, so you can feel good about supporting this small, ethical, women-owned business in New York.
If you and your crate-trained pup have developed a taste for the finer things in life, take a look at Pretty Kennels! These stylish, transparent crates come in three sizes to suit a variety of breeds — and they look fantastic. Choose your own design and hardware for each piece, then watch as the Pretty Kennel becomes a safe, relaxing retreat for your fur friend and an unforgettable fashion statement for your home.
These dog carriers from Bitch New York offer a wide variety of fashionable, safe travel accessories for your canine companion. With countless carrier options in purse, sling, tote, luggage, and even backpack styles, I know you'll be able to find a carrier that suits your pup and accentuates your flawless wardrobe choices.
Crown & Paw offers custom canvas art for your home that will turn your dog into a true Renaissance pup!
2. Best Gifts for No-Fuss Dog Moms
3. Gifts to Show Dog Mom Pride
I can't wait to hear about how these gifts brighten your Dog Moms' Mother's Day!
In the meantime, for more gift ideas, check out these 10 Home Gift Ideas for the Pet Lover.