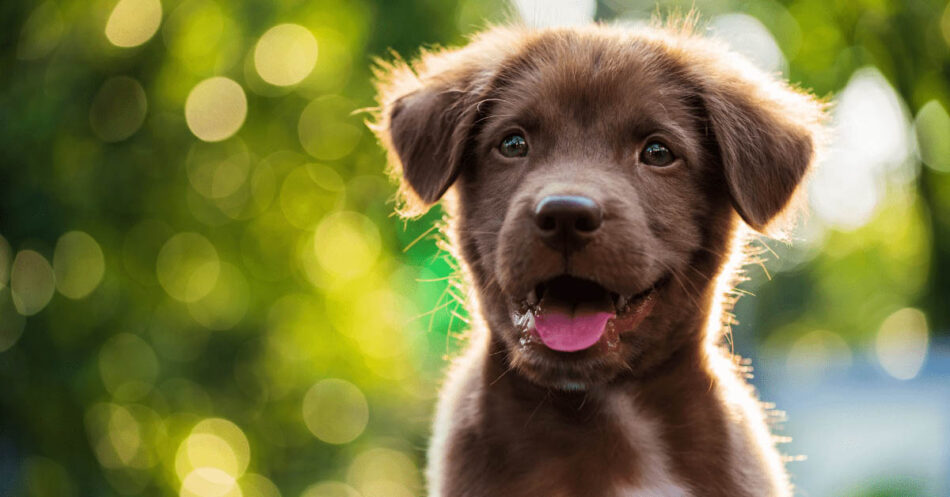 13 of the Best Gifts for Puppies (Spring 2023 Edition)
There's nothing quite like a puppy. Those round, adoring eyes, those too-big-for-their-legs feet, those wet puppy kisses… be still my heart! Even just a few minutes of puppy playtime or cuddles can bring us boundless happiness. So can spoiling the pups in your life with irresistible fancy pet gear!
Are you thinking of bringing home one of these furry little bundles of joy? One of my favorite parts of pet parenting, besides the playtime and snuggles, of course, is the gear. It's so much fun to outfit my pets with collars, bedding, and toys that reflect my style.
Then again, maybe you've been a pet parent for a while already. Maybe your furry friend is still a puppy at heart, and you just want to thank him for the loyalty he's shown you during the ups and downs of your life together. No matter the reason, your family definitely deserves a little pampering! New gear and gifts are one great way to tell your dog how much you love him.
Or, maybe your friend is bringing home a new puppy and you want to welcome him to his fur-ever home. Even if you don't have the time, the resources, or the desire to be a pet parent, you can spread so much joy and love by becoming a cool pet aunt or uncle.
Need some inspiration? I've sniffed out a few paw-some bougie puppy products to get you started!
Pin Me!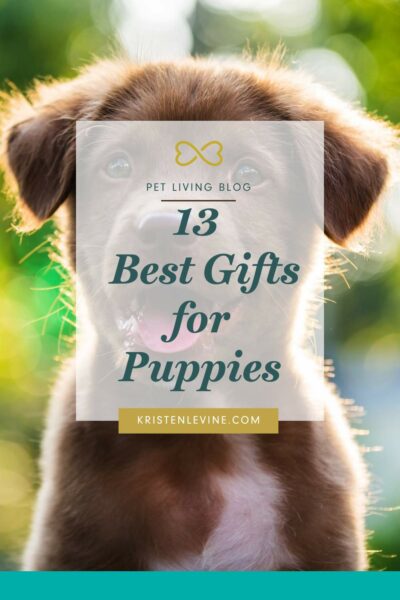 Fancy Dog Collars and Leashes
Before I show you my picks for fancy dog collars and leashes, I want to mention that I absolutely have a regular collar and leash set for each of my dogs, Chilly and Tulip. Their regular leash and collar sets are sturdy and comfortable, perfect for tough, everyday use. But there are special occasions like holidays, weddings, birthday parties, dates, or even Instagram photoshoots that call for something a little fancier!
These floral collars from Blueberry Pet come in the loveliest spring colors. I especially love that the felt flower accessory is removable, making it easy to dress up or dress down the collar for any occasion. The buckle closures are even made of eco-friendly plastic. Its heavy-duty D-ring makes it easy to attach a leash and can give you confidence that your pup won't be going anywhere without you.
---
Looking for something a little less feminine? This matching three-piece EXPAWLORER Bow Tie Dog Collar and Leash Set is the perfect way to make any puppy look handsome and dapper. The set includes a bow tie collar, a bandana collar, and a 59-inch leash, all in a classic plaid design. You can choose from a variety of colors to bring out your pup's striking eyes and fur. The collars both come with a removable bell that makes a crisp, clear, tinkling sound when your pup walks. You won't lose track of him anytime soon!
---
If you're looking for the ultimate in fancy pet accessories, try this velvet collar and leash set. The velvet is extremely soft and smooth, making it comfortable for your dog to wear and for you to handle. Your pup will never be underdressed when he's wearing this set. It's perfect for the most special of occasions! Notable features include a quick-release buckle closure and a sturdy D-ring on the collar, as well as a 360-degree swivel clasp on the leash.
Fancy Dog Beds
When you're looking for a dog bed, there are more important factors to consider than aesthetics. For example, you'll need to find a bed that's the right size for your pup, that matches his preferred sleeping style, and that's easy to wash. For older dogs, you might even want to consider an orthopedic bed to ease joint troubles. (Then again, my senior pup, Chilly, prefers a harder bed.) So, while I'm sharing some of my favorite fancy dog beds here, don't buy whichever one looks best to you. Make sure it fits your dog's lifestyle and life stage.
This chic orthopedic memory foam dog bed from Bedsure makes a versatile, stylish addition to any home. Perfect for large dogs and senior pets, this sofa bed will allow your pup to stretch as much as he pleases without taking over your furniture. The fabric doesn't easily absorb liquid, and the memory foam base has its own waterproof liner for extra protection. It's machine-washable, and its three bolstered pillows are detachable for easy washing. Whether you're looking to soothe the aching joints of your growing puppy or your senior dog with arthritis, this bed is a great purchase.
---
Quicksilver's Pet Sofa is a quality piece of furniture and a potential conversation piece in its own right. Look at that retro design! It even has storage pockets for your dog's favorite toys and bones. This pet sofa is perfect for small and medium dogs, and it comes with a removable, washable cover for easy cleaning. Whether your dog sleeps curled up, stretched out, or leaning up against a pillow or blanket, this pet sofa will cater to his specific sleeping style.
---
Do you have a burrower in your family that loves to sleep huddled under blankets? Take a look at Furhaven's Snuggery orthopedic dog bed. Its attached blanket hood can be used as-is or to convert the whole bed into a cozy cave! The orthopedic memory foam base will distribute your dog's weight evenly to soothe aching joints while the bed's design promotes even air circulation. The bed comes in multiple colors and features a completely machine-washable, removable cover.
---
Fancy Dog Kennel and Carriers
Do you know how to find the perfect-sized crate or kennel for your dog? Here's a quick rule of thumb: crates should be big enough for your puppy to turn around, lie down, and stand without bumping his head. As much as dogs love their kennels and carriers, though, those metallic, boxy designs can be a bit of an eyesore in the home. You don't have to settle for that anymore! Try one of these sleek, stylish solutions instead.
Do you have a puppy or a small dog that loves to chew? This chew-proof indoor crate from unipaws is so stylish that it can even double as an end table, side table, or nightstand! The crate comes in multiple colors for maximum style and includes a cozy cushion. It also features a double-door design that makes it easy to quickly release your dog or to pull out the cushion for cleaning. Best of all, your dog can enjoy incredible ventilation during their nap times.
Looking for a crate that won't make your pet feel trapped? This luxury crate from Pretty Kennels is transparent so your pet will always have a 360 view of his space. These luxury crates come in three different sizes and can fit dogs up to 35 lbs. I also really love the adorable patterns that will fit seamlessly into your home.
If you want to live the ultimate Dog Mom life with your puppy or small dog, check out this fashionable leather handbag-style dog carrier. At first glance, most people will only see a stylish handbag. They'll definitely be surprised when you unzip the bag and a puppy face pops out! This bag features breathable, lightweight mesh that will allow your dog to see outside, and a left-to-right zipper for smooth, easy release. It also includes a side pocket for storing small items.
---
Are you and your pup frequent flyers? This airline-approved expandable pet carrier pops out on all four sides to give your pet maximum comfort, even while traveling. The unique expandable design allows your pet plenty of room to move around and observe his surroundings, reducing travel anxiety for both you and your furry friend. A sturdy frame keeps the carrier upright while a soft fur cushion will keep your pet cozy and safe in the air or in the car. Padded hand straps and a non-slip bottom protector will ensure a smooth traveling experience for everyone!
---
Unique Dog Toys
There are so many dog toys on the market that it's hard to know which ones to choose. Which toys will your dog enjoy the most? Which toys are the easiest to clean, and which toys are the most stimulating? Even though I've already compiled a list of twelve of the best puppy toys, I wanted to share these three extra-unique options.
This snuffle feeding mat is the perfect puzzle to help your pup engage all his senses. Hide his food underneath the fabric and watch him put his natural foraging skills to use! Using a puzzle mat like this one encourages slower feeding, which helps your dog not to overeat and pack on the pounds. This particular snuffle mat is machine-washable and rolls up for easy carrying. Its anti-slip backing keeps it in place on the floor, and the mat's design is perfect for dogs of all ages and sizes.
---
No dog toy is indestructible, but this Almost Indestructible Modern Dog Chew Toy for Aggressive Chewers is the closest thing I've found. This toy is great for teething puppies, tough chewers, and dogs that like to take their boredom out on your furniture. Not only does this toy look stylish, it floats, bounces, and is great for fetching. It's designed for dogs of all sizes, so don't stress about ordering the wrong size for your pup! Just sit back, relax, and watch your furry friend enjoy this 100% natural rubber, non-toxic chew toy.
---
Does your sophisticated pup dream of owning toys from "Chewy Vuitton Paris" or "Starbarks Coffee"? Make all of his dreams come true with this interactive hide-and-seek puzzle toy by Haute Diggity Dog. Its plush toys squeak, crackle, and crinkle as you and your pup roll them in and out of the soft container. Simply stuff the mini-toys into the container and watch your dog figure out how to paw them into the open! Of course, the unique branding on these toys will also give you plenty of fun photo opportunities while your pup plays. The interactive nature of this toy will stimulate your furry friend's mind, relieve boredom, and encourage physical exercise and problem-solving skills.
I know that you're ready to spoil the dogs in your life with generous kisses, snuggles, and playtime. Of course, these suggestions for fancy pet gifts can help you go the extra mile in showing your love!
Whether you're just starting life with a new pup, or looking to strengthen your bond with a puppy-at-heart, I'm confident that you'll love my free ebook download below. Check it out for more tips on building a strong bond with your dog.