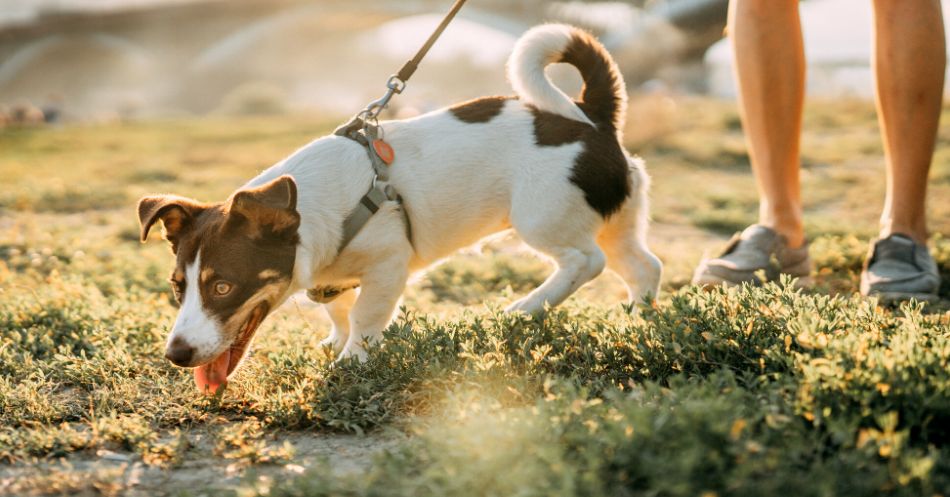 6 Helpful Tips to Manage Your Dog's Leash Reactivity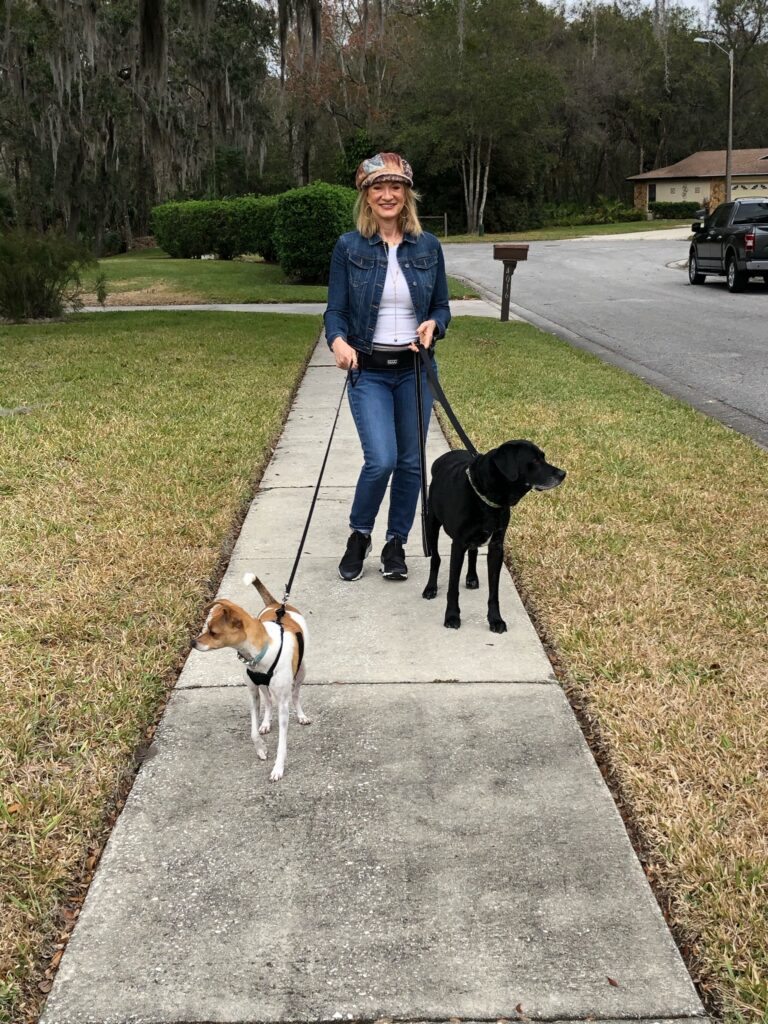 Leash reactivity is when a dog overreacts to stimuli while on a leash. These dogs can be trained to walk politely. But it takes discipline and an understanding of the reasons behind your dog's behavior.
What Is Leash Reactivity?
First things first, it's important to understand what we mean by "leash reactivity". It can be a frustrating and stressful problem for you and your dog.
Put simply, leash reactivity is when a dog overreacts to stimuli while on a leash. Here are some common behaviors of leash-reactive dogs:
Biting or playing tug-of-war with the leash
Refusing to walk on the leash
Charging, growling, or barking at people, animals, or other dogs
Running or hiding while on the leash
Lunging or pulling excessively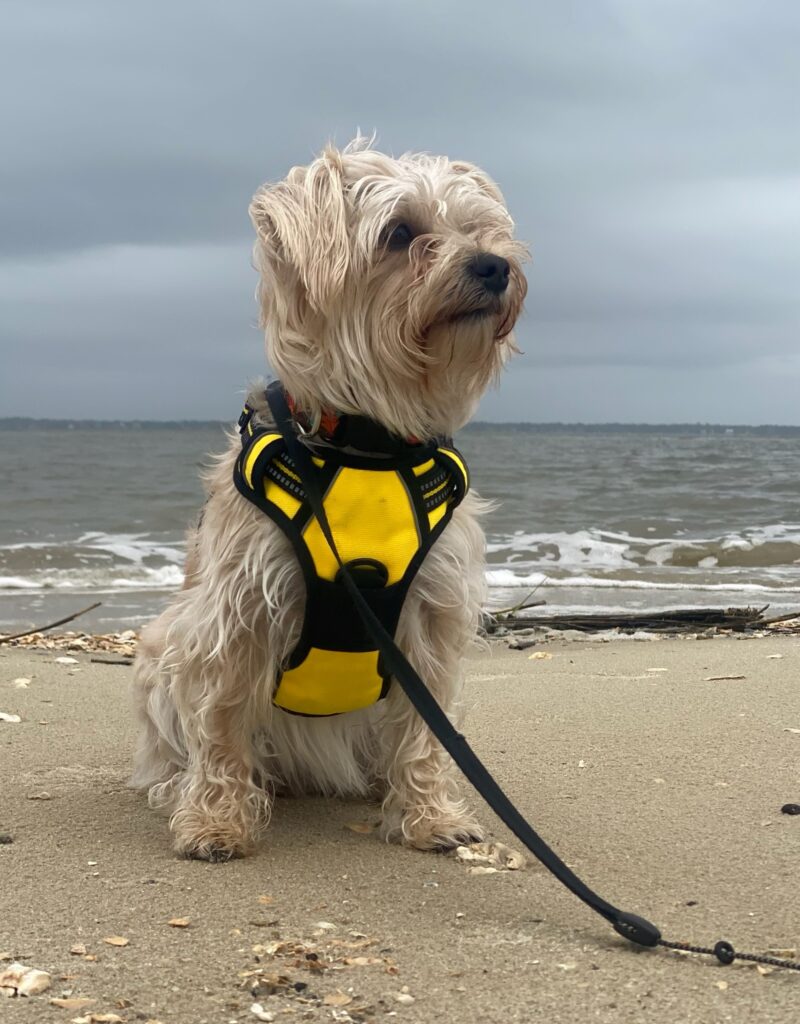 My late dog, Chilly, had leash reactivity when we would go for walks in our neighborhood.
At the first sight of another dog approaching, he'd start pulling hard on the leash and vocalizing by barking and growling. The closer we'd get to the dog, his behavior would escalate to him lunging at the dog with me pulling him back by the leash. Once we'd pass, he'd calm down immediately.
It got to the point where neighbors would literally do a 180 and walk the other way with their dogs when they'd see us coming. It was so embarrassing!
What makes leash reactivity challenging to treat is that each dog is different. What triggers one pup, may not trigger another.
Triggers could be anything: bicycles, cars, people, children, other animals, and even construction sites.
Pam, a dog mom in the Pet Living family, experienced this firsthand with her Yorkie mix, Zuzu.
"Taking walks in the neighborhood is a big deal for her and she can become frightened easily which makes her lash out. There was construction going on in one part of our neighborhood and it took her literally years to work up the courage to walk near there again."
In Zuzu's case, her leash reactivity manifested as fear and anxiety. For other dogs, like Chilly, it may look like aggression or hyperactivity, and for some, it translates as just plain non-compliance.
Some dogs really struggle when they're on a leash, but others seem to have no problems at all. Why is that?
Why Are Some Dogs Leash Reactive?
Dogs aren't born with a natural desire to take guided walks, tethered to their humans by a leash. They enjoy their freedom and the ability to roam and sniff on their own terms.
But, in most cases, it's safer for you and your dog if they remain on a leash. We'll have more on that in a bit in our FAQ section.
With training and time, many dogs have no problem being leashed. In fact, they love it!
Other dogs, not so much. On their walks, they may encounter one or more of their triggers – a new neighbor or a shady-looking squirrel – which causes their senses to be overwhelmed.
Once triggered, the fight or flight response is activated in your dog's body. They either want to run away from their trigger or attack the problem head-on.
However, there's a leash that restricts their movements, making them feel caged. For your dog, this combination of events can send them over the edge, and make them more reactive.
Pin me!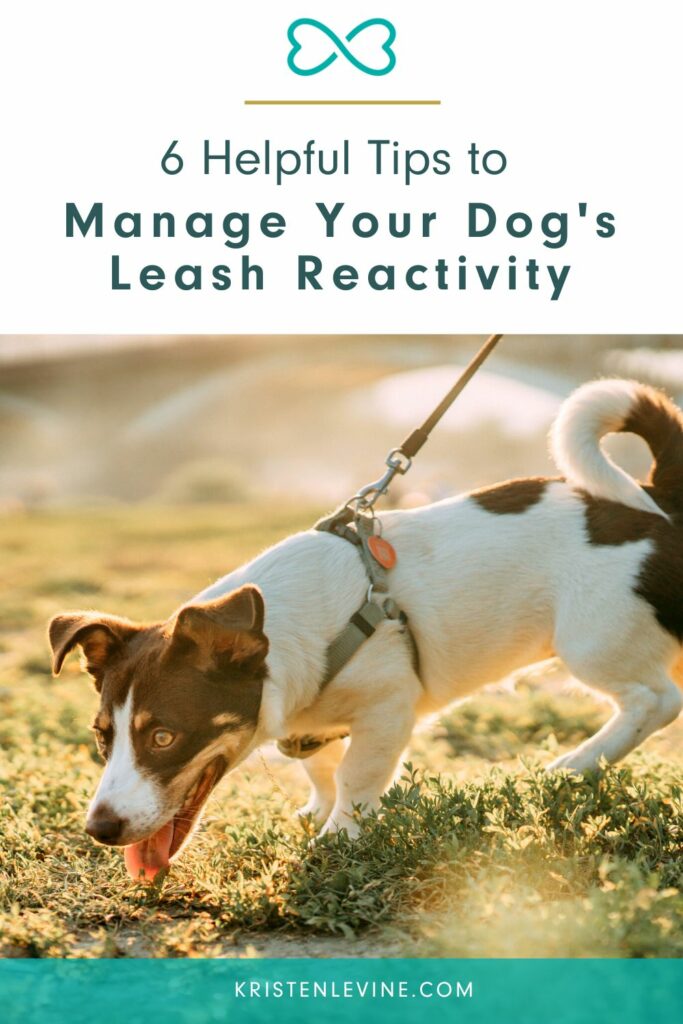 6 Helpful Tips to Manage Your Dog's Leash Reactivity
Get to know your dog's triggers.
The better you know your dog's triggers, the better you'll be able to manage their leash reactivity.
How does your dog respond when strangers or other dogs approach them on a leash? Do they cower and shrink back? Or do they lunge, pull, and act over-excited trying to reach the other dog?
If your dog is reactive to multiple things, what does their behavior look like when they encounter them all at once? Will they try and run away, or do they become aggressive?
Bottom line: Each dog responds differently. The more in tune you are with your best friend, the better you'll be able to help them.
Don't wait for your dog to react – plan ahead.
How close can your pup be to their trigger before they react? Knowing this distance, or "buffer zone", can give you enough time to redirect your dog's attention toward you and away from their trigger.
Also, get familiar with the routes you and your dog will take on your walks. As you do, you can anticipate what you may encounter and how your dog will respond.
Manage your dog's environment.
This may be the most difficult part of helping your dog's leash reactivity. Even with the best preparation, it's impossible to have complete control over your pup's environment when they're out for a walk.
Some pet parents choose to go on walks at times when there is less traffic, fewer people, and fewer dogs. Others take shorter walks and make sure their pets get most of their exercise from other activities like a game of fetch in the backyard, tug of war, or agility games.
Choose the right gear for your pup.
Get help from a professional trainer.
We worked with a dog trainer to help my dog Chilly manage his leash reactivity. This was the best decision we made!
A professional trainer can give expert help to manage your dog's leash reactivity. They're intimately familiar with dog behavior and can help you implement training techniques effectively.
A trainer will help you learn how to change your dog's perception of their individual triggers so that, instead of feeling threatened, they'll feel confident and at ease.
You can even find helpful resources online, like this online course about reactive dogs from Dog Nerds.
The next helpful tip is a priceless gem that I learned from our dog trainer.
Reward. Reward. Reward.
One of Chilly's stressors was other dogs on leashes. Our trainer taught us to associate his trigger with rewards!
I'd carry yummy high-value rewards with me. As soon as I saw another dog approaching on leash with its owner, I'd wait until Chilly saw them, and immediately say, "Yay, look at that nice puppy!" Then I'd give him a treat.
FAQs
The Final Woof
Trying to manage your dog's leash reactivity is no small feat! But with consistency, perseverance, and expert advice, you can gradually help your dog view their triggers as opportunities for rewards.
Walking your dog doesn't have to be stressful or embarrassing. In time, you and your best fur friend can overcome this hurdle and enjoy your walks.