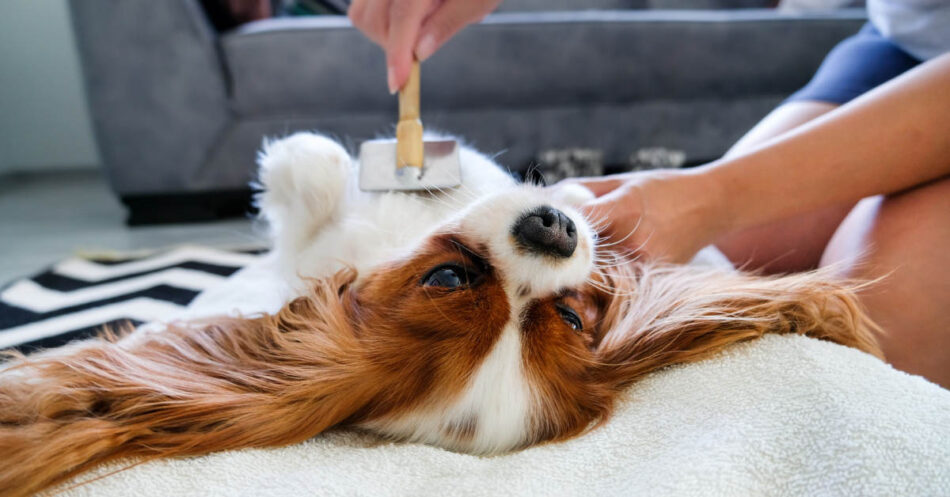 5 Genius Hacks to Organize All Your Pet Supplies
Ready to organize all your pets' supplies? Here's how to do it in five easy steps. Start by creating a "Pet Central Station" in your home, which will serve as the primary storage for pet supplies. Then, make sure your pet supplies are easily accessible.
Next, divide up supplies by categories using bins and envelopes. Use aesthetically pleasing organizers to keep your most-used supplies, like leashes and treats, at the ready. Lastly, upgrade your toy bins to beautiful baskets and teach your pup to put away their own toys. (Yes, it can be done!)
Not long ago, I decided to tackle the mess that was my pet supply closet, and I came up with these simple, practical solutions to help us cat and dog lovers organize all of our pet supplies and keep our homes clutter-free.
1. Create "Pet Central Station" in your home.
To minimize the clutter, I've found it's best to keep my essential pet supplies in one central location. In our home, it's the laundry room. But you'll probably need to experiment to find what works best for you. We have an entire cabinet (base and overheads) devoted just to the supplies we need for our cat, Olivia, and our dog, Tulip.
If you don't have spare cabinets, get some shelves or hanging baskets and keep them in that one place. These options not only maximize floor space but also help declutter your floor. You can neatly organize your pet's stuff that might otherwise be scattered around your living space.
Keeping all the essential pet supplies in one spot, will allow you to see, at a glance, when you're running out of things like litter, dog treats, or pet food.
2. Make your pets' supplies easy to access.
Fewer things are more frustrating than not being able to get what you need when you need it. Cut down on clutter and stress by strategically placing your pet supplies in convenient locations.
For example, you probably don't want to drag a 30-pound bag of dog food off the top shelf every day. So store food in food storage bins on a lower shelf will make life so much easier. Make room in your cabinets for other heavy, oversized, or infrequently used items such as travel gear, e-collars, and unopened bags of food and litter. 

Don't overlook organizing your pet's important documents. Things such as veterinary records, pet insurance policies, and wellness checklists can be organized in folders like these and stored for easy access.

3. Use bins and baskets to separate your pets' supplies.
---
---
4. Keep often-used items where you most need them.
Keeping essential pet items handy is especially important for my husband and me when it comes to cleaning Olivia's litter box. To make our least favorite pet chore super convenient, I keep extra supplies in a litter box caddy within easy reach. The caddy holds a scoop and liners, and it also has a small bucket-type reservoir in which you can put a plastic grocery bag to collect those delightful "scoopings" before discarding them.
Pin Me!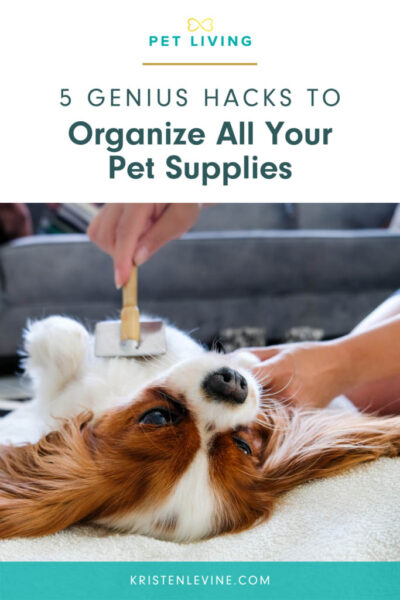 5. Upgrade the toy box and keep clutter at bay.
---
With these five simple steps, you can get rid of the pet supply clutter and create an organized, pet-loving home. What's your favorite way to keep creature clutter from taking over your home? Tell me in the comments below!