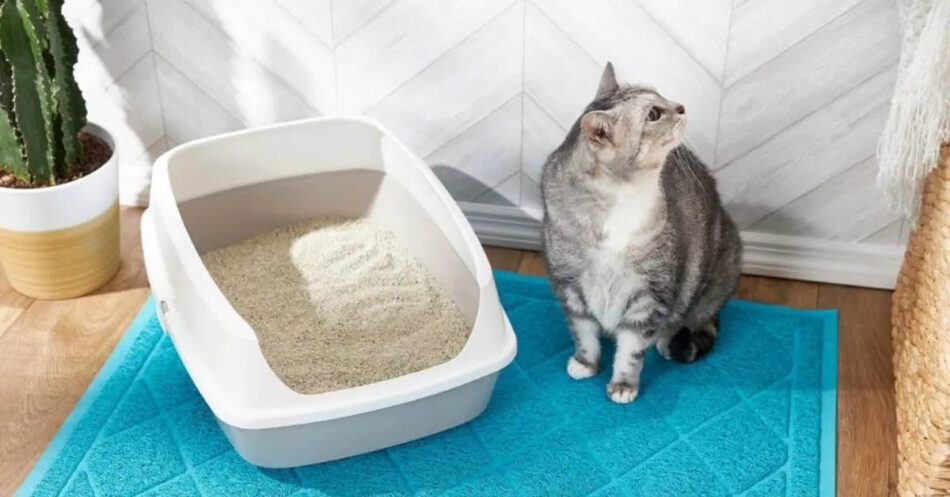 How to Keep Your Cat Litter In the Box and Off Your Floor
Being a cat parent brings so many absolutely wonderful moments into your life.
The snuggles, the crazy antics, the purring, and those adoring kitty gazes will melt your heart every time!
As much as we love the cuddles and playtime though, there are a few cat care jobs that we'd be pretty happy to forget about — like cleaning the litter box. Let's be honest, litter box duty isn't high on any cat parent's list of favorite things to do.
It wouldn't be such a big deal if all kitties were neat nicks like my cat, Turtle. Her kibble always stays in her bowl, and her litter box habits are just as tidy. But then there's Olivia! If scattering litter was an olympic sport, I'm pretty sure she'd be in the running for a medal!
Stepping on a floor full of litter in my bare feet is more than a little gross! Not to mention that I'd much rather spend my spare time cuddling my kitties instead of cleaning up after them. So I've got a few tricks up my sleeve to make the job a little easier.
I use an enclosed litter box which I scoop out daily. I keep a broom and dustpan stored nearby so cleaning stray litter off the floor is convenient. And I've found that using the right litter really does make a difference.
I'm a big fan of World's Best Cat Litter. It's 99% dust free, it's flushable, and it's great for controlling odors. It's made with people, pet, and planet-friendly corn. Plus, it has impressive clumping power, which means you use less and spend less money.
It did cut down on the mess, but my Olivia is not easily discouraged. Somehow she still finds a way to "spread the joy."
That's why I was more than a little excited when I heard about the new Advanced Zero Mess™ multi-cat formula from World's Best Cat Litter. I got the scoop on this amazing new product at this year's Global Pet Expo, where I learned how it can make life a little easier for moms and dads of persistent litter flinging felines like mine.
Zero Mess™ has all the amazing features of the original brand, plus they've added super-absorbent plant fibers that quickly trap liquids into tight clumps — before anything can stick to the sides of the litter box. That means no scraping, chiseling, or crumbling – which helps keep litter in the box for fast and easy cleanup. And it even has two times more odor control without resorting to overpowering perfumes or fake chemical smells.
Less work, less odor, and less litter on my floor and feet? I'll pounce on that!
I guess for now, Olivia will have to content herself with scattering her kibble, because her litter hurling days are over! I don't think she'll be too disappointed. After all, less work for me means I'll have more time to shower her with my undivided attention!
This is a sponsored post. However, all opinions and anecdotes are my own, and I never promote any products or brands I don't believe in. ~Petfully yours, Kristen.
Pin me!Save