As the weather gets warmer, many dog parents and their tail-wagging friends spend more time enjoying outdoor activities together. And while the great outdoors is full of opportunities for bonding, it's also full of opportunities for getting dirty!
Pin Me!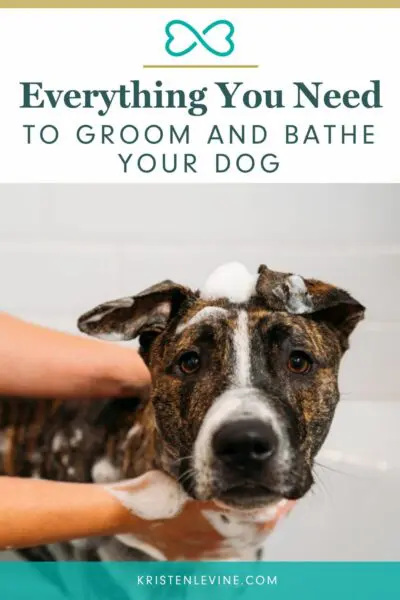 Whether they're at the beach, the park, the trails, or just out in the yard, dogs seem to have a knack for finding the grossest, smelliest thing imaginable and getting it all over themselves! And they enjoy getting dirty much more than they enjoy getting cleaned off afterward!
If you dread bathing your dog as much as he dreads getting bathed, then I have good news for you! There are some paw-some products on the market that can make bath time easier and more enjoyable for dogs and their parents. Here are 10 of my favorite dog bath products to help you take your pooch from "eek" to sleek!
First Things First – Prepare Yourself!
Bathing your dog is most likely going to be a messy experience, but with the right grooming gear you won't have to wring yourself out when you're done!
1. Grooming Apron
I'm a big fan of combining function and fun, so I paw-sitively love this apron
! For the dog-lover, its paw print design lets you show off how much you love your pup. It's water resistant, so your clothes will stay dry, plus it has pockets so you can keep all of your grooming tools handy.
2. Gloves
We all know that sometimes when you're bathing your dog, you need to scrub off some pretty gross stuff! I don't know about you, but some of the muck I've seen dogs rolling around in is muck I'd rather not touch with my bare hands! These gloves
are a big improvement over the traditional yellow rubber ones! Not only do they keep your hands and fingernails clean, they also scrub and massage your pooch while helping to remove loose fur!
Now on to the Bath!
3. Booster Bath
I know from experience that bathing a dog can be a back-breaking job. My back used to be killing me by the time I got done bending over to give Chilly his bath. Then I discovered the Booster Bath
. It's elevated, so I can stand up straight the whole time. My back has been thanking me ever since!
4. Aquapaw
The Aquapaw
can save you the hassle of having to use a cup or a hose to wet down your dog. It's a wearable combination sprayer/scrubber that attaches to your hand and can be turned on and off just by making a fist. It has adapters for indoor bathtub faucets or outdoor garden hoses, so you can use it wherever you choose to bathe your pup!
5. Vetericyn FoamCare Shampoo
No bath is complete without the right shampoo! My personal favorite is Vetericyn FoamCare Shampoo. It comes in four formulas – low, medium, and high density for different coat lengths, as well as a medicated formula. Chilly has sensitive skin, so we love the medicated formula
for him! It's made to clean, soothe, and heal your dog's skin. Vetericyn FoamCare Shampoo is pH balanced, plant-based, and non-toxic. It's easy to use since it lathers up quick, and it's formulated to rinse fast and clean. Plus it has a pump sprayer, so you don't have to fumble around trying to unscrew the cap to a wet, slippery bottle.
Baths on the Go
6. Portable Sprayer
A RinseKit
is the paw-fect solution for pups who get dirty on the go! Its 1.75-gallon tank can deliver enough
pressurized warm water to hose off your pooch after a romp on the beach or a hike leave him too muddy or sandy to get back in the car.
7. Doggie Wipes
If you just need to give your pup's paws or belly a quick wipe, or if you don't have access to soap and water, doggie wipes can do the trick! These wipes
by Good Dog Wipes are natural and alcohol-free. Plus, they contain a moisturizer, so they won't dry out your pup's skin or coat.
After the Bath
8. Microfiber Dog Towel
I don't know how I survived bath time before I found the Shammy Microfiber towel! It absorbs quickly so there is no "wet dog" smell. Plus, it has pockets to make drying a breeze. It even holds up to seven times its weight in water! It's machine washable, so you can use it over and over. And you can shake most of the hair right off before you throw it in the laundry so you won't end up with a washing machine full of fur!
Between Baths
Many of our pooches need a little maintenance between baths too. Here are a couple of must-have tools to keep them looking their best!
9. Grooming Block
Don't let its simple appearance fool you – this grooming tool is amazing! The grooming comb removes tons of loose fur, saving you the work of having to sweep it off your floors or vacuum it off of your furniture later.
10. Nail Clippers
No grooming regimen is complete without proper nail care! Trimming your pup's nails will help keep his paws healthy, not to mention it could save your floors and furniture from scratching! I like these clippers
because they have a safety feature to prevent you from accidentally cutting doggie's nails too short.
So go ahead – get out there and enjoy the outdoors with your furry dirt magnet! With these tools in hand, you'll be ready for anything!