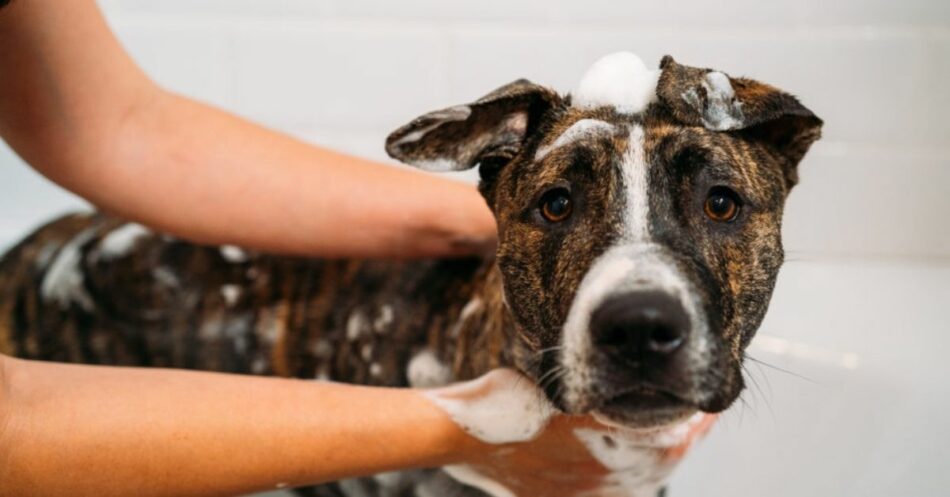 Everything You Need to Groom and Bathe Your Dog
As the weather gets warmer, many dog parents and their tail-wagging friends spend more time enjoying outdoor activities together. And while the great outdoors is full of opportunities for bonding, it's also full of opportunities for getting dirty!
Pin Me!
Whether they're at the beach, the park, the trails, or just out in the yard, dogs seem to have a knack for finding the grossest, smelliest thing imaginable and getting it all over themselves! And they enjoy getting dirty much more than they enjoy getting cleaned off afterward!
If you dread bathing your dog as much as he dreads getting bathed, then I have good news for you! There are some paw-some products on the market that can make bath time easier and more enjoyable for dogs and their parents. Here are 10 of my favorite dog bath products to help you take your pooch from "eek" to sleek!
First Things First – Prepare Yourself!
Bathing your dog is most likely going to be a messy experience, but with the right grooming gear you won't have to wring yourself out when you're done!
1. Grooming Apron
---
2. Gloves
---
Now on to the Bath!
3. Booster Bath
---
4. Aquapaw
---
5. Vetericyn FoamCare Shampoo
---
Baths on the Go
6. Portable Sprayer
---
7. Doggie Wipes
---
After the Bath
8. Microfiber Dog Towel
---
Between Baths
Many of our pooches need a little maintenance between baths too. Here are a couple of must-have tools to keep them looking their best!
9. Grooming Block
Don't let its simple appearance fool you – this grooming tool is amazing! The grooming comb removes tons of loose fur, saving you the work of having to sweep it off your floors or vacuum it off of your furniture later.
10. Nail Clippers
So go ahead – get out there and enjoy the outdoors with your furry dirt magnet! With these tools in hand, you'll be ready for anything!