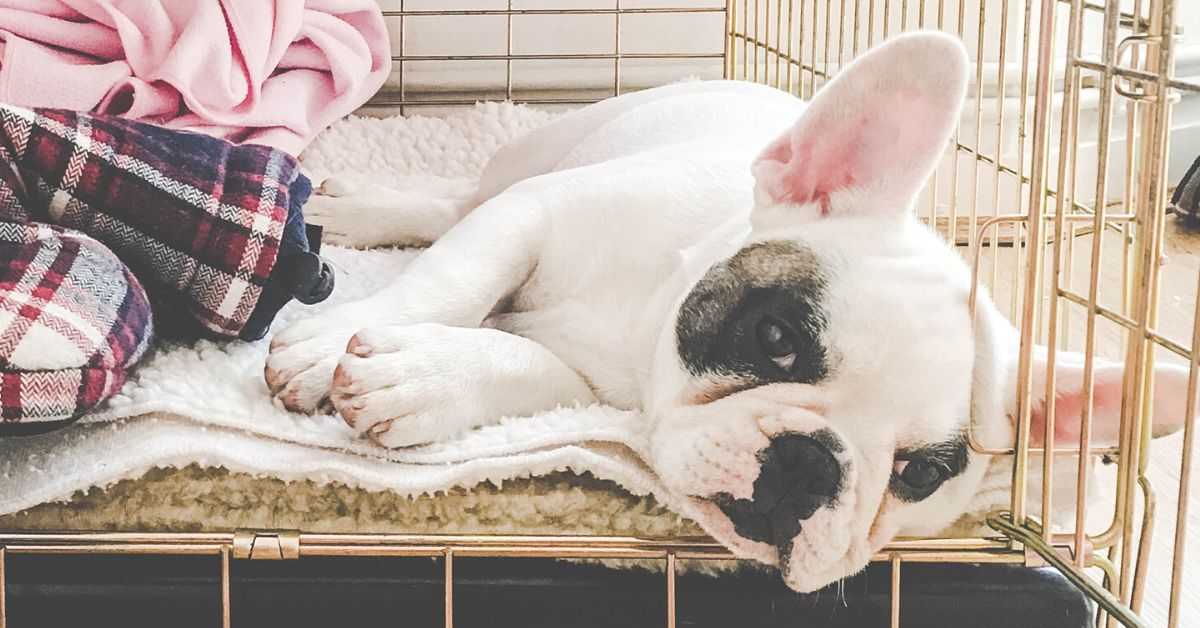 How to Crate Train An Anxious or Older Dog in 4 Steps
If your dog is older or struggles with anxiety, crate training can seem like a monumental task! With advance planning and these expert tips, you and your pup will be singing (or barking) the praises of crate training.
What is Crate Training?
A crate is a practical way to manage and train your dog. New pet parents find using a crate an essential tool in potty training their new puppy.
Crates also allow you to limit your dog's access to parts of your home. As a result, your pup stays in a secure location. They also provide them with a safe retreat when your dog is feeling stressed out by visiting guests or loud noises.
In reality, crates are useful far beyond your home. Dogs are often crated at their veterinarian's office, the groomer's, at boarding facilities, while traveling, and even during natural disasters.
If your older or anxious pup is hesitant to step one paw inside of a crate, the interior can be filled with your dog's favorite crate mattress, blankets, and favorite toys to create a warm, inviting den.
Why is Crate Training Helpful for Anxious Pups and Older Dogs
Perhaps you've recently adopted an adult dog, or you never got around to crate training your puppy, or your fur family is showing signs of stress and anxiety – whatever the scenario, crate training can prove invaluable.
There are moments in life when it's much safer for your pup (and safer for you) that they are confined to one area:
During emergencies and natural disasters
When traveling with your dog
Trips to the veterinarian
Confinement during illness, injury, and recovery
To provide a calm, safe space in stressful situations
Ideally, dog moms and dads should start young when training their pups. But older dogs and dogs who struggle from separation anxiety can really benefit from crate training too.
Older Dogs: If you didn't have the opportunity to crate train your dog from their formative puppy years, don't worry, it isn't too late. As humans, we may think we "can't teach an old dog new tricks", but that simply isn't true. Older dogs can learn new habits, it just may require more patience and repetition from their pet parents.
One dog mom told me about her experience crating her senior dog. Pamela said her dog, Pepper, was never crated until she reached 14 years old and began experiencing cognitive decline. Pamela was renting a new home and was worried about how Pepper would react to being in a new place.
She was also concerned that a crate might feel too confining for Pepper. However, she told me, "I was so glad we got her used to a crate. It became her spot where she felt safe. We called it her "house" because it was really was her very own."
Most pet parents find the benefits far outweigh the hard work. In emergency situations, your dog will be safer than if they were on a harness or left on their own.
If you've recently adopted an older dog, they may get anxious as they adjust to their new home, and have potty training accidents. Typically, dogs won't soil their personal space (unless there are medical issues), so a crate can be a useful tool as your new dog adjusts.
And compared to a rambunctious puppy, your older dog, like Pepper, will likely relish the cozy, quiet, den-like hideaway of their crate.
Anxious Dogs: Unfortunately, crate training won't cure your pup's anxiety. But it can definitely cut down on some of their anxious behaviors. The most effective way to treat your dog's anxiety is to consult your veterinarian.
They can give you expert help that may include prescription medications, natural solutions, and lifestyle changes to calm your pet. These adjustments, in conjunction with crate training, can help your fur friend regain their calm.
Before visiting your veterinarian, I suggest you "bone" up causes and solutions for dog anxiety so you can make the most of your visit by asking your veterinarian the right questions.
You can learn all about dog anxiety right here on my blog.
A crate can help an anxious dog feel safer if they're triggered by loud noises like thunder or fireworks. And if your pup suffers from separation anxiety, they may feel comforted by having a safe, enclosed space to retreat to.
Pin me!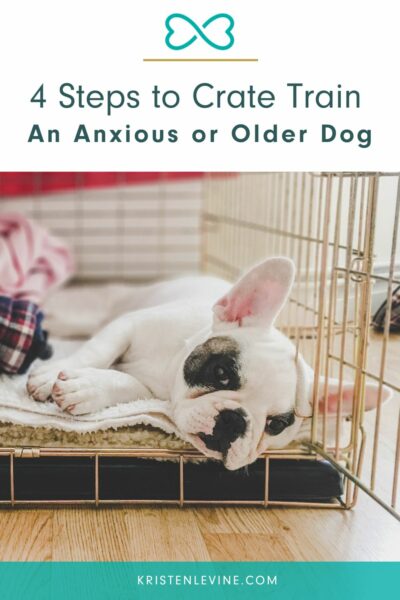 Make the Crate Appealing – Choose a crate that's large enough for your dog to comfortably lie down, stand up, and turn around. Add cozy blankets or a plush crate bed like this one from my friends at Snoozer Pet Products.
Use Tasty Treats and Fun Toys – Your pup may be hesitant to get near their crate at first. So there's nothing wrong with enticing them with a yummy snack or their favorite toy. Doing this builds positive associations. Be sure to praise your pup when they retrieve the treat or toy.
Encourage your dog to enter their crate – Once your pup is comfortable being near their crate, try moving their toys, treats, and water bowl inside. Gradually move the items from the front of the crate to the back, until your dog is fully inside. Again, remember to praise your dog for these baby steps! Make sure to leave the door open and encourage your dog to come and go as they please.
Try closing the crate's door – This is where patience and perseverance will really pay off. Once your dog is inside their crate, try closing the door for several seconds before letting your dog out. Keep repeating this step, gradually adding more time as you go.
When your dog is comfortable, you can increase the time by minutes, and even up to an hour or more.
Note: If your dog panics or gets stressed during training, let them out of their crate for a break. Setbacks are a part of the process. But with regular training, you and your dog will be more comfortable with using a crate.
What Type of Crate To Buy
Not only is it important to properly train your dog to use their crate, but it's also vital to choose the crate that's best for your dog and their circumstances.
Just like your fur family, dog crates come in all shapes and sizes. Each style has its own unique advantages to fit your dog's needs. Here are a few favorites among the Pet Living Team:
Wire dog crates are easily portable, and collapse for stream-lined storage. This wire crate comes in sizes ranging from 22 to 48 inches. It assembles in seconds, without any tools conveniently folds flat for travel and easy storage.
In addition to a leak-proof liner, it features the patented Paw Block slide bolt, which prevents your dog from tampering with the door lock from inside the crate. And if your pup struggles with anxiety, a crate cover like this one can give them added privacy while still giving proper ventilation.
2. Soft-sided dog crates like this one are paws down the way to go for smaller breeds. This particular crate by Petsfit is made with durable cloth and stainless steel inner supports.
Compared with metal crates, this lightweight option is great for traveling, and outdoor activities like camping.
Pamela used this type of crate for Pepper. Since senior dogs may not be as likely to try and chew through the fabric, soft crates can be a nice option to get them used to crating.
3. The High Anxiety Crate from Impact Dog Crates is specifically designed for dogs who suffer from severe anxiety. As much as we'd love to spend every waking moment with our fur family, it's just not possible.
When some dogs are left alone, they suffer from separation anxiety causing them to feel stressed out and unhappy until their human family returns home.
A tell-tale sign of a dog with separation anxiety is destructive behavior. When left alone, they may claw, chew, and shred everything in your home, from shoes to furniture, and even doors.
The High Anxiety Crate by Impact Dog Crates is engineered to keep your anxious pup (and your home) safe. It's welded and riveted together for maximum strength, providing a secure and durable solution for pups who may try to escape from the safety of their crates.
At Pet Living, we also love this crate's small ventilation holes. They provide adequate airflow but are just the right size so your pup doesn't get their teeth stuck, causing injury to themselves.
If your pup gets anxious and is a master of escape, this crate is just for them! They'll feel calmer and more secure in their own private den.
Use my affiliate code PETLIVING to get 15% off your order!
The Final Woof
Crate training older and anxious dogs is a great way to keep your pup safe and to be prepared for emergencies, travel, and recovery from illness. With the right crate, a little patience, and perseverance, your fur family will be enjoying the cozy comforts of their crate in no time!