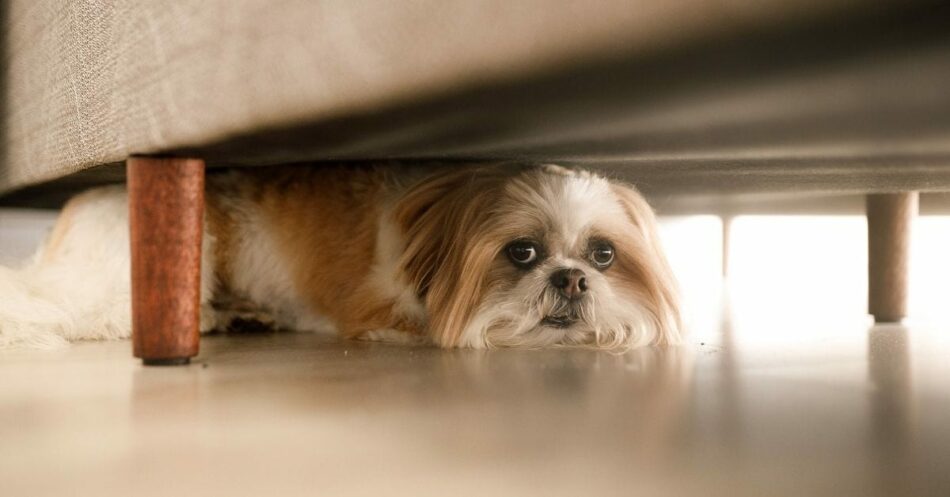 How To Calm Your Dog During Thunderstorms
Thunderstorms are a hallmark of summer, especially here in Florida. But if your dog is afraid of thunder, storms can be a source of anxiety. Each summer I can't help but think of my dog, Buck. For him, summertime thunderstorms were anything but happy.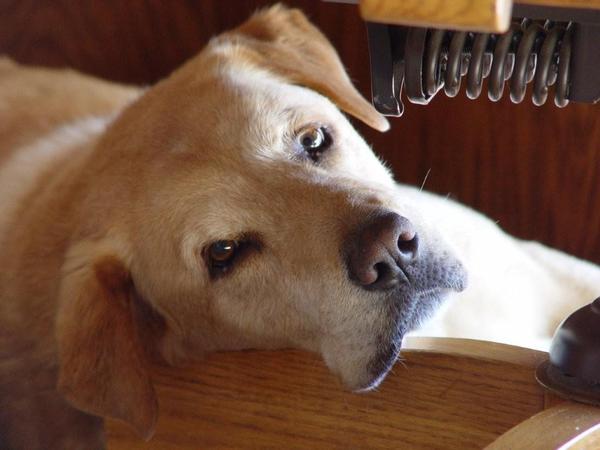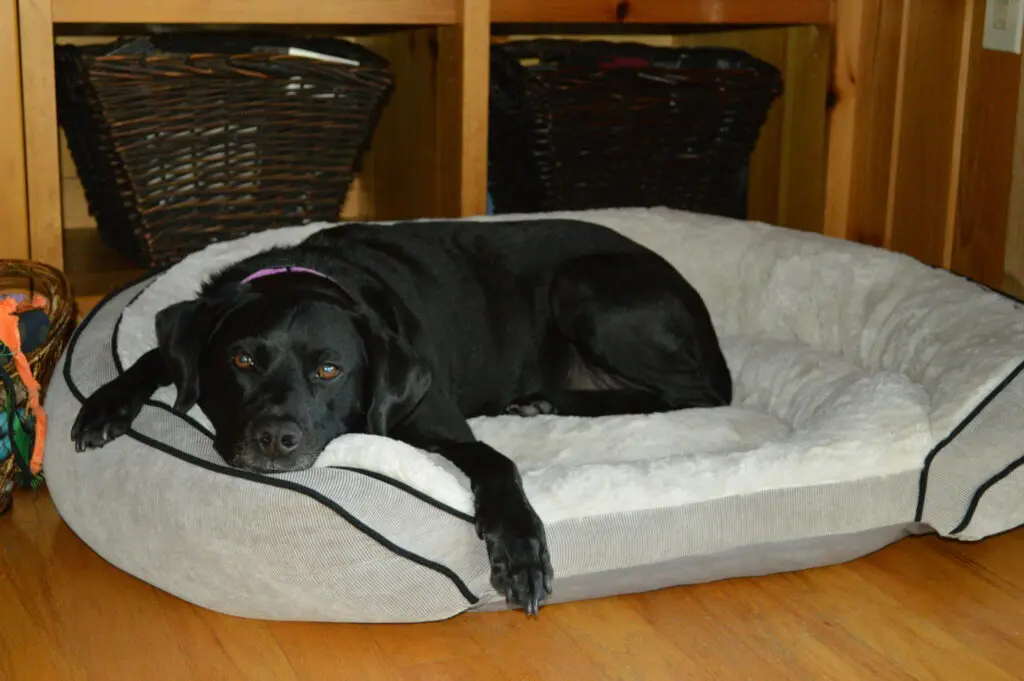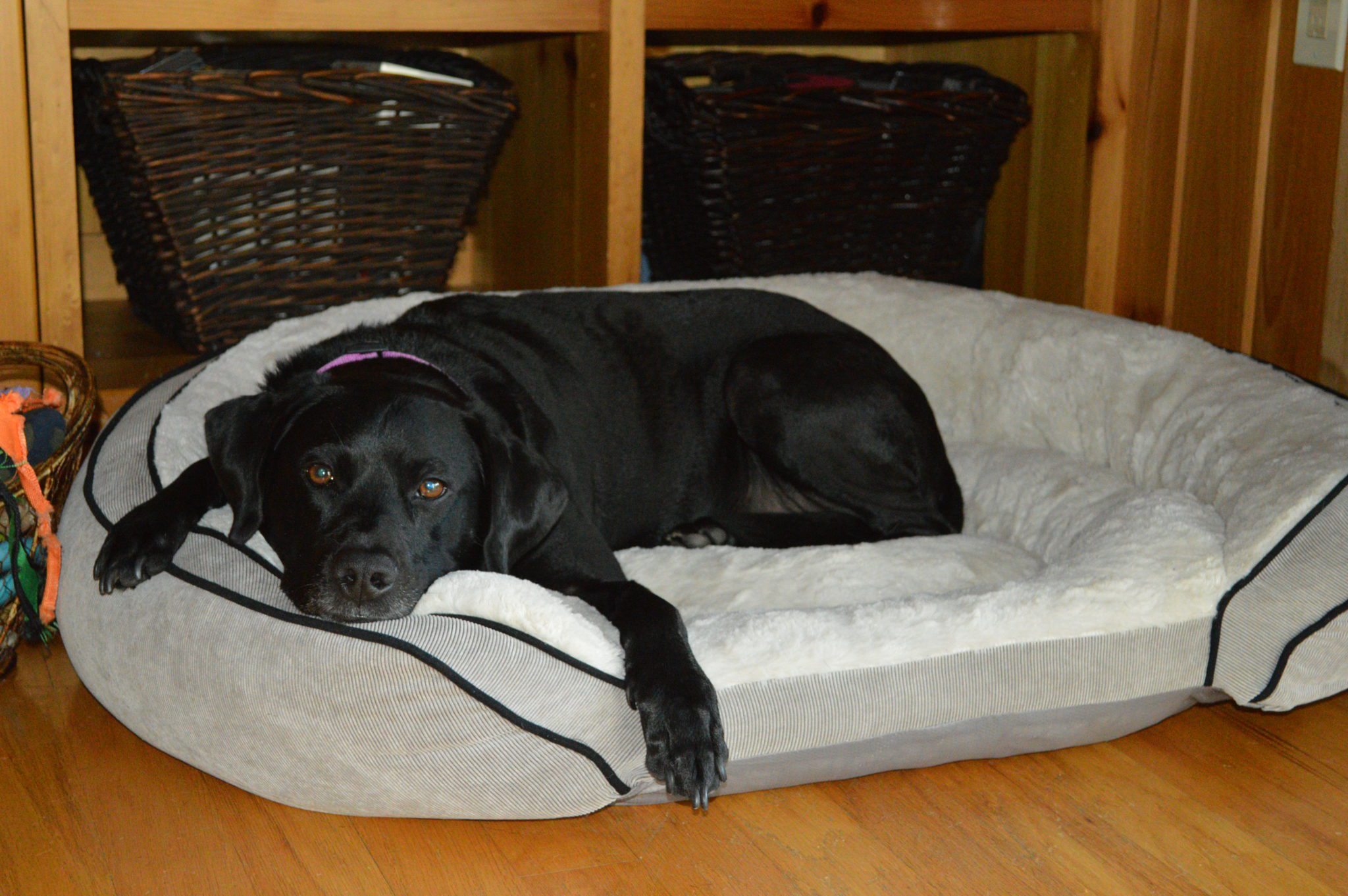 Buck had a severe thunderstorm phobia and noise aversion. It began as a general restlessness during thunderstorms and eventually escalated to destructive and dangerous behavior.
My dog, Chilly, was diagnosed with noise aversion a few years ago. Like Buck, over the years, his symptoms escalated, resulting in destructive behavior. For example, he tried to break through a closed closet door to hide from the frightening noise of thunder. It was heartbreaking to see him so fearful. We were worried his condition would continue to worsen and that he may hurt himself.
But with the right resources, we were able to help both of our dogs manage their anxiety. One of the first steps in getting help is learning to identify the signs of anxiety in dogs who are scared of thunder.
Dog Anxiety Signs
My experience with Buck and Chilly taught me the importance of knowing the signs of anxiety. This type of phobia does not go away – in fact, it usually gets much worse as time goes on, as it did in the cases of Buck and Chilly. The sooner you can identify signs of anxiety, the sooner you can get help for your pup. When Chilly is frightened by thunder, his reactions include: cowering, whining, panting, trembling, freezing in place, and hiding.
If your dog is showing any of the following signs, he may have noise aversion:
Panting, lip licking, or yawning
Trembling or shaking
Cowering or hiding
Excessive Drooling
Inappropriate peeing or pooping
Barking, crying, or whining
Pacing, restlessness, or hypervigilance
Clinginess
Flattened ears
We also chose to speak with a board-certified, veterinary behaviorist, Lisa Radosta, DVM DACVB. In Buck's case, she was able to provide us with an official diagnosis and shed some light on his behavior. Dr. Radosta unlocked some valuable insights about noise aversion in dogs. Watch my interview with her here:
Why Are Dogs Afraid of Thunderstorms?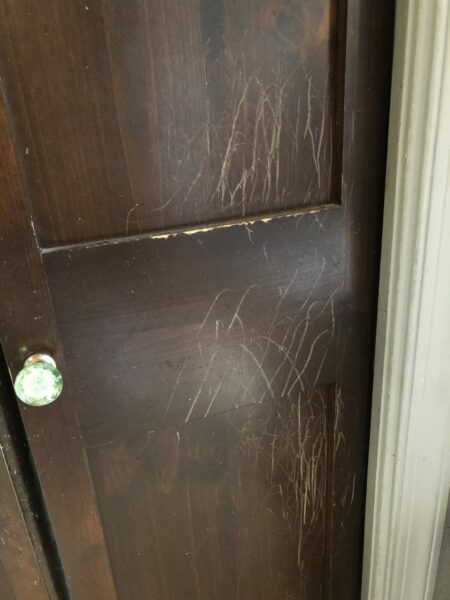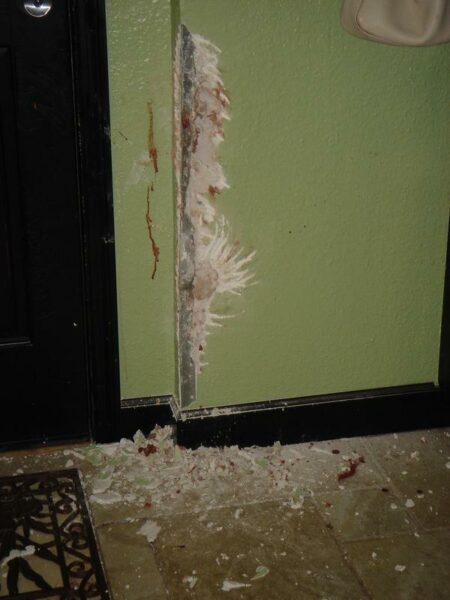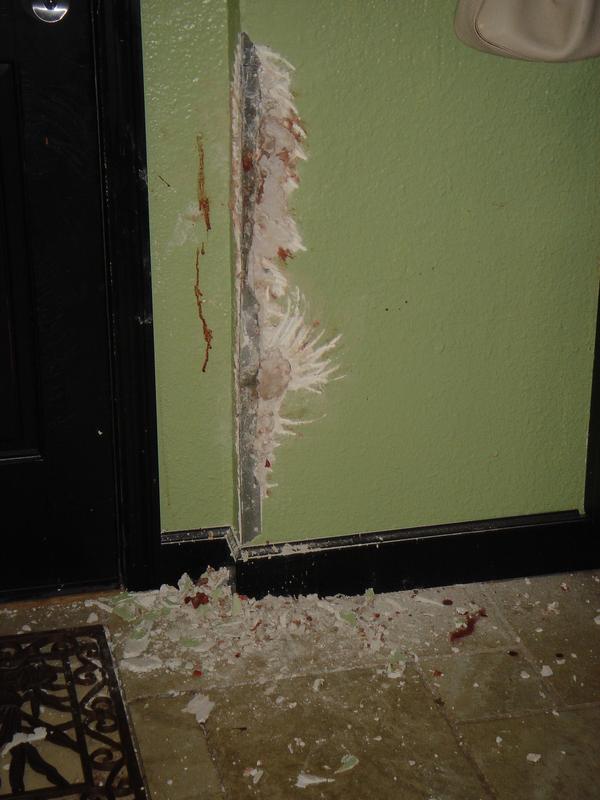 Once you know what signs of anxiety to look for, it's important to understand why your dog is afraid of thunderstorms.
Have you ever been startled by a large clap of thunder? As humans, that brief moment of surprise quickly subsides when we realize where the noise came from. But our dogs don't know or understand what thunder is. From their perspectives, they hear a loud, surprising noise and perceive it as a threat.
This fear can increase when a dog is home alone and is suffering from separation anxiety. That was the case with Buck. He would chew through the drywall (down to the studs), mangle doorknobs, and shred wooden molding.
The behavior eventually escalated to rubbing his nose violently on various things to the point of tearing a bleeding gash on the top of his nose – every day, even if no storms occurred. No pet should have to suffer from such extreme and dangerous terror.
How to Help A Dog Scared by Thunder
Managing our dogs' fear of thunder has been an educational experience. Knowing there are so many pets suffering from fear of thunder and loud noise has motivated me to help as many pet parents as possible learn how to get help for their anxious dogs.
I even founded the Pet Anxiety Awareness Event, held each year during the month of June.
If you're concerned about your dog's fear of thunder, please speak with your veterinarian. Also, consider asking for a referral to a board-certified veterinary behaviorist.
I found that a layered approach works best for Chilly. Treatments include natural therapies, behavior modification, and medication when necessary. Every dog is different, so you might need to do some trial and error before you find the combination that works best for your dog.
Pin me: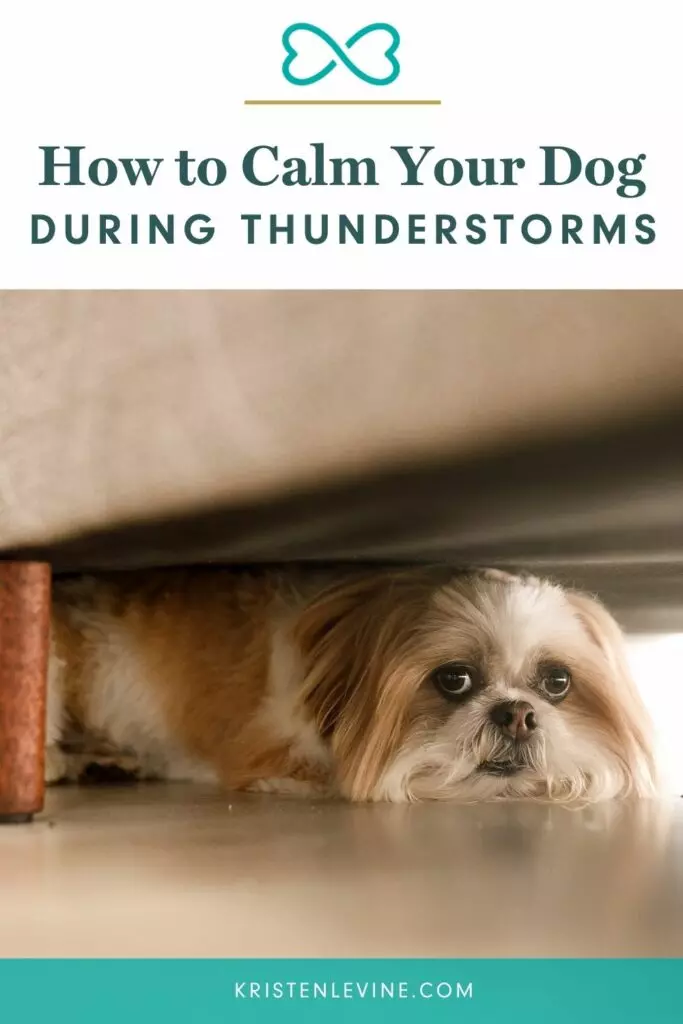 Behavior Modification
One common form of behavior modification is to gradually desensitize your dog to the noises that cause him anxiety. For my dogs, I use DOGTV. It's the first and only television network for dogs. They offer videos that may help train your dog not to be afraid of scary noises, such as thunder.
This is how to use it. Start by playing a recording of the scary noise at a low volume and reward your dog with a yummy treat if he remains calm. After several days, you can gradually begin to increase the volume. But if you see signs of fear, turn off the sound so as not to stress your pup! This treatment requires patience and needs to be done very gradually to be effective.
Natural Remedies for Dogs Scared by Thunder
There are many calming, natural solutions on the market that can help your anxious dog with his fear of thunder. I think I've tried almost all of them! Here are my favorites.
The Anxious Pet offers veterinarian-formulated solutions that help calm your pup. Their Organic Hemp Oil is a staple in the Levine household.
This hemp-derived CBD oil is created specifically for pets, so it's safe to use on your dog. (Note: Human-grade CBD products should not be given to pets.) Follow the dosing instructions and administer around 20-30 minutes before a noise event, if you can. It's also best to avoid giving the drops to puppies under one year of age.
---
ThunderWunders Calming Chews for Dogs contain ingredients that promote calm and relaxation. These tasty, bite-sized
treats can be given to your dog about 30 minutes before a stressful event, such as a thunderstorm.
They're packed full of thiamine, L-Tryptophan, melatonin, and other calming, natural ingredients. You can read more about ThunderWunders and other calming treats on my blog post, here.
---
Zylkene is another natural solution that I love. This over-the-counter supplement relieves signs of anxiety without causing drowsiness. It's formulated from a naturally calming ingredient extracted from cow's milk. It gently calms your dog and manages the troubling behavior often seen in dogs scared by thunderstorms. Read more about why I love Zylkene, on my blog post here.
---
Zoundz Music For Pets™ is another natural remedy that I love. Can music help your anxious dog during thunderstorms? The answer is yes! I'm honored to be on the advisory board for Zoundz Music For Pets™. Backed by breakthrough research, Zoundz music is composed to effectively reduce stress and anxiety in dogs. Simply download the Zoundz app from your app store. You can choose species-specific music for your pet and tune into the channel that addresses his specific need, such as "Scary Sounds". The calming music will create a relaxing environment to help settle your anxious pup.
Does ThunderShirt Work for Dogs With Anxiety?
I get asked this question a lot, and the answer is yes!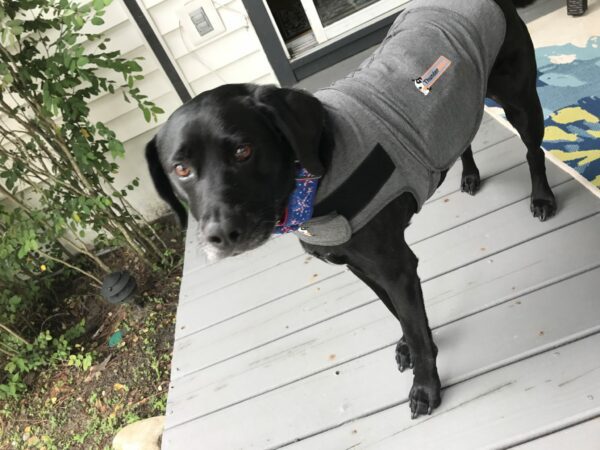 We've been using ThunderShirt for years to calm Chilly's noise anxiety as well as travel anxiety. Just like swaddling an infant, ThunderShirt is designed to apply gentle, constant pressure to your dog's torso. It's veterinarian recommended and proven to be over 80% effective in calming pets during stressful events like thunderstorms.
The brand's founder invented ThunderShirt as a way to help comfort his anxious dog who was scared of thunder. My dog, Chilly, uses his ThunderShirt along with his ThunderEase Calming Collar. The collar releases calming pheromones that help reduce his stress along with his ThunderShirt. Read more about ThunderShirt on my blog post here.
Medications for Your Dogs Anxiety
Despite natural therapies and behavioral modification, it's possible your dog's noise anxiety is severe enough to warrant medication.
If so, be sure to talk to your veterinarian about what might work for your dog. Prepare well for your vet visit and bring pictures or videos of your pup's anxious behavior during or leading up to a thunderstorm.
Make sure to ask specifically about noise aversion and ask about a medication called SILEO®. It's been been a game-changer for Chilly's noise aversion!
You Can Find Help for Your Anxious Dog
If thunderstorms trigger your pup's anxiety, there are a lot of things you can do to alleviate his symptoms. Dogs, in general, have sharper hearing than pet parents do. So it's understandable that they may become anxious, not knowing why the noise is happening or where it's coming from.
With persistence, patience, and expert help, we found solutions that helped my dog, Buck, calm his anxiety. We've also had great success with prescription and natural remedies in managing Chilly's noise aversion. Be sure to talk to your veterinarian and consider consulting a board-certified veterinary behaviorist. Remember, you and your pup are not alone and it is possible to help your anxious dog manage his fear of thunder.