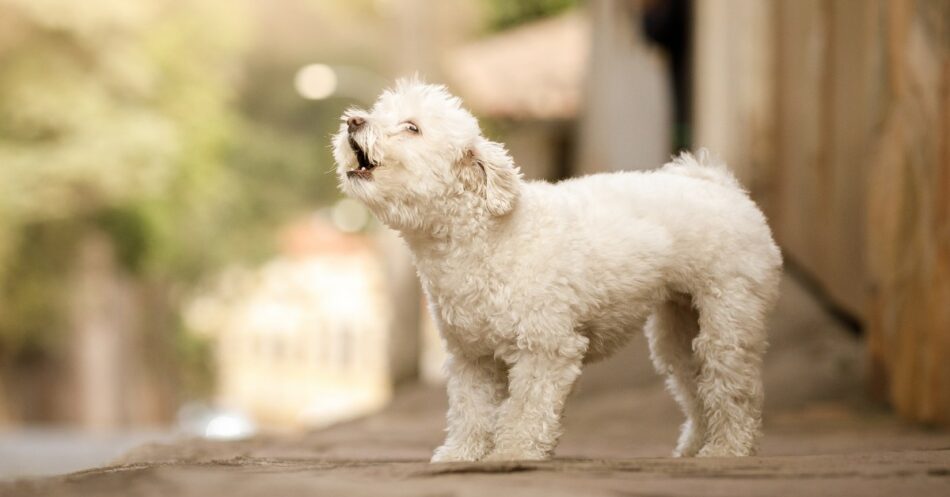 Do Dogs Get Tired of Barking?
All dogs bark. It's their way of communicating. But do dogs get tired of barking? And how can you break the cycle of incessant barking to make your home a more peaceful place?
Do Dogs Get Tired of Barking?
Will your dog ever get tired of barking, of hearing their own voice? No. The more your dog barks, the more they naturally want to bark. It is "self-reinforcing," which means the more they do it, the more they want to do it.
Will your dog ever get physically tired enough to stop barking? Yes, but it can happen long after you've reached your limit.
So how long can a dog bark? Dogs can actually bark continuously for a few hours to even a few days, as long as the trigger is still present. Over time, a continuously barking dog will get physically tired, and a tired dog usually barks less. But in most cases, your dog is likely to stop barking before that happens because the reason for the barking is gone, not because the barking itself has tired them out.
In many states, dogs barking continuously for 10 to 20 minutes can be considered a public nuisance. Take Pennsylvania as an example: here, if a dog barks for more than 10 minutes within an hour, it's deemed unlawful, and neighbors have the right to report this to authorities and file a complaint. So if you reside in an apartment or a neighborhood with close proximity to others, you'll need to make sure you manage your dog's excessive barking.
Pin Me!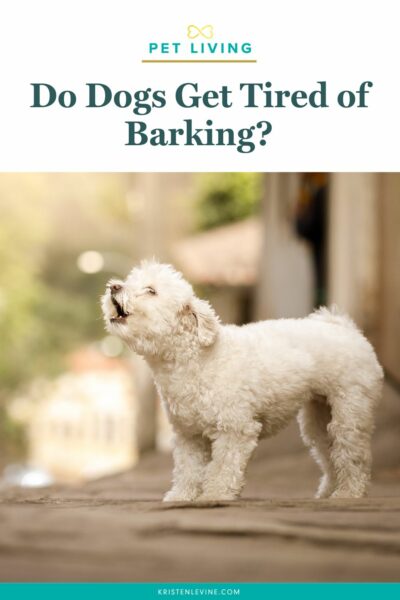 Why Don't Dogs Get Tired of Barking?
Barking is a dog's way of communicating. If your dog doesn't feel they are being listened to or having their needs met, they are going to keep "talking" by barking.
By doing your best to figure out what your dog is trying to tell you with their barking, not only will your dog be happier, but you'll also have a more bark-free home.
I should warn you that certain causes of excessive barking are not going to be an easy fix. To reduce excessive barking, you'll need significant commitment to stop this behavior through behavior modification or even enlisting a professional dog trainer, veterinarian, or veterinary behaviorist.
That being said, it's definitely worth the effort for both you and your pup.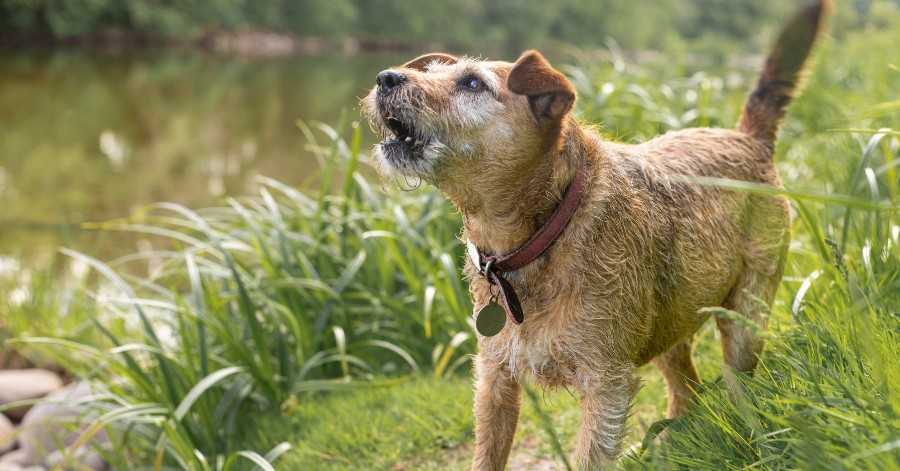 Do Certain Dog Breeds Bark More than Others?
Yes, certain dogs bark more than others. Some breeds are naturally more vocal or have been trained for roles that require them to bark more. For instance, guard dogs, herding breeds, and hounds might be more prone to vocalize their observations or concerns. Terriers are also quite vocal! I should know, I have one of my own. Tulip, a Jack Russell terrier mix, is small, but her bark is loud and ear-piercing!
But remember, while breed tendencies do play a role, individual personality, environment, and training also have a big say in your dog's vocal habits. So if you prefer the quieter side of canine conversation, it might be worth doing a little research on breed tendencies.
Why Do Dogs Bark?
There's always a reason why some dogs bark excessively:
They're Excited
Excited barking can start with anything from seeing their favorite person walk through the door to hearing the jingle of their leash to seeing another dog running through the front yard.
This type of barking usually fades as soon as the excitement fades. You can often spot excited barking by watching your dog's body language. Wagging tails, spinning in circles, and dancing feet are all telltale signs of excited barking.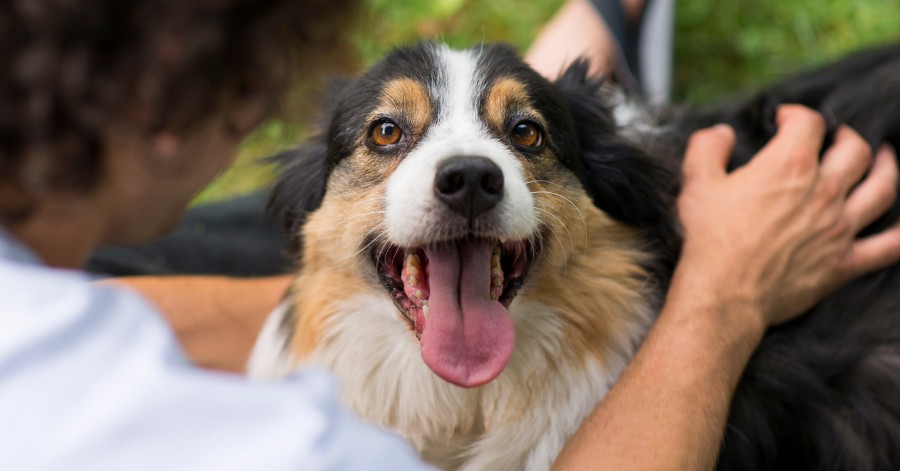 They're Hungry
If it's about the time you normally feed your dog and you hear them barking for seemingly no reason, they might just be hungry and "asking" for food.
It's good to be careful with this type of barking, though. If it's not mealtime and your dog is barking for food, it may be tempting to give them a treat to stop the barking.
However, then you've taught them that barking gets them treats. And you can count on them to remember that lesson.
They Want Attention
Do you have a habit of petting and playing with your pup when you get home from work? If you forget, your dog may start barking to get that wanted attention. Dogs are pack animals, and they aren't meant to be alone.
Taking your dog for a walk is another way of giving them attention. If it's their regular walk time, they may start barking to remind you of that—and keep on barking until you actually head out the door.
They're Bored
Dogs all have different needs for mental and physical stimulation. Some breeds, in particular, like those in the herding and working classes, need a lot of physical and mental activity.
If they don't get that stimulation, they may resort to constant barking and even destructive behaviors.
If you are interested in bringing home a high-energy dog, make sure you will be able to provide the activity they need. Otherwise, it can lead to frustration for both of you.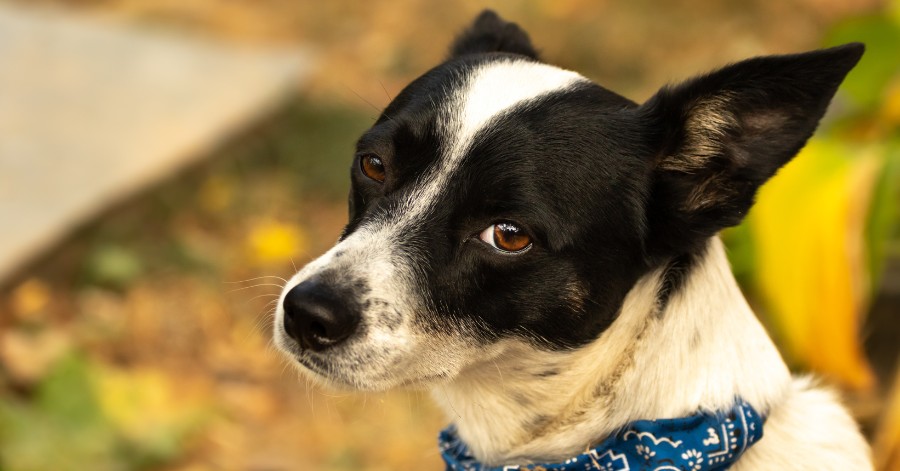 They're Anxious
Anxiety and fear in dogs can cause continuous barking.
Dog anxiety can be caused by many things, from strangers in the home to separation anxiety. Noise phobias are another common cause and can be triggered by things like thunderstorms or fireworks.
Narrowing down the cause or trigger of your dog's anxious barking is the critical first step to stopping this behavior.
They Have Canine Dementia
As our dogs get older, they may begin to suffer from canine dementia. Barking at something that isn't there is a common sign of cognitive dysfunction in senior dogs.
If you suspect your dog may have canine dementia, talk to your veterinarian to confirm the diagnosis and learn what you can do to help.
How to Stop Dogs from Barking
We know that dogs don't get tired of barking. So determining the reason behind your dog's barking is critical.
Once you know your dog's trigger, you're in a much better position to help them. Here's how to help stop some of the most common causes of this behavior.
Barking from Excitement
If your dog is going on an excited 15-minute barking spree every time a car goes by, you may want to retrain them.
Retraining a dog from excited barking uses treats and love to reward them for "good" behavior.
Have someone "activate" your dog's trigger, say by driving by your house and ringing your doorbell. If your dog starts barking, say "No" firmly but gently. Only reward them and give them attention when they don't bark.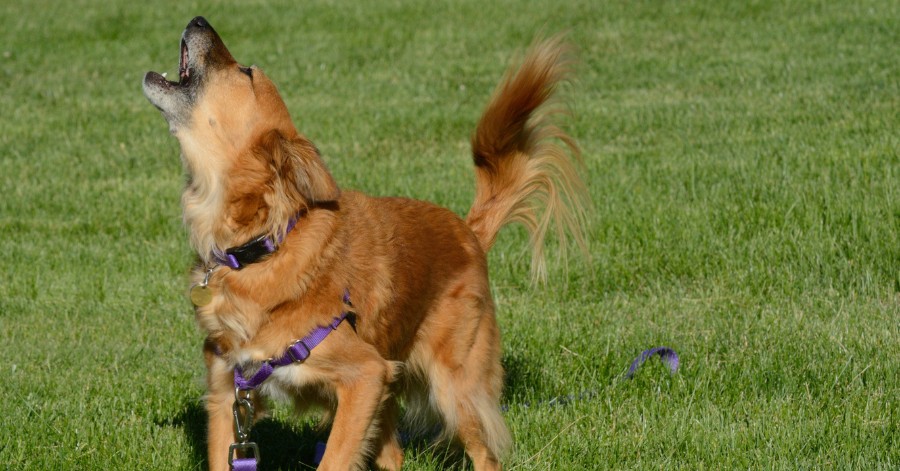 Barking from Boredom
For bored dogs, finding new activities and toys can help.
Old standbys like fetch and tug-of-war fetch are classics for a reason. They also give you great opportunities to bond with your dog. You also might try teaching your dog a new trick or inviting a doggy friend over for a play date.
If you have to leave your dog by themselves for long periods of time, like while you're at work, there are still ways to help your pup. 

Put out special toys that they're only allowed to have when you're not there. Try a service like DOGTV to help keep them entertained. Another option is having a dog walker come by during the day to help them use some of that pent-up energy.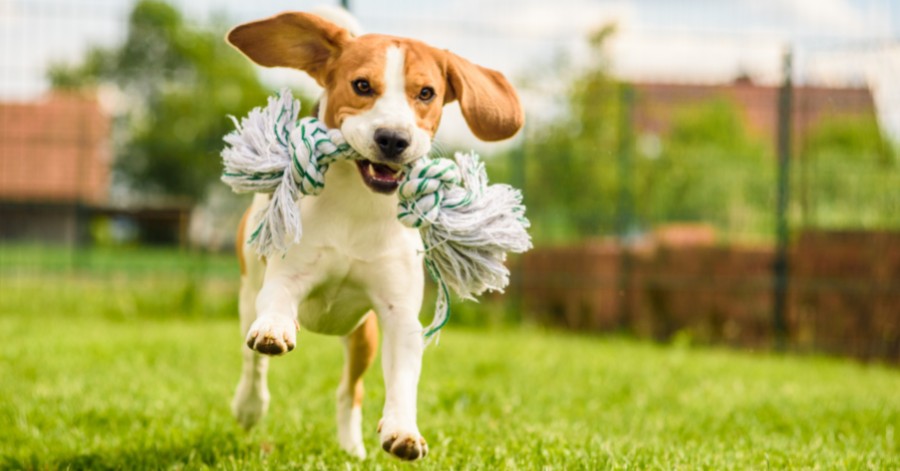 Barking from Anxiety
As mentioned above, identifying the trigger for your dog's anxiety is step number one. It could be separation anxiety, loud noises, or something else entirely. Once you know what your dog's triggers are, you can work to help them overcome their fears.
In certain cases, you may wish to speak with your veterinarian about medications that can help.
You can also help your dog by limiting their exposure to their triggers and by helping them feel safe. One way to do this is by creating a safe space in your house.
Put a dog bed and some of their favorite toys in a nice quiet corner of the house that they can call their own so they have a place they feel safe where they can retreat to if needed.
Can I Use a Bark Collar?
No. Bark collars, while intended to deter barking, actually punish the behavior. Dogs are not able to understand why they are being punished for what they know as normal dog behavior. Bark collars may provide a short-term solution, but they don't address the root of your dog's excessive barking. In fact, using bark collars might make the underlying reasons for their barking worse and reinforce excessive barking.
Can Dogs Lose Their Voice from Barking Too Much?
Yes, dogs can become hoarse when they bark a little too much. Just like we might get a sore throat after cheering too loudly at a concert, our furry friends can also stress their vocal cords. If a dog barks excessively, they might end up with a hoarse-sounding bark or even lose their voice temporarily.
If your pup's voice seems off or they're showing signs of throat discomfort and they're still barking, consult your veterinarian.
The Tail End
So we now know the answer to the question, "Do dogs get tired of barking?" (No.) When your dog won't stop barking, it can try your patience. However, by figuring out the causes and triggers of your dog's barking, you can help redirect that energy into more positive outlets for an all-around happier and quieter family life.