We cat parents will do practically anything to keep our feline friends happy and healthy. For parents of indoor cats especially, this involves making sure that their indoor environment provides lots of opportunities to keep their little kitty minds and bodies stimulated and active. So we set them up with scratching posts, cat beds, cat trees, and all kinds of other climbing structures.
You may have noticed that a lot of the cat furniture on the market, although it meets a cat's needs perfectly, was not designed with looks in mind. And by the time you've brought in enough of it to keep an active cat happy, it can start to take over your decor.
There's no need, however, for your home to look more like a kitty playground than a place that humans can relax in and enjoy. If you look around a little, you can find cat furniture that makes you just as happy as it does your cat.
Pin me!
Fabulous Feline Furniture That Won't Make You Look Like a Crazy Cat Lady
Classy Climbing Walls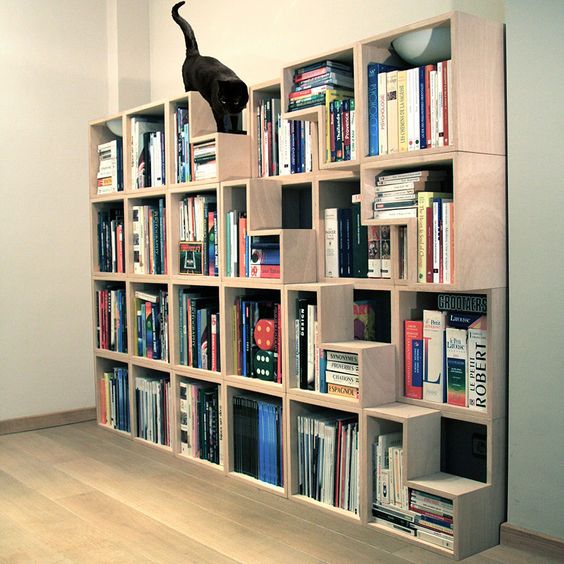 Don't assume that just because you don't have a lot of space you can't add a climbing wall for your cat. A bookshelf like this would be purr-fect for anyone who needs cat furniture that's both fun and functional! It gives kitty a great space to climb and a nice high vantage point from the top to survey his domain, but it does it all without sacrificing needed storage space for the human members of the family.
Throw in a nice soft cushion at the top, and Fluffy will have it made!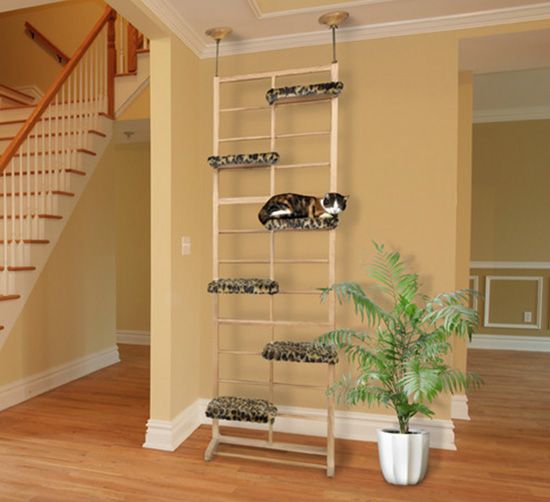 This climbing tower offers a floor to ceiling adventure for kitty. And, since it attaches to the ceiling with tension rods, there's no need to worry about leaving holes in your walls or ceilings! The six perches can be positioned anywhere on the structure to accommodate cautious or confident climbers. It's also made of solid wood, so it looks modern and stylish.
Cool Cat Trees
Cat trees are great for so many reasons. They satisfy a cat's natural desire to climb and perch, and many of them are also designed for scratching. As much as our cats love them though, some of them just aren't very stylish. I've uncovered a few cat trees that can actually add to the decor of a room without sacrificing any of your cat's enjoyment.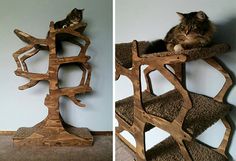 This handmade cat tree takes functional art to a new level! Designed to look like a real tree, it hits the ideal balance between rustic and modern.
Since each tree is made to order, it can be stained any color, and you can choose carpet to match.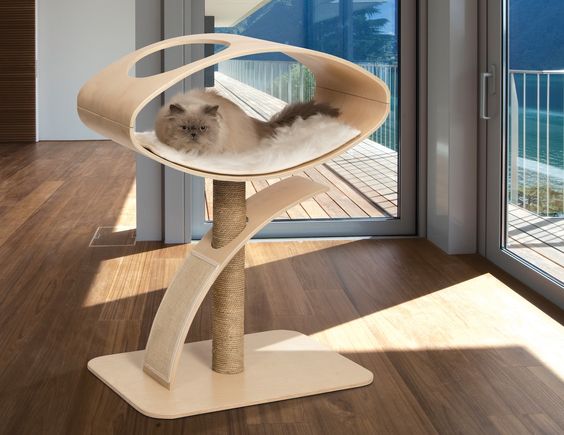 This modern-looking cat tree offers ample opportunities for feline a-mews-ments like scratching, climbing and perching. (Doesn't that cat look cozy?) Plus, it's so sleek and stylish that you'd hardly know it's cat furniture!
Cozy Cat Beds
I have to admit that I don't actually object to the style of a traditional cat bed. There's something so comforting about the sight of a kitty curled up for a snooze on his favorite cushion. However, some of these cat beds have me making plans to add a few extra cat-napping spots!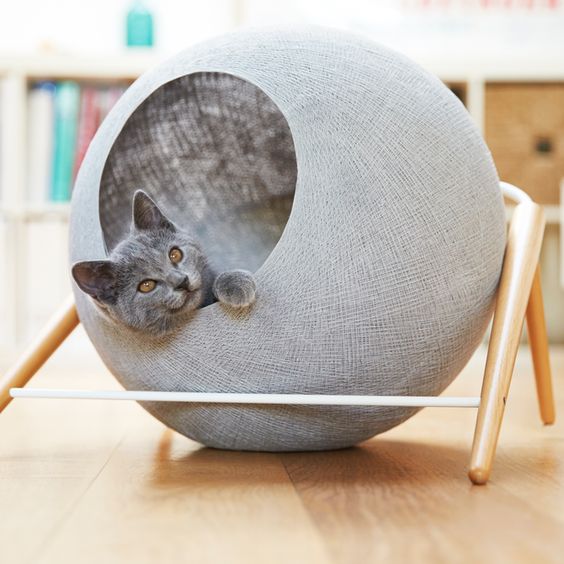 Most cats will attempt to squeeze into just about any small space that they can fit into. (And some that they can't!) This super cute cat cocoon is the purr-fect spot to hide away and get some z's.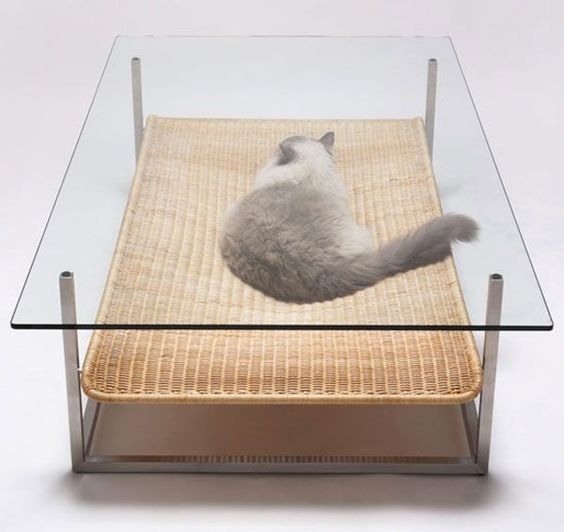 And for the cat who doesn't mind being on display, a comfy hammock suspended beneath a glass coffee table gives him the chance to rest while remaining the object of your admiration.
The fur-bulous products featured in this post are just a few of the amazing ideas found on my Cat Furniture Pinterest Board. Are you ready to be inspired? Click here to follow. Your cat will thank you!