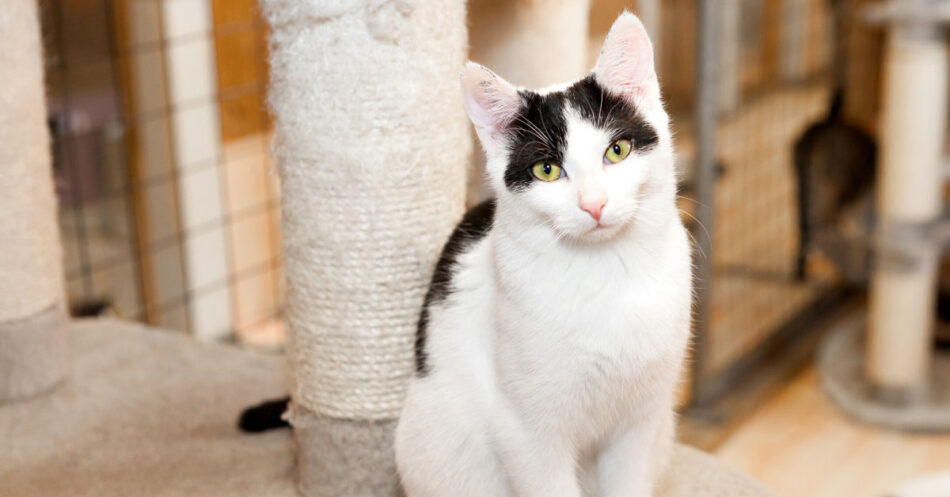 5 Things to Consider Before You Decide to Adopt a Shelter Cat
Want to adopt a shelter cat? There is nothing quite like having a cat in your life. Not only do they offer love and companionship but they're also amazingly entertaining!
Shelters are full of beautiful and amazing cats just waiting for someone to love. If you've been thinking about giving a fur-ever home to one of these felines, you no doubt realize that it's a big decision. With so many cats out there in need of homes, how can you pick the one that will be right for you?
I used to work for the ASPCA in Tampa, Florida and I've also adopted many cats over the years. I've learned a thing or two about how to make the adoption process a great experience. The process actually starts before you get to the shelter.
Pin me: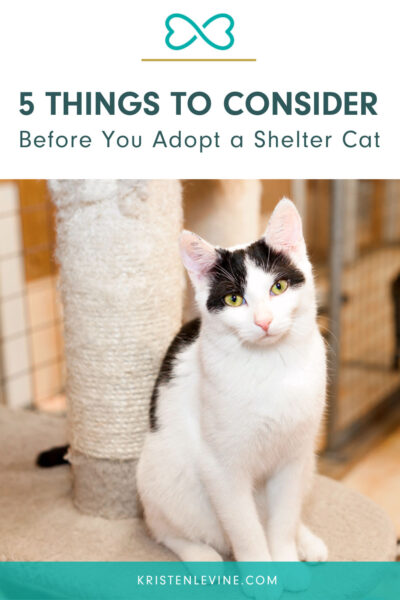 5 Questions to Consider Before You Visit the Shelter
Choosing the purr-fect cat involves a lot more than walking into the nearest shelter and coming home with the first cat that catches your eye. If you and your new cat are really going to make each other happy for life, you need to make a few decisions before you start the adoption process.
Here are a few questions to ask before bringing home your new bundle of fluff.
What kind of personality are you looking for?
No two cats are exactly alike. They all have their own funny quirks and unique personalities. And some people and cats are just much more suited for each other than others. Before you visit the shelter, decide what it is that you are really looking for in your new cat.
Are you looking for a lap cat or one who is content simply being in the room with you while he does his own thing? Would a "chatty" cat tickle your fancy or grate on your nerves? Is your family more suited for an active kitty or one who spends the majority of his time cat-napping? Are you ok with a loner or do you need a cat that will get along with children or other animals?
Once you get a sense of what type of cat personality is compatible with your own, ask the shelter staff for recommendations.
Do you want a kitten, an adult cat, or a senior cat?
There's no doubt about it: kittens are adorable. But they are also energetic, curious, and mischievous. Kittens require much more time, attention, and training than adult cats. They also may not be the best choice for a family with young children. Understandably, kids are fascinated by kittens, but they may not have the skills to handle them without the risk of hurting them or getting hurt themselves.
Adopting a kitten is also a little less predictable in terms of the kind of cat you eventually end up with. You never know exactly what they are going to be like once they outgrow their little kitten personalities. If you have a very strong preference for a certain temperament, you may want to consider an older cat.
Senior cats need homes too! But it's also best to be realistic about caretaking. A senior cat may have chronic health issues that require a pet parent who has the finances to manage their condition. Or, they may have some anxiety from leaving their previous home where they were well established.
All cats need love and care, but it's best to be honest with yourself about what kind of care you can provide. Otherwise, your cat may end up back at the shelter, which is worse for them in the long run.
Do you prefer short or long fur?
This is about much more than deciding whether you like sleek or fluffy kitties. Cats with long fur need regular grooming sessions or they become matted. If you envision yourself spending evenings curled up on the couch with your cat and a brush, then go ahead and bring home that gorgeous long-haired beauty.
However, if you don't have the time to devote to keeping a kitty's fur brushed, a sleek short-haired cat is the choice for you.
How much does it cost to adopt a shelter cat?
The short answer is that it varied widely. Some might be as inexpensive as $25 and others might be as much as $300. It's important to understand why it costs money to rescue a cat from a shelter. When cats are taken in, they may incur medical expenses and there is overhead that the shelter needs to pay for while they're housing your future cat.
On average, owning a cat costs around $50 a month if there are no unexpected expenses. So paying for your cat helps the shelter cover these expenses.
It's also important to note the monthly cost of a cat and make sure there's room in your wallet to properly care for your new feline family member.
What to Do at the Shelter
Once you've narrowed down your options, it's time to visit your local shelter to find your new furry family member. Remember to look beyond appearances and try to really see the kitty inside. Here are a few tips for a successful shelter visit:
When you arrive, take a quick walk through the cat room without stopping to visit any particular cat. Take note of how the cats react to you as you walk by. Do any seem especially interested in meeting you? These are probably the ones you want to learn more about.
Next, go back and spend some time with the ones who caught your attention. Don't expect them to immediately climb into your lap and relax — they may need a few minutes to warm up to you.
Pet and pick them up to see how they react. A cat who bites or swats after being handled for a short time isn't a good choice for families with kids or anyone who is looking for a cuddly lap cat.
If you have children, make sure you get a chance to see them interact with any cats you are considering. Either bring them along on the initial visit or once you've narrowed your choices down to one or two kitties. A good "kid cat" will be patient and interested in them and will move away without attacking once he's had enough.
Ask lots of questions. The staff at the shelter have spent much time caring for the kitties you are visiting and can answer any questions you may have about their personalities, as well as medical issues such as vaccinations and spaying or neutering.
Adopting a Cat with Anxiety
Sadly, many cats end up in shelters because they've been abandoned. They've been displaced from their home for one reason or another, and this can cause signs of anxiety which are sometimes interpreted as bad, confusing, or mysterious behavior.
It's important to educate yourself on these signs and speak to the shelter staff about whether or not your prospective new kitty is experiencing anxiety.
If your new cat has anxiety, don't let it deter you from adopting! Understanding your cat's behavior can go a long way to helping them overcome anxious behavior. Plus, there are very inexpensive therapies to help manage your cat's anxiety.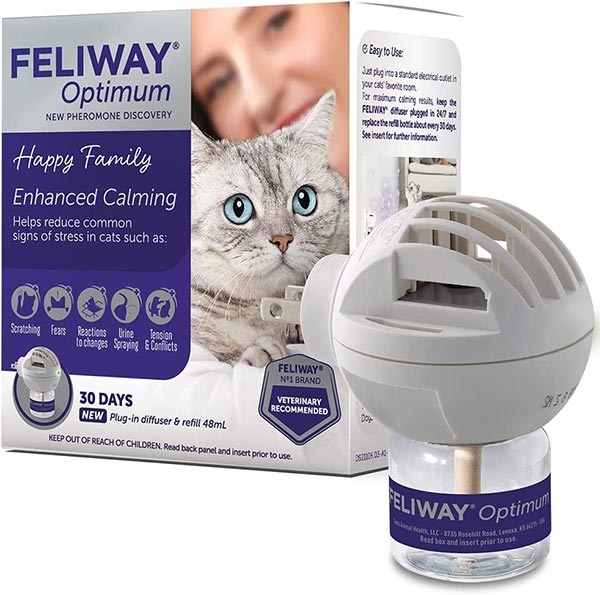 My favorite therapy is from Feliway. This pheromone diffuser mimics the naturally comforting pheromones a mother cat emits. It can even help your cat with litter box issues!
My favorite is Feliway Optimum. Simply plug it in near your cat and let it release the calm!
Other therapies include Zylkene, an over-the-counter supplement that works safely to calm both cats and dogs.
The Tail End
Once you've spent some time at the shelter and have brought your new family member to his fur-ever home, you may look back on the experience and realize that you didn't really choose him — he chose you!
You'll want to do all you can to keep your purr-fect kitty happy and healthy. Follow my "Cat Health" board on Pinterest for some great tips!