Cats aren't as obvious as dogs in the ways that they show affection. After all, your cat won't jump up and down and lick you ecstatically, and she won't wag her tail with unbridled joy when she hears the word "walk." But cats have their own very special ways to express affection and once you decode their love language, you can easily say "I love you" to your cat in a way she'll understand.
Here are a few purr-fect ways to tell your cat how much you love her.
5 Ways to Say I Love You to Your Cat
1. Blink Slowly and Gaze Lovingly Into Her Eyes
Your cat might not appreciate being showered with kisses (and she may think you're a little crazy if you try), but you can "kiss" her kitty style by meeting her loving gaze. One way that cats show affection is by looking at someone they trust and slowly closing their eyes. You can return this display by getting on her level, meeting her gaze, and slowly blinking back at her. Kitty will know exactly what you are trying to say.
2. Mimic Her Voice
If you're the parent of a chatty kitty, you may notice that she has special meows, coos, or trills that she reserves especially for the humans that she's close to. Imitate her sounds during a tender moment. She will understand it as a display of affection from you, and you'll be helping her feel safe, secure, and loved.
3. Let Her Rub On You
Have you ever wondered why your cat rubs against your leg or butts her head against you? Cats have special scent glands located on their cheeks and heads. When your kitty rubs against you, she's paying you the ultimate compliment of leaving her scent behind and claiming you as part of her family.
You can accept this gesture by allowing her to claim you. Lean into her little kitty head bonks, nuzzle your face into hers, and don't move away as she's winding herself around your legs. You may even be able to initiate the behavior yourself to some extent. While it's probably not going to go well if you try to head butt your cat, you can extend your index finger towards her nose to give her the opportunity to rub her cheeks along your hand.
Pin Me!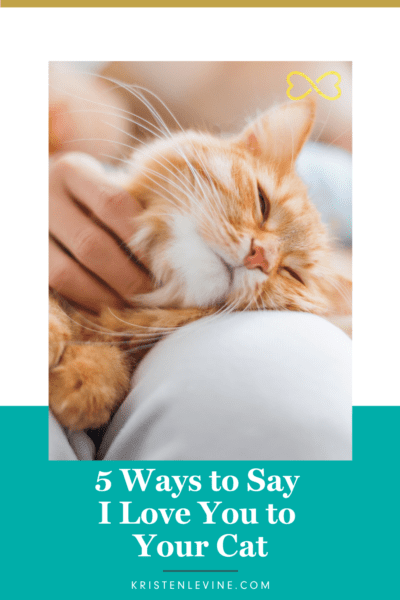 4. Groom Her
Grooming is another way cats spread their scent to create a sense of family and belonging. While imitating her actions exactly wouldn't be a good idea (unless you want to wind up with a mouth full of fur) you can still show your love by "grooming" her, human style. Try brushing her gently, using a de-shedding tool like this one. Or, you can pet her with a pair of grooming gloves like
these from BISSELL®, if she seems to prefer that. Some cats even enjoy having a warm, damp cloth rubbed along their heads and backs since it takes them back to the tongue baths their moms gave them when they were kittens.
5. Don't Skip the Vet
Okay, so your cat may not interpret a trip to the vet as a sign of affection, but she won't hold it against you either! And even though going to the vet is probably not your cat's favorite thing to do, it is paws down one of the best ways you can show you care.
Cats are masters at hiding signs of sickness and discomfort. Without regular visits to the vet, you could miss an important chance to diagnose and treat small health issues before they become big ones. Say "I love you" to your cat by taking care of her health so that she can enjoy a long, happy life with her favorite human!

Does My Cat Love Me? 5 Ways to Tell
Once you've shown your cat how much you love her, she'll likely return in kind. So what kind of behavior should you look for to know if your cat is head over tail in love with you?
1. The "Cat Kiss"
As mentioned, cats "kiss" by gazing into your eyes. If you've tried taking the lead in this and your cat hasn't responded, it doesn't mean your cat doesn't love you! She may want to be the one to make the first move. Keep an "eye" out for signs she's giving you the "cat kiss" and be sure to reciprocate.
2. She Sleeps with You
Sleeping is probably one of your cat's favorite activities! If she chooses to share this with you, nestling in under the covers or across your chest, it's a sign she loves you.
3. She Shows Off Her Rear
Oddly enough, your cat sticking her butt in your face can be a sign of love and affection! Cats use their tails to express their feelings, so a straight up tail that's gently swaying, exposing her rear end, indicates she's ready for attention and affection.
4. She's "Bunting"
Bunting is when your cat pushes her head and face into you. It means she accepts you as part of her cat crew. It's also an opportunity for her to leave her pheromones on you, something cats will do to show affection to other cats. While you won't be able to smell her pheromones, it will make her happy to include you in her inner circle.
5. Purring
Purring may be one of the sweetest experiences a cat parent can have. When your kitty is content, she'll purr that deep hum that makes your heart melt.
Be aware though, that some cats purr when they're anxious or nervous. So you'll need to carefully monitor your cat's behavior and make sure she isn't displaying other signs of cat anxiety.
Can You Make Your Cat Love You?
Cats are discerning creatures, and you can't force your cat to love you. Disrespecting her personal space — or going too far the other way and ignoring her completely — won't contribute to your human-feline friendship.
However, you can take the steps mentioned here to slowly build a bond with your cat — on her terms, of course!