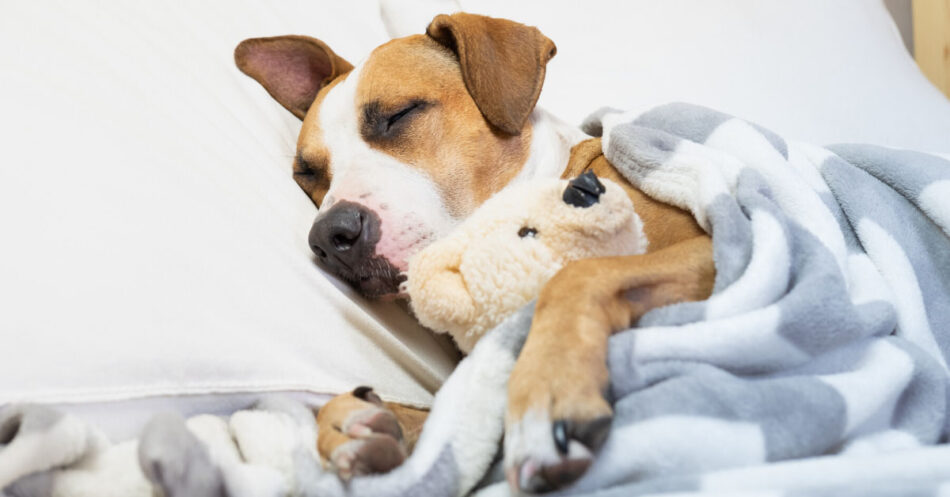 5 Helpful Bedtime Routines to Calm a Restless Dog at Night
Many dogs come alive when the lights go down. They might get the "zoomies," or they may simply pace or want to play. Aside from separation anxiety, nighttime anxiety can be one of your canine care hurdles. This isn't great news for us pet parents who are ready to turn in for the night.
Why Your Dog Is Restless at Night
Below are some reasons why your pup may be having difficulty sleeping or settling down for the night.
Lack of exercise or mental stimulation. A dog with pent-up energy is like a kettle ready to whistle! If they haven't had enough exercise during the day, they're ready to party all night.
Anxiety or stress. Changes in the environment, a new family member, or even thunderstorms can cause them to be unsettled.
Medical issues. Just like us, dogs can suffer from certain ailments that make getting comfortable a tricky task.
Diet. Restlessness can be caused by an upset stomach due to dietary indiscretion or eating something they shouldn't, like garbage or table scraps. Food change can also cause digestive problems, which is why the transition should be done gradually over one to two weeks.
Lack of routine. Dogs, like kids, thrive on routine. A chaotic schedule can throw their internal clock off balance and disrupt their sleep patterns.
Understanding what's keeping your dog awake at night can be as easy as pie once you know what to look for. Howling or whining at night is quite common for anxious furry friends, especially for younger dogs. Our little pups may be adjusting to their new environment as they just recently separated from their moms. Other signs of restlessness may include pacing back and forth, whining or barking, and constantly changing sleeping positions.
How to Calm Down a Dog Before Bedtime
Helping your dog wind down for bedtime doesn't have to be a tough task. With a few simple tricks, you can create an atmosphere that soothes your pup and sets the stage for a good night's rest.
Step 1: Calm Them with Together Time
Spending time together at the end of the day is a great way for you both to unwind. You might start out with a little playing, perhaps some chase around the house or tug or war.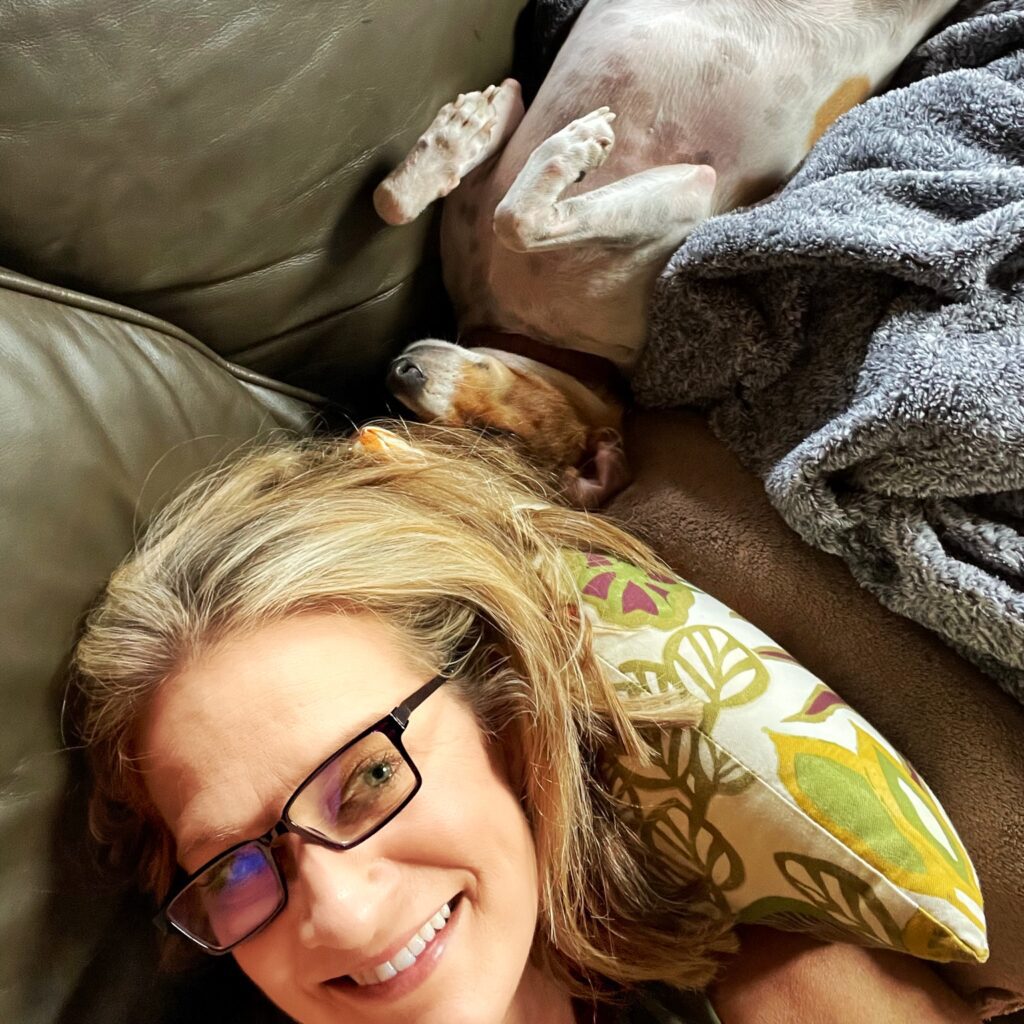 Look for your dog's cues that they're getting tired, like pausing or refilling on water. Then begin the transition into your pup's bedtime routine together. Choose any quiet activity that you and your pooch both enjoy, like snuggling, stroking their coat, or a gentle ear rubbing.
This time together doesn't have to be lengthy. Even 10–15 minutes may be enough for some dogs. The goal is to provide your dog with reassurance that you're there for them. This is especially important if your dog's sleeplessness is rooted in separation anxiety.
Step 2: Give a Calming Treat
Giving your dog a treat during your dog's routine at bedtime will give him something special to look forward to every night. Associating bedtime with a yummy snack may also help you train your pup to settle down for bed.
Just like many dogs who seem to know somehow when it's time for their people to get home or when it's time for dinner, you may soon find that your own pooch is reminding you to give him his treat so he can go to sleep!
ElleVet's organic Calm and Comfort chews support stress-free relaxation with their clinically tested blend of complete spectrum proprietary hemp oil! You can give this an hour before bedtime to help your pup keep calm.
What I love about these, and all of the products from ElleVet, including their hemp oil, is that they're veterinarian tested and recommended. With their dosage guide, I can confidently give my pets the right dose, knowing that it's safe for their specific weight class.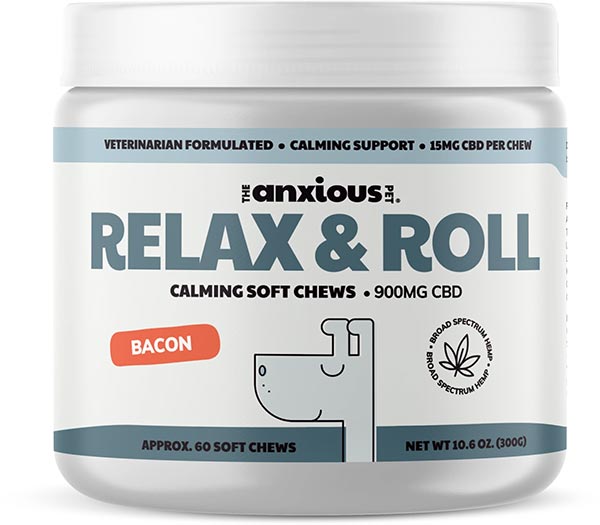 Step 3: Provide a Secure, Comfy Place to Sleep
Does your dog sleep in the same place every night? Most likely, the answer is yes! Whether it's their own doggie bed, a favorite spot on the floor, or a place in bed with you, most pups sleep the best when they're in their normal sleeping spot.
My dog, Tulip, sleeps in bed with us, usually right between us, with her head poking out. But when she takes her naps, she loves her peach-colored round donut bed. It's great for dogs who love to curl up, and I love it because I can throw the whole thing in the washing machine.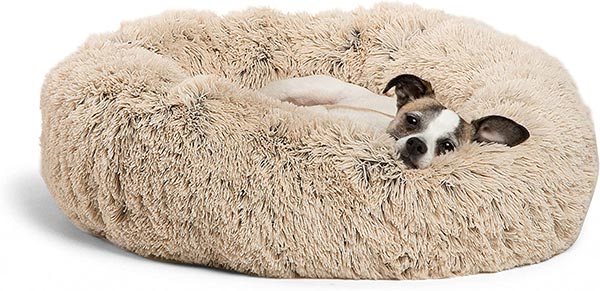 My dog, Chilly, who passed over the rainbow bridge in 2021, loved a bed with bolster sides. It gave him enough room to sprawl out a bit with the added security of something to snuggle up against for the night. This one is made with memory foam (great for a senior dog's aching joints), and it has a machine-washable cover.

If your dog sleeps on the bed with you, consider giving them their own designated spot on the bed, using a blanket to carve out a little nest. They may wander from it during the night, but knowing they have their own area can help them feel secure enough to fall asleep at night.
If your dog won't sleep at night, take a look at his bed. If he doesn't use it or no longer uses it regularly, he likely needs a new bed better suited to his needs.
Step 4: Find His Favorite Cuddle Toy
Do you remember how safe and secure you felt as a child when you snuggled in bed with your favorite teddy bear? Well, dogs can also find security from a special soft toy.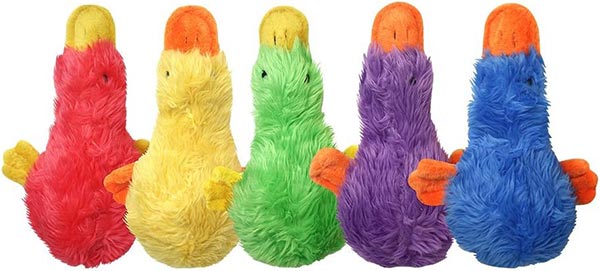 Now, not just any old toy will make the paw-fect bedtime buddy. Don't give him anything with squeakers—that will probably just wind him up and get him in the mood to play! Similarly, anything you usually use to play fetch or tug with may not be the best choice. Ideally, you want a toy that only comes out at bedtime or other "down" times.
This adorable duck makes the perfect bedtime buddy. It's super soft, squeak-free, and it won't encourage thoughts of rambunctious play.
Pin Me!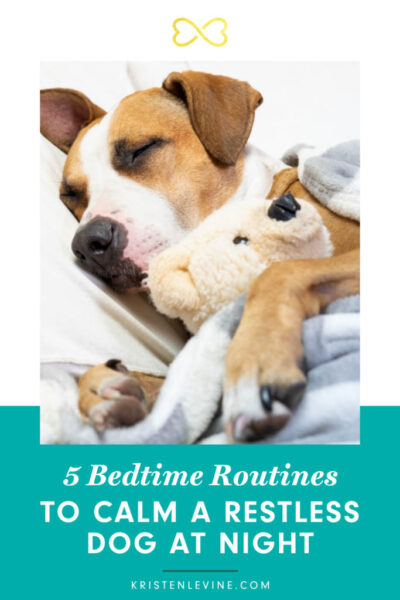 Step 5: Use Calming Scents and Sounds
Many pet parents ask, "What can I give my dog to sleep at night?" However, rather than immediately turning to medications, you might try some more natural therapies.
Some scents can have a calming effect on the human members of the family, and the same is true for our tail-wagging friends. Spraying your dog's bed or bedtime toys with a calming blend of essential oils is a great way to alleviate any lingering anxiety from the day and get your pup ready to sleep through the night.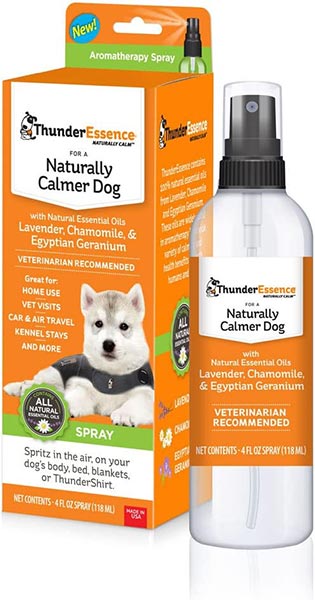 I love this all-natural essential oil spray from ThunderEssence, the makers of the ThunderShirt! It's made with lavender, chamomile, and Egyptian geranium essential oils, and it smells amazing! I'm tempted to spray it on my own pillow, but for now, I'll save it for Tulip's bed and cuddle toys!
Your pup's sensitive hearing may be able to pick up unfamiliar sounds or noises that you can't. This can make them anxious or curious. Calming music, like classic music, can also help calm down a dog and get him ready for bed. I use the Zoundz app for my pets. It's designed specifically to reduce a dog's anxiety. I also love that every download contributes toward the Harmony Project, a program designed to alleviate anxiety in shelter pets.
When to Get Help from the Professionals
Even with our best efforts, some dogs will always be more naturally prone to hyperactivity and anxiety. As pet parents, we sometimes wonder if we did something to cause our dog's anxiety. Did we not give them enough love? Enough exposure to noises and people?
Dr. Lisa Radosta, DVM, assured me this is often not the case with most dogs who have not experienced trauma (like being surrendered to a shelter). Just like people, some dogs are simply coded to have more anxiety. It's literally in their DNA!
You can learn more about that in this post about separation anxiety.
So, if you've tried the above tips and your dog is still experiencing symptoms, it may be time to call in your dog's veterinarian or a behavior consultant.
I always recommend finding help through the American College of Veterinary Behaviorists. Here you can obtain contact info for a certified veterinarian who specializes in behavioral issues like anxiety. Who better to advise you on your dog's health and behavior than a veterinarian?
With help, even the most anxious dog (and his mom or dad) can get a good night's sleep!