I have a confession to make. I've been daydreaming lately. And I need your help.
Four years ago, I started this Pet Living blog because I wanted to share stories, science, and advice to help you live happier and healthier through your pets.
It's been so rewarding – because of YOU! Many of you have shared stories with me about how your lives are better because of an incredibly special dog, cat, or blend of furry beasts.
But… (here's the confession part) in addition to writing educational and review articles, I'm eager to share another of my passions with you.
I'm a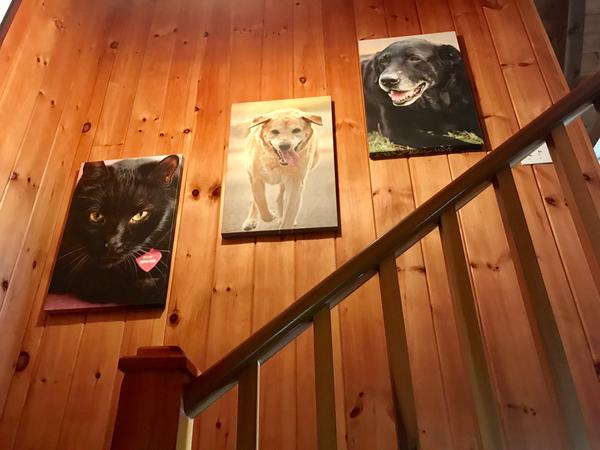 style junkie – whether it be fashion, accessories, or home and office design, I love finding (or creating) subtle or unique ways to infuse my love for my animals into my personal style.
If you were to visit my home, you'd immediately see what I mean.
T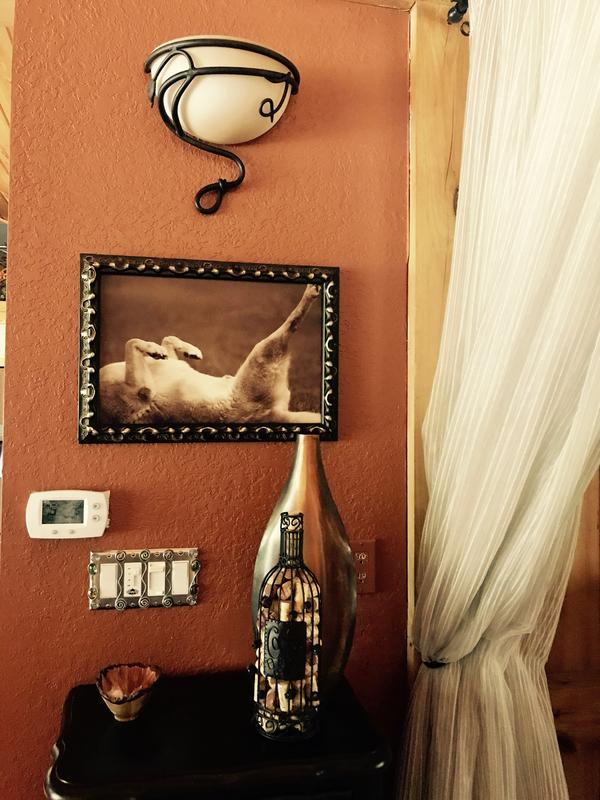 he majority of the art on the walls are canvas prints of our beloved Chilly, Olivia, Turtle, Izzy, and Willow. We even incorporated our goats (they've since passed) into our living room decor! And our staircase is partly a tribute to Tank, Buck, and Zeke, the pets we shared this home with first.
Visitors get a kick out of Chilly's "dog house" built underneath the staircase and our guest room decorated specifically for Turtle, our birdwatching Tortie cat!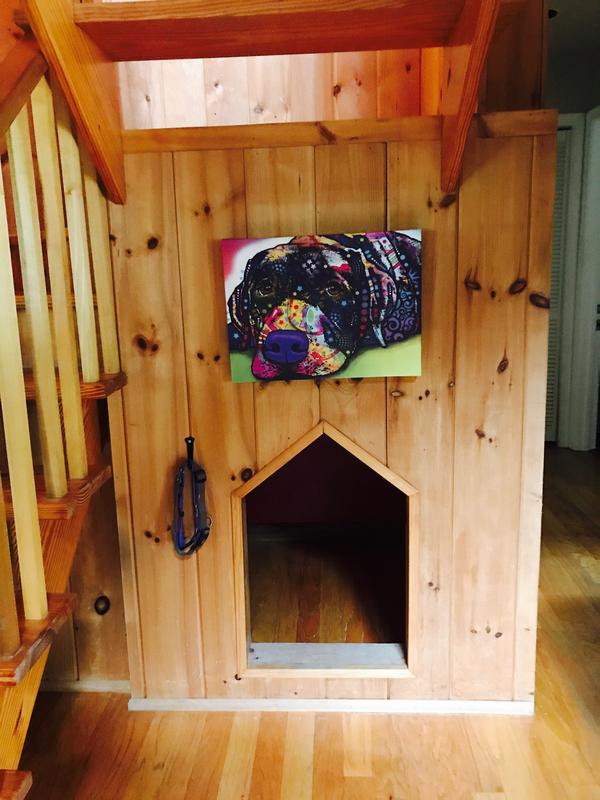 People who come over often say, "This house is sooo you!" I guess it's true because I like to surround myself with what I love.
Sure, I love to be "on trend" with current home design colors, flooring, and textiles, but the accents are often pet inspired. The trick is not to overdo it! Rather, I like to sprinkle sophisticated, subtle elements that reflect pet living.
The Purr-ring – A Paw-sitively Adorable Accessory
My penchant for pet-deco doesn't stop at my home! I love to hint at  my pet lifestyle in the things I wear or use too.
Fur example (pun intended), this clever, cat-lover inspired smartphone accessory on my phone (I call it the Purr-ring) generates at least a dozen comments a week!
I'm always on the lookout for fun, pet-inspired items to compliment the pet parent lifestyle. And I'm beyond excited to move my search to the next level.
From time to time in my blog, I've told you about stylish pet products, like cat trees or drinking fountains, that I'm excited about. Now it's your turn! I want to know what you think!
I'm putting together a pet-tastic focus group of discriminating pet parents to offer their opinions on some fun pet-inspired products. In the coming months, we'll be rolling out new items and looking for some feedback. In return for telling us what you think, you'll get early access to exclusive products!
Sound like the purr-fect opportunity? To sign up (and to learn how you can get your paws on the kitty Purr-ring) just fill out the form below.
Join our Pet-Tastic Focus Group!