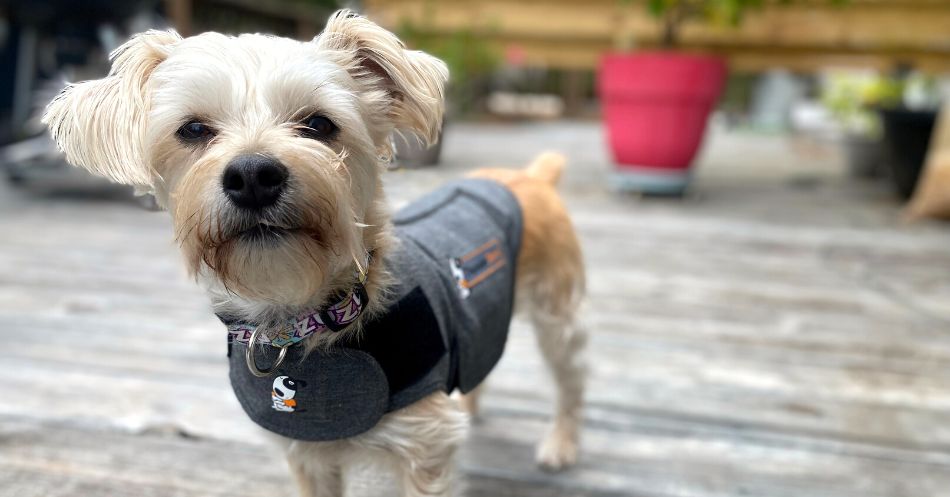 We Tried ThunderShirt® for Our Anxious Dogs and This Happened
Does your dog freak out when they hear unexpected loud noises? Thunder, fireworks, and lawnmowers can send some pups into an anxious spiral.
As a pet parent, it can be overwhelming trying to find an effective solution that calms a dog's anxiety. Here at Pet Living, our dog moms tried ThunderShirt for their anxious dogs. Here's what happened.
What Does Noise Anxiety Look Like?
For some dogs, everyday noises can be terrifying. Rumbles of sudden thunder, the roar of strong wind, doorbell chimes, and vacuums can all trigger anxiety in dogs.
Whatever their noise trigger, the outcome can be sad to watch. Some dogs run and hide while others shake and tremble. Here are a few other signs that your dog has noise-related anxiety:
Aggression
Clinginess
Cowering
Destructiveness
Freezing or immobilization
Furrowed brow or laid-back ears
Hiding or escaping
Hypervigilance
Inappropriate elimination
Licking lips
Pacing or restlessness
Panting
Refusing to eat
Self-harm
Trembling or shaking
Whining, whimpering, or barking
Yawning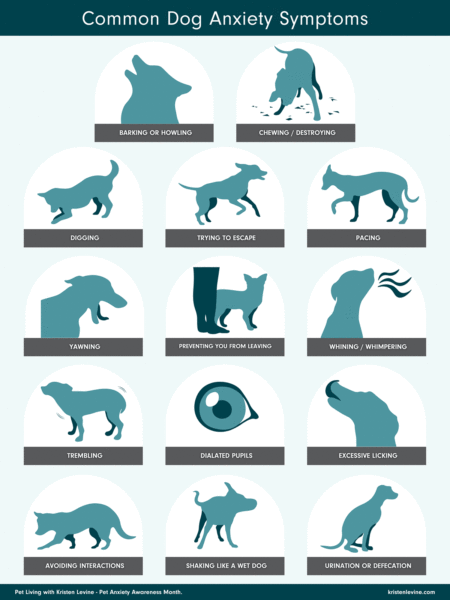 Zuzu, a Yorkie mix in the Pet Living family, has first-hand experience with anxiety. When she was just a puppy, a small tornado touched down near the family's home. As the winds picked up, tree branches and debris were launched at the house.
Ever since then, Zuzu's been terrified of the wind.
Dog mom Pamela recounts that scary day: "She ran upstairs to hide under the bed and we yelled for her to come back down so we could camp out in our tornado shelter room. She came down, jumped in my arms, and we huddled down together in the bathroom. She was so terrified that she peed while in my arms and shook terribly.
"The next day, she wouldn't eat and wouldn't leave our side. It took about two days for her to calm down. Ever since then, if there's even the hint of a breeze she shows signs of anxiety – ears back, running away, and shaking."
Zuzu's experience with the tornado may be rare, but her reaction to scary noises isn't uncommon. In fact, as many as 40% of dogs are terrified of noises.
Pin me!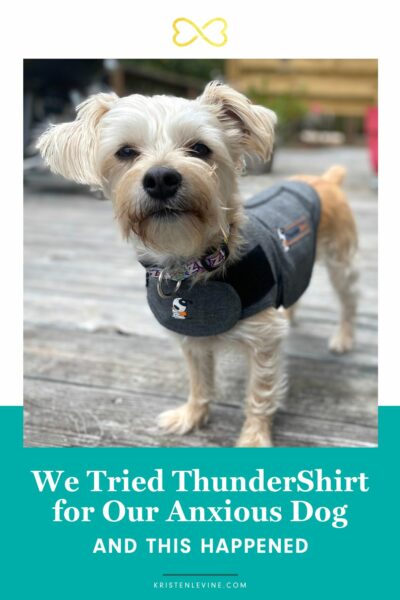 What Is ThunderShirt? How Does It Work?
According to the makers, ThunderShirt is a natural, drug-free solution for your pup's anxiety. The vest applies gentle, constant pressure and relaxes your dog similar to how swaddling calms an infant.
Pet parents use it for all sorts of stressful situations from thunderstorms, fireworks, vet visits, travel, and separation anxiety.
We Tried ThunderShirt and This Is What Happened
"We first heard about ThunderShirt a few years ago," says Pamela, quoted earlier. "But we didn't know how much we needed one until we got it!"
She uses it when she knows a storm is coming or if there will be loud noises, like construction.
"It's very easy to put on," she says. "It's like a little vest that has extra compression. It's lightweight, so I don't have to worry about it making her too hot in the summertime in South Carolina when we have the most storms."
Unlike supplements or prescribed anti-anxiety medications that take time, ThunderShirt delivers near-immediate results. It's also lightweight and packable, so Pamela takes it with her whenever she travels with Zuzu.
For Pamela, ThunderShirt's effectiveness and affordability make it a must-have for managing Zuzu's anxiety.
Dog mom and certified Fear Free expert Kristen Levine also uses ThunderShirt for her fur family's anxiety.
"I put Tulip's ThunderShirt on during storms and sometimes when we leave her alone. I especially use it if we're visiting friends or family and she's alone in a home that's not her own."
Kristen adds, "Tulip also gets nervous when strangers come over or when she hears cars coming up the driveway. But she likes to snuggle and be cozy, so it makes sense that she loves her ThunderShirt! She goes to sleep or will lie down within about five minutes of me putting it on her.
"And she looks dang cute in her pink ThunderShirt — added bonus!"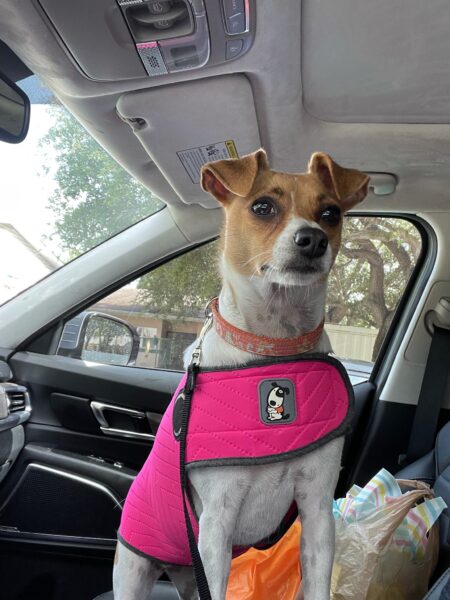 Kristen has had such success using ThunderShirt to calm her dog's anxiety that she also started using some of their other calming products.
"I love using ThunderEase® when we travel and take Tulip to hotels or stay with family and friends." ThunderEase is a diffuser spray that mimics the calming pheromones that a mother dog emits while nursing her puppies. The result is it helps your dog to feel calmer and more comfortable.
For trips to the veterinarian, Kristen uses ThunderWunders® chews and other anxiety treatments recommended by her vet.
ThunderWunders are bite-sized chews that promote calm and relaxation in anxious pups. They have natural ingredients like thiamine, L-Tryptophan, and melatonin. You can give them to your dog 30 minutes before a stressful event, like a trip to the veterinarian.
"Tulip is a HOT mess at the vet. Depending on the reason for the visit, we may begin with trazodone the night before, which is prescribed by a Fear Free® veterinarian. Then in the morning, before her appointment, I give her the ThunderWunders chews and spray ThunderEase on her car seat."
All of the ThunderWorks products are now must-have items in managing Tulip's anxiety.
What Are the Cons of ThunderShirt?
Pamela, quoted earlier, did note one minor drawback, "Occasionally my dog's hair gets stuck on the velcro. So you have to be very careful about how you strap your dog into their ThunderShirt."
The Final Woof
Paws down, we love ThunderShirt and highly recommend it as a safe, natural way to calm your anxious pup. It's affordable, comes in several styles, and (best of all) it's effective.
Whether your pup is triggered by scary storms, loud fireworks, separation anxiety, or trips to the vet, ThunderShirt (and the other ThunderWorks products) may just be the calming solution that you and your fur family have been looking for.
This post was sponsored by ThunderShirt, but all opinions and recommendations are paw-thentically my own!'