Memorial Day – the unofficial kick-off to summer – is just around the corner! And that means pet parents are already thinking of ways to include their dogs in summertime hiking, camping or water-related adventures.
No matter how you're planning to spend your dog-day afternoons, I've found some great new products that provide pets with added safety and comfort during those dog-day outings and I was happy to share some of them on Fox and Friends Weekend this Sunday.

The brand new AirPupSaver 45 is a rear-facing car seat with an airbag-style seat back. By keeping pets comfortably restrained, it not only prevents driver distractions but also protects pets from sudden stops or a collision.
So how does it work? In a collision, the AirPupSaver acts like a "catcher's mitt" as the dog's weight is enveloped by the airbag seat back. In addition, the rear-facing design helps support the head and neck.
All PupSaver models have passed crash testing and meet Federal Motor Vehicle Safety Standards. Pet parents can choose from two options that accommodate dogs up to 45 pounds. 
When you're ready to hit the trails or pitch a tent, make sure your pets are protected from pesky pests with Insect Shield for Pets. No need to use a messy spray or spot on products. The EPA-approved repellent is built right in to gear and apparel like cargo covers, seat covers, vests and bandanas.
The repellent is bonded to the fabric fibers and lasts the expected lifetime of the product. Best of all, it protects against mosquitoes, ticks, fleas and flies, including those that can carry Lyme and heartworm disease.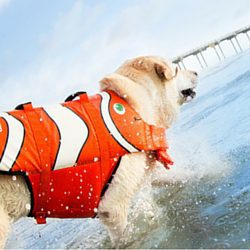 Did you know that an estimated 5,000 pets drown in backyard swimming pools each year? Even the best swimmers can become exhausted and disoriented. That's why, if you have a water-loving pooch, a life jacket is a must!
The Fun Fish Life Jacket by Outward Hound comes in high-visibility orange with reflective accents so you can easily keep an eye on your pet. Front float neck support keeps your dog's head out of the water, and it also features two durable rescue handles in case you need to pull him to safety.
Available in five sizes from XS – XL. And all of them are X-cute!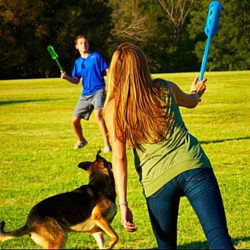 Now that we've addressed safety, let's have some fun! Playtime is best when done as a team to increase the fun factor and further enhance the bond your share with your pet. That's why Petmate has expanded its popular Chuckit! line to encourage more family fun.
Designed for interactive play (two people and a dog), the new Sport LX Launcher System features a Lacrosse-style basket that means even more throwing and catching and fetching. And the ergonomically designed handle allows for hands-free, slobber-free ball pick-up.
Because the fun shouldn't end when the sun goes down, the Pro LX Launcher lets you play with your pup in the dark or low light. The built-in LED flashlight helps shed light on dark pathways, and the reflective, no-batteries-needed Glow® fetch ball is visible from 50 yards away.
Let your dog lend a helping paw with Dog Backpacks from Outward Hound. Essential for day trips, quick getaways or even everyday errands, these packs lets your dog bring along his favorite toy, waste bags and treats.
The Quick Release Dog Backpack features detachable saddlebag compartments, a lightweight vest with durable grip handle, and
bright colors enhance visibility and safety. For those looking for fun as well as function, the Pal Pak Harness has comfy, adjustable straps and five whimsical characters to choose from.
Both are available in small, medium or large, and the Quick Release Dog Backpack also comes in an extra large size.
Help your dog keep his cool this summer with the Guardian Gear Splash About Dog Pool by PetEdge. Made of extra-tough PVC, it holds 19.75 gallons of water for plenty of splashing, soaking and wading.
Not only is the pool durable, it weighs only 4.7 pounds (without water, of course) and folds down completely for transport and storage. That means you can even take it along on your next family vacay!
Do you have any big plans with your pup this summer? I'd love to hear all about it in the comments below.