Dig this… this post is sponsored by Mirum, but opinions are my own and 110% "pawthentic"!
The first time I found a flea on one of my cats, I was shocked. After all, Olivia and Turtle are both indoor kitties. How could they have fleas if they never ventured into the great outdoors?
Pin Me: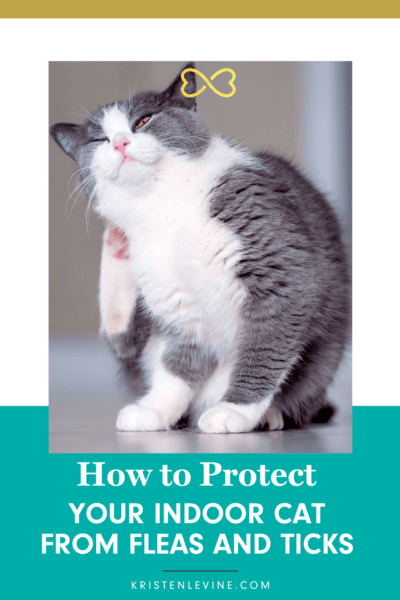 Turns out, cats aren't protected from fleas just because they reign over an indoor domain. There are lots of ways that those little creepy-crawlies can make their way into your house and onto your kitty. Expert hitchhikers, fleas can sneak in with the help of other pets, people, and even you! Once inside, they can cause havoc and are notoriously hard to evict.
Since they're so tiny – sometimes as small as a pinhead – you may not notice them right away, especially if you're not looking for them. Your kitty's excessive scratching, biting, and licking might be the first sign that anything's wrong. Not only are fleas extremely uncomfortable for your furry friend, a single flea bite can lead to an allergic reaction which may result in the need for costly treatment.
As someone who has "been there, done that," I can assure you that the best way to beat a fle
a problem is to prevent it before it ever starts. For me, that means treating Olivia and Turdie with PetArmor® Plus for Cats all year round, since fleas and ticks can even be active in the winter. And yes, that inc
ludes colder climates! Plus, those pesky little pests can lay dormant for months before they hatch.
Used as directed, PetArmor® Plus can stop infestations and help prevent reinfestation. The vet-quality formula works for up to 30 days to kill fleas, ticks, and chewing lice. Plus, it disrupts the life cycle of fleas by killing larvae and eggs for up to 12 weeks. Available in one dosage for cats weighing over 1-1/2 pounds, the fast-acting, waterproof formula is safe to use on cats and kittens over 8 weeks of age only.
ApplyingPetArmor® Plus is easy on both you and your kitty. Before you start, be sure you have purchased the product for cats. The dog and cat products are different formulations based on the species and weight of your pet and SHOULD NEVER be used interchangeably. Read the entire label carefully before using any product on your pet. If you need more information, call 1-888-908-8425.
Then just follow these simple steps to apply the product:
Remove product tubes from the package.
Separate one tube from the others.
Hold the tube with notched end pointing up and away from the face and
body. Use scissors to cut off the narrow end at the notches along the line.
While holding your cat with one hand, use the other hand to apply the
solution. Invert the tube and use the narrow end to part your cat's hair.
Apply contents of one tube as a spot between the shoulder blades.
Hold the cat for a few seconds to give the solution time to be absorbed into the cat's coat.
And that's it! Your kitty is now paw-tected!
There's also a PetArmor® Plus for Dogs, available in dosages from four pounds
all the way up to 132 pounds! So it's easy to protect all the four-legged furries in your house.
Aside from the pest-fighting power of PetArmor® Plus, I love that it's both affordable and convenient. PetArmor® Plus offers vet quality prevention for less, and is available at your local Walmart. No need to make extra trips to pet specialty stores or your vet. Just pick some up during your next shopping trip or order online! Plus, you can save $3.00 off any purchase of PetArmor Plus for Dogs or Cats, 3 count, from now until September, using the ibotta coupon.
Remember, it's not a pet parent fail if fleas or ticks make their way on to your pet. Those little buggers are crafty! But with PetArmor® Plus and Walmart on your side, you can easily and affordably treat the problem and prevent future problems.
This is a sponsored post. However, all opinions and anecdotes are my own, and I never promote any products or brands I don't believe in. ~Petfully yours, Kristen