Header image courtesy of Petmate and Mutt Nation.
One of the fun things about being a dog parent is that it gives us an excuse to buy some super cool pet products. Even though I know that my dog, Chilly, is just thrilled to death with any old collar, bed, or toy that I give him, I still can't resist the urge to outfit him with products that are just as much fun for me as they are for him.
Recently, I learned about Petmate's plans to launch two super cool new dog product lines. Both of these lines give dog parents some fun new options in doggie toys, bedding, collars, and other accessories.
WWE Themed Dog Products
Who knew that it was possible to combine a love of pro wrestling with a love of your dog without putting his safety at risk? PetMate's new WWE line does just that!
Now WWE fans can indulge their pooches with bedding that features the WWE logo, super sturdy toys modeled after wrestling super stars, and collars and leashes with charms featuring The Rock, John Cena, and Stone Cold Steve Austin.
There's even something for fans of WWE Divas. The line also includes pink leopard print "Diva"collars and leashes as well as three choices of Diva themed bedding.
Mutt Nation Fueled by Miranda Lambert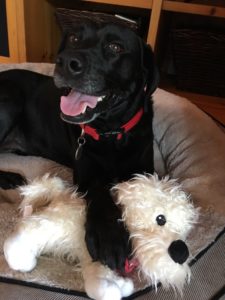 As an animal lover, I'm always touched when I hear of anyone trying to help animals in need. And as a pet parent, I'm always on the lookout for fun products to enhance the lives of the most important furry creatures in my life. When I hear about something that does both, I'm paw-sitively thrilled!
That's why I was so excited when I heard about PetMate's plans to launch Mutt Nation – a new line of pet products inspired by country music singer Miranda Lambert. Miranda had a big part in designing all of the products, and her country-chic-meets-rock-n-roll style shines through in the vintage prints and antique hardware that the line features.
Mutt Nation products include bedding, collars and leashes, toys, and feeding and watering products. My personal favorites are the Rescue Mutts – 6 plush dogs designed in honor of real life rescue dogs. Each dog's tag tells a little of the story of how that pup found his fur-ever home. One of the Rescue Mutts, Delilah, was designed after Miranda's first rescue. What a great way to raise awareness and inspire people to adopt!
I absolutely love that every purchase of Mutt Nation Products helps to raise funds for the Mutt Nation Foundation. Miranda and her mom, Bev Lambert, founded the foundation in 2009. Their mission is to end animal cruelty, neglect, and homelessness. Mutt Nations supports efforts such as spay and neuter campaigns, adoption events, pet transportation, and pet ownership education.
Check out my interview with Petmate's Emilye Schmale for the full scoop on this country-cool line.

Dog parents can find products from both of these paw-some lines on Petmate's website.
Pin me!