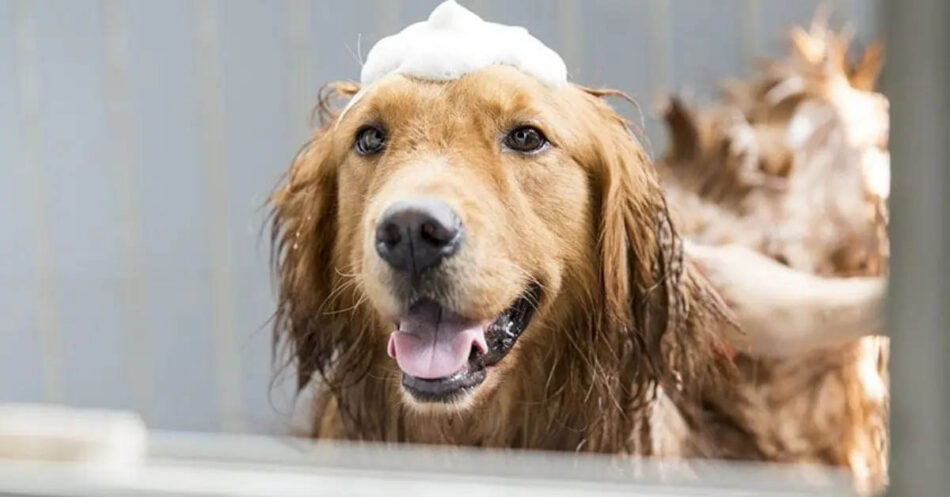 Bissell BarkBath Review – Is it Worth the Money?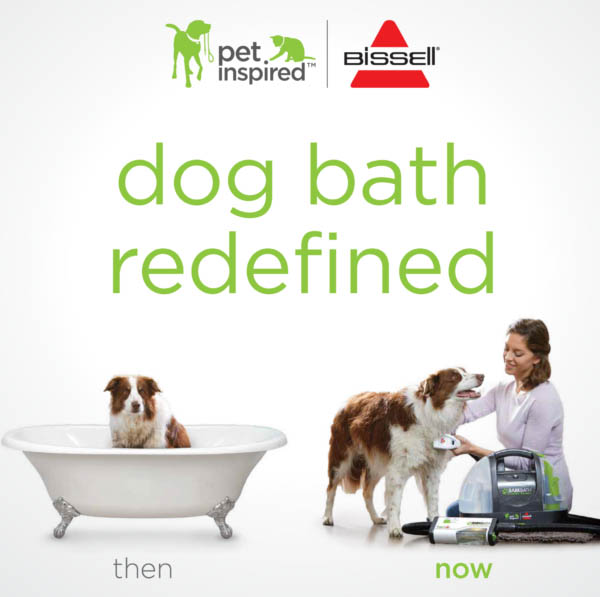 One funny thing about being a dog parent is that sometimes, since they are such an important part of the family, it's easy to forget that our dogs aren't just like us! When it comes to keeping clean, dogs aren't nearly as eager as their human companions. While many dog parents look forward to a nice bath or shower as a way to relax and recharge, to many a reluctant canine, bath time is anything but a pleasant experience.
If you've ever tried to bathe a struggling dog who isn't remotely enjoying the process, I feel your pain! Chilly has never been a big fan of bath time. Usually we bathe him outside or in our shower enclosure. It takes two of us to do the job — one to hold him and one to soap and rinse. He doesn't like the hose outside (and I can't say that I really blame him), and sometimes the water is just too cold. In the shower, he shakes and gets soap and water all over the place — even outside the shower! (I'm not sure how that happens.) Plus my husband Paul and I end up soaked too.
Thankfully, we don't have to bathe Chilly too often. But if there's a way to keep him smelling fresh without messing up the bathroom, going outside, spending money at the groomers, and getting totally drenched myself, you can be sure that I'd be thrilled!
A New Way to Bathe Your Dog
Needless to say, I was pretty excited to try out BISSELL's new portable BarkBath system. This is a totally brilliant idea and entirely pet inspired. BISSELL has been innovating cleaning solutions for pet parents for nearly two decades, and I've been a long time supporter of their brand. Not only are their products effective and affordable, but they also benefit homeless pets. Here's where you can read about the BISSELL pet foundation.
I teased Chilly all week about getting his first BarkBath! I promised him he'd enjoy it though, and he did! And my husband and I liked it just as much as (if not more than) he did. Here's our video review:
One cool thing about the BarkBath is that it's totally portable, which means that you can give your dog a bath anywhere–indoors or out. So it doesn't matter if he's more comfortable in the family room, kitchen, garage, yard, or utility room, you can choose whatever works the best for you.
Paul and I found that the BarkBath was simple to set up and easy to use. It allows you to put warm water in one compartment and to capture the dirty water (neatly) in another compartment that you just dump out when the bath is done.
The bathing tool has a reservoir for the no rinse shampoo (paw-some)! And you use the same nozzle for soaping, rinsing, and suction.
A Tail-Wagging Experience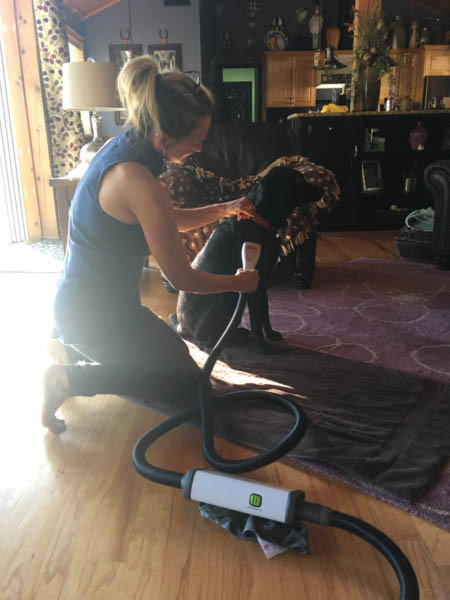 I thought Chilly might be bothered by the sound of the BarkBath, but he was just fine. Feeding him treats throughout the process didn't hurt! The motor does make some noise, but BarkBath offers some special instructions for gradually acclimating your dog to the unit. And the cool pad that comes with it dampens the sound quite a bit when you place the BarkBath on top of it.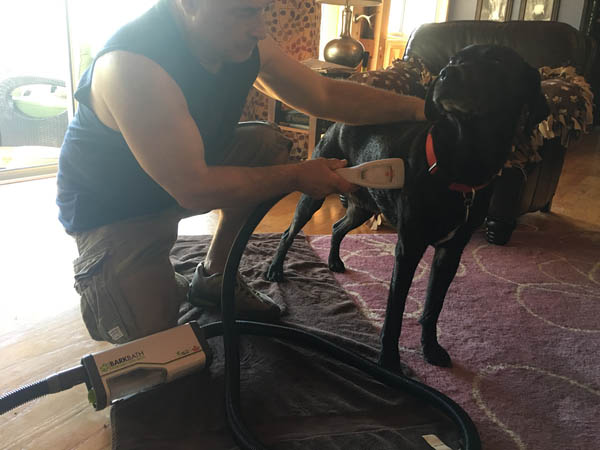 Chilly's BarkBath took less than 10 minutes, and he didn't even need to be toweled off because we suctioned off the excess water! Other than a few water droplets caught by the towel he stood on, there was literally no mess. (Notice how dry the carpet and both of us are in these pictures!) See BarkBath in action here.

This is a sponsored post. However, all opinions and anecdotes are my own, and I never promote any products or brands I don't believe in. ~Petfully yours, Kristen
Pin me!